Jürgen Klopp and Liverpool FC – How Champions Are Made
The work that the German has done will be remembered for many years at Anfield once the sun eventually sets on his marriage. But for now, the sky is golden for Liverpool with no storm in sight.
Thirty years later, Liverpool were back on their perch. The drought had ended and the relief of the league title amid a rain of success was palpable. Liverpool were champions of England once more.
It was the culmination of a season of exhausting, relentless brilliance built on indomitable grit, fierce athleticism and a crushing imposition of assertive will that their opponents could not live with.
Manchester City pushed hard to keep Liverpool at bay last season. The Reds blew them away this season, and in doing so laid down a firm statement. This is not simply the peak moment of this Liverpool team, but the sense of a beginning of a period of genuine dominance.
The remarkable progress of this team is that the notable watershed moments in its journey have often been heart-breaking defeats. This is a team that got close only to fall short, be it defeats in the Europa League final, Champions League final or losing the league by a mere point. It is from these defeats that a mental fortitude has blossomed, protecting them against setbacks, not least by minimising the frequency of such things happening. This is an emotional team in one sense; it feeds off its incredible home support, it's a team defined by a tireless collectivism and one that plays with incredible heart. But it is also a cold rampant machine that has forcibly turned the destinies of matches, and consequently the league, towards it through a gritty ruthlessness and admirable composure.
Looking at Liverpool now is to see a team rippling with perfection across its spine. The nucleus of the team speaks of devastating power and potential; this is a team that could stay together for a few more years. Unlike at Borussia Dortmund, Klopp doesn't have to worry about losing players anymore. Liverpool are no longer the bridge between potential and greatness, but the final place for players to come to in order to win things.
The pressing game and the defensive shape
Gegenpressing is both a sword and a shield. Although commonly referred to as a counterattacking method, it's really more of a counter-pressing style, orbiting around the urgency to prevent the opposition from countering. Pep Guardiola's Barcelona did this, recovering possession through a six-second window of intense pressing. But the difference was that where they simply resumed passing the ball around upon recovering possession, Klopp's team are more direct and swifter. For this to work, a team requires compactness both horizontally and vertically to prevent teams from playing through gaps in the pressing. It's also based on coordination and perfect timing. The wingers will usually drift in slightly narrow between the opponent with the ball and a player waiting to receive it. It's not so much about pressing the player with the ball but shepherding him towards passing to someone upon whom the counter-pressing team can converge upon. Once they get the ball, they open up like a fist.
There have been games against Guardiola's City in which Liverpool have frequently defended like this, seeking to crowd the central spaces and ensure every City attacker is outnumbered. The most notable example of Liverpool defending narrowly as a collective unit was during their Champions League final victory over Tottenham. The Reds packed the middle, their wingers taking up narrow positions, the midfielders keeping tight together, and squeezing the space for Spurs' prominent attackers. It meant that Spurs dominated possession but Liverpool were too compact and organised for them to break through. The only outlet for Spurs were the flanks, and it's usually from here where they progressed up the pitch.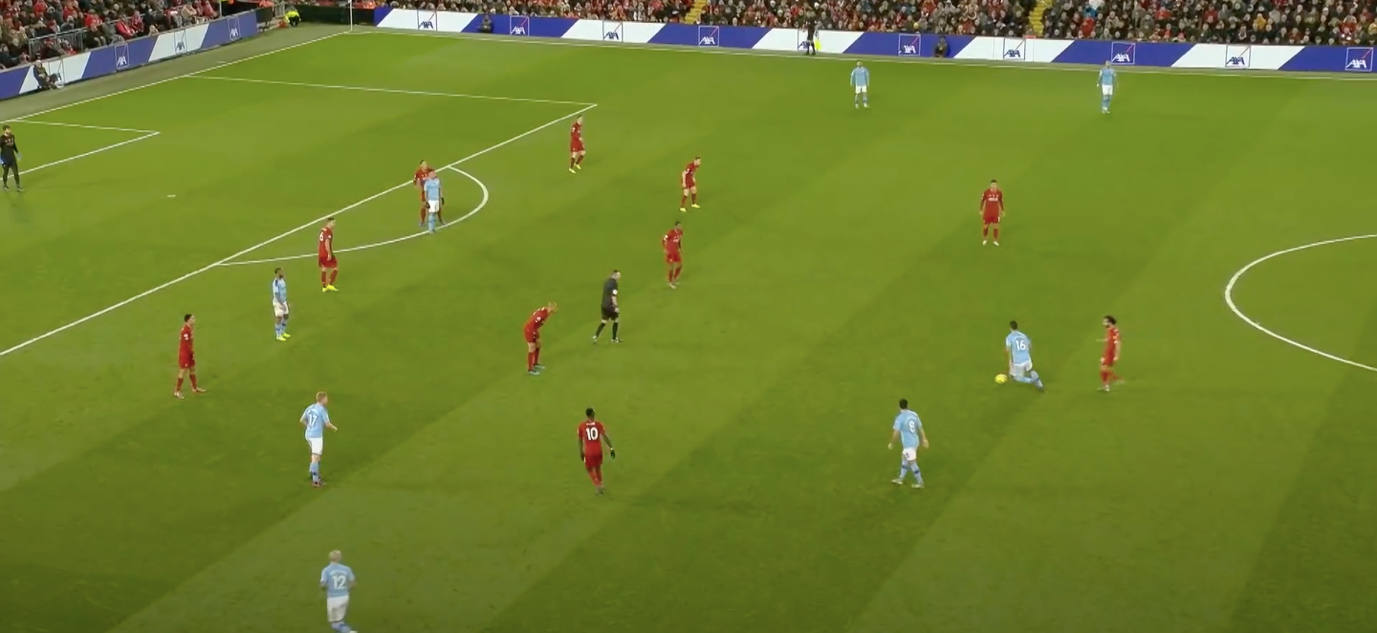 An example of this was Liverpool's third goal in their 4-3 win over Man City in the league in 2018, when the front three waited while City dithered on the ball. A slight application of pressure from Robert Firmino led to a nervous pass and then Liverpool closed in like wolves, stealing the ball and racing clear for Mane to score.
While we have your attention, a quick message from The Tactical Times: If you like our content, and want to help support us, please consider donating towards the upkeep and ultimate continuation of the site. Read HERE for more details.
However, a pressing game is exhausting and only really applicable for about twenty minutes. This meant Liverpool didn't have the legs, especially in such a demanding league, to maintain the high levels of energy required. It was also becoming tactically a conundrum. Klopp was running into the same problems his Dortmund teams did. There was a season in Germany when Borussia hovered near the relegation zone because teams had adapted to their legendary counter-pressing football. Liverpool were encountering similar problems where they lacked the guile to open up small teams and speed became redundant. An overreliance on Philippe Coutinho didn't help either, as teams shut off the supply to him and in the process, shut off Liverpool's creative star. During their 2016-17 season, they were undefeated against the bigger teams but lost frequently to smaller ones as they were a team that exploited space rather than creating it.
2018-19 saw a tweak as Liverpool subtly shifted in how they pressed teams. Guardian's football tactics guru Jonathan Wilson noted how Liverpool were regaining possession 4.1 times per game, as opposed to 4.5 from the previous campaign. Metrics from Opta painted a similar story of a more patient Liverpool side defined less by speed and more by calmness. For example, the average number of passes that opponents made in the middle and defensive third went up from 11.2 from 2017/18 to 12.8. Klopp's team were keeping the ball more too, taking greater time with their passes. They were pressing less, both to prevent teams from simply going long and allowing their defences to reset, but also to preserve their legs for the rest of their taxing season.
Jurgen Klopp is not noted for his defensive coaching but it's not a coincidence that his title-winning Dortmund sides in 2011 and 2012 had some of the best defences, conceding 22 and 25 goals during both their league-winning seasons. Nor is it a surprise that Liverpool nearly became champions in 2019 when their defence improved astonishingly from the previous campaign. In Virgil Van Dijk and Alisson, they had two individuals who perfected Liverpool's defensive system and meant the Reds finally had a team who could finally keep up with City.
Pre-Van Dijk Liverpool were defensively a mess that could not hold onto leads even late on during a game. For a team that thrived in chaos, Liverpool were frequently undone by it. Many regarded this as a flaw of Klopp's but it was more revealing of the individuals than the system itself. Defenders such as Clyne, Moreno, Lovren, Klavan, Skrtel and Toure are all decent players in their position, but woefully inconsistent.
Take Lovren and Moreno for example. They lacked consistency, defensive discipline and positional awareness. It was particularly concerning with Moreno whose habit of being poorly positioned frequently put his teammates in trouble as opponents could simply play in behind him. The Europa League final against Sevilla and the opening-day 4-3 win over Arsenal during 2016/17 were prime examples in which he was caught out behind. Hence the signing and development of Robertson into a defensively astute player who knew when to go forward.
Sorting out the centre-backs became a priority for Klopp; Liverpool's intense collectivism in their pressing combined with a compact and narrow shape does two things: it forces teams to search for options either out wide or over the top both to escape the pressing and find a way around Liverpool's midfield. An example of this was the Champions League final in 2019, in which Liverpool defended very narrowly, as they seem to do in the big games, forcing Tottenham's full-backs to hug the touchline to create options. This would inevitably lead to crosses in the box, but in Van Dijk and either Matip or Gomez, Liverpool had players who could control the aerial battles. This was not the case when they had the likes of Lovren, Klavan and Sakho as their primary defenders. Second balls and 50/50s were frequently won by their opponents, and it didn't matter if Liverpool pressed high when teams could simply target their centre-backs.
The signing of Van Dijk changed this in making Liverpool more assertive defensively and physically, and also rather superb in counterattacks with his long-ball delivery alongside that of their full-backs. According to the Premier League website, Liverpool are currently ranked fifth in number of long balls played across the course of a season. This is unsurprising in the sense that as a counter-pressing team, Liverpool worry more about speed of attacks than the number of passes. Thus, in the moment of a turnover, they might be more likely to look for their wingers to break away before teams can defensively recover. It's strange to consider Liverpool as a long-ball side in that it's treated as a dirty regressive element of the English game. But this is clearly not about packing deep and sending it long to a tall player up front. It is an electrifying dimension added to their game that makes them more tactically diverse than most teams in Europe.
This is what separates Liverpool from Man City. Both teams are generally the leading teams when it comes to possession. But whereas City cannot play on the counterattack, because to do so requires the ability to defend for passages of play, Liverpool can both dictate the game and respond to it.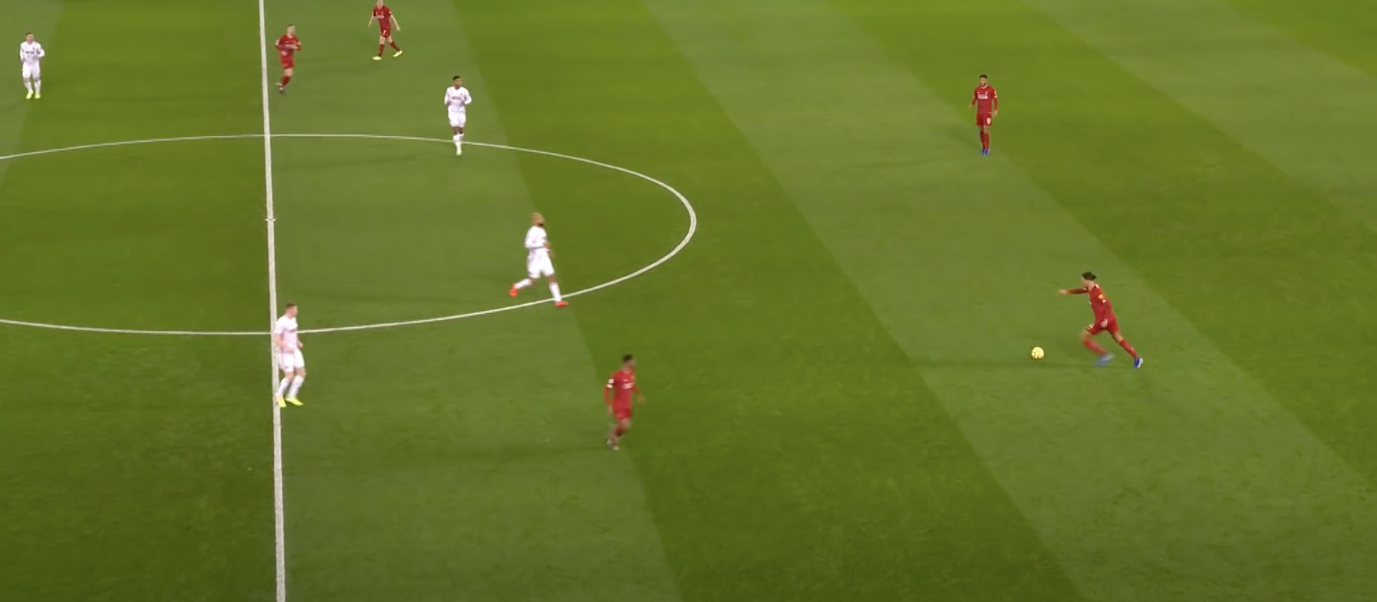 The front three and the midfield
Liverpool have always been blessed with a great attack since the Premier League era began. Ironically, the only time they didn't was arguably in 2005 when they still won the European Cup. But after Luis Suarez's departure, and with Daniel Sturridge perpetually injured, their options up front were seriously limited. And when Roberto Firmino was signed, it wasn't yet obvious that he was the answer either.
But in the Brazilian, Liverpool had the player who would be the underappreciated star of a manager yet to arrive. Rodgers didn't immediately see what he had but Klopp did – a player who could drop deep and bring others into the game, able to lead the intense pressing game that Sturridge and Benteke couldn't. The false number nine isn't exactly a revolutionary role; Barcelona and the Spanish national team had perfected it. But Firmino added a different dimension to it. His was not simply about participating in the passing but leading the press and creating the space for the inside wingers to attack.
It's worth pointing out that in the 2018/19 season, when Klopp flirted with a 4-2-3-1 formation to incorporate Xerdan Shaqiri, Firmino dropping deeper saw him struggle more as he wasn't leading the pressing from the front and was no longer pulling defenders with him because he was now starting from deep. This affected Liverpool's pressing as a whole as it is the forward who initiates the pressure, and Salah, though not lazy, is not Firmino.

The additions of Mane and Salah created a genuinely devastating attack. It paved the way for the final evolution of what Klopp described as the greatest playmaker in the world, that being the pressing game. Coutinho was a fine player but his defensive coverage is not comparable to Mane's, and arguably one factor while Liverpool's left flank was constantly exposed before the emergence of the Mane-Robertson axis. The sale of Coutinho initially prompted some anxiety; he was clearly Liverpool's standout creative player, but his departure forged an opportunity for the funds to strengthen decisively, and more importantly, the rest of the team to step up.
It's fair to say they stepped up. Mo Salah in particular has been particularly superb. His presence in the team has further liberated Mane as now teams have had to deal with speed on both flanks. During the 2016/17 season, Mane's absence for international duties coincided with a severe slump in Liverpool's form during the January period. With Salah in the team, there are more options. Firmino's contribution to this stellar attack has been notable, in how he drops deep, drawing defenders in and thus creating space for the inside forwards to attack the half-spaces between the centre-backs and the full-backs.
With Coutinho now gone, the midfield had more solidity to it, boosted by the signing of Fabinho whose reading of spaces and athleticism has made him one of Liverpool's best defensive midfielders in years. For the most part, it hasn't been about creating chances but about providing a balance, shuttling into the half-spaces between the full-backs and the centre-halves when either Trent or Robertson have pushed forward. Near the climax of the 2018/19 season, Klopp gave Henderson license to push forward even more, often playing in that half-space between the left back and the centre-back. Not only did this see him contribute more in attack, it also freed up Salah. An example of this was last season's 2-0 win over Chelsea at Anfield. The first goal was created by Henderson being in an advanced position, and thus able to assist Mane. For the second goal, as Van Dijk speared a long ball to the opposite flank to where Mo Salah was, Henderson made a run past the Egyptian. In doing this, he took a handful of Chelsea players with him and created space for Salah to run into and score with a thunderous shot.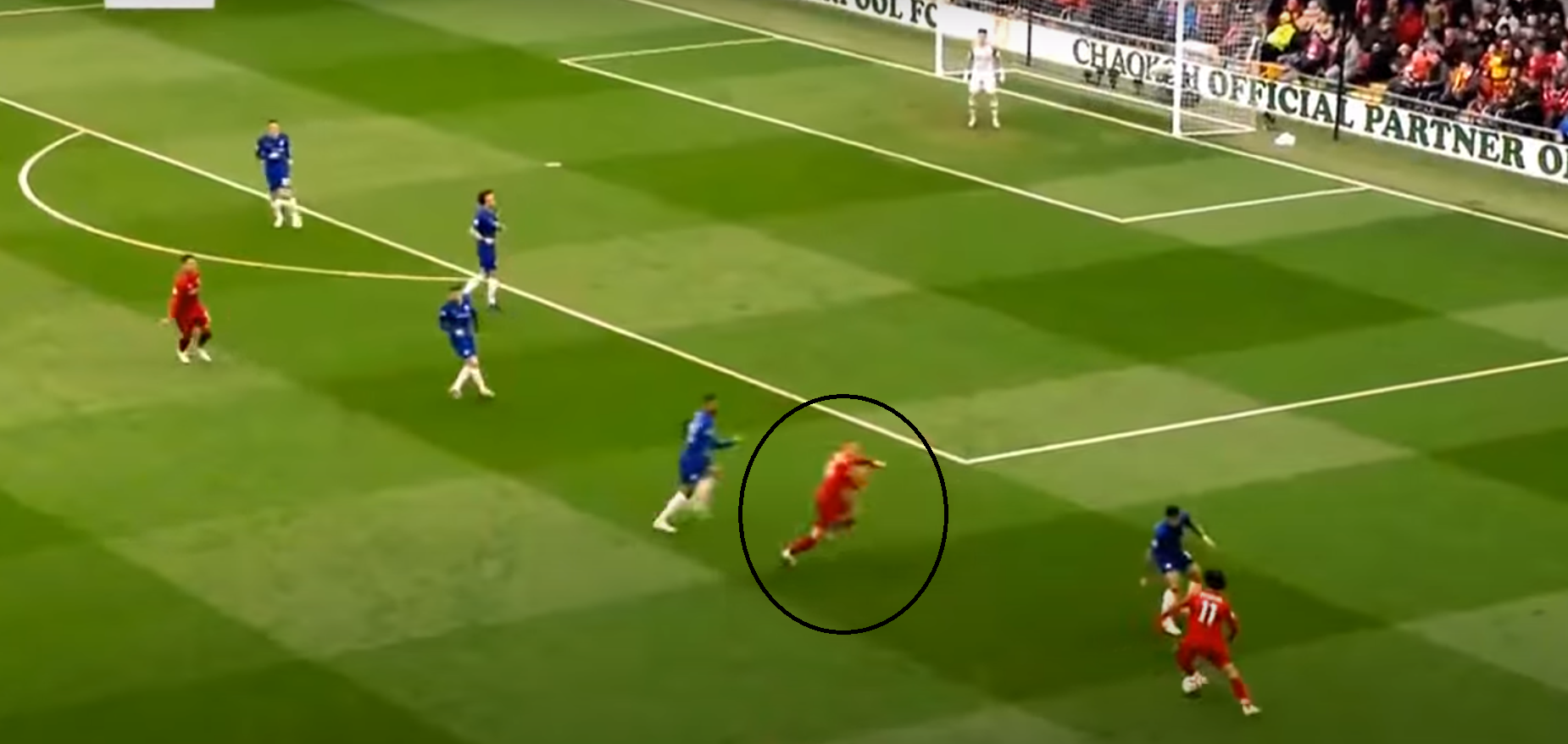 What is immediately recognisable is the compactness of the midfield in that they stay close to each other, to prevent the opposition from playing through them. Although Fabinho is generally the deeper one – a flat midfield line is more defensively at risk than a staggered one from a simple pass between the spaces – where he does press, the other two will be in support close by. This is not too dissimilar a concept to how their forwards operate in pressing mode: as one hunts the ball, the others close the space in anticipation of pressuring an opponent who could receive the ball.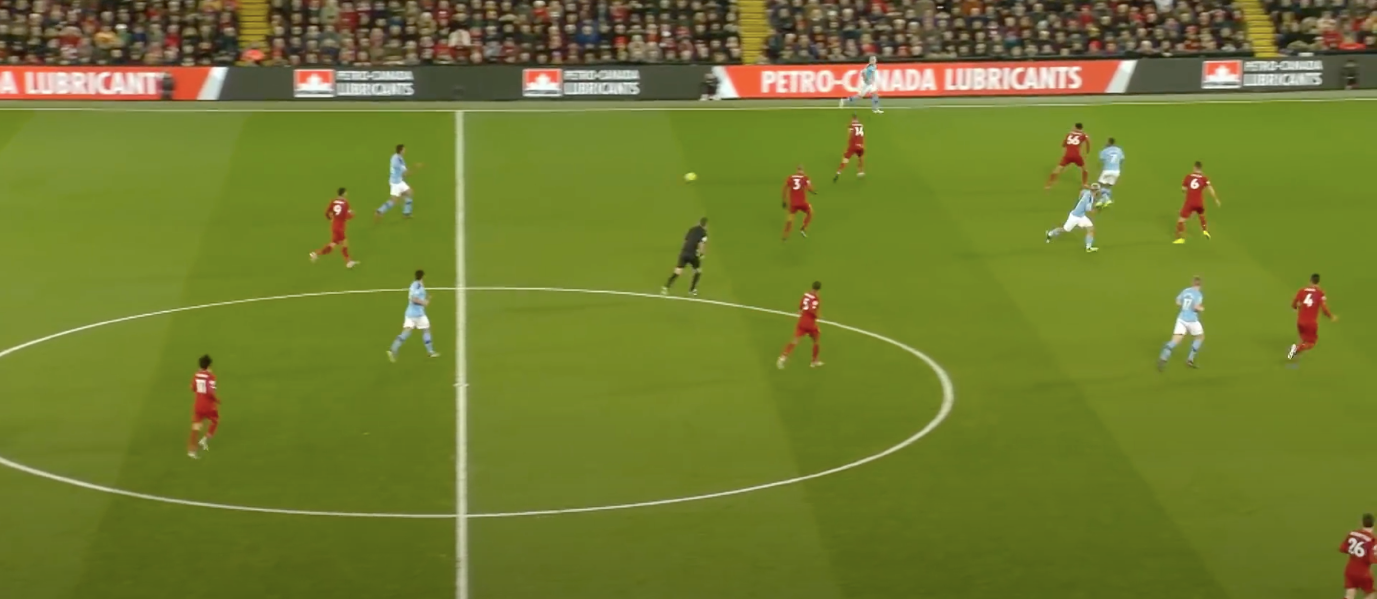 Full-backs
Against lesser teams, Klopp has used the likes of Chamberlain and Keita so that the team can be more creative, but otherwise, the source of the team's inventiveness derives from its full backs.
The crossing prowess of both Alexander-Arnold and Robertson has been deadly, both from open play and in Liverpool's improvement in set-pieces. Teams have generally struggled to deal with them as their full backs are occupied by Salah and Mane. This season they have both been remarkable, able to take Liverpool up the pitch in a flash. The highlight of their superb technical abilities this season was the 3-1 win over Man City. In the game against City, Liverpool were pinned back despite leading. But then Alexander-Arnold flashed a ball across the pitch to Robertson who took one touch to set himself, and another to find Salah coming in off the wings to guide the ball into the net. It was a portrait of how this team can score from anywhere, a team that likes to attack and press, but isn't opposed to the use of long balls.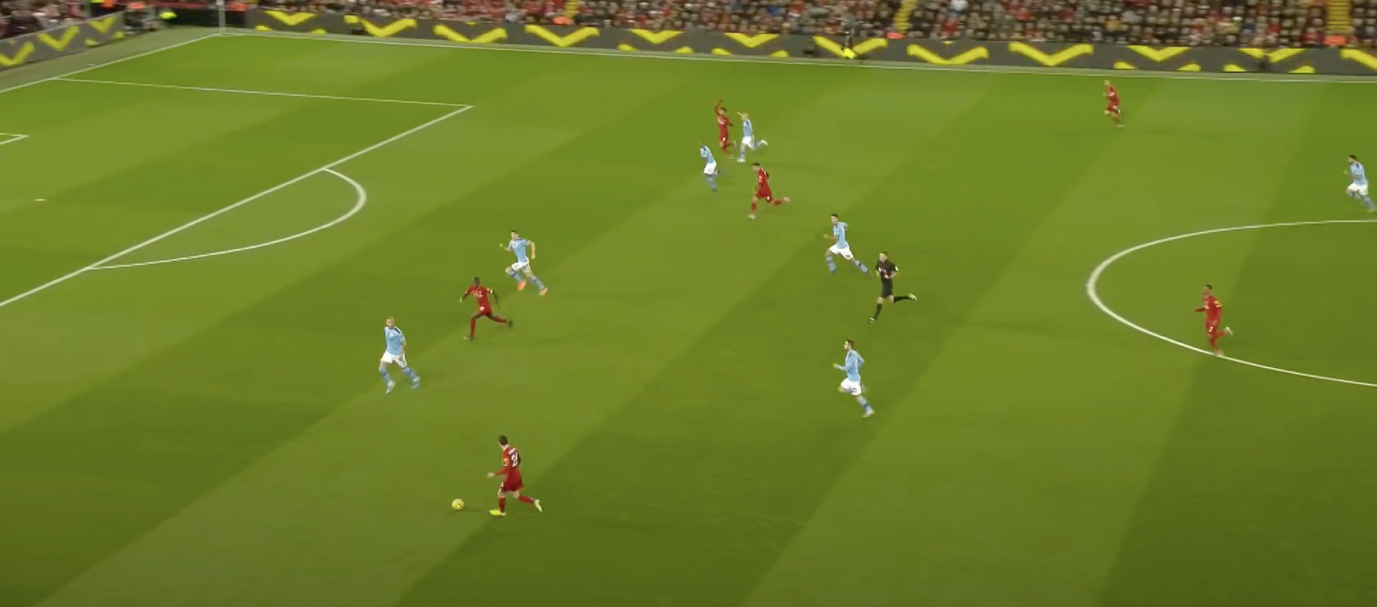 A Golden Sky
This is a settled team with a manager who has found the perfect club for his intense, emotional football. They will face a stiff challenge next season from Man City, and possibly Chelsea and Man United. At the time of this writing, there are rumours of Thiago being signed from Bayern Munich. Although he could unsettle an established and unsung midfield trident, he remains a superbly gifted technician and something that Liverpool lacks in their midfield. There is a significant drop-off in quality from Liverpool's XI and the rest of the squad, and the impact of a global pandemic has arguably made it more difficult to address that.
What remains abundantly clear is that Klopp has created a fearsome pressing team that has one of the best attacks in Europe, and arguably the best defensive side if you exclude Atletico Madrid. This is a team without an obvious weakness. Comb the list of criticisms reeled out for this team and the evidence tends to contradict them. Salah being a one-season wonder? He's disproven that. Trent being unable to defend? Ask Leroy Sane what it was like facing him in the Champions League. Liverpool's midfield being the weak link? They overran Barcelona in both legs last season and would have won the tie more comfortably had the Catalans not possessed the world's greatest player.
The work that the German has done will be remembered for many years at Anfield once the sun eventually sets on his marriage. But for now, the sky is golden for Liverpool with no storm in sight.
Rabbil Sikdar is a Freelance Writer and a huge Liverpool fan who writes about his main interests, football and politics. You can find Rabbil on Twitter.