Fabinho Tavares – Liverpool FC vs. Arsenal FC: Player Performance Review
Headlines often aren't given to those who repeatedly quell attacks, support the press, disrupt momentum or anticipate the action before it happens; Fabinho did all of this and more.
The Anfield turf was awash with good Liverpool performances on Saturday evening. Choosing one of them to focus on today wasn't an easy task, though it was an enjoyable one.
Positive headlines are often taken by those who provide the goals, the assists or the key passes, and not those who repeatedly quell attacks, support the press, disrupt momentum or anticipate the action before it happens. For this reason, today I will look at the performance of a man who did do all of that, and more – Fabinho.
Support, anticipate, disrupt
Just 22 seconds into this tie – a tie which was said to be 'the battle of the front 3s' during the week's build up – and this was what Arsenal faced.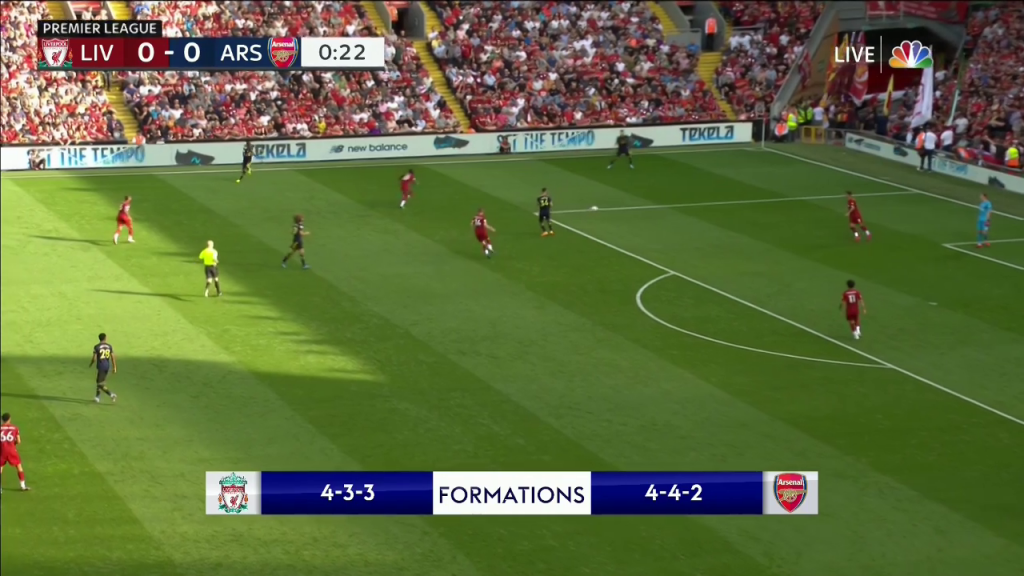 Liverpool close everything down, as is customary during a big game at Anfield, and Arsenal find themselves short of options. They have a relatively easy out – a big clearance – but that's not the Arsenal way. They want to showcase their ability to beat the press.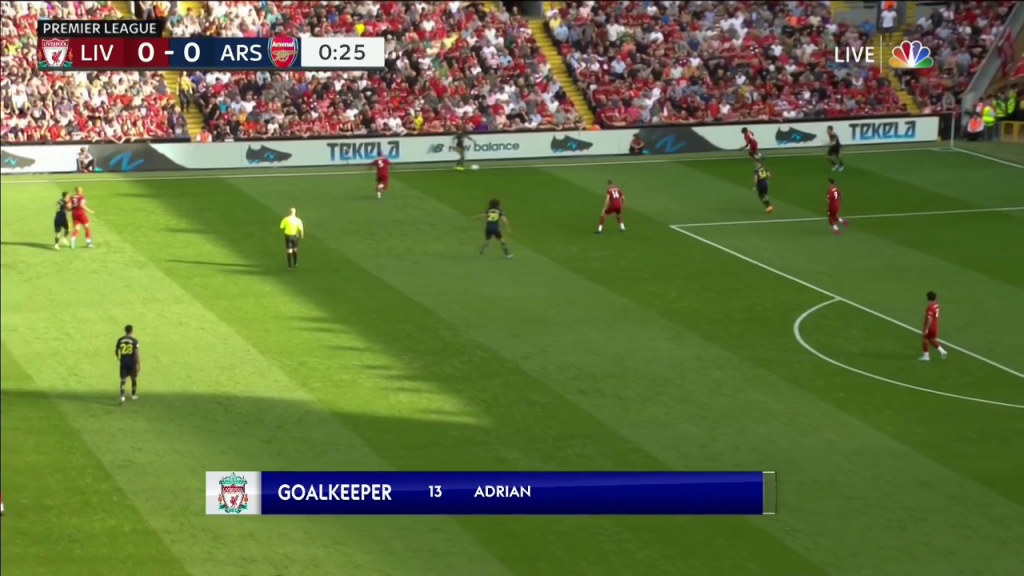 This is where Fabinho gets involved. Pressing is fine in theory, and often in practise, if you can close the passing lanes. You also need a way to force a turnover if the right pass is found, and what better way than old fashioned man-marking. Fabinho finds himself goal-side of Ceballos and Arsenal quite literally have nowhere to go.
The Brazilian does force the turnover. Possession is quickly returned to Arsenal,  but it sets a very important precedent for the way that the Liverpool midfield, and Fabinho in particular, were to approach this game.
Here's the short passage in full:
Defending as a midfielder is as much about where you are on the pitch as it is what you do when you're there. Fabinho's teammate, Wijnaldum, is a master of identifying and utilising an optimum position, and against Arsenal Fabinho followed suit.
Here we have an example of this from later in the game: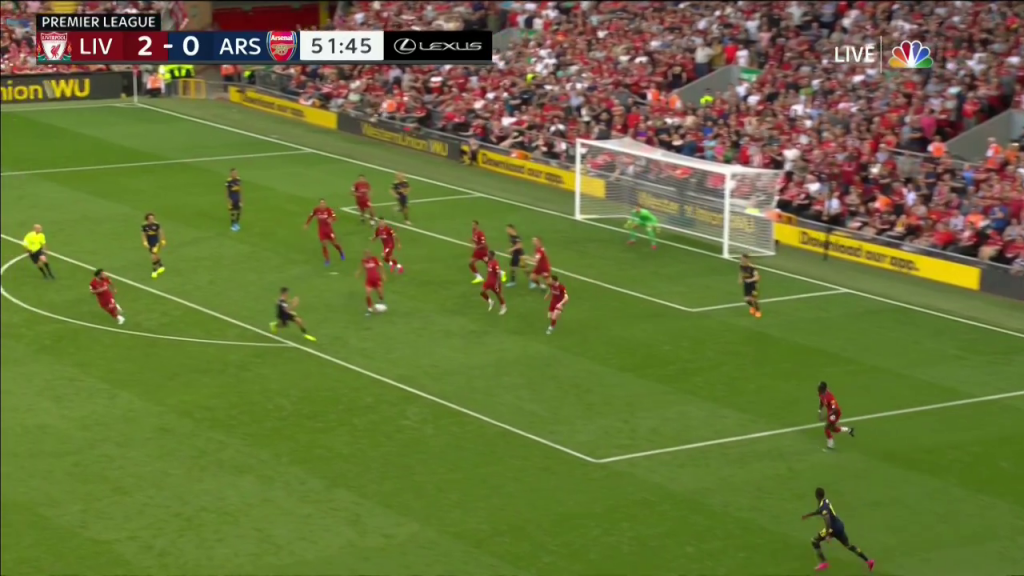 Guendouzi's corner was likely a rehearsed routine where he would circumvent those battling for space in the 6 yard area and lay a low ball to deep runners outside of the box. It isn't taken well, but without Fabinho in his position close to the penalty spot, it would probably have worked.
He doesn't clear the ball, as you might expect from a corner, but calmly plays the pass to a teammate in order to trigger a counter. Mané's touch is a poor one and Pépé is on hand to win the turnover in a promising position.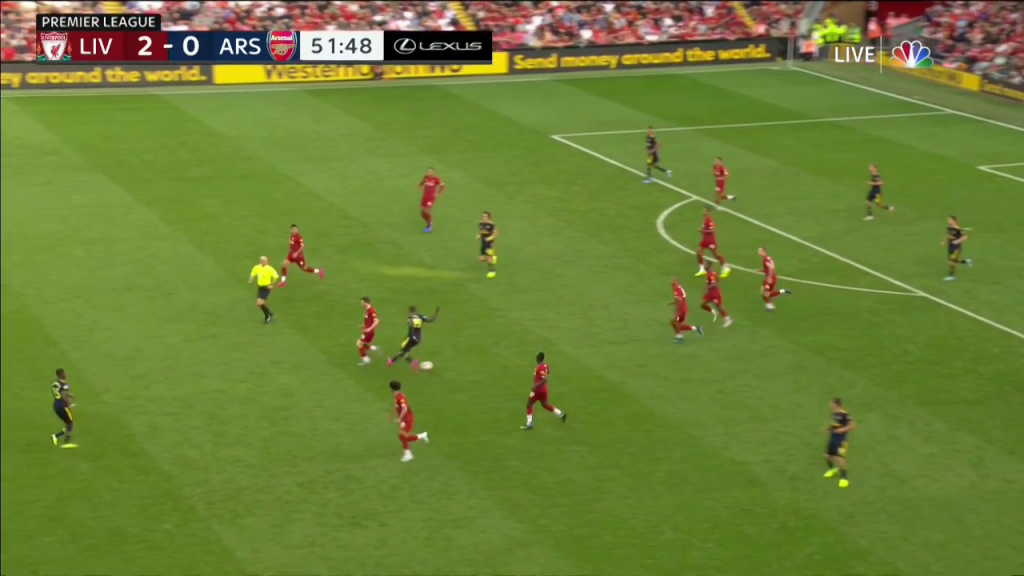 Note Fabinho's run from where he defended the corner to where he is now. There was no movement to stream forward in support of a counter, he – along with his other midfielders – sit tentatively to see how the move develops.
As soon as he sees the Arsenal danger-man turn back into an advanced space Fabinho springs at him with those strong, wiry limbs.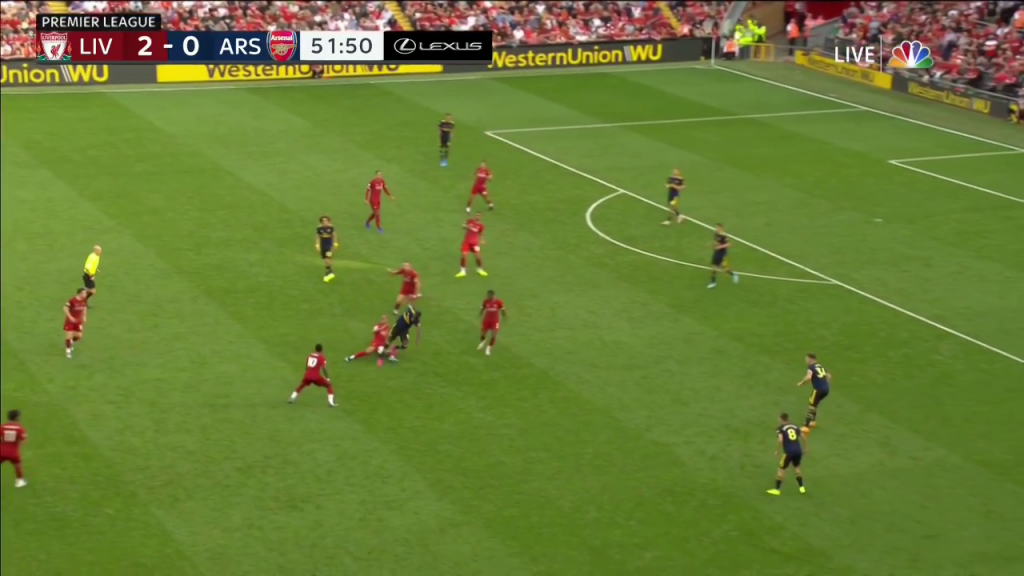 Nicolas Pépé, a man who successfully completed 7 take-on attempts on Saturday and over 100 last season, must not have known what had hit him. The winger has very quick feet, and he does take a touch to try to evade the tackle, but Fabinho simply mirrors his attacker, and Pépé quickly finds himself cornered and trapped.
The tackle is as unorthodox as it is effective. While still on the ground, and in possession, Fabinho flicks a nonchalant boot at the ball and Mané is back in possession and Liverpool are away and facing the prospect of scoring another.
A beautiful piece of defensive work. You can see it here:
More than a defender
As we've seen, defending the Liverpool way – under Klopp's leadership, at least – is often about support. Doubling or tripling up is key to a successful press, and for this reason, the central midfielder of Liverpool's 4-3-3 is not a defensive midfielder in the traditional sense.
Here's Fabinho's heatmap: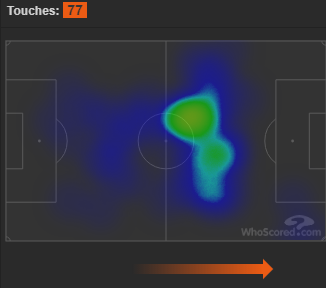 This is not the positional play of a defensive midfielder whose job is to sit, protect and prevent. Fabinho was effectively occupying and controlling play in positions of the pitch usually reserved for a number 8. It is no surprise that the combined heatmaps of Wijnaldum, Henderson and Fabinho mirror this.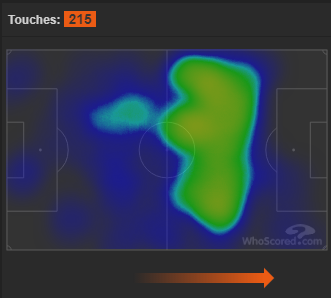 This is further supported by his touch map from the game: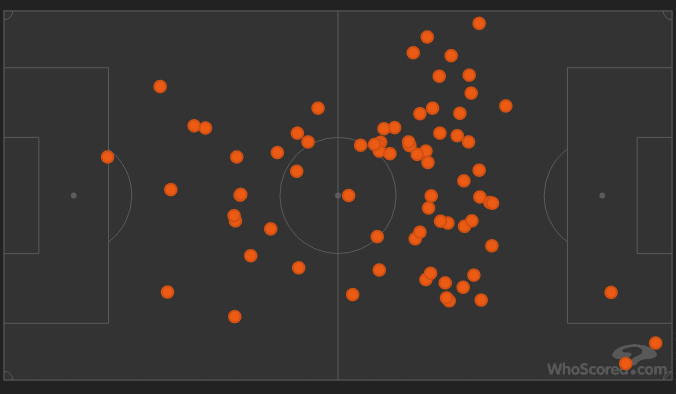 During Liverpool's dominant first half, only 8 of Fabinho's 50 times in possession were inside his own half, and none were inside Liverpool's 18 yard area.
Fabinho's technical, mental and physical ability as a defender is excellent, but within this Liverpool team, this system, he is far more than a defensive midfielder.
Here we have a situation similar to that which was saw in the opening few seconds of the match, only this time at the beginning of the second half.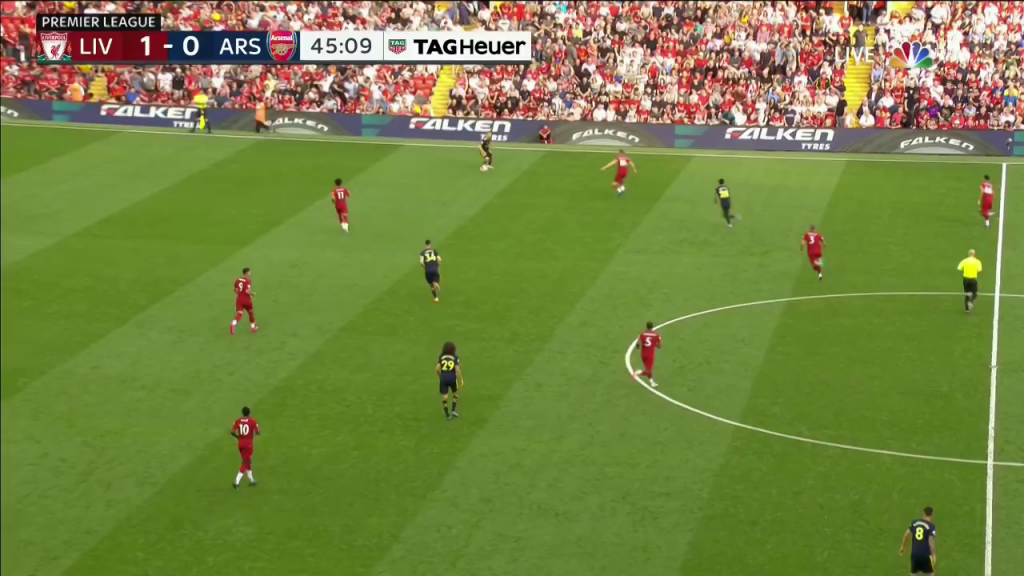 Fresh from the half-time break, the Arsenal midfield are offered no further respite. Henderson closes down Monreal, Salah and Firmino are poised to either push themselves or receive the ball in vast amounts of space between Arsenal's defence and midfield. Monreal sees a possible opening to Willock.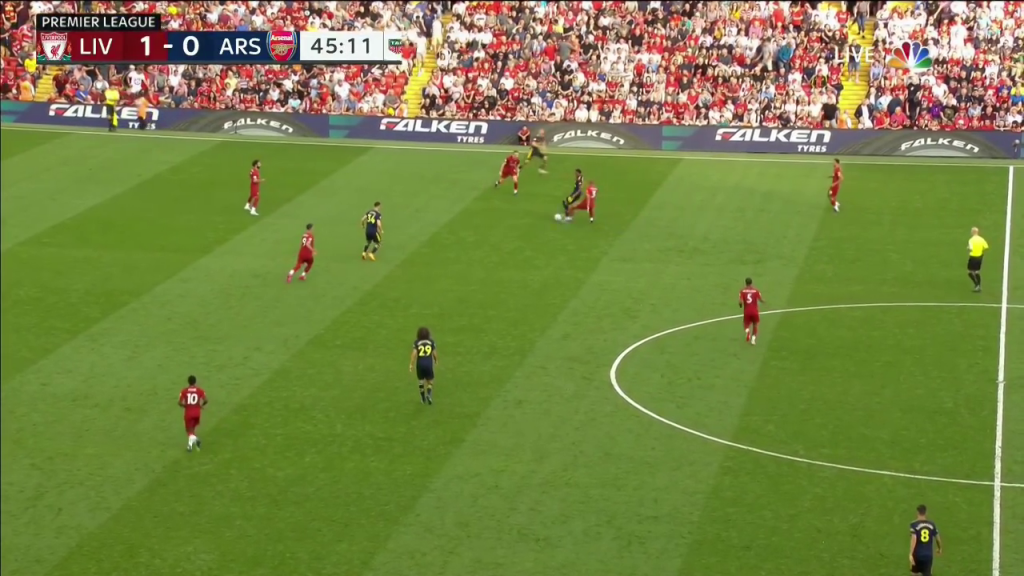 Fabinho is moving towards the receiver before Monreal has even played the pass. He had to do so in order to close the 5-6 yards of space before the very short pass reaches the intended target.
Willock is a bit slow to react but his intention is sound, he tries to play a cute first time flick to Xhaka which would have led Arsenal nicely through the press and out of danger.
In the blink of an eye, Fabinho sticks a long leg and a big boot between ball and Granit Xhaka, and the ball turns over to Mohamed Salah. Rather than resting on his laurels, or being happy to sit where he is and try to reinforce a one-goal lead, Fabinho bursts forward into a space wide of Salah.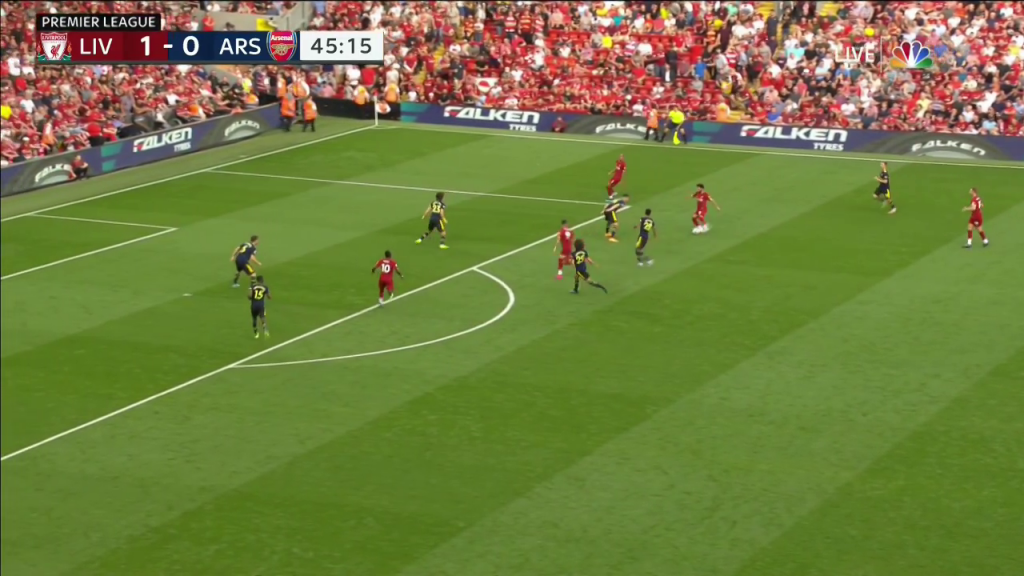 Fabinho offers a simple, dangerous passing option to Salah's right and Liverpool's Egyptian obliges.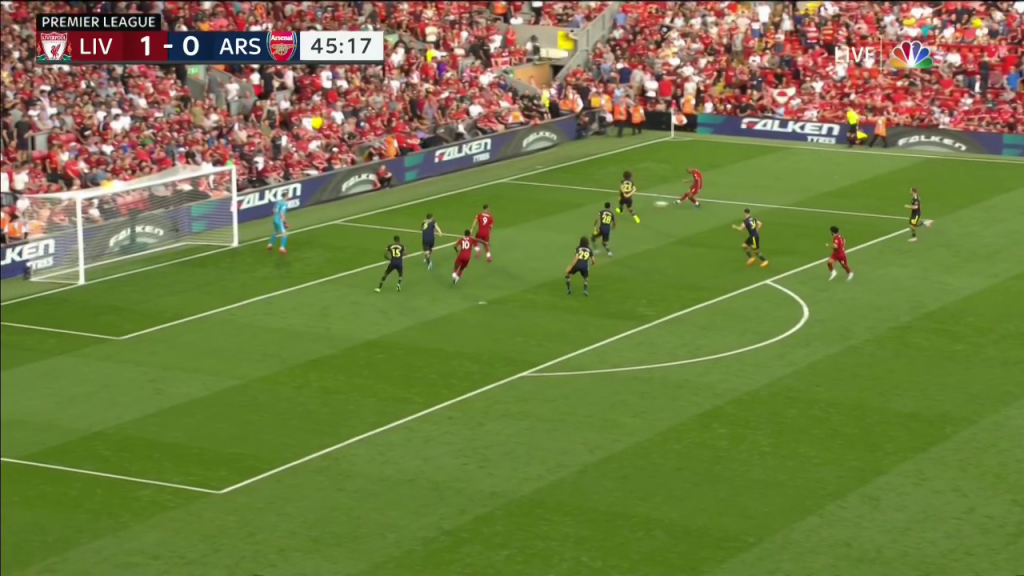 Without taking a touch, Fabinho plays a low, fizzing, first time cross to Firmino at the near post. His international team mate was very close to connecting too, but Leno holds on well to the cross.
In 7 seconds and 2 passes, Arsenal go from being in possession within their own half to facing a dangerous near post cross, all because of the anticipation, vision and technical execution of Fabinho.
Moves like this are only made possible if the player winning the ball – whether through recovery, tackle, interception or otherwise – is able to follow up the move with the initiative to advance.
What I have presented here is just a selection to highlight a small number of aspects of Fabinho's game – anticipation, execution, vision and versatility. You wouldn't believe how much I've had to leave out (error atonement, passing range, defensive shape, leadership and organisational ability, and technique – all were on display against Arsenal), but we can't present a 10,000 word article on one player – though it would be possible in this case.
Fabinho Tavares settled into his new environment unnaturally quickly last season, and he was soon up to speed with life at the top end of the Premier League.
What we saw this week was more than a good performance from a good player; we saw the kind of performance which dictates, decides and wins games.
Unless otherwise credited, The videos and images used in this analysis belong to NBC Sports and The premier league, the tactical times do not claim to own any of the visual or audio media presented here. This analysis was created under Fair Use (17 U.S.C. § 107) and may not be copied, redistributed, edited or altered without the express permission of the copyright holder.
If you liked this article, or any of the content provided by The Tactical Times, please consider donating towards the upkeep and continued operation of the site.