Thomas Muller: Resurgence
Thomas Muller has remerged as a key man at Bayern under Hansi Flick. The evidence points toward 'the master of space' benefitting from a new system.
When asked what makes him special, he simply replied, "Ich bin ein Raumdeuter" which translates to "I am a space interpreter". There couldn't be a better description of Thomas Muller's role. He finds space and exploits it.
Thomas Muller has to be among the most under-appreciated players of this generation. During his long career at Bayern Munich, Muller has scored 116 goals and provided 111 assists in 343 appearances. But what Thomas Muller does on the pitch extends beyond numbers.
Muller has played all across the field in his long career. When asked what makes him special, he simply replied, "Ich bin ein Raumdeuter" which translates to "I am a space interpreter". There couldn't be a better description of Thomas Muller's role. He finds space and exploits it.
Winning the golden boot as a 20-year-old at the 2010 World Cup, Thomas Muller followed it up with a brilliant campaign in 2014 when he scored 5 goals to help Germany win the trophy. However, after a disappointing performance by Germany in 2018, Joachim Low decided to exclude the Bayern Munich star from his plans to pave way for a youth revolution. This was followed by a lack of game time under Niko Kovac, and it felt like Thomas Muller's time at the top was over.
Fortunately for him, the Croatian manager's tenure did not last long and in came Hans-Dieter Flick. The style of play became more progressive, and Thomas Muller once again became a star. During Kovac's time, Muller contributed to just four goals in 10 Bundesliga appearances. Since Flick, Muller has contributed to 17 goals in 15 Bundesliga games. But what changed exactly? Let's have a look. 
TIME ON THE PITCH
Under Kovac, Muller was almost a forgotten warrior of sorts. In Kovac's 15 games in charge this season, Muller completed 90 minutes just twice. Out of the 1,350 available minutes, Muller played only 756; 56%. That is not nearly enough for a player of Muller's level. His role was never well-defined, and it showed in his performances.
Cut to Flick's 21 game period as the head coach. Muller completed 90 minutes in his first three games, and it was apparent that the German star was an important piece of Flick's puzzle. Eventually, out of the 1,890 minutes available under Flick, Muller spent 1,502 minutes on the pitch, close to 80% of the minutes available.
Flick realizes the role Muller plays, and tries to make sure that he is a part of the team. Whether as a no.10 or a wide forward. As a result of this trust, Muller's consistency and performance levels have elevated.
INVOLVEMENT
Muller has been an important part of Flick's system. It can be observed by the rise in his number of touches per game under the German coach.
Under Kovac, Muller averaged 56.7 touches per game in Bundesliga and UCL. Playing several positions, Muller's role was never well-defined, and he was usually included as the final piece. However, the number went up to 70.2 touches from the moment Flick entered the picture.
A similar impact can also be found in Muller's passing. Under Kovac, Muller was completing around 33 passes per 90. The number increased to 44 passes since Flick's arrival. These simple stats show how Muller has gone from the periphery to centre stage.
THE ROLE OF MIDFIELD
The role of Bayern's midfield under Niko Kovac was one of his biggest shortcomings. The build-up was often slow, and the midfield often bypassed and ineffective. Even when they received the ball, they were under high pressure due to the slow build-up. Other times, centre-backs would exchange passes and then deliver the ball to fullbacks – who, under pressure, either played a back pass or long clearance. As a result, Bayern often held possession but most was ineffective as it comprised of horizontal and back passes into tight areas.
The only set pattern was when fullbacks played balls into the forward line and they would either knock the ball into the path of another runner or use the individual brilliance to create attacks. Lewandowski and Muller were isolated, and Bayern often relied the pace and ability of Coman or Gnabry to take players on, and  to force threatening attacks.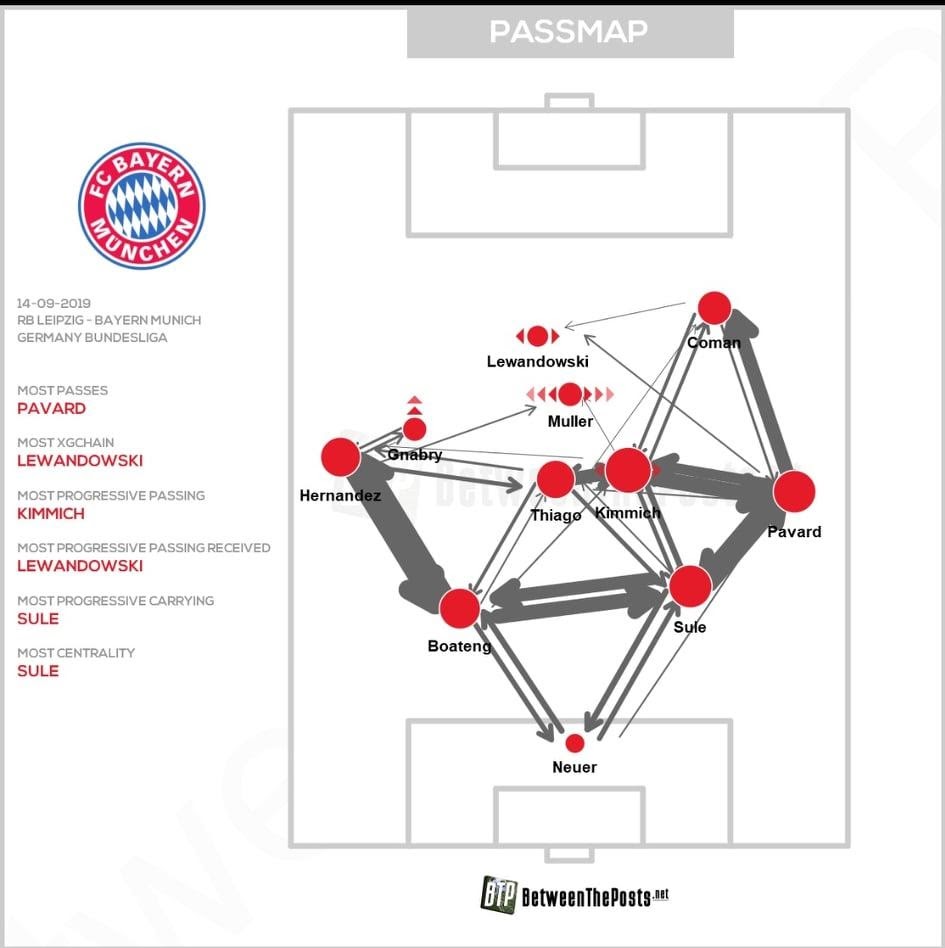 The bulk of the passes was shared among the backline and balls were delivered to Coman and Gnabry under pressure.
Bayern's only goal of the game came in the 3rd minute. It was a counterattack that saw Leipzig's defence horribly out of position, and it took was a well-timed pass from Muller into Lewandowski's to find the breakthrough: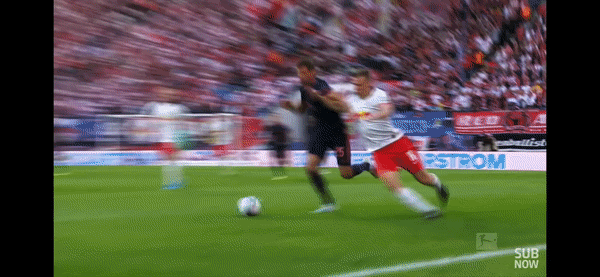 Looking at Bayern's passmap against FC Koln, now under Flick, the difference is noticeable.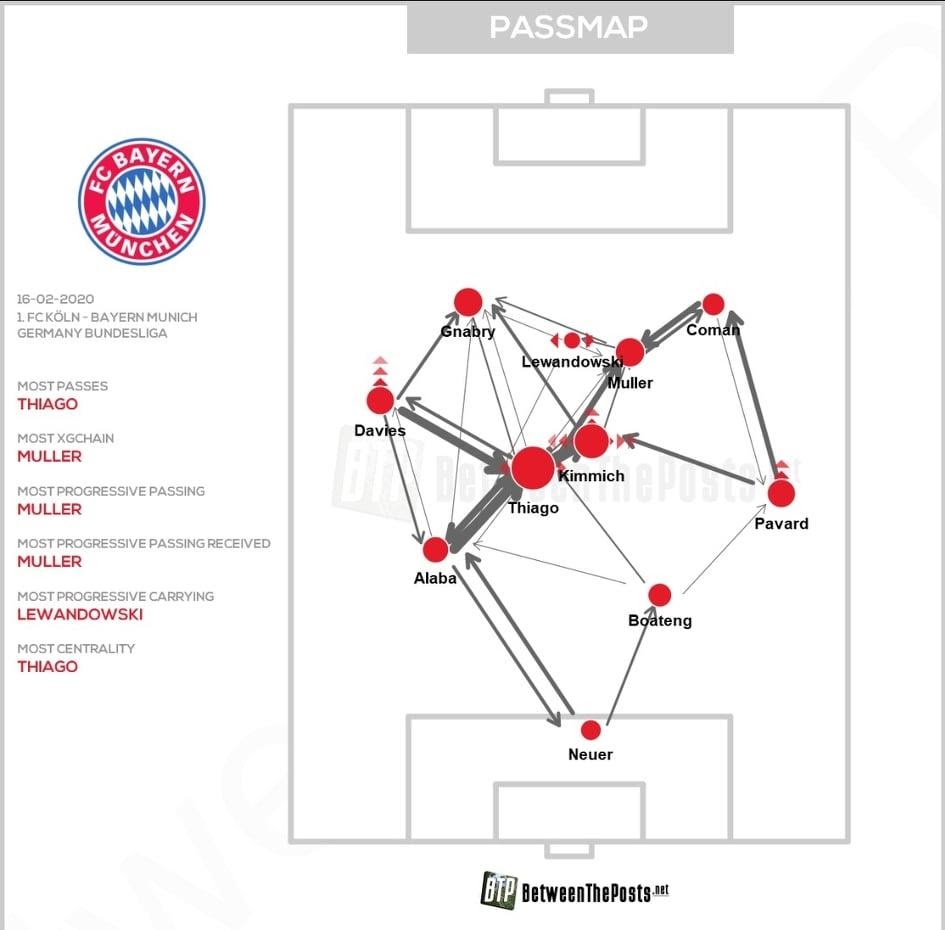 The first change is the position of the left center-back. Alaba is positioned further left, allowing Davies to occupy a more advanced area. This also allows Thiago or Kimmich to drop between the centre backs to collect the ball. Both midfielders demonstrate press-resistance, involving them in build-up allows Bayern far more control of tempo.
It is also apparent that the wide defenders are now no longer used as extensively in build-up play, allowing opposition fewer chances to press.
As can be seen from this graphic, Muller is the most important aspect of Flick's team. He is the glue that holds everything together. He received the most progressive passing due to his space recognition and delivered most progressive passes. As a result of this build-up, oppositions over commit which leaves Muller in more space to work with. He either attracts defenders to play others into space or uses this space to create goal-scoring opportunities.
Another interesting aspect is the connection of Alaba, Thiago, Davies and Gnabry creating an overload on the left flank and Pavard, Kimmich, Muller and Coman creating overloads on the right flank.
THE FLICK SWITCH
Overload on the left. Shifting the position of the whole defence. A long ball by Kimmich or Thiago or Alaba into the path of a forward results in the chance for  instant impact.
Unlike Kovac, who used his wingers to make runs behind the defence and carry long balls from deep, Flick has implemented a different strategy.
In Flick's implementation, overloads play a vital role. He maximises the long ball-playing abilities of Alaba, Kimmich, Thiago and Boateng. Flick uses overloads to achieve this.
By using Alaba, Thiago, Davies, and Gnabry on the left flank, Bayern attracts opposition's defenders to press them. Once pulled over, they shift the position of their defense to counter the immediate threat from Bayern's left flank. As a result, the players on the right-wing (Usually Muller, Coman, and Pavard) are unmarked and make threatening runs behind the defense. It takes one switch of play from Thiago to threaten from the space available on Bayern's right-wing, often resulting in the opportunity to create chances. This can work from right to left flanks in the same way.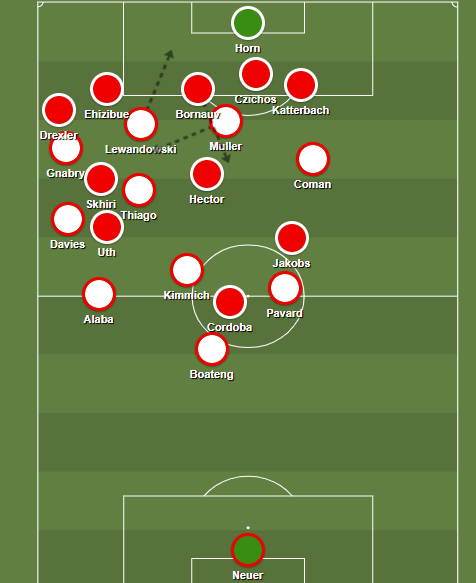 Bayern's first goal against FC Koln resulted from a move like this. Thiago passed the ball into Muller. Muller dropped deep. Bornauv came out to attack Muller and it opened up space for Lewandowski. Muller found Lewandowski with a pass into space and Bayern's no. 9 scored the goal. Notable that Coman here is in plenty of space and the switch of play would have been an option.
Flick uses such overloads often. Bayern's frontmen are more involved in the game as a result. Lewandowski drops deep to attract a central defender (as Muller did). This allows Gnabry, Coman and Muller to make runs beyond him into space.
IMPACT
As a result of the above-mentioned changes in Flick's system, Muller has become an important part of Bayern's system. He is getting more space to work with, he makes good runs and delivers assists for fun. Muller has scored 10 goals and 19 assists in all competitions this season (so far). Let's take a look at how his performance has improved in other metrics since Flick's arrival.
Progressive Carries (Distance): Muller had progressive distance of 102 yards per 90 under Kovac. That number has increased to 120 yards per 90 under Flick. This points towards Muller having more space to work with.
Progressive Passes: Muller averaged 4.8 progressive passes covering 126 yards per 90 under Kovac. They have increased to 7.8 progressive passes 178 yards per 90 under Flick. This indicates he players are acquiring and using more advanced and threatening positions.
Flick has made some very important changes in the Bayern Munich system. Being a part of Joachim Low's management team from 2006 to 2014, Hans-Dieter Flick is completely aware of Thomas Muller's talents. He has not only improved the structure of the team, he has also revived Thomas Muller's career.
Flick has proved to be a perfect fit. The German coach has signed a three-year contract. It was thought that Bayern would struggle for a long time after the departures of Frank Ribery and Arjen Robben, but the introduction of Hans-Dieter Flick seems to have made the transition smooth. And his standout man has been the Raumdeuter, the Bayern legend, the interpreter of space, the assist king – Thomas Muller.
This article was written by Shaharyar Atique. You can find Shaharyar on Twitter – @Shaharyarsays
Have a look at the first of a video analysis series, The Liverpool Counter-Attack: