Calvin Ramsay: Profile and Player Performance Review
Calvin Ramsay is an 18-year-old right-back who joined Liverpool FC from Aberdeen FC. This performance review of Ramsay in a Scottish Premiership match will provide an analysis of his style, strengths, and overall profile.
Ramsay made his sixteenth senior appearance for Aberdeen FC in the 1-1 draw with Ross County in August 2021. He lined up at right-back and played all 102 minutes of the match at Pittodrie Stadium.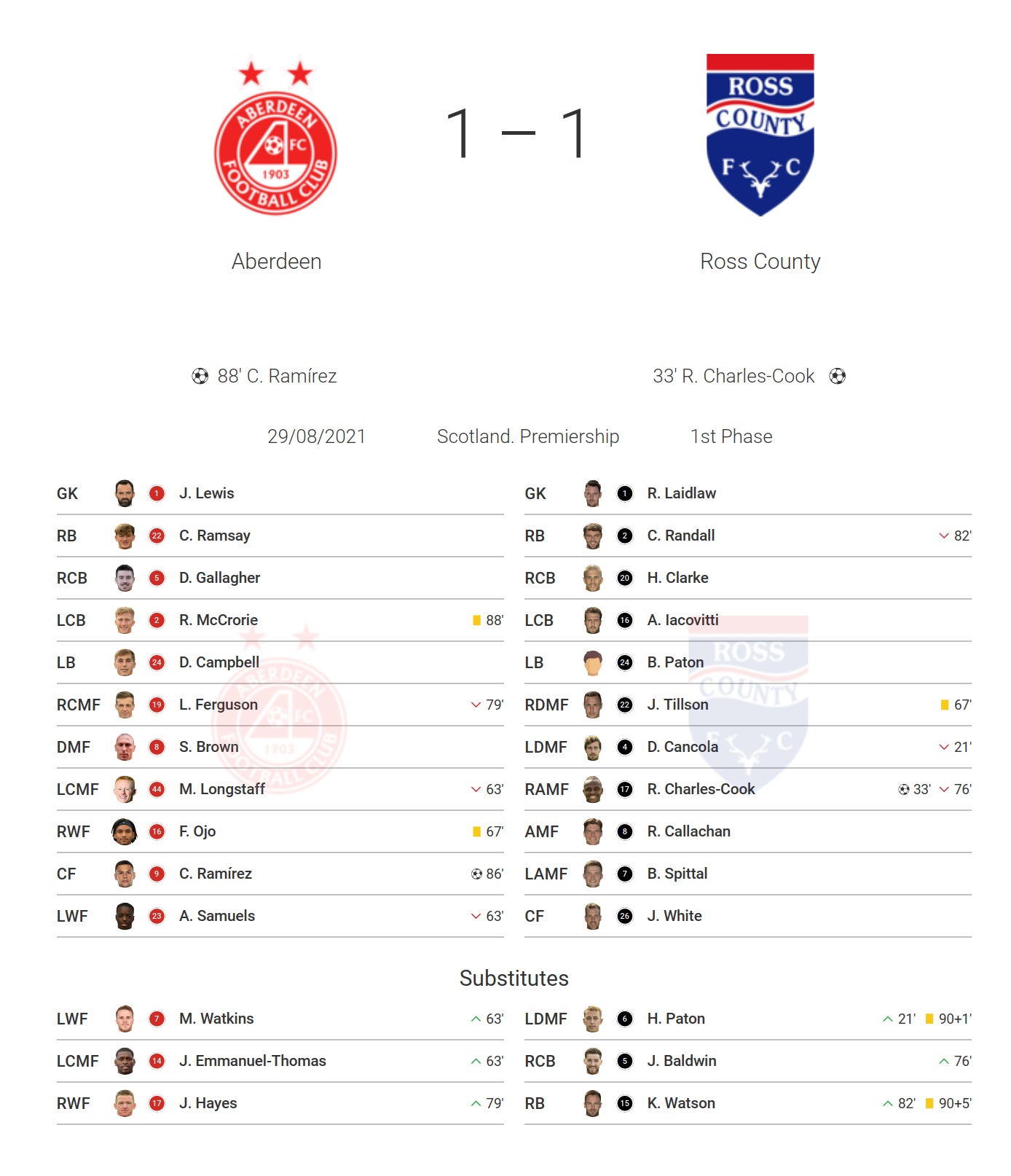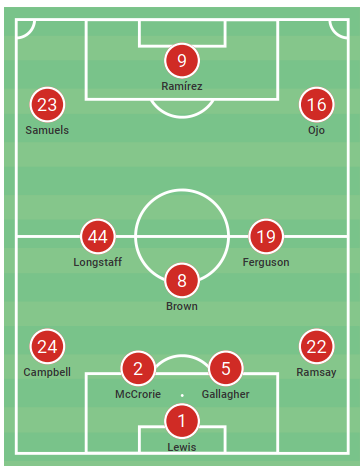 Stephen Glass, Aberdeen manager at the time, used a simple offensive 4-3-3 formation to approach the match.
In terms of full-back support for the midfield, it's a rough shape that loosely resembles the one regularly employed by Jürgen Klopp at Ramsay's new club, Liverpool FC.
Calvin Ramsay from his position at right-back was expected to move ahead of sitting midfielder Scott Brown (8) and pivot Matt Longstaff (44) in possession and support the more offensively-minded midfielder Lewis Ferguson (19).
Ramsay's average position and place in the Aberdeen pass network see him operate in a position and role not dissimilar to that of Trent Alexander-Arnold at Liverpool under Klopp.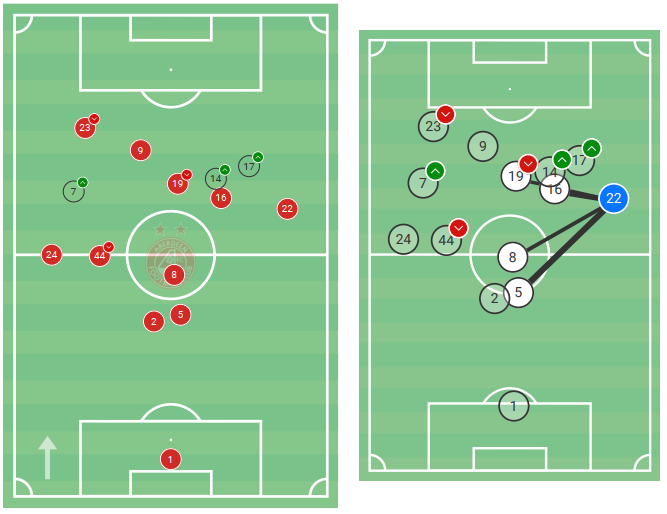 We can see from his progressive running in the match how offensive Ramsay's intent is from a more defensive starting position.
There were 3 recorded progressive runs from Ramsay and all were comparable examples of the defender receiving the ball in a defensive area, driving through space in midfield, laying a short pass wide, and continuing to move into advanced attacking spaces.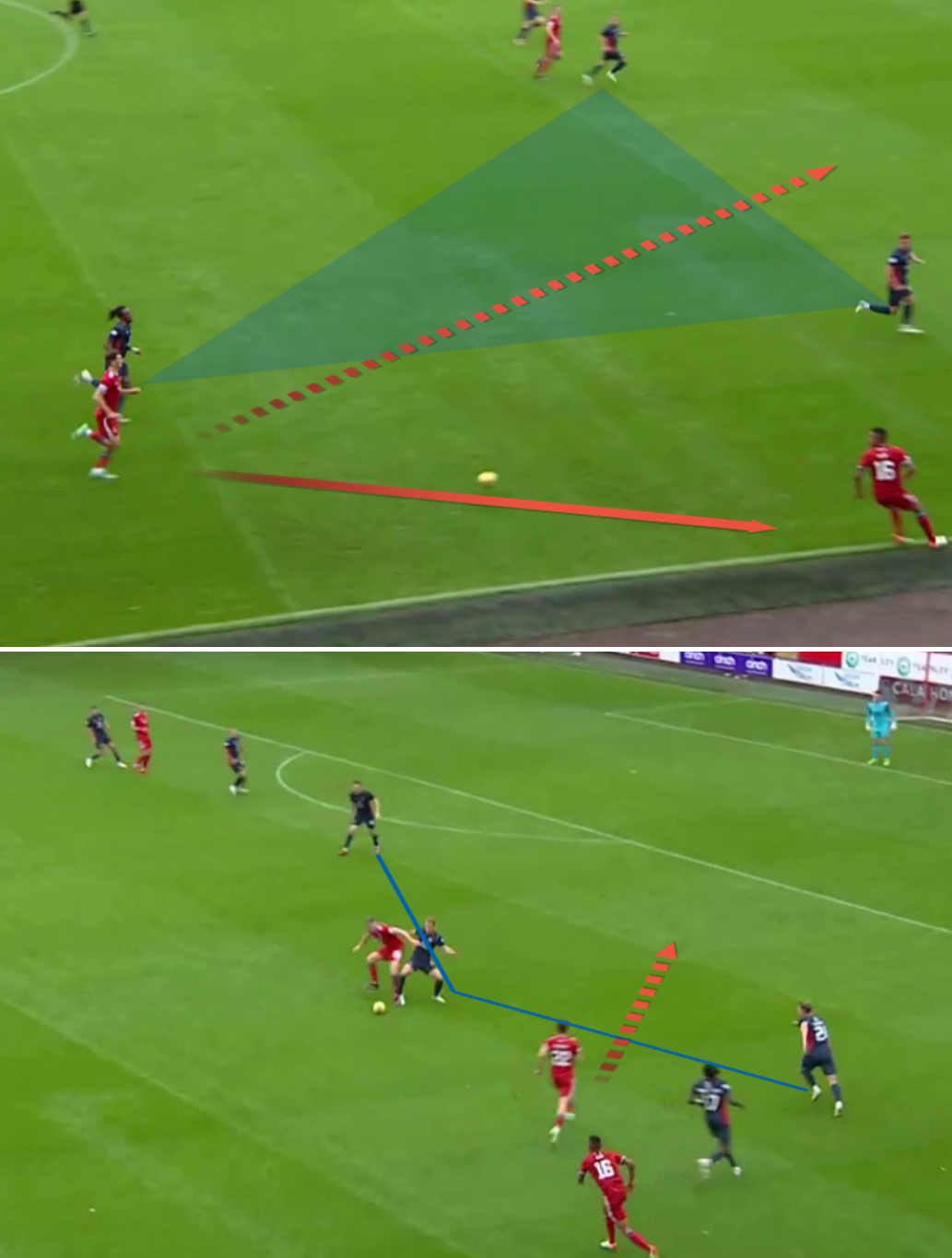 Ramsay did not receive possession again in any of the 3 examples, and two of them resulted in his team winning a foul in relatively dangerous areas, but all of them highlight a willingness in Ramsay – whether borne through tactical approach or personal preference – to attack advanced spaces from full back.
In this case, Ramsay is more comparable to Liverpool's left-back and fellow Scotsman Andrew Robertson.
Where Alexander-Arnold tends to tuck into a midfield position in order to directly impact creative phases, Robertson is more prone to aggressive overlapping off-the-ball runs where he attacks the box and opposition full-backs directly.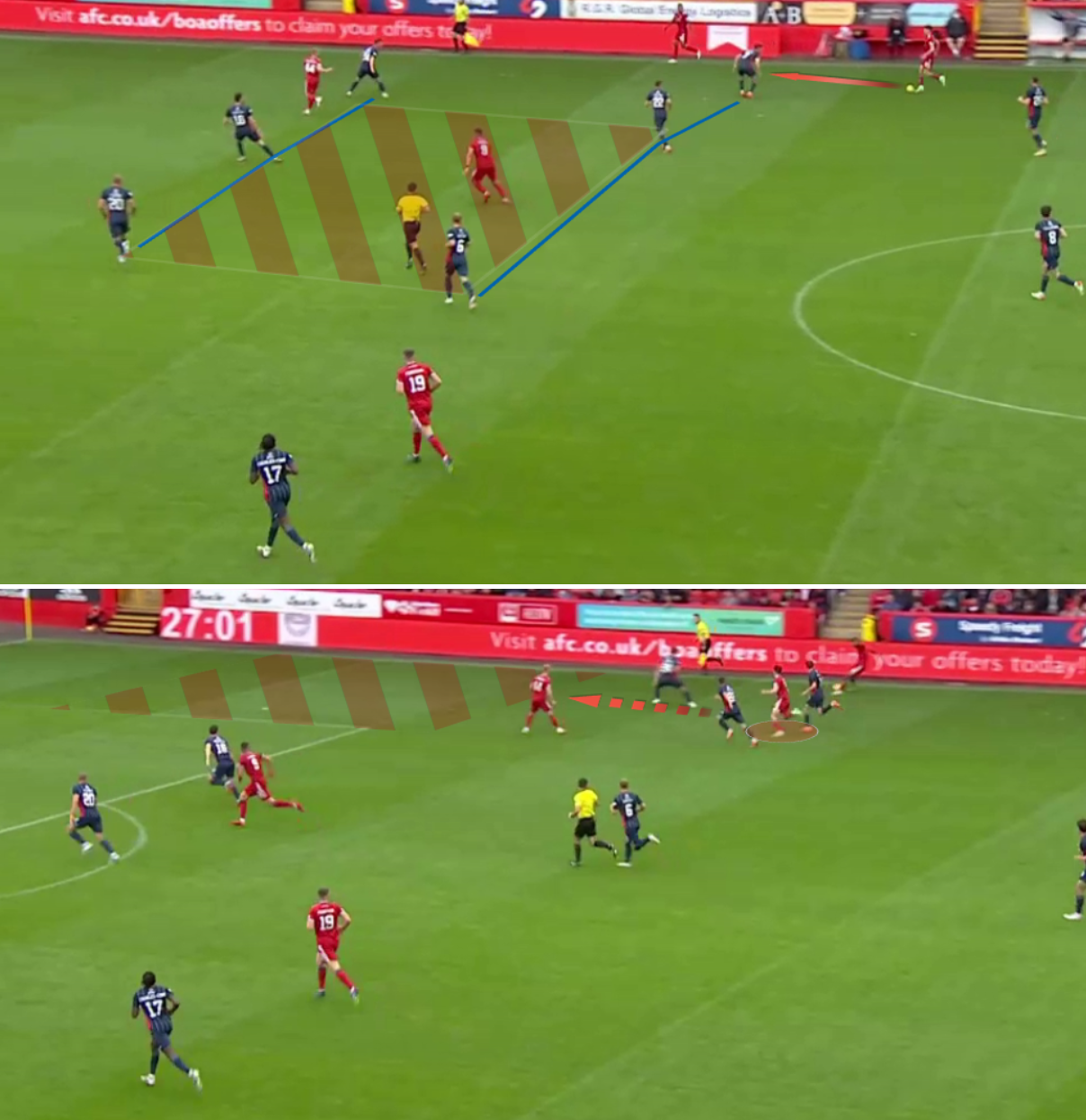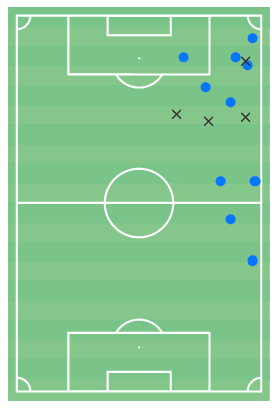 Ramsay's aptitude for attacking these spaces is not limited to his off-the-ball running; he also showed great ability in his 1 v 1 dribbling. He attempted 14 take-ons in total and successfully beat the challenge with 10 of them.
Most of these attempts took place within key wide attacking areas. Each of his dribbles in defensive areas was successful.
Ramsay demonstrated a proactive first touch which he would use to commit to the take-on attempt.
His ball control was strong and he showed excellent balance when feinting a cross and quickly changing direction. Ramsay also showed a turn of pace to indicate a degree of power in his direct running.
Ramsay's preference to attack advanced spaces should not be seen as related to a lack of involvement in earlier phases when Aberdeen FC are in possession.
With exception of the centre-back pair – who operated from a deep foundation to initiate most of Aberdeen's open play attacks – Calvin Ramsay had the most touches and played the most passes of any Aberdeen player.
We can see from the total pass network that Ramsay was crucial as a link between centre-back and attacking midfield.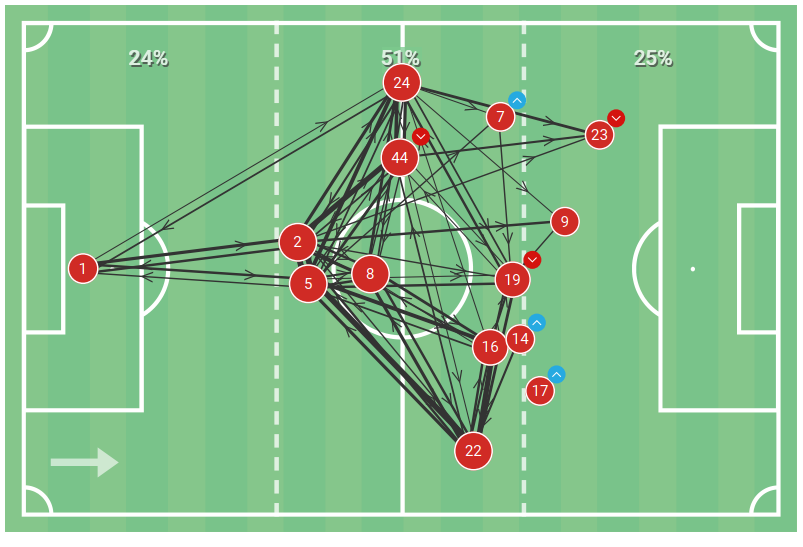 Calvin Ramsay's passing into the final third is a good indicator of how he consistently provided a link between the defensive and offensive game and facilitated his team's transitional effectiveness.
We can also see from his various passing maps that much of Ramsay's passing generally, especially the forward passes involved in creative offensive phases, took place on the offensive side of zones 12 and 15.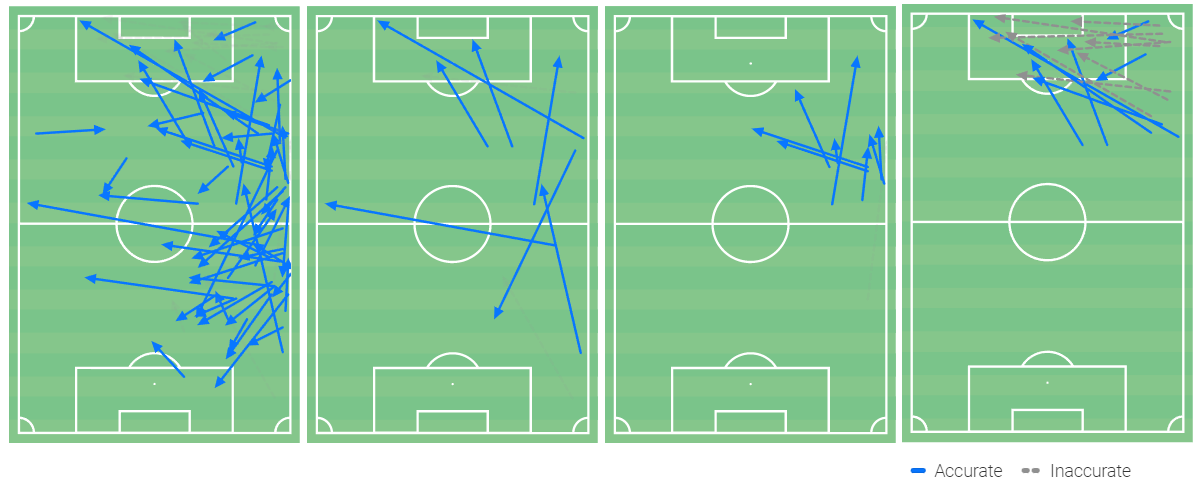 A selection of Ramsay's attempts at line-breaking passes from other appearances offers good insight into how direct and offensive-minded his game is when playing through those zones.
Ramsay's recorded long passes, a couple of which could be realistically recategorised as crosses, give further indication of the player's aptitude for effective and high-quality creative passing from that same area of the pitch.
Ramsay created 10 chances in this match, 6 of which came directly from a corner kick (and one indirectly following a corner kick).
Calvin Ramsay took 12 corners against Ross County; to find a target with half of them is impressive and may indicate a natural ability in this aspect.
These crosses were mostly floated long and high, aiming for the penalty spot or back post. One was driven low and powerfully to a late runner at the near post – a well-executed set piece between Ramsay and Scott Brown, the shot-taker.
Another interesting key pass, other than the excellent one already included within Ramsay's passes into the final third, was when he received a long pass from his centre back when attacking the backline in the wide channel.
Here Calvin Ramsay times his strides to meet the ball close to the touchline. His first touch is a deft reverse pass to the supporting winger who takes up position behind the full back.
Ramsay demonstrates not only the aggressive offensive attitude towards attacking spaces we've seen already but also strong athleticism as well as the ability to perform a delicate, accurate action when playing through a high-intensity phase.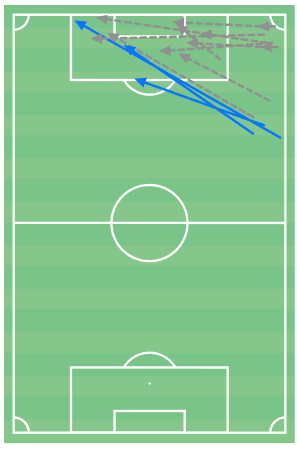 With his open play crossing, Calvin Ramsay was very active. There were 14 crosses recorded in total, 3 of which found a target.
Each of the complete crosses were delivered from deep, most were attempted from closer to the touchline.
What Ramsay best demonstrates by playing those crosses from the more advanced area is his strength in creating the space needed to play the cross without obstruction.
Through a mixture of his dribbling ability, athleticism, and aggressive direct movements, Ramsay showed he can repeatedly get the ball in the box from a high-value crossing position that defenders are forced to deal with.
The quality of the crosses themselves was mostly fine.  Some were more effective and more dangerous than others. The most effective crosses were those that reflected his corner kicks – high, in towards the centre of the area, clear of the first defender.
By taking a selection of Calvin Ramsay's key passes deriving from crosses in other competitive appearances throughout the season, we see a better illustration of how Ramsay more consistently approaches this side of his creative game.
Ramsay likes to ensure that he works himself into a good position and that the ball is under control before delivering the cross.
Whether the cross is delivered early from a deeper area or wide of the box from a more typical winger's area, Calvin Ramsay shows good ability in this aspect and it can be safely considered to be a strength of his game.
If you are enjoying this Performance Review and analysis, consider subscribing to the Tactical Times HERE for a few pounds per month. You get access to much more written and audio content as detailed or more detailed than this one. Such as the Total Player Reports on Alisson Becker, Luis Díaz or Darwin Núñez
Because Aberdeen FC were so dominant in possession – they held possession for almost three times longer than their opponents – the natural focus falls on Calvin Ramsay's impact on their attacking game. But while Ramsay's defensive input was not as pronounced as his offensive, there are still relevant points to consider regarding his defending in the match.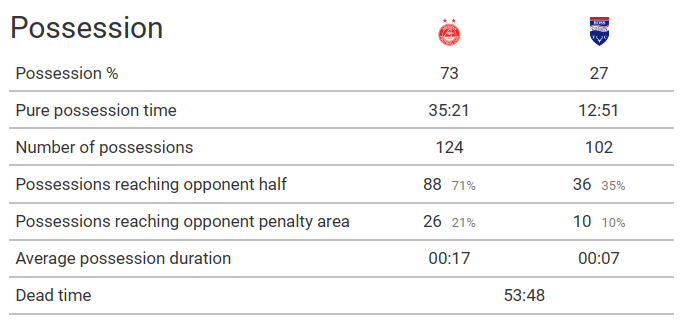 Ramsay performed 4 recorded interceptions, the most striking of which was a very well executed last-ditch goal-line clearance when supporting his centre back after neat build-up broke the Aberdeen line.
With his team out of possession, Ramsay tended to hold a good position wide of Declan Gallagher (5) at right centre back.
Aberdeen maintained a relatively rigid back four when defending. Here Ramsay was well placed to contest attackers 1 v 1 and hold control over his defensive areas – as he did to good effect when attacked inside the box by Ross County's Harry Paton (6).
Ramsay showed good judgement in engaging pass receivers at the right time or backing off and holding position. Ramsay won 5 of his 6 defensive duels and was not beaten by a dribble.
Calvin Ramsay made 7 ball recoveries, 3 of which were in his defensive half. Two, in particular, were of particular relevance.
For the first, with his team in possession Ramsay is beginning a typical forward engagement. He then shows good initiative and reaction to a sudden turnover to regain possession between opposition forwards. Through composure and intelligent passing, he then initiates a new attacking move.
In the second example, Ramsay demonstrates solid defensive movement, reading and control of a situation. As the ball is played long by the opposition centre back, Ramsay ensures he is not caught too central and covers the half space to intercept the aerial ball. He is in full control of himself when backpedalling, he times his jump well, and his header is cushioned accurately.
Small defensive moments in a performance where his offensive capability is so much more obviously showcased. For a match in which his team held so much possession, Calvin Ramsay maintained his concentration when his team were without the ball.
Ramsay was caught out of position only when committing fully to an attacking move, in which case his defensive midfield and centre backs would be expected to cover his defensive area. When required to cover the empty space to regain defensive ground, Ramsay moved quickly.
There will be tougher challenges for Calvin Ramsay than the one he faced at Pittodrie against Ross County, but for a defender who had turned 18 just a month earlier, who displayed not only proficiency of technique in key offensive aspects but also an impressive level of maturity and commitment, this will serve him extremely well as he begins his journey with Liverpool FC.
Video and web hosting, scout software and website maintenance is expensive and we rely entirely on user subscriptions to operate.
By subscribing you will be supporting independent football analysis completely free of advertising.
Subscribe HERE or find more information about The Tactical Times HERE
Unless otherwise credited, the videos used in this analysis belong The Scottish Professional Football League and other relevant license holders. The tactical times do not claim to own any of the visual or audio media presented here. This analysis was created under Fair Use (17 U.S.C. § 107) and may not be copied, redistributed, edited or altered without the express permission of the copyright holder.