Jordan Henderson – Liverpool FC vs. Manchester City FC: Player Performance Review
How does the Liverpool captain galvanise his team, unsettle opponents – opponents of the highest calibre, on this occasion – display technique, guile, tenacity and passion, and most importantly, how does he lead by example?
"I always respect the players around us, and I know how good the players are; it's not a case of 'I should be starting', it's more a case of 'what can I do to get in the team" – Jordan Henderson. Jamie Carragher's The Greatest Game Podcast episode 3
Jordan Henderson; captain, son, husband, father. At times criticised by those who don't know him, at times idolised by those who do. Endorsed, championed, and captained by Jürgen Klopp. A European champion.
Trials and tribulations at a club he loves representing, beaming with pride when lifting Europe's elite trophy, tears in his eyes as he embraces his dad. Jordan is a very, very likeable, relatable Wearside man. But how is he as a football player? That's why we're here, after all.
Liverpool's win over Manchester City was a momentous occasion for the club, a game which the Red half of the city can take a lot of pride in. Great performances all over the pitch. I will focus on just one.
How does the Liverpool captain galvanise his team, unsettle opponents – opponents of the highest calibre, on this occasion – display technique, guile, tenacity and passion, and most importantly, how does he lead by example?
The bad
Manchester City are arguably the toughest team to defend against in Europe. They thrive on movement, intelligent positioning, outnumbering defenders in key offensive areas. If you're not organised – stubbornly organised, and if you're not focused, they will punish you. They often punish teams who are organised and focused much the same.
Here we have an example of Liverpool not organising well enough, and Henderson (among others) showing a lack of focus.
He has moved back to support Dejan Lovren, who finds himself out of position to cover Alexander-Arnold. Henderson is always willing to cover, Liverpool in general usually are. His mistake is not in his intention, but in his execution. He moves to intercept Rodrigo's pass, preempting a short ball to Gündoğan. He misjudges the pass and Rodri picks out a smart ball over the top to Angeliño.
Fabinho is tracking Sterling, Lovren has tucked back into the back-four. Henderson is left floundering ineffective.
There was a decision to make. Does he drop back and cover the wide option (is he aware of the wide option?) or does he move up to either intercept or press. The decision he made was the wrong one.
The next example was a few minutes earlier.
The ball is again picked up by Angeliño – the Spanish wing-back was among Man City's most effective attacking players – who plays a short pass to Kevin De Bruyne and makes his diagonal run.
Liverpool were organised in a decent defensive shape when Angeliño is on the ball. Henderson is the closest man, he engages. When the short pass is played, the Man City wing-back simply must be Henderson's man. Instead of tracking his runner, Henderson points and gestures for Alexander-Arnold to track him. Alexander-Arnold tries to move inside, as he should, Angeliño advances unmarked into the box.
The through-ball by De Bruyne is executed perfectly, typical of a player so adept at creating, and there's a cute dummy on the edge of the box. Alexander-Arnold isn't able to cut between man and ball, the pass it too accurate. Angeliño is free to pick up the ball mid-stride inside the Liverpool area, and move between defenders. His shot hits the post. Alisson isn't pleased.
Liverpool escape with the clean-sheet, for the time being.
Henderson isn't the only culpable party here, there are other Liverpool players out of position in both instances,and wrong decisions are made; but this is a review of Jordan Henderson.
The first shows a wrong decision was made, it happens in top flight football. This is a game happening at breakneck speed, you have fractions of seconds to decide your course of action. He used his initiative and on this occasion it didn't work out.
The second was a case of defensive passiveness, a leading cause of goals conceded the world over. Henderson should be tracking his runner; he's the closest man, he is surely aware that Fabinho isn't in the position to cover for him, likewise he should be aware that Angeliño is currently goal side of Alexander-Arnold. Tracking his run should be Henderson's job.
Either he isn't fully aware of his surroundings, and level of support, or he simply isn't sure what to do in this moment. Indecision, hesitance. Again, the wrong decision.
The final example in this case, and in some ways comparable to the previous two, came at the beginning of the second half.
Bernardo Silva cuts inside, and finds a pass to De Bruyne. The Belgian's control is poor and van Dijk capitalises to make the tackle. Liverpool are able to play out. A pretty innocuous moment, in all.
Note the position of the Liverpool defenders when De Bruyne receives the ball.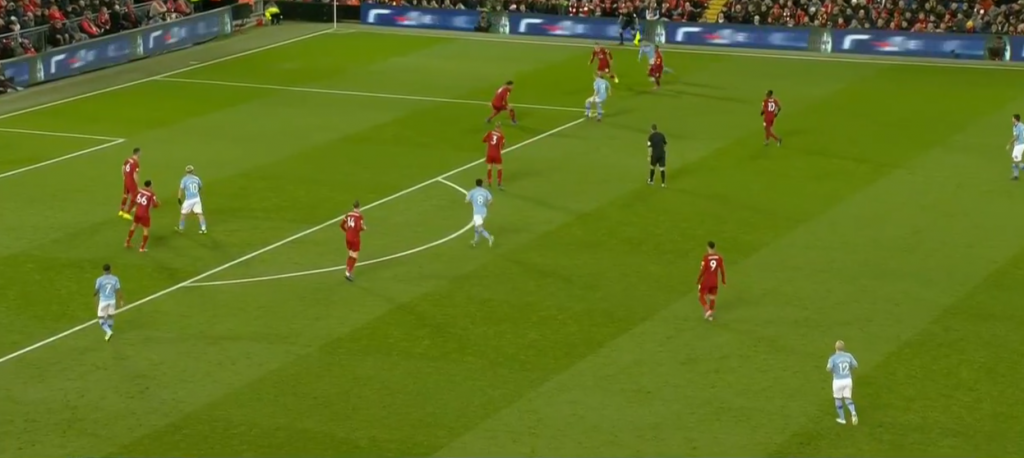 Lovren has dropped in, and appears to be marking either the penalty spot or Sergio Agüero. Alexander-Arnold is next to him not really doing much. Sterling is wide open.
We'll focus on Gündoğan, currently moving between Henderson and Fabinho on the edge of the area.
As I said, Manchester City thrive on movement, and the creation and exploitation of space using short passes. What we see here is a bad position to be in against Manchester City.
Had Kevin De Bruyne controlled the pass – which, you would have to admit, is generally expected – there is a pretty simple short through-ball on to Gündoğan. Fabinho has a look over his shoulder, he's aware. He makes a slight move into the area to cover a potential passing lane. Henderson is standing next to Gündoğan, he's aware. He is jockeying nobody. He hasn't tracked the run, he hasn't moved to cover a passing angle, he looks as though he is anticipating Man City losing possession. As it turns out, that's exactly what happens.
On the whole, the Liverpool defending isn't bad, as such. But it is a bit too relaxed from Henderson. There was a lot of possibility in this move, and had De Bruyne controlled that simple pass I think Henderson's positioning and reaction to attacking runners would have been highlighted and scrutinised.
Defensive midfield positioning is an art. Fabinho, in particular, is a master of the art, we've looked at this before. Henderson isn't a defensive midfielder, and he can't be expected to show expertise in those aspects. But this is a side of his game that could improve. Working alongside the Brazilian will certainly help.
We mustn't also overlook the quality of the opposition here. I can't stress enough just how good the likes of Agüero, Sterling, De Bruyne, and Silva (both Silvas, really) are in their movement and execution. Liverpool, and Henderson, were dealing with the most deadly attacking force in world football.
I've chosen three examples of poor defensive work. But none are particularly bad. And I couldn't find many more than this. Testament to Henderson, I'm sure.
While I have your attention, a quick message from The Tactical Times: If you like our content, and want to help support us, please consider donating towards the upkeep and ultimate continuation of the site. Read HERE for more details.
The good
When Liverpool emerge in a 4-3-3, that midfield can be difficult to define, typify or even understand. I'll attempt to simplify it here by giving Henderson the number 8 role. Steven Gerrard, if you like.
It's not as simple as that though. Wijnaldum can advance as an 8 does, Henderson can drop in like a 6. Fabinho seems to be everywhere at every moment. For the sake of this review though, we'll call Henderson the 8.
He spent a lot of time on the right wing during Liverpool's more adventurous moments. And it is on this right wing where we find our first example.
Henderson is the most advanced of all Liverpool players. Alexander-Arnold's long pass down the line is becoming something of a staple, and Henderson's control is fine. He attempts the dribble but loses out.  The ball is cleared, Henderson – via Alexander-Arnold – is on hand to play the ball again to an offside Mohamed Salah.
The key word here is willing. And it will be a theme we see a lot.
Henderson doesn't need to make that run. We could describe his role as 'free' but that's not really true. He needs to be disciplined and regimented, but he is also allowed to operate in slightly more advanced areas than his co-midfielders. The only reason for him to be galloping along the right flank like a winger is initiative. He sees the opportunity to break, why not take it.
You might note that both Firmino and Salah are in their own half when this pass is played.
He provides an excellent option. An option that could, under different circumstances, open the defensive team up to a chance or potential goal.
Here's another, slightly less interesting example.
Why exactly does Henderson feel the need to barrel up the pitch, ahead of two of Liverpool's three forwards? On the off chance that he can win a second ball and offer support, of course.
It's purely speculative, purely enthusiastic. He's not a second striker, or an attacking midfielder, he's a centre mid with a big engine and a point to prove.
This one is more interesting. It's a long one too, so let it play out.
Henderson is the wing forward in this case, making a fantastic run on the outside of Angeliño. Wijnaldum's raking, long pass is a beautiful one. Henderson crosses first time, he crosses well. Lacking vision perhaps, there's nobody there. Mané and Salah haven't banked on it.
The ball is eventually turned over. Who's that barreling this time the other way? Of course it's him. Snapping at Sterling's ankles, fouling Sterling, running on, dropping into the back four, trying to organise. He's on hand to assist in the recovery.
It is a sensational piece of defensive work from Liverpool, and Henderson plays a big part in this.
He also takes a wallop of the ball from Alexander-Arnold at the end, which is poetically fitting of the reward these industrious, heart-filled, tireless players often receive for their hard-work.
The next example is really an ode to just how brilliant a football player Mohamed Salah is – I won't go into that (you can see for yourselves) – but it's also another example of this willingness by Henderson to make himself the extra man in attacking scenarios.
Salah does so well from beginning to end, every touch is measured, every decision is the right one.
Henderson is acting in support of Salah. He is in position on his favourite wing, and he receives the ball in space. He opts against the speculative long pass to Firmino. It is a risky one, but it is on.
He instead finds Salah on the overlap, who Henderson then overlaps, he crosses, corner kick.
The cross isn't brilliant, but it's to a dangerous area and needed to be dealt with.
This clip is, like I said, more interesting from a point of view of how Salah can influence games without his goals or assists. He's an intelligent, well-rounded player – far more so than many might believe. But Henderson again proved his willingness to be involved in advanced areas. He wants to make things happen, whether through himself, as we've seen in the previous clip, or by supporting his teammates, as we see here.
Then we have the goal.
This was a moment of brilliance. Sheer, pure, unadulterated brilliance from Henderson. I love a good cross.
He picks up the ball on the – you guessed it – right wing. There are three Man City men around him. Sterling gives it up, Gündoğan makes a very half-hearted attempt at a tackle, Angeliño's attempted block is even less-hearted.
I mentioned on the recent Podcast that perhaps the Man City players don't believe Henderson can offer much here, and that's why they aren't really trying to stop him.
Whether laziness, complacency or underestimation, Henderson beats them all, charges to the byline and conjures, without exaggeration, likely the best cross you will see this season. It's swinging, it's a perfect height, it's between 'keeper and defenders, moving away from goal. Perfection.
Mané is on hand to score at the far post. It's a huge goal in terms of the result. A tough task became a near impossible one for City.
I've noticed a criticism of Henderson relating to his lack of direct goal involvement. Not enough goals or assists. Which I can understand, to an extent at least. It's not like it affects his team's performances, and it certainly doesn't affect their ability to win games, but I can understand it.
What people might forget though, as they might with Wijnaldum, Keïta, Lovren, Origi, Gomez, Lallana, Milner, or any other player who isn't necessarily a 'fan favourite', is that useful attributes go a lot further than the ability to score, assist or prevent goals.
Henderson shows here that he is still a very capable technician with the ball. He has a passing range, he has vision, he has the technique.
I mean, look at the technique.

Through all of the bluster, work rate, advanced runs, track backs and defensive covers, there is still a really good footballer in there.
Jordan Henderson
I love the kind of player Henderson is, and the kind of player he represents.
I am a big believer in mentality driven, psychological football. At a time when short clips of skills, goals and mistakes go viral, I feel we're losing sight of the aspect of football which can make the good players great, and the great players under-perform. The human aspect.
Henderson has resilience, he has a lot of heart, he has a huge amount of love and passion for the job he is lucky enough to perform. This isn't a secret. Klopp knows it, the Liverpool fans know it, serious football people know it. But this doesn't then mean that he is in the team because of those emotional, psychological, cerebral attributes alone. He is in the team – among the best on the planet – because he can play football to a standard deemed necessary by Head Coach Jürgen Klopp – among the best on the planet.
Football isn't all Rabonas, Elasticos and Hat Tricks. Football is also hard graft, positional intelligence, support of – and for – those around you, self-sacrifice, good decisions, poor decisions, redemption and recovery. Football is complex. Jordan Henderson is complex.
As is always the case with these articles, there is a lot of footage that will remain unused. I've chosen a few examples to highlight aspects of a players' game which I find particularly interesting. It is in no way exhaustive.
Unless otherwise credited, The videos and images used in this analysis belong to NBC Sports and The premier league, the tactical times do not claim to own any of the visual or audio media presented here. This analysis was created under Fair Use (17 U.S.C. § 107) and may not be copied, redistributed, edited or altered without the express permission of the copyright holder.
If you liked this article, or any of the content provided by The Tactical Times, please consider donating towards the upkeep and continued operation of the site.
By using Stripe Payment your credit or debit card details are not sent to The Tactical Times, your details are encrypted and this payment method is 100% secure. You can find more about the stringent security measures used by Stripe HERE