Dwight McNeil – A Season Review and Player Profile
A seasonal player report of Burnley's talented young winger Dwight McNeil. What the numbers say, where was he excellent, where could he improve, what is his next step?
Dwight McNeil was 19 years old when the 2019/20 Premier League season began for Burnley. The winger started all 38 games, in terms of minutes on the pitch McNeil featured in 98% of Burnley's impressive league campaign.
I will report on the main attributes, what the numbers say, how his strengths helped his team, and where, I believe, McNeil goes from here.
A (young) key man
Four players were the target for over 1000 passes during Burnley's 2019/20 Premier League campaign, two midfielders and two centre-forwards.
Chris Wood and Jay Rodriguez – both physical, experienced, positionally savvy strikers – accounted for two of them. Both players had low success rates in terms of successfully controlling or receiving those passes (Rodriguez: 51.3% and Wood: 44.2%), this reflects Burnley's style of fast transition from back to front; long passes to the target man, whose job is to hold up play while encouraging midfield and wide runners for support.
Ashley Westwood was the most common recipient of Burnley passes (1379) and he also had the highest success rate (91.8%); reflective of his role as the lynchpin. Often the first receiver in transition, it was often Westwood with his technique and range who was tasked with finding one of the center-forwards. He played the most passes and the highest number of long passes among outfield players.
The other midfielder to be the targeted receiver of more than 1000 passes is a very defined winger; it isn't as simple to explain. Dwight McNeil is very much a winger in the more traditional sense. In a time of inside forwards cutting in and rotating, McNeil is from another time. Here's his seasonal heatmap: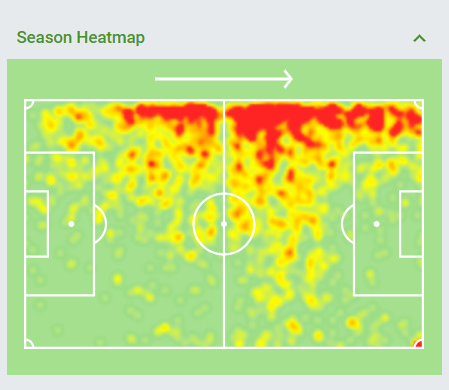 McNeil received the ball wide on the left flank a vast majority of the time. His task wasn't to aid the strikers with long passes, his task was to carry the ball through the transition; he was the attacker. This is indicated by his number of progressive carries and the yards traveled. He and Westwood both share a similar number of carries (1276 and 1202 respectively) but McNeil carried the ball 5.5 times further (11287 yards and 2055 yards respectively); while Westwood received the ball to move it on, McNeil received the ball to carry it into dangerous zones. He was trusted as a creator on the ball. His attempting 137 dribbles and beating 83 players with a success rate of 59% is good evidence of vindication of his ability to perform that role really effectively.
A creative force
Dwight McNeil and Ashley Westwood being presented as a duo is a recurring theme, both players also feature heavily in the numbers for chance and shot creation.
As a wide man – in the most literal sense of the phrase – McNeil is expected to deliver plenty of crosses. He delivered 256 of them in total. The stylistic approach is obvious. To simplify the process a little: McNeil was to receive the ball wide, carry into an optimum area for delivery into the box, and deliver quality.
A number of those crosses are accounted for by McNeil taking a good number of corners and freekicks – though not as many as Westwood; a majority (50%) of McNeil's shot-creating actions were made from open play passes (21.5% were from a dead ball situation). This is mirrored also in his goal-creating actions, of which 64% (9/14) resulted from an open play pass (or cross).
Of Burnley players, McNeil played the most completed crosses into the penalty area (29), passes into the penalty area (42), the second most passes into the attacking third of the pitch (92, second to Westwood -158), and the most key passes (55).
The only metric to not stand out as particularly excellent from this was the number of actual goal assists. His total of 6 is matched by Ashley Westwood, and no Burnley player provided more, but you might expect a player of his profile to hit a larger xA total than 6.7. A possible explanation could be the fact headed chances tend to qualify for lesser xG than shots hit from the ground, especially more controlled one v one chances. The profile of McNeil, and the role he played, meant many of those key passes would have been first-time shots from a wide ball; those don't tend to be 'easy' chances to score, at least not by the usual xG calculation models.
An xA total of 6.7 isn't bad by any means, but there is room for improvement. It could lead to the conclusion that perhaps there is work to do with the timing of the crosses, as well as the accuracy, to improve the quality of the chances created. So far, he created a lot of shots, not yet a large number of high-quality scoring opportunities.
Work rate
Only goalkeeper Nick Pope and central defender James Tarkowski featured more in the Premier League for Burnley than Dwight McNeil; both played for every minute of every game. No player in their teens when the season began played more Premier League football than Dwight McNeil.
As mentioned, there is a lot of faith and trust put in McNeil already, especially in attacking areas; but this responsibility isn't limited only to the offensive game. McNeil posted excellent numbers in a host of different areas.
No Burnley player pressed more often or committed to more successful presses than Dwight McNeil, close to a third (28.3%) of those presses were in his defensive third. Only Tarkowski made more blocks (92% of McNeil's were blocked passes), and for a player operating in mainly offensive areas, his number of interceptions is good (27 – fifth-ranked, only defenders plus central midfielders Westwood and Cork made more). No player attempted more tackles versus a dribble (68 attempted, 17 won) and only two players (Tarkowski and Pieters) tackled more opponents.
He was beaten by a dribble a high number of times – only Jack Cork was dribbled past more often (54) – but very few players (3 and 4 respectively) attempted or won possession more often through a tackle.
McNeil might not be a great defensive winger as far as the technique goes, but he certainly makes the effort. He covers the necessary ground, he tracks runners, he looks to read and intercept play; he actively tries to defend as part of his game. The mentality is right. It comes back to that trust and responsibility.
Where does he go from here?
The numbers are excellent, and Dwight McNeil will attract suitors in the Premier League and farther afield. The attacking output alone is enough to warrant interest from European competitors, but more than that is the mentality and the drive of McNeil, the desire to throw himself around the pitch, to play without the ball as well as he does on it. Then there's the ceiling. He turned 20 years old midway through the season, and there is still so much room for growth and improvement. The sky is the limit.
It is this ceiling that leads me to conclude Dwight McNeil is currently better off where he is. In Sean Dyche he has a manager who will put organisation and discipline ahead of attacking flair; working under his tutorage McNeil can hone and sharpen the mental aspects of his position – the decision making, the patience, the ability to maximize the chance when it comes, to execute consistently. At this time, McNeil needs trust, he needs responsibility, he needs elite opponents and, most importantly, he needs minutes on the pitch. He has that at Burnley. There will likely come a time when he will need to make a big decision about his future, but that time shouldn't be now. Dwight McNeil is currently in the right place at the right time.
You can support The Tactical Times by becoming a Patron on Patreon. Our Patrons will have access to exclusive content and the chance to have their name, web site, business and social media links posted on a dedicated page on Tactical-Times.com Click HERE for Patreon