Antony: Total Player Report
Antony Matheus dos Santos joined Ajax as a 19-year-old with his club hoping to fill the void left by Hakim Ziyech. This detailed analysis will explore – the now 21-year-old – Antony's game to illustrate the player he is and why there could be reason to believe that Ajax Amsterdam may just have another South American superstar on their hands.
Positional game and style of play
Antony plays a lot of his football on the right-wing. He is found on the right-wing wide enough and often enough to be considered a winger by right, and he probably would be considered a natural winger if it wasn't for his constant and unrelenting desire to move inside and attack the half space and central channel.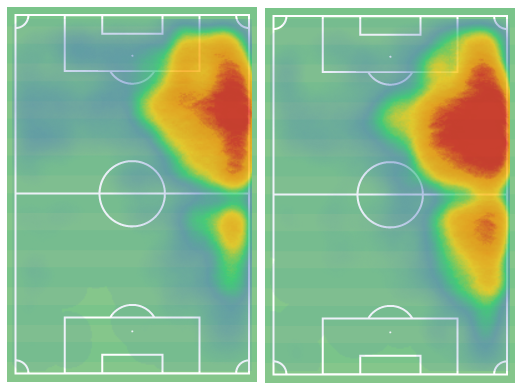 Antony heavily favours his natural left foot; so much so that those wide areas in which he often first receives the ball are usually vacated as soon as he is able to cut inside onto that left foot and make his next move. Even when Antony finds his way clear on the outside, he will probably cut back inside as soon as possible.
As we will see throughout this analysis, a lot (almost all) of Antony's really effective football comes through his left foot.
There may be room to suggest a limitation here, a weakness in avoiding his right foot, an area to work on, but at his age and with the sheer strength he possesses with that left foot, I could understand why he might push towards playing most of his football with it. There is plenty of time to become rounded-out, at the moment he is electric but generally only on one side.
Antony has good acceleration over short distances and raw sprinting power over longer ones, he covers ground quickly.
In the 2021/2022 UEFA Champions League he has so far registered the 14th highest top speed (34.4 kmph) and his athleticism and agility will be a key standout throughout this analysis.
A selection of off the ball movements from recent fixtures against Borussia Dortmund for Ajax and against Uruguay for the Brazil National Team demonstrate a few of Antony's habitual running and movement preferences.
We can see wide starting positions, where Antony is exploiting spaces outside of the defensive line. There are movements inside the full-back, where Antony is able to use his physical speed advantage to move through spaces between defenders. There are runs initiated from the midfield to get beyond the line offering a chance for a well-timed through ball on the right and left side as well as through the central channel.
There is constant, high-quality, dangerous movement from Antony.

While he isn't a totally defined advanced forward runner, Antony possesses the physical attributes – mainly speed – necessary to be genuinely effective when playing in a role that demands these incisive attack-focused movements. In this sense, he suits perfectly a counter-attacking unit. If there are spaces between the backline and the goalkeeper, Antony is a player who will be able to find and exploit them.
Because most of Antony's game takes place in advanced open spaces, his creative game as well as his goal scoring fall better within the category and scope of a forward. But he isn't limited in by this. As we will see when we look at his creativity and playmaking, Antony is comfortable playing through deeper playmaking areas in the attacking third. When he comes inside his defensive line, moving laterally rather than vertically, Antony also shows plenty of quality and promise in finding passes between the lines.
Antony is a forward, but he isn't an absolute goal scorer. He is a dynamic and versatile wide forward who wants to find and use advanced spaces as a goal scorer but also a creative force. He currently operates somewhere between the area of a creative winger and a goal-focused wide forward.
Athleticism, dribbling, carrying the ball
Because a lot of Antony's best work is done through wide-open spaces, where he is able to stretch his legs and use his natural pace, his athleticism, physicality and the way he carries the ball is a good place to start when breaking down the player's game.
Antony is an excellent dribbler of the ball.
His balance and agility coupled with his natural pace make him superb in tight spaces and the more open spaces he finds after he beats his marker or defensive line.
In all competitions since 2018, totalling close to 12000 minutes on the pitch, Antony averages 7.9 attempted dribbles per 90 minutes. 59% of these are successful take-ons.
Antony is a relatively high volume dribbler. The advanced positions he often occupies means he doesn't always have the defensive line ahead of him – even less so the opposition midfield line, as an attacking midfielder might – so the opportunity for direct 1 v 1 take-ons is limited. He is often moving into the wide channel outside of the defensive line. On a number of occasions we see him, after beating the line, actually cut back in order to use his stronger left foot for the delivery or final pass.
He possesses quick feet and the speed of thought to match them; he is skilful and fluid with the ball at his feet. Antony has great balance and a low centre of gravity allows him to slalom and change direction quickly.
Antony has the benefit of being both a strong athletic and technical dribbler: he is as skilful, as silky and as slick as he is fast. He is able to cover ground both quickly and skillfully.
Playmaking, crossing, the creation of chances
Statistically, Antony has been a strong creator over the past four seasons. He has averaged 1.6 shot assists per 90 with 0.2 goals assists. His positonal play and athleticism lend well to the wide spaces, and much of his best creative work comes through the wide channel.
He averages 3.6 crosses per 90 with 38% finding their target.
Antony is able to identify a runner and play crosses deep, short, low, or whipped; he is capable of an array of crossing techniques and he is generally fine in this aspect of his game. It isn't necessarily a regular option for him, but when he does opt to cross it is often effective.
His passing is accurate across the board. His overall pass accuracy through the seasons since 2018 is 81% from 46 passes per 90. Long passing is 57% accurate (from 1.7 per 90), through balls are 38% accurate (1.4). He plays 3.3 passes into the final third per 90 with 76% accuracy, and finally (and most impressively) he finds a teammate with his 4.8 passes into the opposition penalty area 54% of the time.

Antony shows excellent capability in his line splitting through passing. There is a deftness about the way he times these balls; a degree of vision and flair that work extremely well when receiving or carrying the ball between lines and threading passes into tight areas.
The frequency of these, along with his ability to see these difficult passes and execute them, demonstrate a genuine strength in Antony's game.
The crosses are infrequent and he performs these when he needs to. The short through passing and the ability to split defensive markers and to penetrate lines is much closer to a natural preference. This kind of creative play is likely to be an aspect of his game that will be evident throughout his career.
We can look at his actual assists to see how, through a combination of his wide play, central play, long and short passing, as well as crossing and through balls, Antony's creative potential showcases itself at its most effective.
There is not only great potential in Antony's creativity but actual, demonstrable, genuine quality against high-quality opposition. In the Dutch top flight, in senior international fixtures, in the Champions League, Antony has shown and continues to show tangible excellence in his chance creation and creativity.
Shooting and finishing
Antony has scored 35 goals in all competitions across those four seasons (11700 minutes), which averages 0.35 goals per 90 or a goal every 335 minutes. Antony's shot accuracy over this period stands at 43% from 2.7 shots per 90 minutes.

Again, he favours his left foot; again, he moves through the right channel and half-space. But instead of finding the cross or penetrative passing lane, Antony is adept at finding the corner of the net.
He is composed in goalscoring positions. There is still a big focus on his left side, he is far more comfortable in his shooting technique from that side, but he is able to use his right foot when a left-footed approach isn't possible.
Antony shows good control over his shooting, he looks for corners with low accurate shots. He likes to curl his shots with the left foot, often looking for the far corner. He takes plenty of touches and sets himself before shooting; he sometimes seems to need too much space, especially when moving through the opposition penalty area.
This need for spaces in areas where they are sparse can lead to him being dispossessed or crowded out by defenders. But when it works out, when Antony is able to manoeuvre that optimum position, he is well set to take an effective shot at goal. This may go some way to explain both Antony's low shot frequency and high accuracy.
He doesn't necessarily possess a finisher's instinct. Antony isn't taking on his shots early and with great confidence, rather he is making sure he is perfectly set and gives himself, what he believes to be, the best possible chance of scoring the goal. He has the level of technique and the control over the ball to make this work, but he isn't a natural scorer of goals. Not yet.
A strong finisher, but not exactly a natural one.
Work rate, aggression, defensive input
The final aspect I want to highlight in Antony is more of a footnote about his character and personality on the pitch than it is fitting with the technical and athletic theme of this analysis. He has great determination to win the ball.
We saw already the kind of spaces Antony takes up off the ball, and in order to occupy many of these, he needs to perform long sprints ahead of play. He works very hard to get into prime offensive positions, this is a fair part of the reason why he so often finds himself free and in space in offensive areas; but he also works hard in the defensive scope, especially within those attacking areas.
He wins 58% of all his defensive duels, he makes 4.7 recoveries per 90 with 64% taking place in the opposition half, he averages 2.5 interceptions and even 0.8 fouls. For a player who so often takes up advanced positions, wide and often far ahead of the play, away from the action of the midfield, Antony does a notable share of defending.
Antony appears to have a natural determination to win the ball. He is active and engaged off the ball. His tackling isn't always clean or successful, but the effort and enthusiasm are quite constant.
There is a hint of a real fighting spirit in the player, the promise of the kind of warrior mentality that so well defines so many South American players.
We can best see this expressed in his pressing game. I've taken a small number of examples from a few of Antony's most recent appearances, but there are many more we could call upon and these appear in each game.
Ajax under ten Hag employ an energetic and generally effective press. Their forwards are well versed and comfortable pushing into the opposition defensive third in order to engage the defensive line.
Antony's place within this is quite frantic and a little less organised than his teammates – the likes of Sébastien Haller and Dušan Tadić simply have the experience to tell them where to be and where. Antony tends to do more sprinting in his pressing.
This indicates a lack of experience perhaps; it could be a lack of positional awareness and anticipation when defending from an attacking position. What it also indicates – without any real doubt – is a huge amount of effort, drive and enthusiasm in Antony.
Antony Matheus dos Santos
Antony is an extremely exciting prospect. He is raw, perhaps still not fully aware of his own identity on the pitch – there is an apparent internal argument taking place over whether he is a winger, wide forward or inside forward. These are questions that will find answers over the course of his key developmental years.
If he remains with Ajax under manager Erik ten Hag, we can likely expect Antony to continue down his current road and become an effective attacking midfielder who has the capability of running off the shoulder when counter-attacking. He is technically and stylistically suited to this.
If he moves to another club – likely one of the elite clubs – then the tactical profile and requirements set by another of Europe's head coaches may set Antony onto another path. There is potential for Antony to be truly excellent across multiple roles and positions.
Antony backs up his superb technical ability and flair with physicality, speed and power. And all of that is supported further, and perhaps more vitally, by his attitude towards hard work and his desire to cover large amounts of ground in order to gain an advantage.
He has the raw materials to be a leading figure in his position across Europe. The potential is there and it is clear. You get the feeling the process towards the inevitable realising of potential may have already begun.
Unless otherwise credited, The videos used in this analysis belong to relevant license holders. the tactical times do not claim to own any of the visual or audio media presented here. This analysis was created under Fair Use (17 U.S.C. § 107) and may not be copied, redistributed, edited or altered without the express permission of the copyright holder.