Thiago Almada: Player Report
Thiago Almada, just 20 years old, is one of Argentina's brightest prospects. A nation famed for its dynamic, unpredictable, at times unplayable forwards apparently has another one.
This report will detail and showcase key technical aspects of Almada's game to illustrate the player he is and what, exactly, makes him such an exciting prospect.
Position and style of play
Thiago Almada is, in simple terms, an attacking midfielder and supporting forward. Playing through the central attacking midfield position in a 4-2-3-1, Almada likes to drift left to receive the ball and cut in onto his favoured right foot. With Vélez Sarsfield, Almada is offered a free role to play across the attacking third and occupy spaces at will.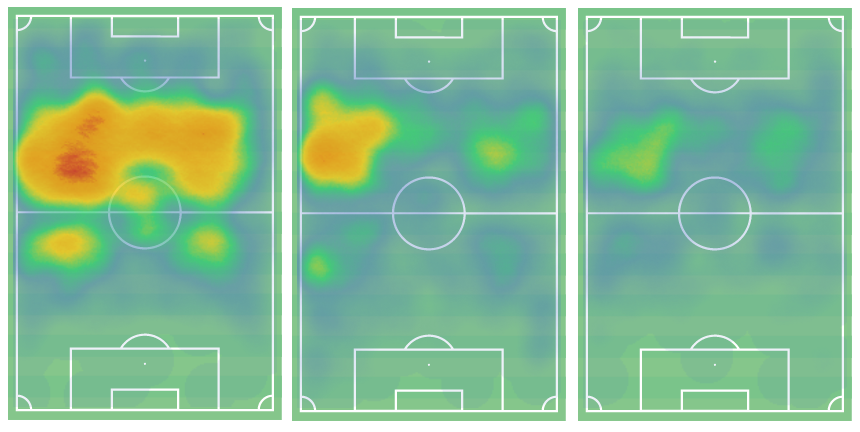 Thiago Almada is a quick-footed, fast-thinking player, he uses the ball very well in tight spaces and looks to use these advanced areas both on the ball as a playmaker and off the ball with forward runs as a more defined attacker. Because of his versatility as an attacker – possessing that balance between goal creation and goal scoring – Almada is able to play through deeper midfield positions to a more typical supporting forward's one.
Almada has not yet found real definition in his positional game, he is often caught between being a creative midfielder and a goalscorer, but having the capability and strength to perform both roles is a big part of his quality and potential.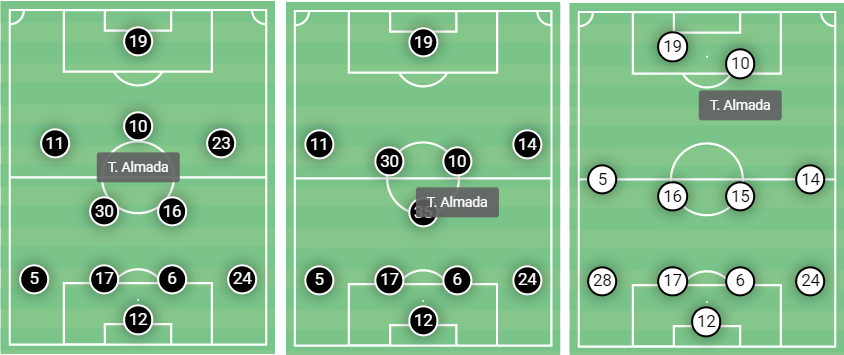 Within the next two to three years, as Almada matures and develops his identity on the pitch, especially if he, as expected, makes a move away from Argentina's Primera División, we can expect Almada to settle into a role that caters more to either side of his attacking capacity.
This will especially depend on which club he plays for and under which manager during those key educational and developmental years.
Over the course of this analysis, we will see the extent of Almada's creative and offensive capability and you can decide for yourself where you think he best fits in and the player he can become.
Dribbling and identifying space
Thiago Almada is a high volume, high accuracy dribbler, and the way he moves into spaces and breaks lines is naturally a good place to start for technical analysis.
Thiago Almada is fast, he covers short distances very quickly; an accelerative player. At 5'7" (171cm) Almada is able to use a low centre of gravity to shift his speed quickly and unpredictably; he has great balance and agility, he is able to change direction as quickly and as unpredictably; he uses short touches to keep close control over the ball.
In short, Almada is an excellent dribbler. Carrying the ball effectively is a skill that comes really naturally to him.
With 5.5 attempted take-ons per 90 over the past three seasons, Thiago Almada is a relatively high-volume dribbler. There are enough attempts to strongly suggest a preference for taking on his marker, defender, or defensive line head-on.
What is more notable here is the 52% success rate of his dribbles in that time. For the sake of loose comparison, Lionel Messi – an actual high-volume dribbler (10.9 per 90) – completes 55% of his attempted dribbles. Almada's isn't a world-beating figure – there are players who, over the past 12 months, have completed over 70% of their attempted take-ons – but it is a solid figure. Especially for such a young player.

What is most impressive about Thiago Almada's dribbling ability isn't necessarily the way he beats his defenders, it's the way he targets spaces and controls the ball in tight areas. He isn't what I would call a defined physical dribbler, he doesn't use raw pace or strength to burst into advanced wide open spaces (though he does possess plenty of the former). Rather Thiago is a technical dribbler.
Those short, sharp touches allow for pinpoint movement; Almada is able to make decisions and change direction quickly and effectively. Once high-quality space is identified – often the kind of malleable, changing, unpredictable spaces found in tight offensive thirds – Thiago Almada can adapt his movements, shift his balance, and move into it.
While his success rate isn't as high as some of the players featured around Europe, Thiago Almada dribbles in a way that perhaps presents a better opportunity for follow-up actions than some of the more physical high-volume, high-accuracy dribblers.
If the ball is kept close to the body, decisions can be made quickly and can be adapted to fit a situation; and when under control the ball can be used more effectively and with better confidence. Almada rarely sprints with the ball; sprinting sacrifices control.
Thiago Almada is more Messi than Adama Traoré, at least in terms of the style of dribbling.
Passing, crossing, playmaking
Having seen how Thiago Almada identifies and acquires space, we can then look at how he uses it.
When he decides to come deep to receive the ball in one of the creative attacking midfield zones, Thiago Almada is happy to commit to high risk, high reward through passes to break the defensive line. There is as much confidence in Almada's commitment to playmaking as there is in his commitment to beating defenders 1 v 1.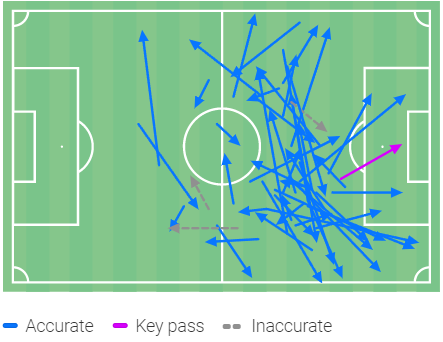 Almada has extremely high accuracy for passing into the final third (78% over three years, 83% in 2021), and even his passing into the opposition penalty area is abnormally accurate (53% and 56% respectively).
In a recent game against Independiente, Almada misplaced just 3 of his 52 passes. He enjoyed 100% accuracy for long passes, through passes, passes into the final third, and passes into the opposition penalty area.
If he wasn't so good in other areas  (something we'll get to later) then it would be easy to say Thiago Almada is a natural playmaker. A more defined and traditional number 10. Receiving the ball between the lines, taking it under control, quickly identifying his target, and moving the ball on accurately and effectively.
Thiago has the vision and passing range to effectively occupy a deeper midfield position, at least when he's on the ball, and we've seen him utilised in that position with Vélez, but doing so regularly would likely ignore some of his other qualities.
Crossing
A large majority of Almada's playmaking takes place through central channels; he isn't a wide player, he definitely isn't a winger. But on the occasions where he does find himself in wider channels, he is able to cross the ball with some success. It's not necessarily a natural preference or even a strength, but it is something we are seeing him perform more often.
Almada is more recently among the regular set-piece takers for Vélez, and his corners especially are dangerous. I wouldn't say he specialises in dead-ball deliveries – this is an aspect of his game that will need improvement if he is to specialise – but his technique in striking the ball, especially the amount of whip he is able to generate, lends well to them.
He has excellent control over the ball in tight spaces, we've seen that already. He can turn and compose himself and pick his target quickly. He is able to weight, direct and time his short, long and through passes accurately.
Thiago Almada is a very strong playmaker. For a player so young, he has a genuine, apparently natural aptitude for using the ball effectively in tight, difficult, high-value areas in the final third. The positions he mostly occupies, the deep left half-space across to the central channel, provide the perfect platform for this style of play.
If Almada did drop into the 10 position more routinely and was a defined playmaker, it is a role he is naturally suited to.
So why is it that I am uncomfortably labeling and categorising Thiago Almada within this defined playmaking number 10 role?
Offensive movement, shooting, the scoring of goals
As good and as effective as Thiago Almada is at creating goal-scoring chances, he is arguably better at scoring them himself.
Almada has scored 25 goals over the past three seasons since his senior debut at 17 years old. His combined xG over this period is 20.1. He has taken 180 shots with 40% on target.
Thiago Almada is a sharp, focused, attacker when he decides to move into high-quality goal scoring positions. He moves with intent into areas where he is able to find the spaces to score.
Sometimes this is in the same attacking midfield zone where he operates so well creatively, but not always. He also runs ahead of his forward line, breaking into spaces usually reserved for a centre forward. In these instances – which, incidentally, make up most of his goals – Thiago Almada is very much a supporting forward.
Almada runs ahead of his forward, moving between defenders into the advanced space between defensive line and goalkeeper. Like a centre forward would.

Almada holds his run and drops into the central zone 14, the attacking midfield spaces, to receive the ball behind the defensive line to attempt a shot from the edge of the penalty area.

Almada receives the ball in his favoured left half-space with the defensive line ahead of him. He carries the ball with close control into the central channel to drive at the defenders and, having identified a space between them, moves into it quickly in order to find a shooting angle and avenue.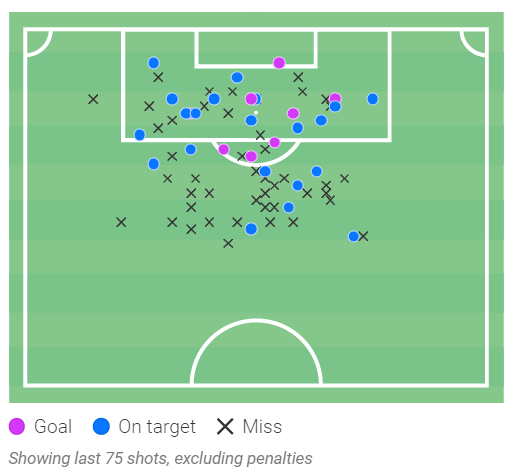 Almada can shoot accurately from range; he is composed in a 1 on 1; he shoots with power; he shoots with accuracy. Thiago Almada is a natural forward and a strong finisher.
He recently began taking penalties. Something he does with great confidence.
Many of Almada's shots come from between the left half-space and the central channel. A lot from range – between 20-25 yards, but plenty too from within the box. There is a spectrum of positions and distances.
Because Almada is capable of playing through different attacking phases and being effectively involved in a number of different kinds of attacking moves, his shot maps are unpredictable and quite irregular. It's typical of the multi-faceted, unpredictable player he is.
Thiago Almada
I asked you to decide for yourselves where Thiago is best used. What he is best at doing. Where his most effective skills are found.
After looking at his close control and dribbling, his balance and agility, his movements into and within key creative areas, his short passing, through passes, passing technique, are you able to label Thiago Almada, with absolute confidence, a creative midfielder?
After looking at his movements into and within key offensive areas, the goal-scoring areas, the way he operates in a goal scoring capacity, the way he strikes a ball and beats the goalkeeper, the composure he has in front of goal, can you say Almada is a forward, a goal scorer, an advanced danger man?
I hope you, like me, find yourself comfortable and happy to say that Thiago Almada is simply excellent in both capacities.
He is very young, far too young to warrant any definite and unchanging conclusions about the player he is going to be during his physical, psychological and emotional peak years, but he is old enough, and good enough, for us to conclude that Thiago Almada is an extremely good player.
He isn't just excellent on the ball, but the confidence with which he carries himself and with which he acts on the ball is unusually great. Thiago has developed an understanding of his own strengths and ability, and how to best utilise them on the pitch, far earlier than we could reasonably expect.
His technical ability is superb. His physicality – the balance, speed, agility – complements those technical skills and greatly facilitates his football identity. But where Almada is most impressive, and ultimately what most convinces me that the player is destined for great things, is his confidence. It is his ability, at just 20 years old, to best know where he is best that really sets Thiago Almada apart.
This article is the kind of analytical player profile that usually sits behind the Tactical Times paywall. The website is subscription-based because I believe that detailed, high-quality football analysis is found away from the advertisement-driven, shallower world of popular modern football coverage. If you enjoyed this piece and would like to read many more like this and others, consider a subscription to The Tactical Times for as little as £3 per month. You can find out more about that HERE.
Unless otherwise credited, The videos used in this analysis belong to relevant license holders. the tactical times do not claim to own any of the visual or audio media presented here. This analysis was created under Fair Use (17 U.S.C. § 107) and may not be copied, redistributed, edited or altered without the express permission of the copyright holder.