Cristian Romero: Total Player Report
Described as "spectacular" by Argentina boss Lionel Scaloni, Tottenham centre back Cristian Romero arrives in London with a big reputation. Romero was voted Serie A's best defender in 2020/21 after his regular place in Atalanta's backline helped the Bergamo club finish in a club-record third place in Italy's top flight.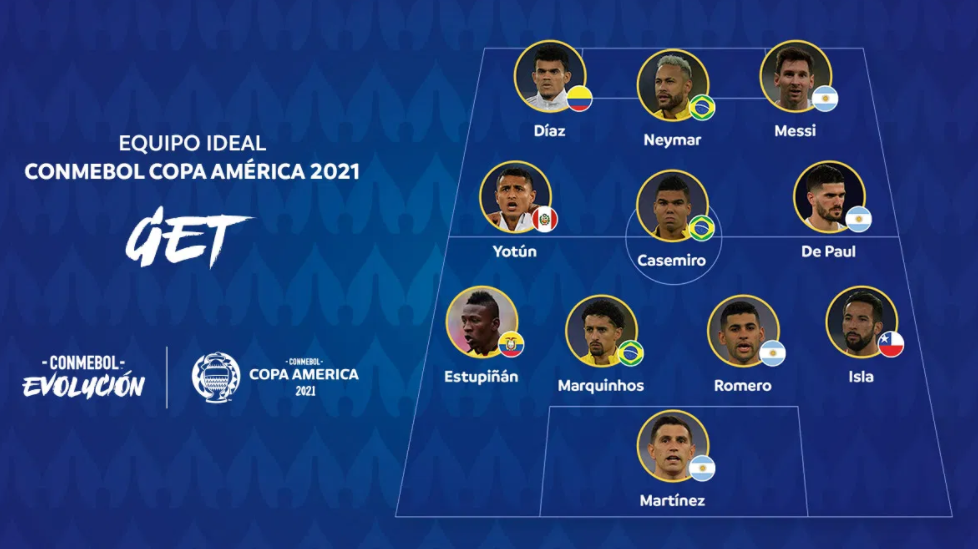 Romero has since become a full international with Argentina and won the Copa América. He was even awarded a place in the Copa América Team of the Tournament alongside PSG's Marquinhos, despite missing four of the seven games through injury.
It is safe to say that stock in Cristian Romero has steadily risen since he left Argentine club Belgrano to join Genoa in 2018.
On the domestic, European and now continental stage, Romero has been turning heads and people have taken notice.
This analysis will detail and illustrate the reasons why.
Positional game
A right-footed central defender, Romero is comfortable across centre back positions. At Genoa and Atalanta, he played mostly on the right side or centre of a back three, at Tottenham he has played on the right side of a centre back pair in a back four.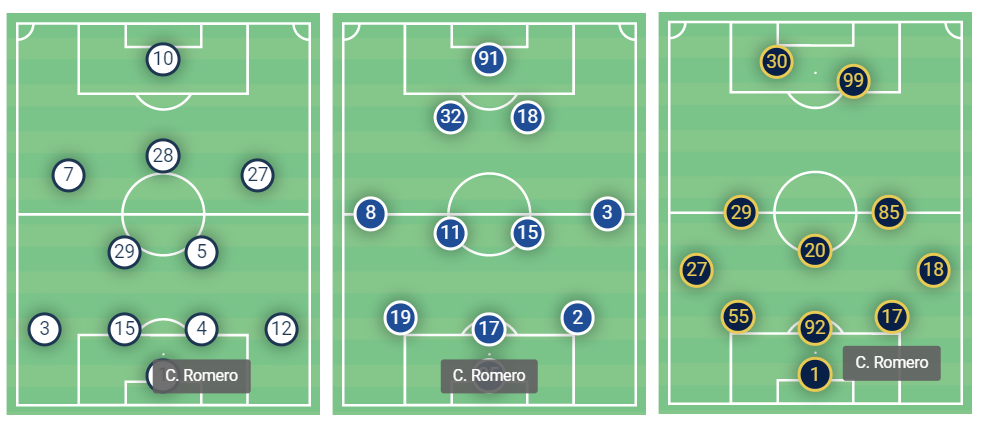 Romero is comfortable playing on the front foot in a dynamic ball-carrying role. We will see more of his ability in possession later. He is a mobile and proactive defender, he likes to cover open advanced spaces and can willingly move into the midfield so suits more the wide centre back position or right side of the back two. Especially suitable in a team that will defend high in order to assert themselves. A team holding high possession or fast countering ability would be perfect for Romero's proactive, aggressive style off the ball and technical ability on it.
When playing as a sweeper in Atalanta's brave and progressive 3-4-3, Romero is able to defend closer to his own goal – the typical defensive actions: clearances, blocks, interceptions etc. – and also to carry the ball in possession as a utility defensive midfielder.

A front foot, proactive defender. Fitting with the more modern ideals of how an elite centre back should carry themselves within a strong, proactive team. While Cristian Romero is able to defend his area, to protect his goal, he is better suited – more through capability really – of playing a more intricate, braver, offensively effective style of the centre back game.
Defensive duels, covering, decision making
As I've spoken about before, effective defending from centre back can be as much about the work you do before defensive action is required as it is about the defensive action itself. Centre backs should be fireproofing as well as firefighting. Spaces need to be covered and defended before oppositions forwards do. Romero shows a lot of promise in this area of his game.
I've compiled examples from Romero's most recent appearances to highlight this aspect. You can find dozens of these in any game. Some are effective, others less. All give a good insight into both how and how well the centre back anticipates danger and deals with potential problems before needing to defend them.
The defending here isn't about winning the ball – thought quite often he does – rather it is about controlling the situation. To defend these areas the centre back must first anticipate and recognise the dangerous space, ensure he is able to cover it, and use his body to prevent the ball and the opposition from moving into it.
There are many examples of this, each with its own point of defensive focus. I will highlight two different ones to give a better general idea.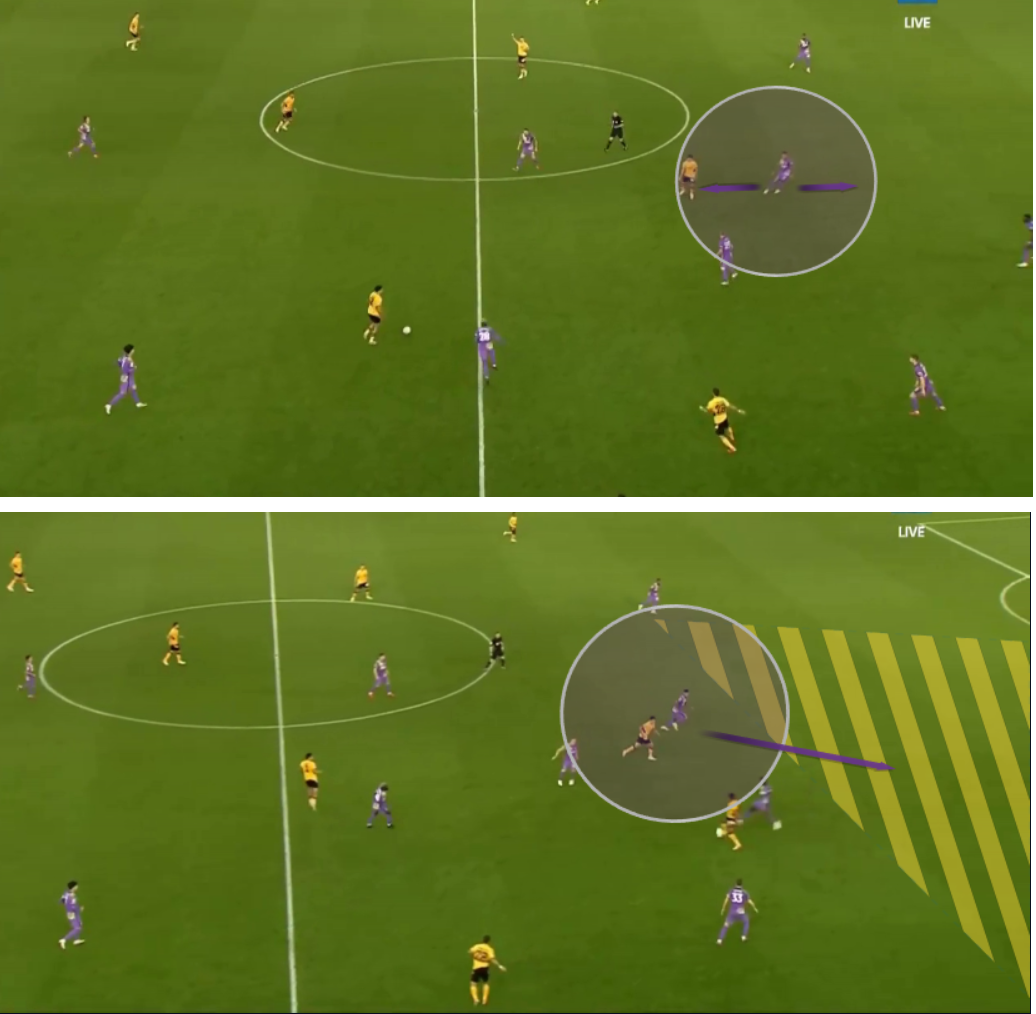 Against Wolves, Romero was covering the central channel. He moves up in anticipation of the short pass, and backs off in order to follow the run. A simple visual example of good decision making. Romero sees the avenues, the possible paths, and he reacts in a way that neutralises the more troublesome ones.
By backing off and following his player, he covers the passing lane and ends the attack. Simple, very effective. A different decision, another movement, more aggression and less control, and a vital space could have opened and the attackers are given a route to goal. This is the reality of good centre back defending. You prevent the problem before it appears.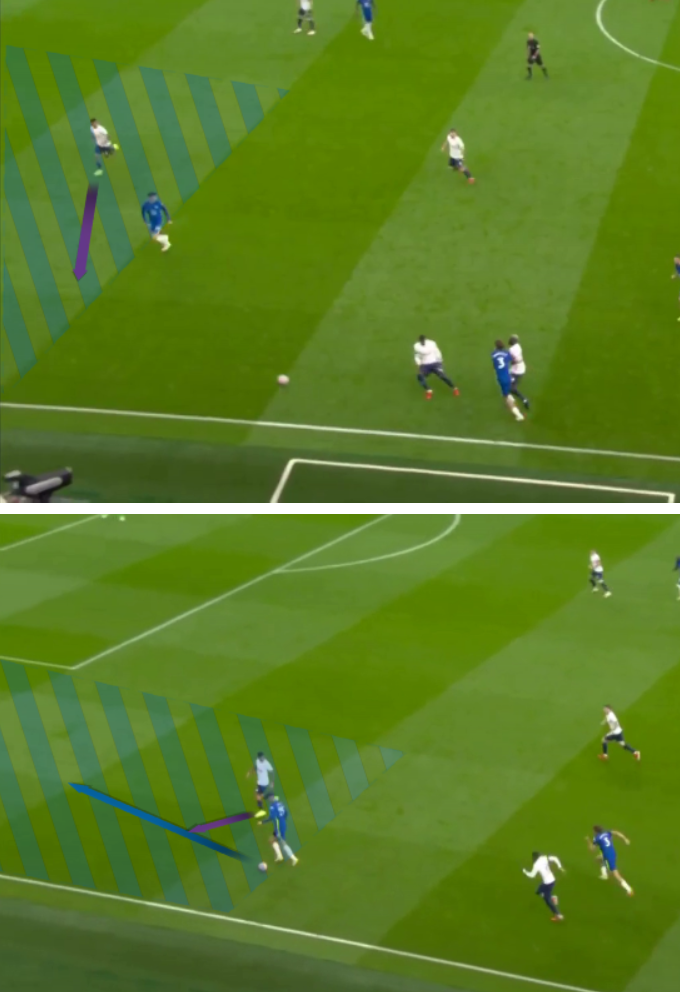 When Tottenham faced Chelsea, Romero moves across from the central channel to cover the flank after his full-backs get drawn towards the ball. Kai Havertz (29) is free of his wide markers but left 1 v 1 with Romero from right centre back.
Romero anticipates the run from Havertz and the open passing lane, and by moving across to cut this off he gives Havertz only the option to attempt the take-on. Romero is in full control of the space and the situation, and his upper body strength and balance enable him to regain possession from the Chelsea forward.
It's an excellent example of fireproofing. The potential for danger was identified and addressed quickly and effectively. It's a great piece of defensive work. Simple and very effective.
Cristian Romero here shows everything you expect to see from a top-level centre back. He recognises the danger and reacts to it without hesitation; he covers the ground quickly; he waits for his moment to engage and upon seeing it he deals with the situation with apparent ease.
Speed, balance, strength, intelligence and decisive action.
These aren't exhaustive examples. I compiled a number of different instances from only four of Romero's most recent games. These actions, more subtle than the typical, often countable defensive ones, are what really define the quality of a centre back. The decisions the player makes and the nature of the player's conduct is crucial. How the defending is done is, arguably, more important than what defending is done. This is the foundation of assessment for centre backs.
Once we're past that, once we've seen the intent and the starting position, the anticipation and the decision making, we can see more of the statistically relevant defensive work.
These are the countable actions. We saw two in the examples I used for illustration – blocking the pass against Wolves and dispossession of Havertz against Chelsea – but this came as a result of the foundational defensive work. There are many more of these kinds of direct ball-winning actions from Romero. He is a very strong, committed and aggressive ball-winner.
If you watch through to the end – a comprehensive, almost seven minutes worth of raw ball-winning defending, something I personally could watch for a lot longer than that (I recommend you do) – you will find all nature of defensive work. Recovery runs and last-ditch sliding tackles, good footwork and balance to dispossess a physical or agile opponent, clearances, blocks, plenty of pace and aggression. Very little hesitation.
It is this lack of hesitation, naturally tied to a degree of aggression, that really defines Cristian Romero at the moment. There is a natural element of forcefulness in the way he attacks both ball and player. He is imposing and confident in his ability to impose without being beaten.

This isn't necessarily indicative of a consistently effective defender – many of the most successful centre backs are calmer and more composed than aggressive, more likely to back off an opponent than commit to attacking them – but it is indicative of one that is sure in his own ability. Especially true when the player is as young as Romero is.
With experience comes caution, often through the process of learning from mistakes. With youth comes expression of talent. Romero has plenty of that. With four to six years to go before hitting a real prime, Romero has a lot of experiential qualities to hone and improve, and with maturity on top of his courage and technical defensive ability, there is a huge platform for potential.
Aerial ability and goal threat
At six feet one inch tall, Romero isn't enormous for his position. And while height isn't the only attribute needed to dominate aerial battles, it certainly helps.
At this point, I would say Romero's aerial ability is not yet a strength, but it also isn't a weakness. He shows enough to say he understands the importance of timing and leverage, jump height and heading technique, and this is another set of attributes that come with experience; but this isn't a natural strength of his. He isn't naturally dominant in the air.
For aerial duels, I've again compiled examples from his more recent fixtures (needing to go back a bit further), but you will notice there are fewer of these.
Romero's per 90 average has dropped from 6.6 to 3.0 since he joined Tottenham (a 2% drop in successful aerial duels. 60%-58% won). During his last season at Genoa, he contested just 3.8 aerial duels per 90 over 3200 minutes (61% won).
Cristian Romero isn't the aerial combatant. He can head a ball, he can time the header, he can jostle and fight for position, but he isn't a centre back that will challenge for every high ball. This isn't really his area.
He isn't always comfortable in the kind of physical face-off that aerial battles require, this is very different from the nature of defending that takes place on the ground. But then those he does compete for, he tends to win more often than not. There is still a tenacity in the way he challenges for the ball. There is a determination that bodes very well in these physical tussles. While Romero doesn't always challenge for them, when he does he gives as much as he can. He isn't easily moved or, ultimately, beaten.
Regardless though, this isn't a strength. Romero can work more on his timing and technique, to avoid being caught under high balls, or he can work with a partner more adept in this area that will opt into those duels more often.
This is within the defensive scope. Interestingly, Romero does show plenty of proficiency in the area of offensive aerial duels.
He scored three goals in his final season in Italy, once for Argentina, seven in his relatively short career to date. And many of these demonstrate a good understanding of the nuances involved in attacking headers.
The technique here is often flawless. Romero almost seems more comfortable, more naturally familiar, when attacking the ball in the offensive sense than he is attacking it in a defensive one. Again we see that aggression, the utter commitment to winning the ball. This time inside the opposition box and carrying the intention of scoring a goal.
There are late runs to the far post, darting subtle movements between defenders; in one example, a late equaliser in the Champions League against FC Midtjylland, Romero is playing as a centre forward. He makes an intelligent forward to backwards run, and both times and executes his header like a seasoned, veteran number 9 as if he had 150 goals to his name.
He is a danger from corner kicks and wide free-kicks; Romero is, it seems, a more natural aerial competitor at this end of the pitch.
Yet to score (or even shoot) for Tottenham, I feel it will be a matter of time before this aspect of his game further imposes itself within his new team. There is real ability there and when you have a natural threat from a set piece, it would be foolish to ignore that.
Passing and playmaking
When you play at centre back, you are judged mostly on your ability to defend. That is the position after all. But this covers only aspects out of possession. Centre backs are also asked to contribute to the attacking phases.
Long passing is the main key attribute – when you think of the top centre backs operating at the top clubs, passing range often follows closely behind the ability to actually defend – and so too is vision, ball progression and playmaking. If a centre back is operating at the elite end of the scale, he usually needs to be able to play the ball into spaces as well as he can defend them.
Cristian Romero is perfectly adept at passing the ball.
In this case, I've compiled examples of passing that I find most relevant to this point of assessment. Romero isn't controlling the game through the midfield like Thiago Alcantara, it's not particularly common for him to find his range the way these clips might suggest. What they do is demonstrate a definite capability.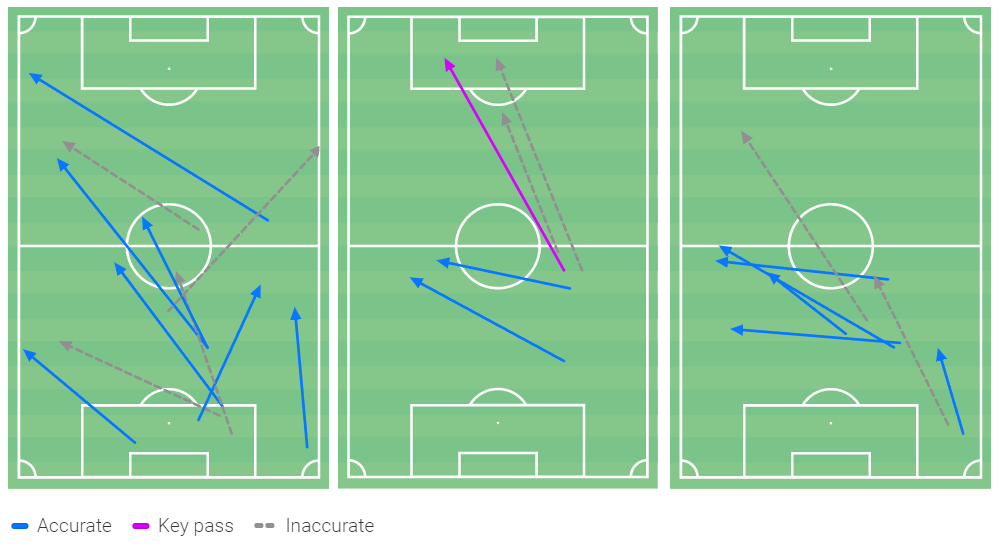 Cristian Romero shows the same brand of hesitation-free commitment when playing these passes as he does when defending his area or attacking the ball in the box. If he sees the pass, Romero will often look to play the pass.
This has become more pronounced in his time at Tottenham (5.3 long passes per 90 up from 2.4 the previous season), and this is likely a separation in tactical approaches between current boss Nuno Espirito Santo and Atalanta's Gian Piero Gasperini. At Spurs he wants to move the ball quickly, to find advanced runners or an elite piece of link-up play in the final third. Kane and Son Heung-min suit that style of play.
This explains many of the longer back to front long passes, but within the compilation were also instances of Romero recovering the ball, receiving it or moving into the midfield and from there using shorter passing to find gaps and break midfield lines. The best example of this can be found in Tottenham's 3-0 win over Paços Ferreira.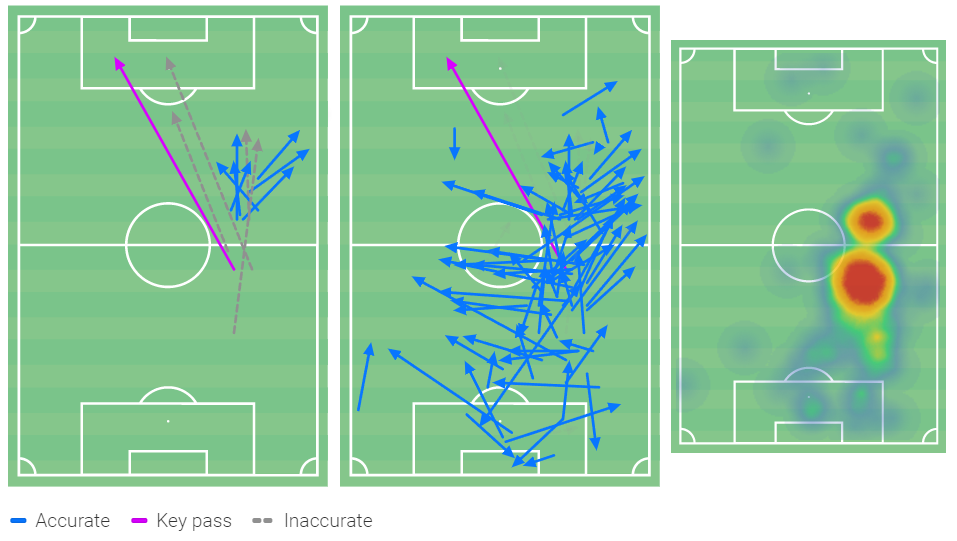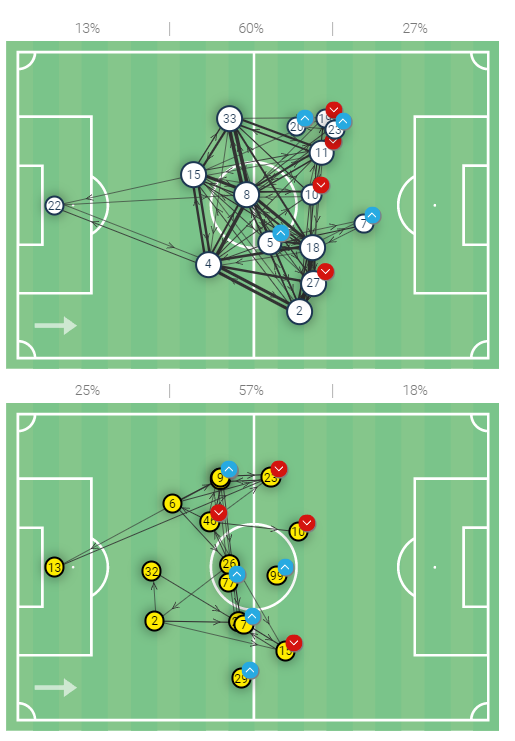 With Tottenham dominating the possession of the ball, the centre backs pushed into the middle third to operate as an advanced defensive line in the midfield. Here is where the good defenders are separated from the good defenders who can also influence the game on the ball.
Romero was able to settle on the ball and encourage the progression of his right side. The side where plenty was created and very little conceded.
This was the performance that confirmed to me Cristian Romero is not limited by his excellent defensive ability, he can also make the play. He is capable on the ball. A requirement of centre backs that is demanded more and more often by the very top teams.
While this isn't the leading criteria by which a centre back should or will be assessed, the ability to control tempo, break lines, consistently find his teammates and ultimately assist in the maintenance of pressure is one that Romero needs and does occasionally appear to possess.
Cristian Romero
When we're looking at young players, defenders especially – and 23 is certainly still 'young' – it is important to weigh any criticism against the potential to improve. If a young centre back shows a lack of self-control, they can learn patience. If they don't have the pace, they can learn positioning. There is a constant process of development occurring in players whose position demands so much more than technical ability and application.
In the case of Cristian Romero, there is very little to criticise. Minor areas are marked for improvement, but even that seems harsh and quite forced. He is aggressive, and that can lead to problems, but it hasn't seemed to very often. He can over-commit, but this leads to Romero winning the ball and defending a situation far more often than it leads to more danger. So is that really a case of over-committing? Do the ends not justify the means when the ball is won and fires and extinguished?
He can improve, and that is my key remark. He is already excellent but there is room for further growth and improvement; room for perfection, really. It isn't something we could ask of many players, it isn't really something we can expect from any, but some are more capable of it than others. There is a chance that Tottenham's Cristian Romero is capable of perfection in his position. This is a special player.
Unless otherwise credited, The videos used in this analysis belong to relevant license holders. the tactical times do not claim to own any of the visual or audio media presented here. This analysis was created under Fair Use (17 U.S.C. § 107) and may not be copied, redistributed, edited or altered without the express permission of the copyright holder.