Erling Haaland: The Number 9
Erling Braut Haaland is probably the world's most in-demand football player.
In 16 appearances in Europe's elite competition, Haaland scores close to 1.5 Champions League goals per game; he scores over 1 goal per game in Germany's Bundesliga across 43 appearances, all before his 21st birthday. A pure goalscorer. A player who shows a level of efficiency in front of goal that verges on the supernatural.
Using a sample of the league goals Haaland scored since arriving in North Rhine-Westphalia I will demonstrate a few key areas that separate a regular, elite scorer of goals from an extraordinary, once in a generation goalscorer like Haaland.
An obvious, quite simple place to begin is at Haaland's ability to hit the target.
While shot accuracy isn't necessarily the most important aspect of converting shots to goals, it is naturally a good place to start.

Haaland converts shots at goal to shots on target, and shots on target to goals. The position of his shots favour the left side of the central channel, a vast majority taken from inside the penalty area. There is an even spread through the central channel of the box for the shots that resulted in goals.
The area with the highest percentage of shots converted to goals is found within or very close to the six-yard box. This is where we will start with our look at Haaland's goal scoring.

To anticipate is to predict the future, and predicting the future is a big weapon in the arsenal of any and all of history's great goal scorers.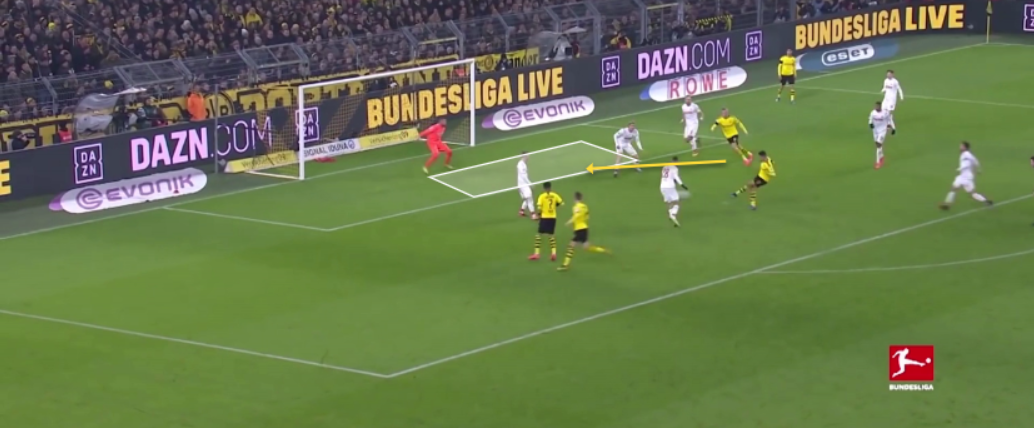 Haaland is moving towards the space in front of the goalkeeper just in case the shot is saved. A split second after the shot is taken, he is predicting what will come next. It might not happen, but if it does, Haaland will profit. Speculate to accumulate.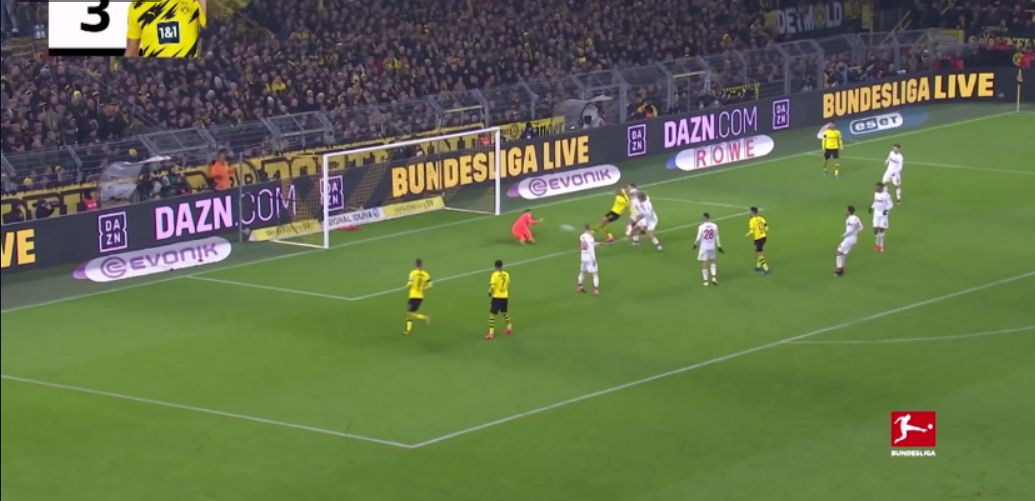 Haaland is an expert mover inside the box. He is as adept at making his future movements difficult for a defender to predict as he is good at making predictions himself.
He moves to the back post.

He moves to the front post.

He convinces his covering defender that he is moving to the back post but scores at the front.

When this kind of incisive, decisive movement is matched by the delivery, the results can be and often are devastating.
Haaland is able to anticipate not only the intended position of the pass, but also the positions of the defenders tasked with stopping him, and the position of the ball in the event of a rebound or deflection; he is able to predict the future.
This isn't some supernatural gift of foresight, it's an obsession with scoring goals. Haaland is always trying to find the best, most effective, most surefire way to put the ball in the net.
I've taken just a few demonstrative examples of near and far post movement, but spend two minutes of your day watching the goals I've compiled in that video which, in different ways, showcase Erling Haaland's sharpness of movement, speed of acceleration, intelligence in anticipation, and, most of all, his obsession with scoring.
One thing I have neglected to mention along with those movement-based aspects, and not without reason, is arguably the most important attribute needed when scoring goals: timing, shot accuracy, and actual finishing.
This part of his game deserves a segment of its own. Haaland is an incredibly comfortable finisher.
He often takes his shots early, showing the same kind of decisiveness we saw with that sharp movement inside the area.
In shooting so early, Haaland puts the opposition goalkeeper at an immediate disadvantage. By acting so quickly, the goalkeeper isn't able to set himself to react to the shot. When Haaland shoots hard and fast, the shots don't need to be into the corners. The accuracy doesn't need to be perfect. The goalkeeper is usually beaten before he has time to react.
Haaland seems to have this natural knack of finding gaps in a goalkeeper's guard with shots that seem close enough to the 'keeper's body for him to save, and this is explained quite simply by Haaland shooting so quickly and so cleanly.
He is so often in full control of the connection of his shots, the power is generated by that clean connection. Shots are usually drilled with power rather than placed with precision.
If Haaland is not trying to set himself perfectly, trying to give himself an ideal angle to find an inside netting or top corner, he is able to hit a high percentage of his shots on target, and if those shots are hit as well as he hits them, they will cause problems for the person whose job it is to stop them.
Haaland demonstrates with alarming consistency that beating an elite goalkeeper is often as simple as catching him off-guard and unprepared with a well-executed, powerful, clean, high percentage shot. Shoot first, think later.
Before hitting those high percentage shots, a player needs to find position. Ideally a position without blockers between him and the goal.
Haaland is very quick over long distances; he is an extremely fast, strong, powerful sprinter. Like many taller athletes, a slower speed of limb movement belies an overall level of pace. He is often dominating his opponents in foot races.
When a centre forward carries that kind of athletic potential, the ability to beat defenders for pace, the need for expert timing of runs and through passes isn't as strictly necessary. You don't need to run off the shoulder of your centre back if you can beat them for speed even with a yard or two handicap.

Each of these passes led to a clear 1 v 1 opportunity at goal. Lines were broken by combinations of both Haaland's running and teammate's passing often with Haaland 3,4, even 5 yards further from goal than the last defender.
We've already seen Haaland's penchant for making the right call when anticipating where the ball should go, here we see how well he is able to reach those areas he opts for.
There are two sides to this, the likes of  Julian Brandt, Thorgan Hazard, Jadon Sancho, Marco Reus, Gio Reyna, Raphael Guerreiro and Jude Bellingham show sublime technique and execution of through passes, and Haaland benefits greatly from that level of talent, but the key here is the understanding between players.
Each of those creative providers, the players playing the pass, knows and understands where, when and how Haaland is able to receive the ball. Their task is made far easier by the power offered by their runner, but the weight of their pass, the direction and overall execution need to be right. While the margin for error is increased by Haaland's athleticism, the quality is required always. Both sides of the goal scorer and creator benefit greatly from the technical and physical capabilities of each.
Again, take 2 minutes to watch those clips and note the position Haaland has relative to the last defender. A through ball is made far easier if the running receiver is able to cover the ground as quickly and as ruthlessly as Haaland is.
The numbers Haaland has posted throughout his professional career, but especially since bursting onto the scene in Europe's more elite competitions, are, frankly, stupendous. But, as always, it's important to look behind the numbers and see what reality tells us. The reality behind those particular numbers tells us that Erling Haaland is currently a freak of nature.
He turns scoring goals, one of football's most difficult aspects, into a simple exercise of power and consistency. The decisions he makes, and those made by teammates versed and comfortable playing to his strengths, aid in the simplicity of his goal scoring. We should not (can not, really) discount just how extraordinary the first 18 months of Haaland's career in a top 5 European league has been. He is on course to be of the very greatest goalscorers. I hope over the past 1300 or so words, I have helped scratch the surface a little on why and how.
This analysis was focused on just a few aspects of a well-rounded, hugely exciting, complex player. For greater in-depth analytical pieces, such as THIS total player review on Liverpool's new centre back Ibrahima Konaté, these comprehensive offensive player reviews on ADAMA TRAORÉ and MARCUS RASHFORD, plus much more content available now and in the future, CONSIDER BECOMING A SUBSCRIBER.
For good measure, here are a few clips I didn't use but you might be interested in. We all love goals, after all.
Unless otherwise credited, The videos used in this analysis belong to the Bundesliga and other relevant license holders. the tactical times do not claim to own any of the visual or audio media presented here. This analysis was created under Fair Use (17 U.S.C. § 107) and may not be copied, redistributed, edited or altered without the express permission of the copyright holder.