How Thomas Tuchel won Chelsea the Champions League: The workings of a world-class system
How Thomas Tuchel won Chelsea the Champions League. An in-depth look at what the system means for the players on the pitch.
Thomas Tuchel's arrival at Chelsea FC turned an exciting but disorganised attacking outfit into a very organised, solid, effective defensive unit seemingly overnight.
It was chalk and cheese. Chelsea went from conceding 0.93 goals per game under Frank Lampard to 0.53 under Thomas Tuchel. A 43% decrease. Even more striking when you consider it was two halves of the same season, the latter of which contained the typically more difficult later stages of domestic cups and the more elite opposition in the Champions League knockout phases.
Even more striking is the fact that Chelsea conceded just twice in Tuchel's first 14 games as manager of the club. The team had conceded 13 goals in the 10 games prior.
It was an immediate and obvious turnaround in defensive output.
There are a number of different ideas related to the explanation for this; some of them rooted within Lampard and his management philosophies, as well as differences between his and Tuchel's personal preference of defensive players on the pitch.
What I will focus on is a single facet of what is a much bigger concept. I will focus on the formation Tuchel used, and, in particular, how this formation was reflected in reality by the players on the pitch as Chelsea won their second Champions League title.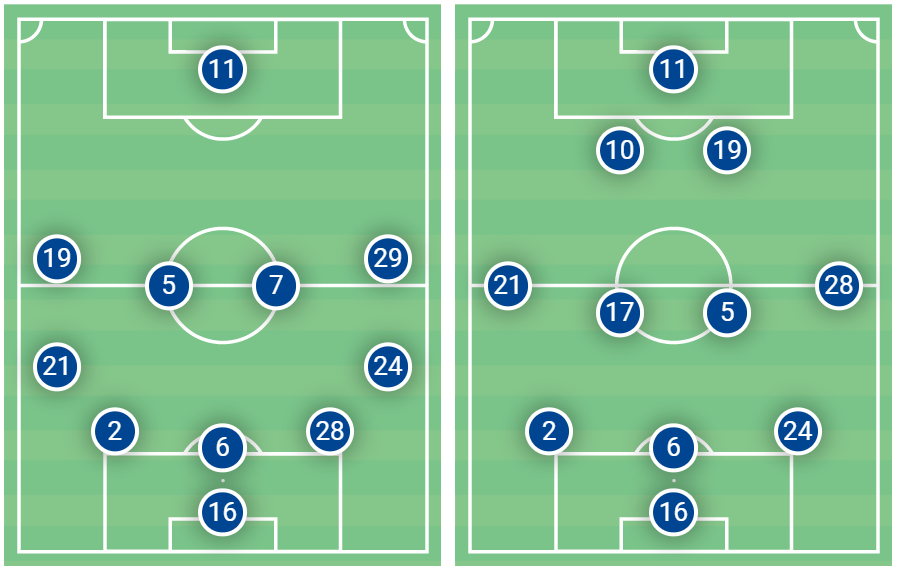 In basic terms, for most of the 2020/2021 season under Tuchel, Chelsea utilised a defensive 3-4-3 formation. Wing backs move into a five out of possession, and push wide to stretch the pitch in possession. Against Manchester City in the 2021 Champions League final, it was closer to a 5-4-1. Both, in many ways, offer the same positional framework, only perceived differently through a defensive or offensive scope.
The important thing to remember when looking at formations or a team's shape, and how it corresponds to a team's system or style, is that it is only a basic, rough framework for starting positions. It is malleable, players do move around, they don't always follow instructions rigidly; football is a very fluid game.
What system defending looks like
An example of this positional fluidity is seen in the first minute of Chelsea's game with Manchester City.
Three clear lines develop – the defensive four, the middle three, and the forward three.  Chelsea employed defined centre-backs in the game – Rudiger, Silva, and Azpilicueta –  and two defined wingbacks on either side – Chilwell and James, behind Kanté and Jorginho.
What becomes immediately apparent is Rudiger's movement forward to create a middle three rather than the defensive five.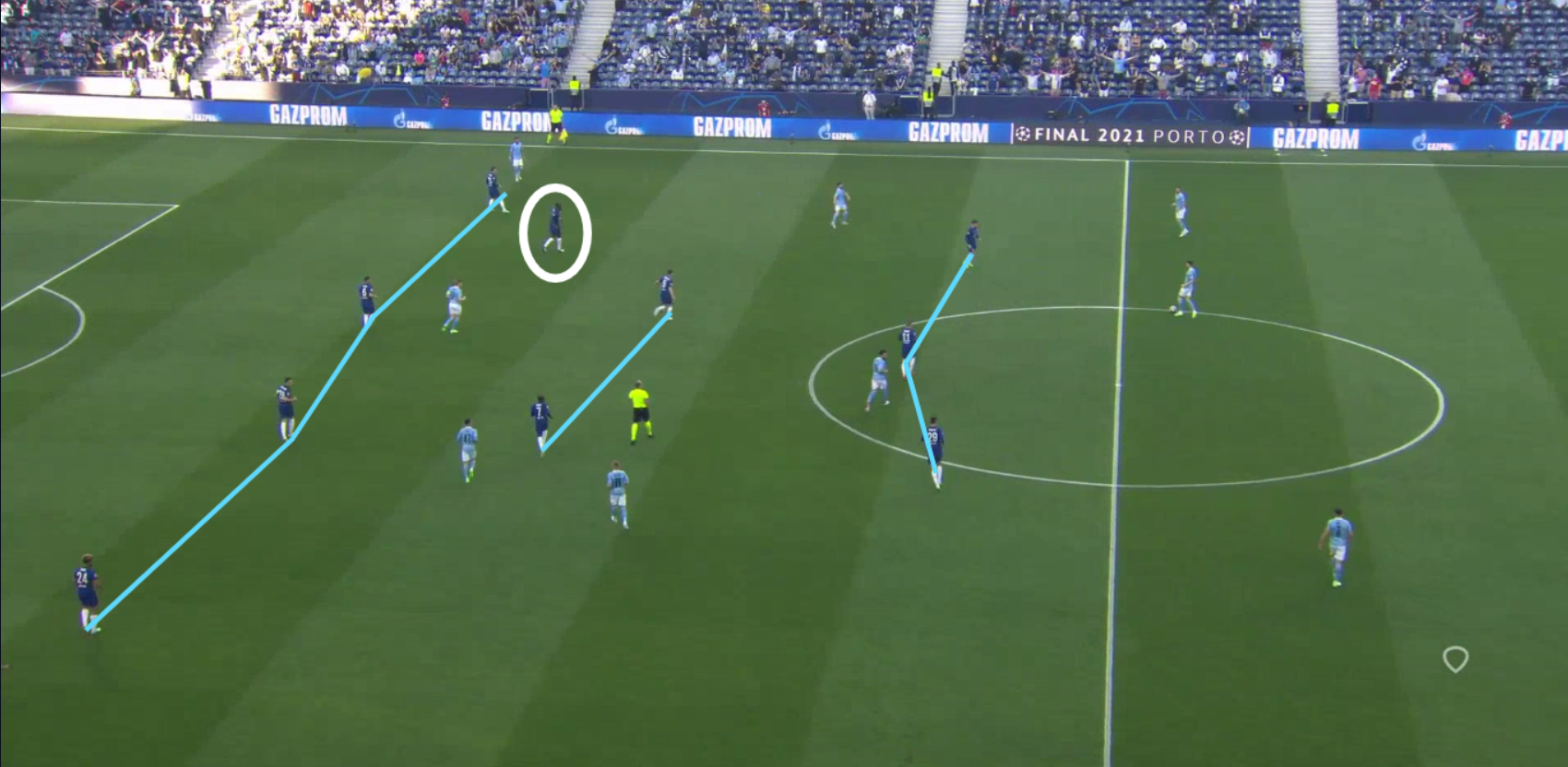 Rudiger actively attacks the ball while the other defenders move to a compact flat line of four.
He moves to man-mark the opponent free between the forward and middle lines (B. Silva 20), Chilwell on the Chelsea left pushes up to press his winger (Mahrez 26).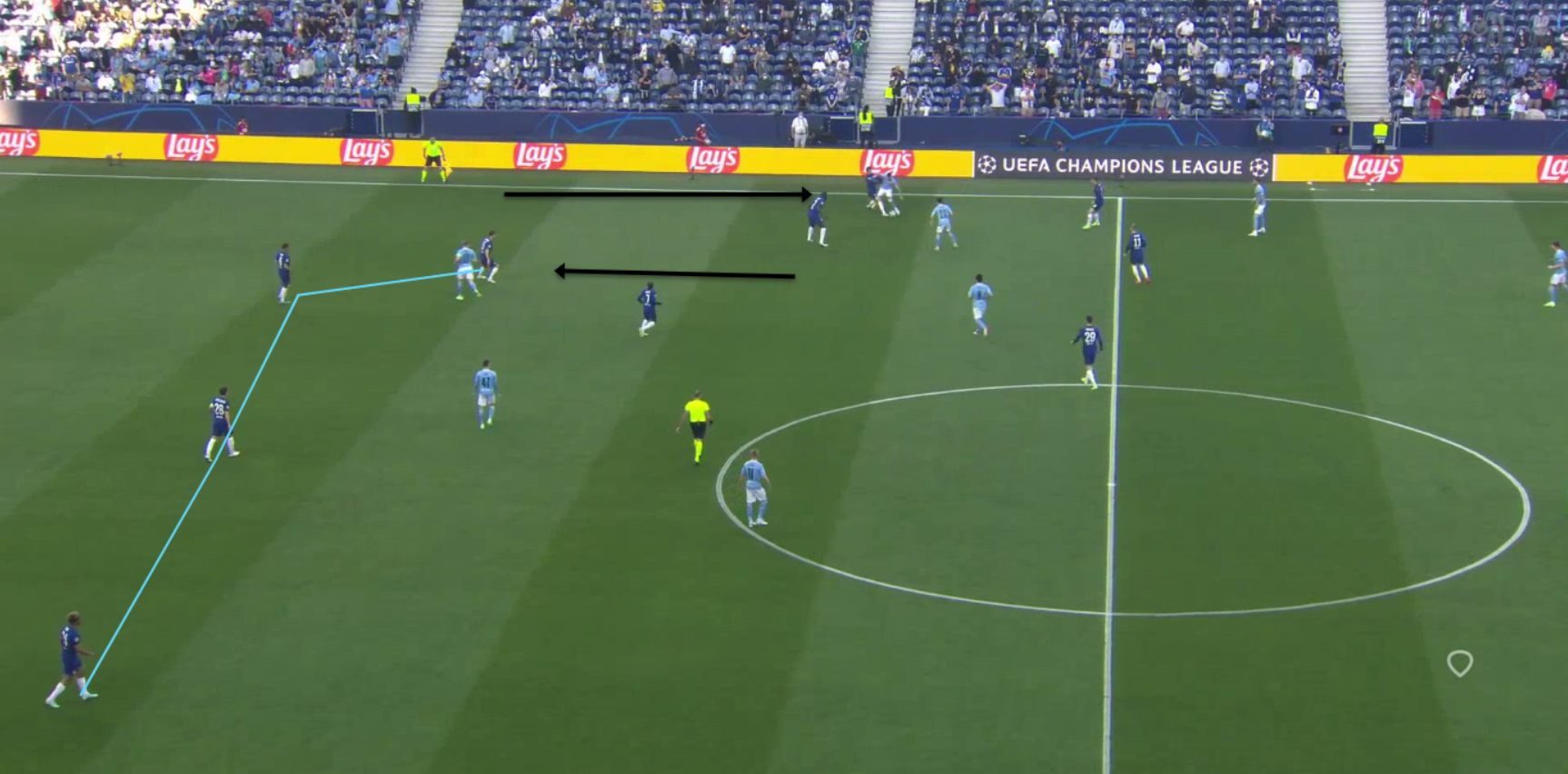 With Rudiger pushed up, Chilwell following him, Jorginho goes back from his spot in the middle line to fill the vacant left-back position. By engaging the ball and aggressively pressing the opponents in possession, Chilwell and Rudiger are able to attack the midfield without fear of leaving their positions open. Jorginho has tucked into the left back position for Chilwell and Kanté is in his hole maintaining coverage of the midfield for Rudiger. When one player pushes up, another pulls back. One in, one out.
When defending a dead ball in the corner, with defensive players taking up marking positions inside the penalty area, it is vital to move quickly to reestablish position if the second ball is lost closer to the offensive third.
When the ball is initially cleared by Chilwell, the defenders move cautiously forward in case possession is not retained. They maintain their shape that is tight and compact to the left side.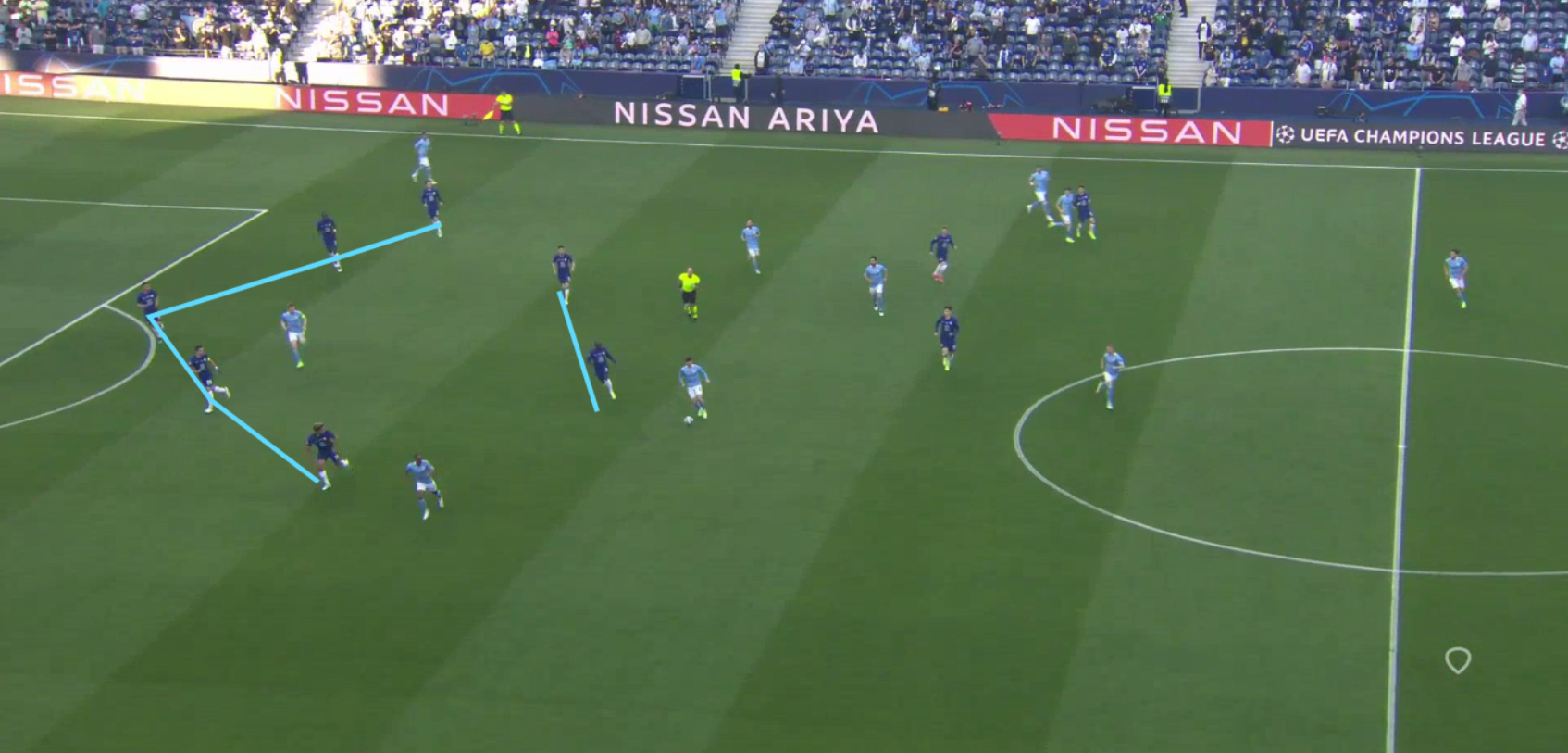 Once possession is lost and the ball controlled by an opposition attacker ahead of the midfield line, close to the attacking third, both lines fan right to stretch the pitch and reset into their line of four with one man pushing forward.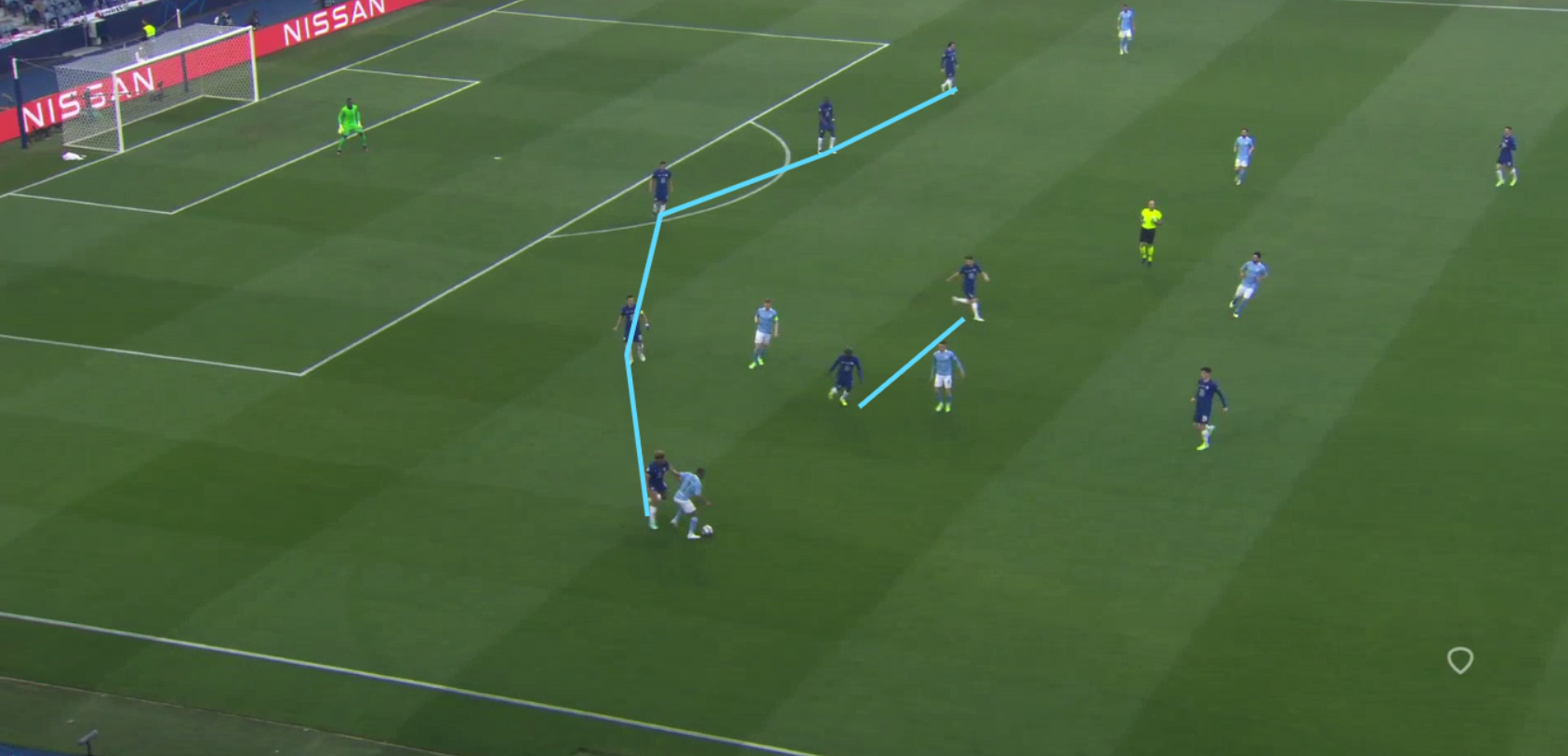 Reece James is the player to push up to attack the ball, with Azpilicueta in the right centre back position covering the man in the half-space (De Bruyne 17). Kanté is also in the half-space ready to move forwards to intercept and Azpilicueta can pull back into the right-back channel.
By moving across with the ball, a defender is able to engage a player in possession, and even stay with him, without surrendering position because they will always be supported by a teammate in close proximity moving to enter and cover the vacant area.
Even when the ball is turned over during an attacking move, and one of the advanced lines is broken, the willingness to make up ground as fast as possible to cover defensive areas of the pitch makes countering very difficult.
When Kanté loses the ball, Zinchenko is able to dribble through the vacant centre, through the midfield line, to face a single midfielder and the defensive line – now a 5.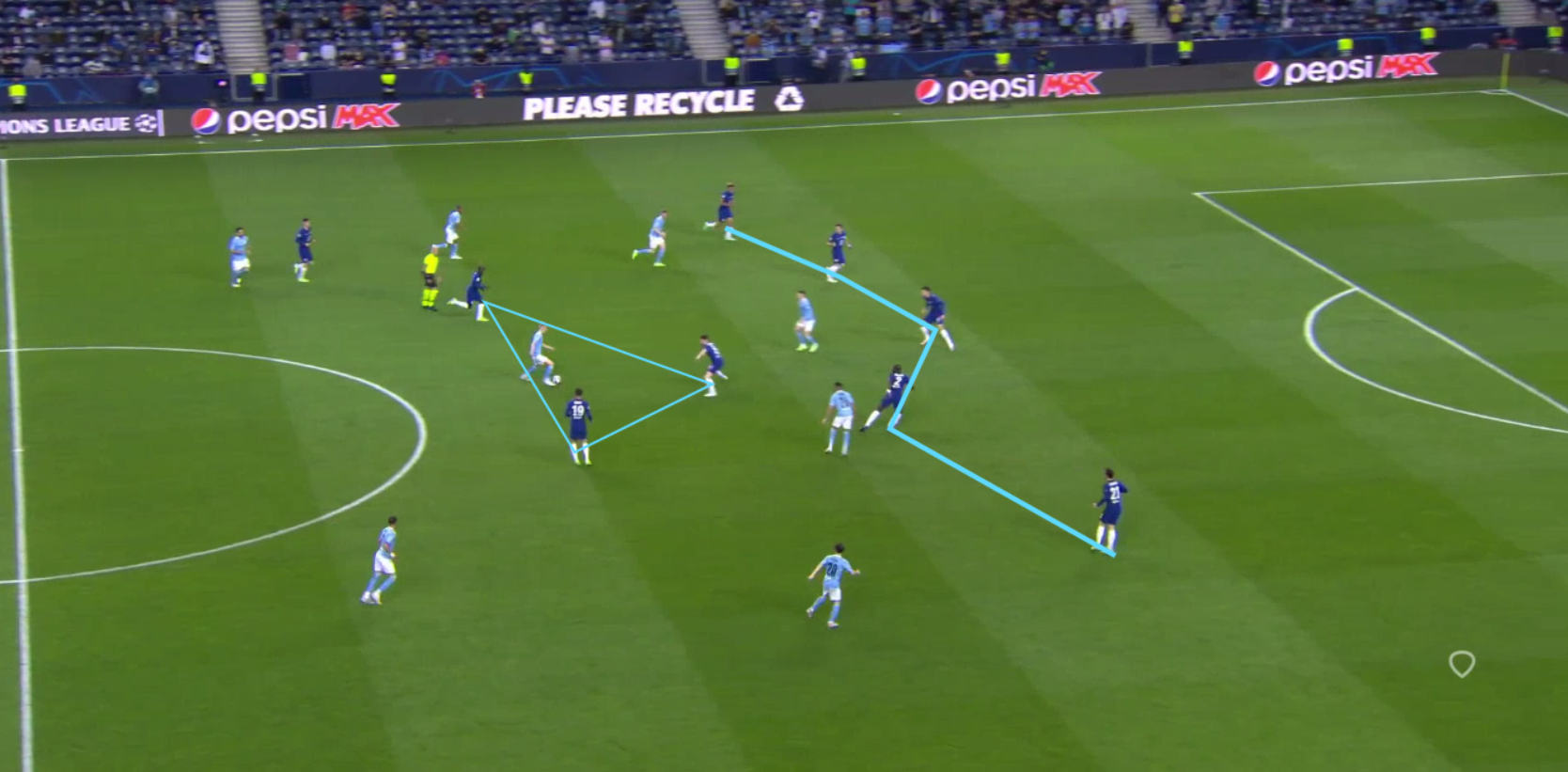 Chelsea respond to having their line broken by blocking forward passing lanes and becoming very tight and compact, allowing spaces on the wings but moving close to the men in the central zones. Marking them out as the main, more likely danger.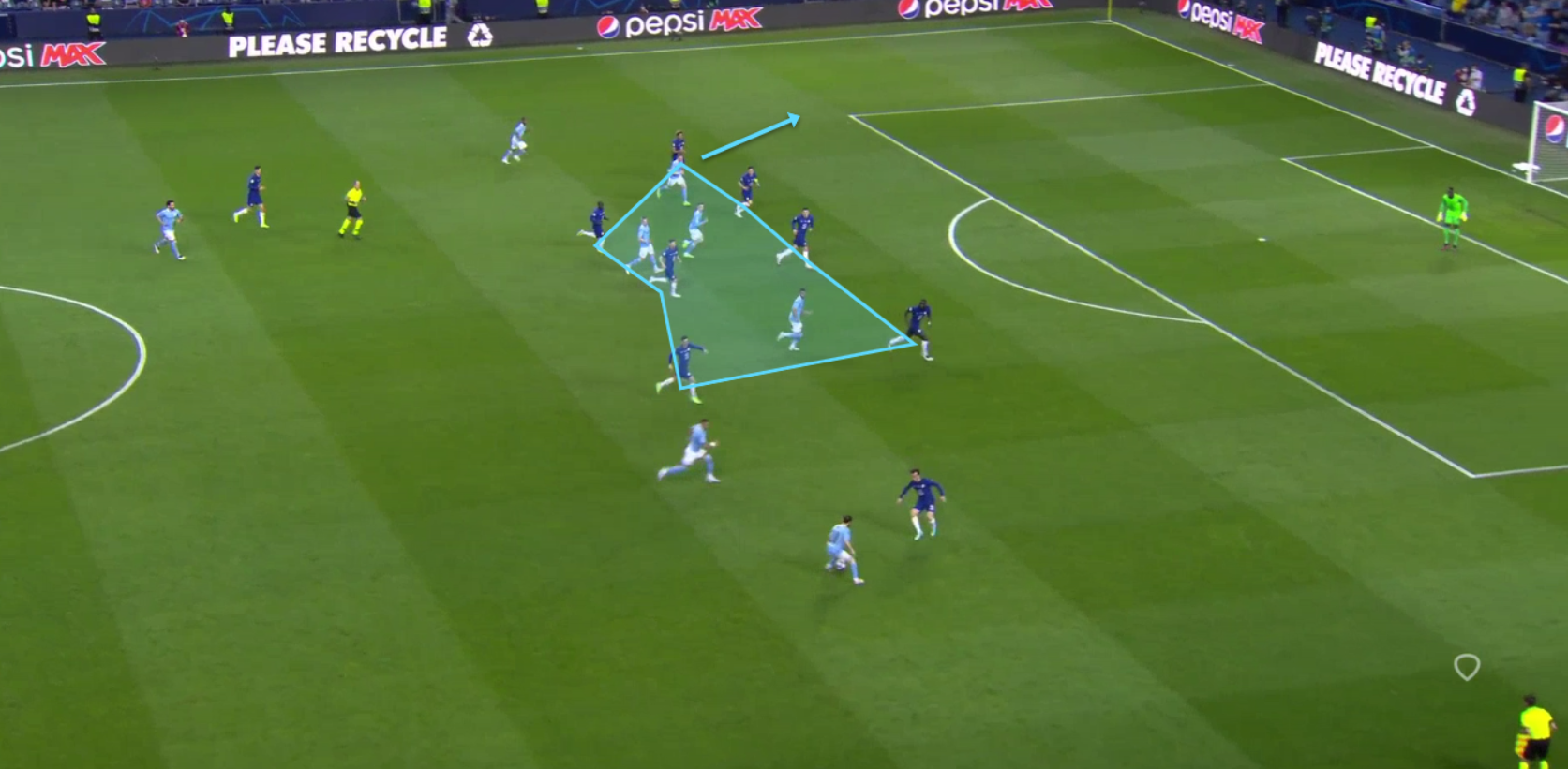 Chilwell moves out to engage the man on the ball, his centre backs cover his space and push up to man-mark potential receivers. It all becomes very compact behind the one man engaging the ball. James, on the opposite flank, can stay slightly wider in the unlikely event that a reverse switch is played long-range to the runner on his outside (Sterling 7).
By blocking those passing lanes, and by Chilwell holding up the man on the ball (Walker 2), Chelsea force Man City into recycling the ball back into the centre where forward players can press and allow further time for the team to reset into the familiar and comfortable defensive shape.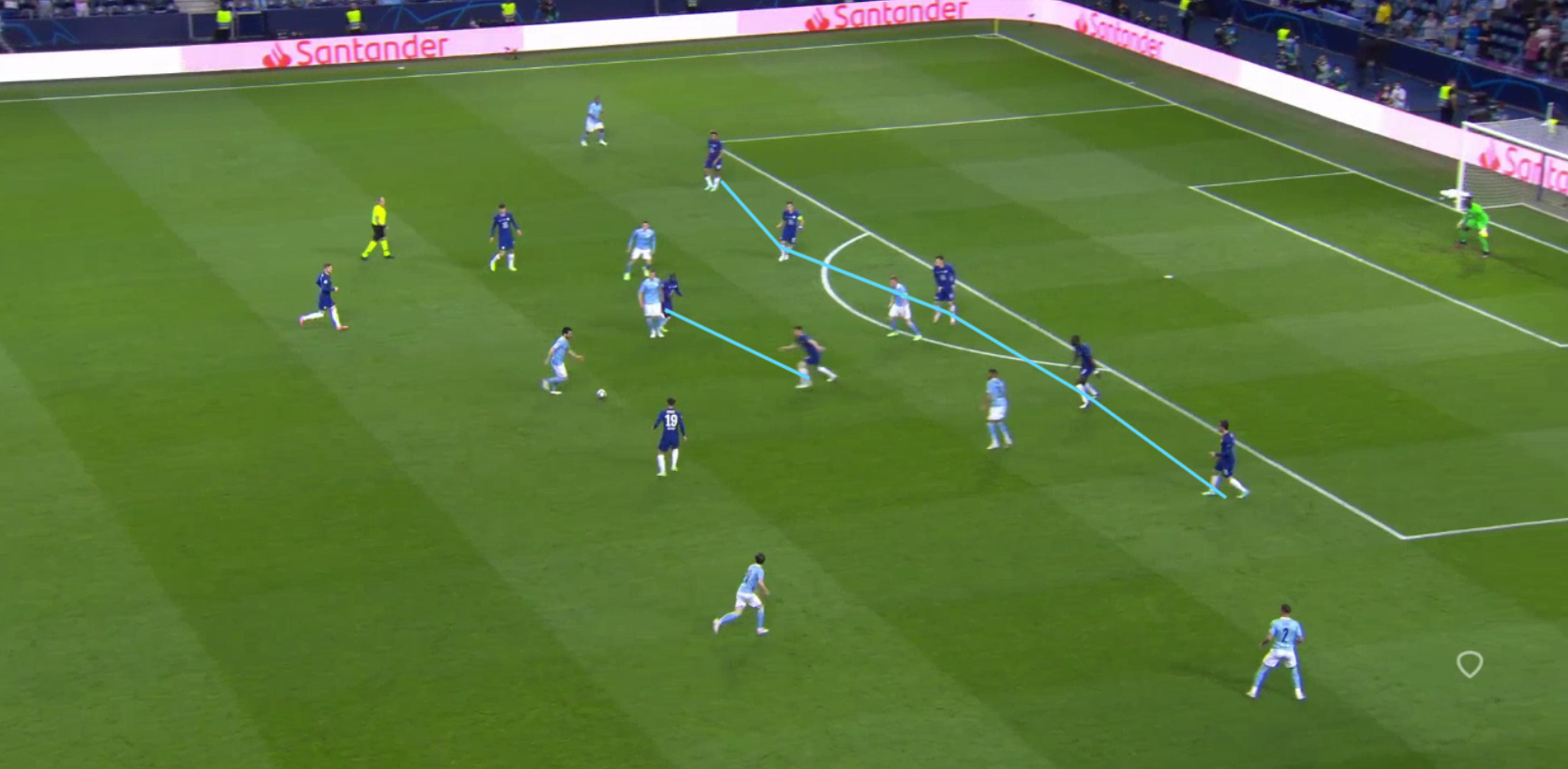 From here there are no spaces for Man City to exploit, the Chelsea players are in position to defend their own spaces comfortably. Unable to break the line, the man on the right flank plays a speculative cross from a low danger area that is easily claimed by goalkeeper Mendy.
Having a solid, reliable defensive shape with defenders who are comfortable defending those spaces is really useful, but only as useful as their ability to move into that shape before opponents are able to exploit the spaces. Chelsea show immaculate form in preventing an attack while they moved into their optimum shape.
Through a strong defence, attack
With Chelsea in possession, the wing backs move into the midfield on the flanks.
By moving to the right touchline, James is able to offer a clear passing lane that is not likely to be intercepted by a narrow, compact Man City press.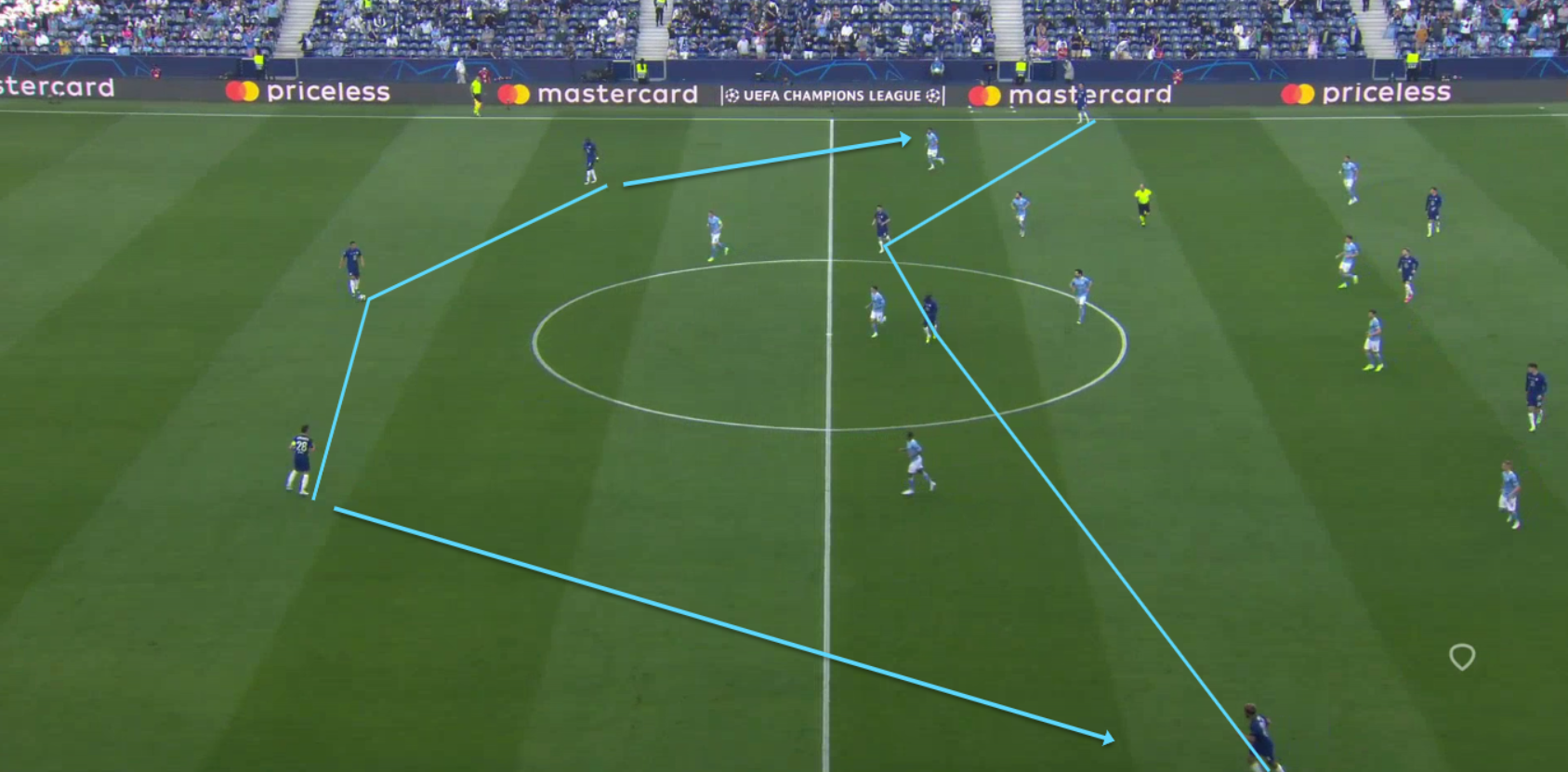 James moves towards his teammate in possession, eliminating the risk of receiving the pass but also attracting the Man City pressing block towards his side. In dragging the Man City middle line into the Chelsea half, the forward runner, when found with a simple long pass, is given a 1 v 1 against his centre back.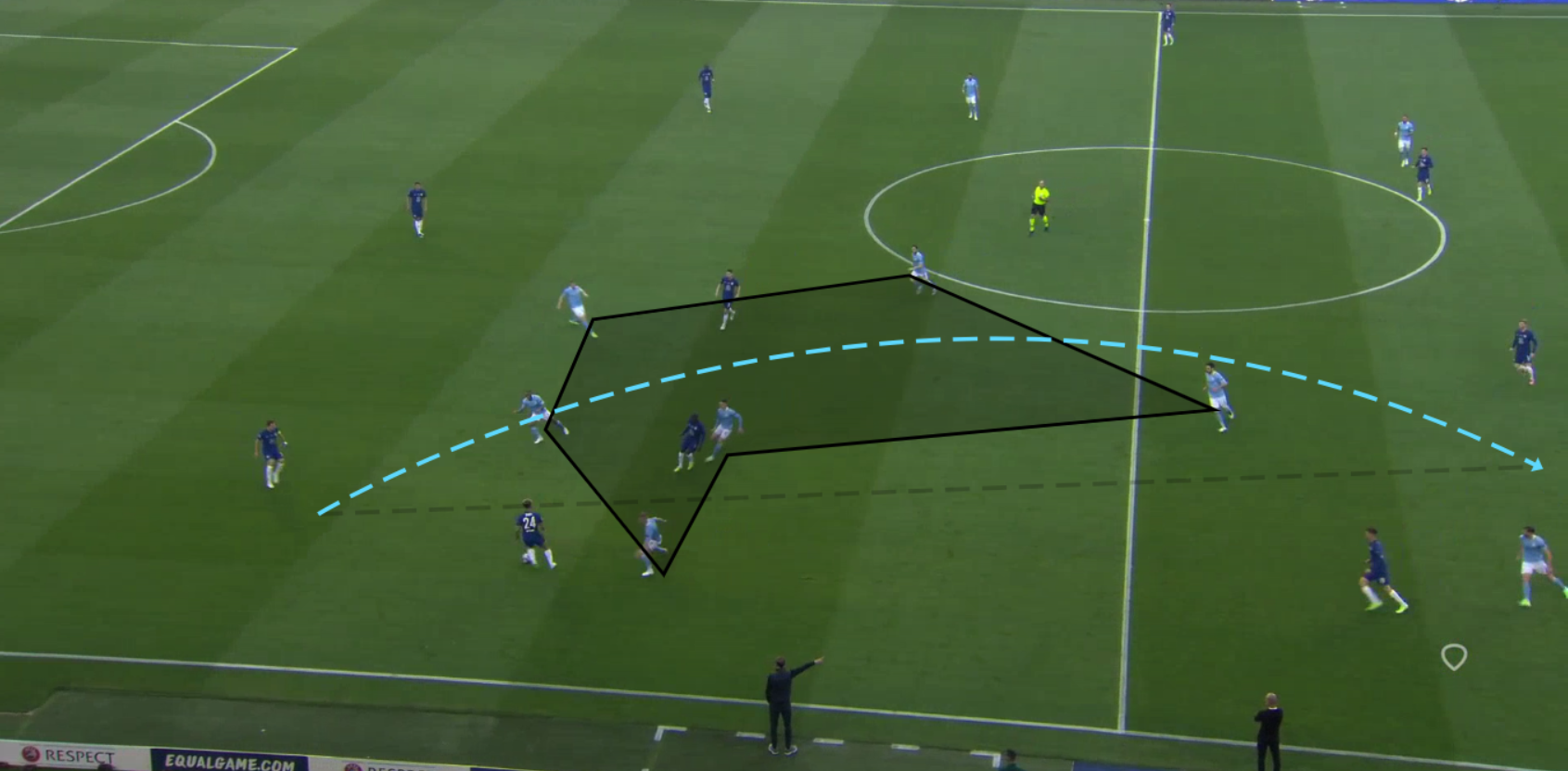 By stretching the midfield line, both James and Chilwell provide an excellent advanced passing option with very little risk. This is made apparent again on the other side when Chelsea score the match-winning goal.
On the touchline, Chilwell is free of markers as the pressing defender (Walker 2) instead moves toward the Chelsea player in the more obvious space to receive the pass (Mount 19). Mendy is able to find Chilwell in space with an accurate long pass.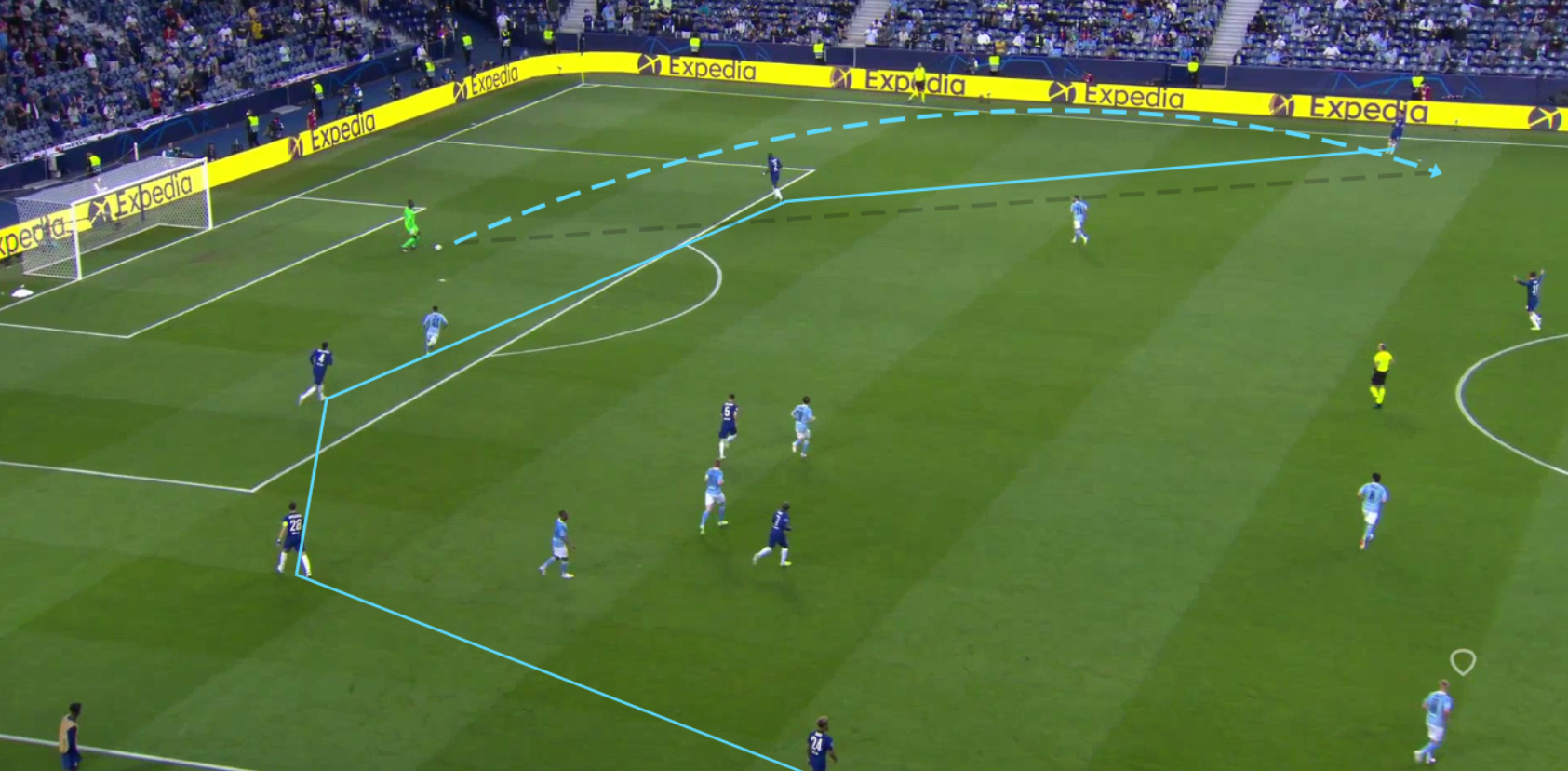 Having caught Walker off guard with the pass, the defender tries to switch targets and close down Chilwell in possession of the ball. The indecision catches him between players and Chilwell is able to find the now free Mount in a high quality offensive space between the Man City middle line.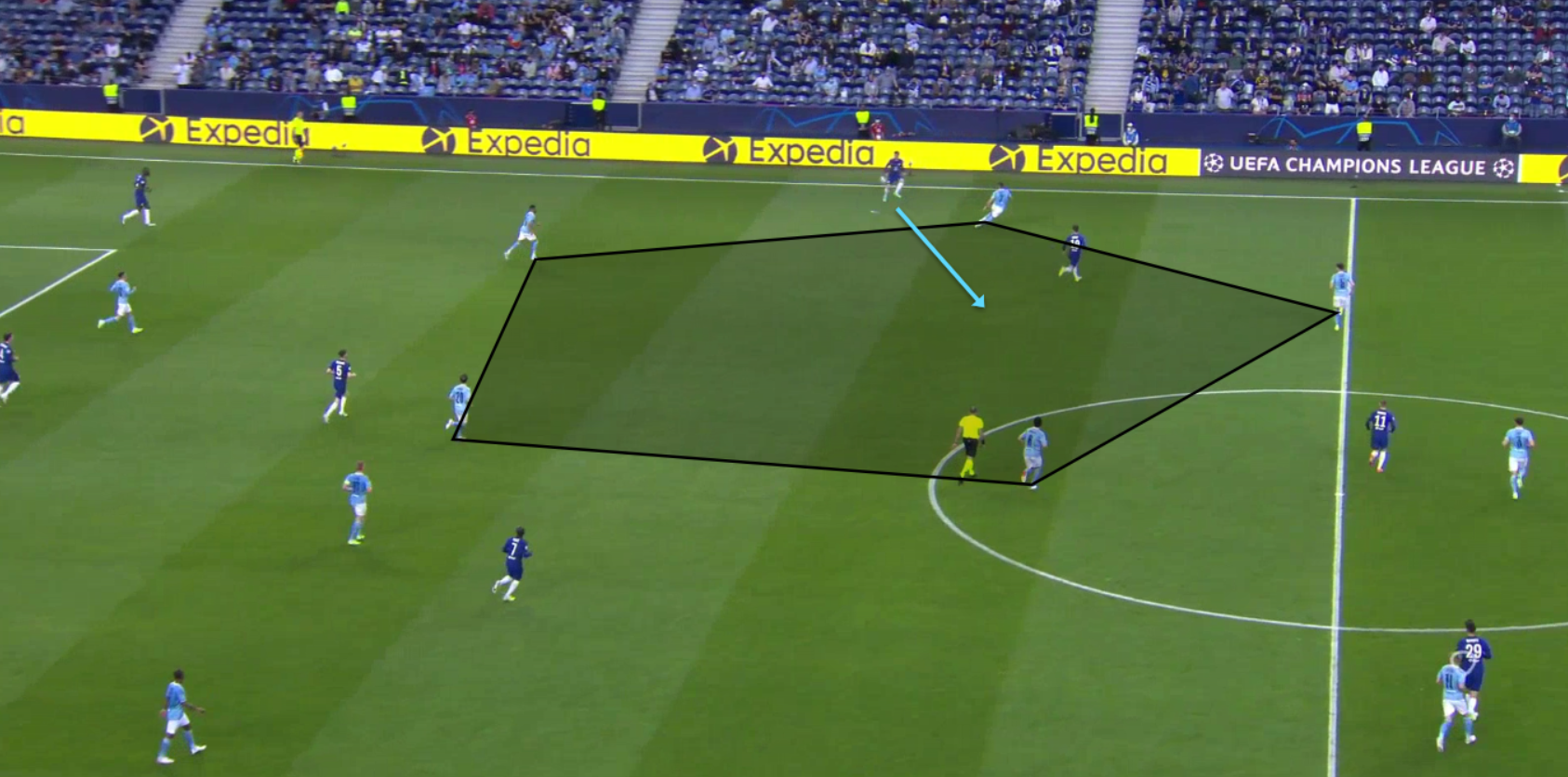 With Mount in possession, facing goal, free between markers, the midfielder is able to find time to measure an accurate through pass to the runner Kai Havertz which puts him 1 v 1 to score for Chelsea.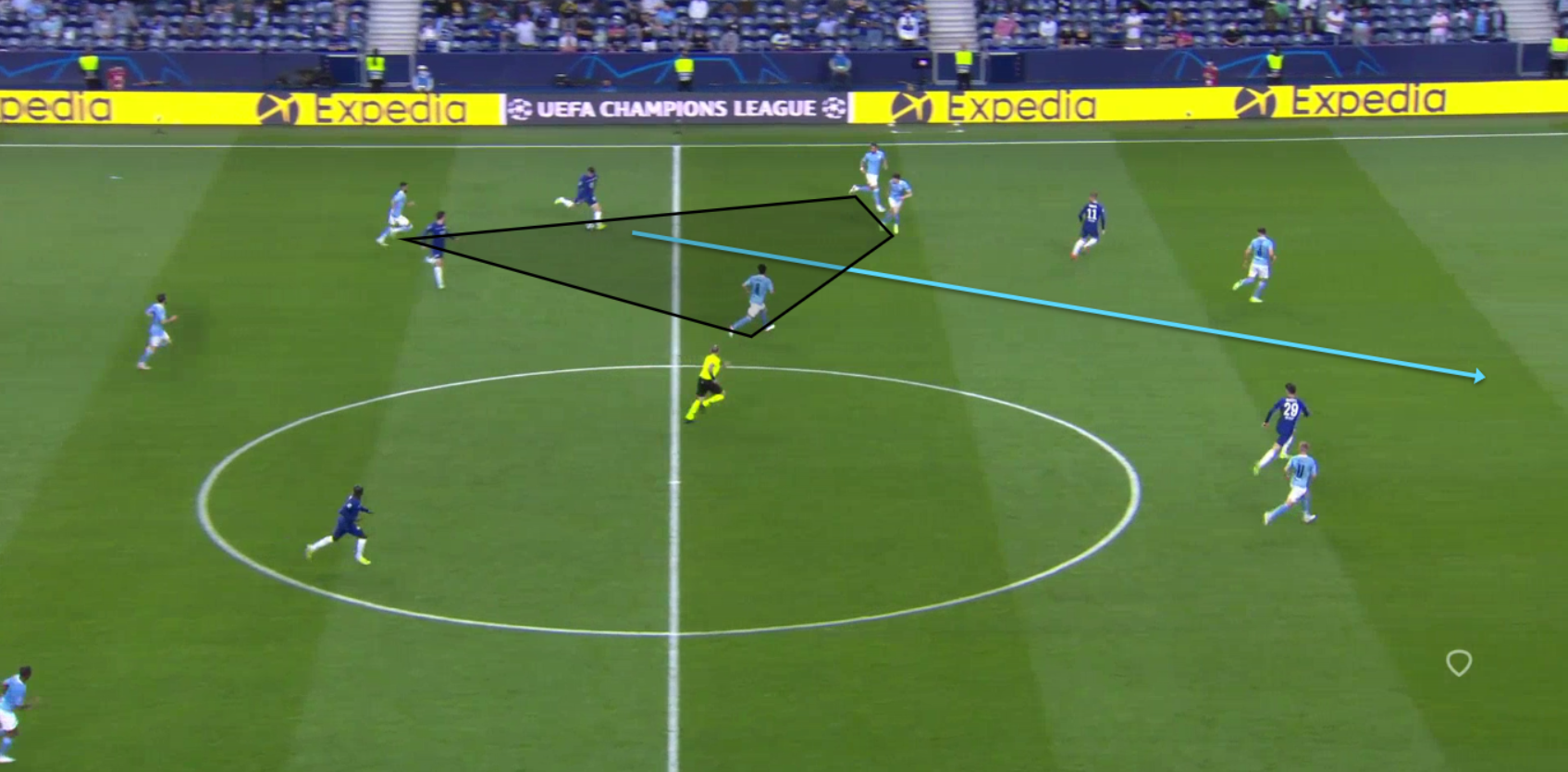 In stretching the wider points of their defensive/midfield lines, Chelsea are able to provide regular, relatively risk-free passing lanes into the midfield, breaking opponent lines and counteracting a compact, number heavy opposition press.
Defending at the death; keeping your head when your legs go
If the opposition is losing, they push further, they take greater risks, they try to force scoring opportunities. When an organised team that has defended intelligently and effectively for 70-80 minutes of a tight, tough match begins to tire, they can lose focus and concentration. This is when the level of organisation and concentration is really, truly tested.
Heading into the final 20 minutes of the Champions League final, Chelsea are being steadily pushed closer to their own goal, Man City are making much better progress at breaking those lines they struggled to get close to in the periods up to this point.
Azpilicueta moves up to close his midfielder, as we saw Rudiger do in the first half, but no one covers the vacant space. He is beaten by an easy give and go, with no one coming across, Fernandinho plays a simple through pass on the inside of James who has Raheem Sterling accelerating on his outside.
Sterling's cutback pass is missed by the near post forward and the man behind – Mahrez – doesn't show the required desire to attack the ball. Chilwell is able to anticipate and get across to clear. It is handled in the end but it is emergency defending.
Ten minutes later, another opportunity.
Chelsea are in their familiar shape, moving across with the ball, but this time far slower than in the first half. The legs are becoming tired. Chilwell moves way out of his channel to close down the crosser but his attempted block is sluggish and ineffective.
Now in a four, the back line looks well set to cope with the long, deep, hopeful cross delivered from a relatively safe area. Azpilicueta tracks the only central runner into the box, Aguero is arriving late on the outside right. James gets caught under the ball and misjudges its flight, allowing Aguero to receive the cross deep in the Chelsea penalty area in a much more dangerous space.
The cross is poor and Mendy is able to claim it. With both centrally positioned defenders attacking the ball, Gabriel Jesus is left unmarked at the far post. A better, more thoughtful cross from Aguero would have led to the equaliser.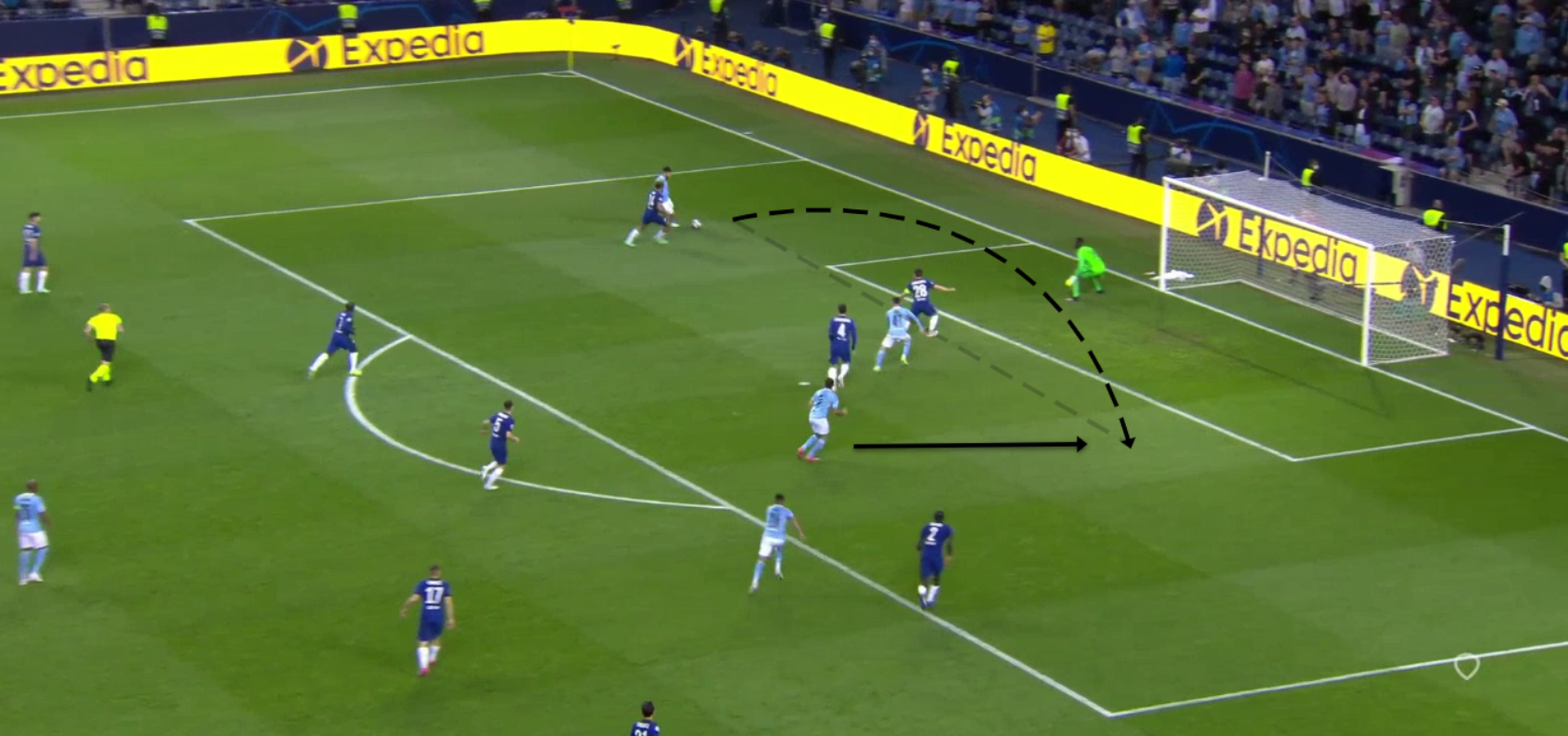 Nothing comes from the errors, but it's another example of how focus is needed at all times from start to finish, and how maintaining a good shape works only if those within it perform both basic and more complex individual defensive tasks well.
The very next attack sees an almost perfect copy in the build-up.
Kyle Walker again receives the ball in his deep crossing area, again the defensive line is slow to come across, again Chilwell moves out to close him down with tired legs and very little success.
With all the time he has to measure his cross, Walker produces a superb flat, angled far post cross. Very difficult to defend a pass like that at your best, with Chelsea's defenders as tired and as distracted as they are here, it was impossible to defend.
Azpilicueta misjudges this one and James this time is left flat-footed, unable to track his runner on the outside. Phil Foden, on the outside of James, checks his run with awareness of the offside line, so he isn't able to reach the ball. It is marginal, but another example of Chelsea – on their right side especially – being unable to match organisation and positioning with effective defensive technique.
The last example is the best example of what tired defending looks like.
With the game entering its final minute before stoppage time, Man City are pushing further on top of the Chelsea low block. Midfielders are pulled out of position with ease, James finds himself with two men to watch, he moves to close the one ahead – the wrong one – and the ball bypasses him easily and Man City are in a dangerous crossing area.
The five man line is still there, the pressing and covering midfielders are still there ahead of them, but without the physical and mental capability, the shape means very little. Man City carve through it easily.
Chelsea are able to defend their box well, again with emergency defending. At this late stage of a game of this magnitude, emergency defending was always likely to be the outcome.
Using just one fixture, I've presented a few of the benefits and perils of defending the Tuchel way. That ultra organised, super impressive when it works system that saw them not only win the biggest prize in club football, but also totally neutralise and outthink Pep Guardiola's very dangerous, very difficult to stop Manchester City team.
Coming back to the point about formations being fluid, it is important to remember just how fluid. There are conscious decisions being made constantly, players pulling while others push; moves are being planned and executed, changed and abandoned all the time. The manager and coaches can drill the moves, point and shout, and direct, but it's the players who must implement them and play.
Chelsea have been remarkably comfortable with implementing Tuchel's drilled plays to great effect, but it isn't limited to a designated formation. A 3-4-3, 5-2-3 or 4-3-3 can look, function, move and play much like any other or like none other. It can change not only from game to game but from minute to minute. You have to keep your eyes peeled and your brains switched on. Remember, football is a very fluid game.
Followers on Twitter will know that I recently decided to work on my website full-time, it was a big step for me that represents a personal dream. The response to this was great and I hugely appreciate all the support and love I've felt since taking that step.
If you enjoyed this article on a wonderful Leeds United team, consider subscribing to the TT Patreon HERE for a few pounds to access more in-depth player analysis like this, this, this and, this. Plus plenty more on the website now and in the future.  Help me reach my goal of making this my job! Thank you so much for your continued support.
Unless otherwise credited, the video and audio footage used in this analysis belongs to UEFA and BT Sport, the tactical times do not claim to own any of the visual or audio media presented here. This analysis was created under Fair Use (17 U.S.C. § 107) and may not be copied, redistributed, edited or altered without the express permission of the copyright holder.