Leeds United: The Tactical Times Team of the Year
Legs, lungs, heart, and brain. Why Marcelo Bielsa's Leeds United is the Tactical Times Team of the Year for the 2020/2021 Premier League season.
The most successful Premier League season for a promoted team for twenty years. Unbeaten against the champions-elect. Entertaining, explosive, endlessly energetic; Leeds United became most people's second team this season.
Under the stewardship of the elite manager's manager, Marcelo Bielsa – his game as loveable as it is chaotic – Leeds had an unforgettable return to the big time after sixteen long, unforgiving years.
Why was it such a success? What do they do so well? Why are they The Tactical Times Team of the Year?
Fight and Fitness
First thing's first: there is a lot more to Leeds' on-field success than the players running a lot.
They do run a lot. Loads, actually. Comfortably more than any other team (uncomfortably, surely?).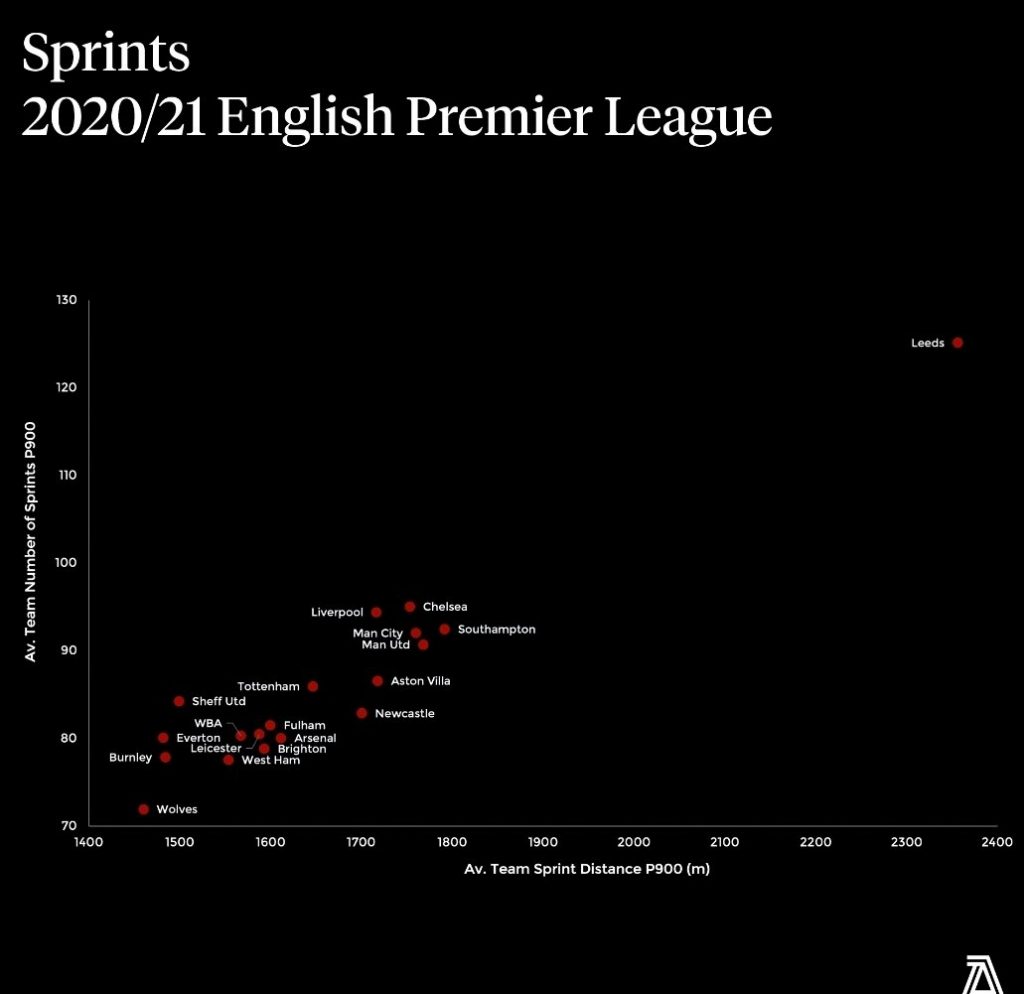 It isn't even remotely close. Leeds wipe the floor with the Premier League in the sprinting stakes.
They press like rabid possession hungry animals too.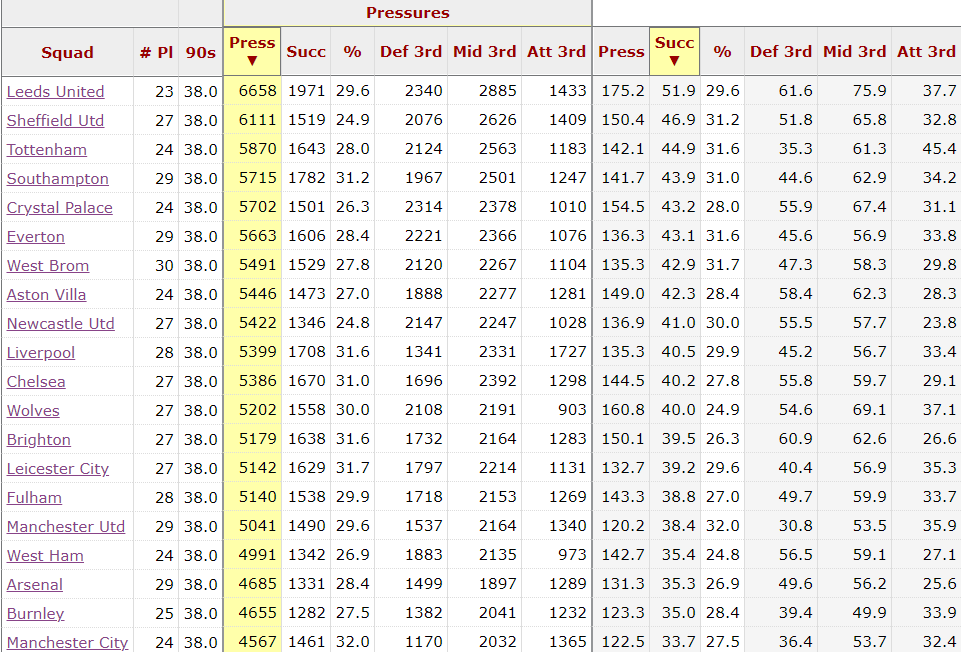 Even for offensive third presses, the kind that promoted teams – teams that don't have the wage budgets to convince their players an attacking third press is a worthwhile idea (except for Sheffield United, it's a Yorkshire thing), teams that defend their half with their lives because that's the order of things – really don't do, Leeds are second behind Jurgen Klopp's ragtime reds.
Leeds top the overall presses list throughout Europe's top five leagues; they are ranked second in all Europe for middle third presses; ninth for attacking third presses – Bayern Munich top that particular list. They press really well and they press relentlessly.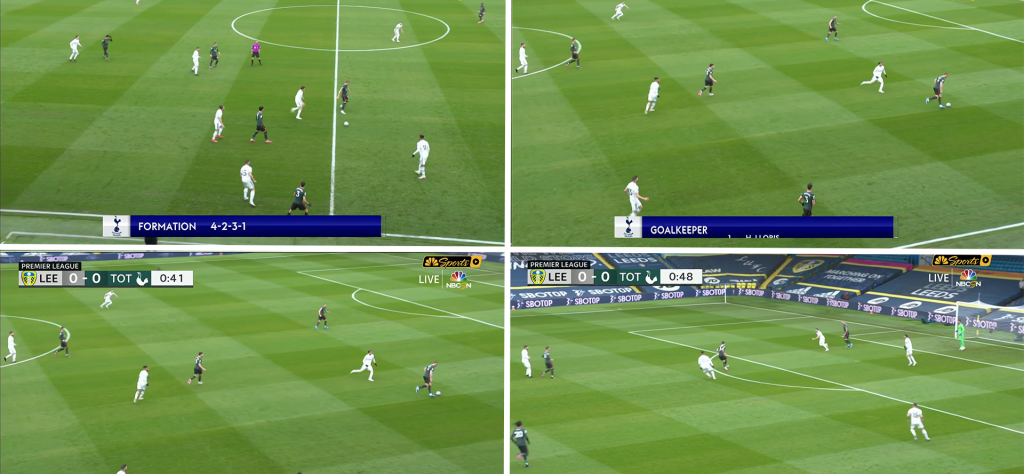 Press is almost an abbreviated form of the word pressure and to pressure an opponent is to make them uncomfortable. With the ceaseless, annoying, frankly impolite running and swarming, Leeds United have been making Premier League opposition uncomfortable all season long.
'But how is this possible' I hear you ask, 'with the schedules and the internationals and the Caramac® Cup, how do they just keep running?' Where is Bielsa's Burnout?
It's a good question, and the answer is deeply complex, esoteric, and confidential in most football circles: They work out a lot. They endure ruthless training sessions designed to target those specific areas with sprints and pressing and general chaos, a pre-season regime that would make your European Super League trequartista call in sick.
Then on Thursdays, there is MurderBall.
"You go out and it's a full-sided game and we just play football. Just play a game, but it's five minutes and people are kicking lumps out of each other.

"You fall down and don't get a foul. They're counter-attacking, the ball goes out so the staff chuck in another ball.

"Five minutes, you rest for a minute and then go again. That's where we get our fitness from. Hell for leather, run into each other, no fouls, no offsides.

"Most annoying thing for a defender, you scream for offside but you've got the manager and four members of staff just going, 'run, run!'

"It seems to work for us, we are going to keep doing it and keep doing our stuff. It works."

Luke Ayling
Mateuz Klich describes MurderBall as " just a normal game with normal rules, 11 v 11 on a big pitch. You just play, but you can't stop running. It's tough."
Just a normal game where you can't stop running
"Even if the ball goes out, there's a member of staff waiting with another ball to put it in. You can't stop."
A normal game where you can't stop.
"It depends on the training how long he wants us to play. It could be five times six minutes, or one times 20 minutes. It just depends what Marcelo wants."
Just a normal twenty-minute game of MurderBall with Marcelo Bielsa's Leeds United.
"But it's the most important session in the week".
Of course it's the most important session; this is the session that takes the fitness training and applies it to the real world. It's weapons training with live ammunition but your targets are teammates. It's MurderBall.
Patrick Bamford, the poster boy of Leeds' self-sacrificial running, was asked about the burnout conspiracy.
"You feel mentally tired, we do a lot of work, but the coaches and the manager have it set up so you sometimes feel tired the day before a game but 9 times out 10 we go into the game feeling fine once we start.

"They know what they're doing, they put us in a position where we go into the game feeling fresh.

"The physical work we do before the season starts is what allows us to go all the way through."
In another separate interview, Bamford bluntly stated that "people in football have a short-term memory" they do. "Saying Leeds have burned out again, it's a load of rubbish." It is.
The same assumptions were made when Leeds were flying high in the Championship in the season prior. 'It won't last' they said, 'no one can run that much without keeling over', 'it always catches up in the end'.
Leeds won each of their last six games with a goal difference of +15; they lost one and won 12 of their final 15 games, and finished 10 points clear as champions of a 46 game season.
'But they benefitted from the lockdown break; the Premier League will be different'. Put a sock in it, will you.
Because Leeds know they will be fitter than most of their opponents – opponents who aren't going to play MurderBall on a Thursday in their £50,000,000 training complex – so they know they will have an edge. It's very difficult to find ferocity and sacrifice on the transfer market.
What Marcelo Bielsa instilled at Leeds appeals and applies as much to the players' hearts as it does to their lungs and legs. When you go to war, you don't want to have to catch your breath on the battlefield.
Tactical Fluidity
I counted eight different starting formations for Leeds in the Premier League this season. I expect there were many more in-game tinkerings, with overlapping centre backs and full backs becoming 10s and 10s becoming centre backs. I half expect young Ilan Meslier rotated with Liam Cooper or Pascal Struijk in a loose Rush Goalie system.  Nearest to the goal can use his hands.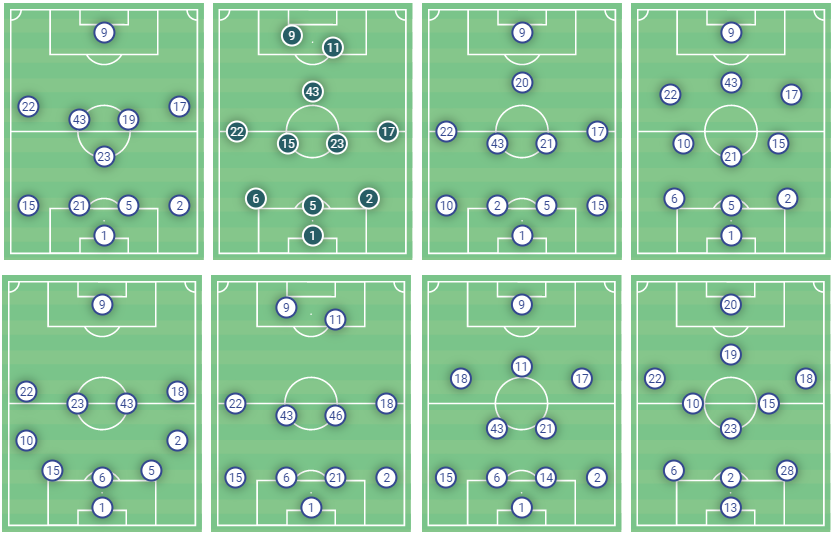 Fluidity is often used in football parlance to describe something versatile and adaptable, but it isn't always a totally positive way to be. Solid is another word that is used with purely positive connotations, yet you can't have both. Fluid solidity is an oxymoron, a contradiction in terms.  I wouldn't call Bielsa's Leeds team's first year back in the Premier League a solid one.
Plenty of goals against, a few humblings – including one at Old Trafford that I expect was never and will never be mentioned in an LS postcode – but so many wins. Only Sheffield United drew fewer games than Leeds and that's because the Blades lost every week. There was an air of all or nothing about Leeds, and that is reflected in their general approach to matches.
No team used fewer players in the league than Leeds' 23, and yet only Pep Guardiola (a man who is openly in love with Marcelo Bielsa) seemed to play around with match tactics as often.

A lop-sided 3-3-3-1 against Southampton which overloaded the left to release the right and scored an efficient 2-0 away win.
A compact 4-1-4-1 against Tottenham which set out and brilliantly succeeded at counter-pressing and hassling their opponents on the way to a 3-1 win.
A stretched, expansive 4-1-4-1 against a skilled but circumstantially fragile Liverpool whom Leeds ran ragged for the second half and scored a deserved late goal to draw 1-1.
A tight, defensive 4-1-4-1 low block against soon-to-be champions again Man City. Leeds played the second half with 10 players and counter-attacked like hyena and defended like lions on their way to a famous 2-1 win.
These were just four of Leeds' last eight league games.
There are more. The 5-2 win against Newcastle, the 1-0 win at Everton, Villa away; games that displayed different tactical facets of this Leeds team.
Leeds aren't drilled in a rigid plan which they do their best to execute each week against better, more adventurous opponents – this isn't Sam Allardyce's so predictable but somehow so effective (usually) relegation-proof football. This is a team assessing the opposition and adapting to it. For Leeds it isn't about being difficult to beat, it's about being determined to win.
It doesn't always go their way, they took a few heavy left hooks and saw a few stars, but they always got up and kept on and won more often than not. Leeds never lost more than two consecutive games and never went more than three without a win.
Leeds responded to a 6-2 defeat with two clean sheets and a 5-0 win. After consecutive 4-1 defeats, they took four points from Arsenal and Everton without conceding a goal. They followed an opening day 4-3 defeat with 4-3 win a week later.
When you have a manager with a plan and players he trusts to realise and execute it, and when those players each week demonstrate their willingness to put themselves through a gauntlet – almost literally – for the team, you have a foundation for a resilient, truly effective outfit.
Though, as we know, foundations aren't enough. To cut it at the top, you need more than promise and good intentions.
Real, tangible quality
Leeds United do alright for cash, at least relative to clubs in the Championship where Leeds were for ten years prior to promotion. While they aren't struggling to find a few pounds to rub together, they do have the outlay of a club that was away from the big table for sixteen years.
Luke Ayling, Stuart Dallas, Kalvin Phillips, Liam Cooper were all regular, arguably key players in Leeds United's 2016 squad; Ezgjan Alioski joined the ranks in 2017, he was also a regular that season, Kalvin Phillips went from young regular to young key man; in 2018, the season Bielsa joined the club, Leeds had nine players that would feature regularly in both the Championship and two years later in the Premier League – Klich, Alioski, Phillips, Ayling, Cooper, Harrison, Roberts, Bamford, Dallas.
Leeds United are a sustainable, financially healthy club these days – thankfully, a far cry from where they were 15 years ago. But a lack of promotions, and, ironically, relegations to and from the Premier League meant a lack of parachute payments.
They still have global appeal, it's a massive club, Leeds wipe the floor with most Championship clubs in the commercial stakes, and they have a 38,000 capacity stadium fit not just for the Premier League but for the Champions League too. But Leeds spent so long out of the top flight that they settled into an obscure mediocrity, this was felt and witnessed mostly in their playing squad.
When Bielsa arrived, Patrick Bamford was signed. For the season which saw them promoted, there were only loan deals, two of which would be made permanent a year later.
During the summer prior to a first season in the Premier League, as is customary, the Leeds ownership felt it right to bolster the squad with quality players. Leeds spent more on player transfer fees in the summer of 2020 than the club did between 2002 and 2019.
Seriously. You have to go back to the two-year period in which Leeds brought in the likes of Rio Ferdinand, Robbie Keane, Mark Viduka, Olivier Dacourt, and Robbie Fowler, to find a comparable level of spending. We all know which way that went.
Rodrigo Moreno, Spanish international, was brought in. Diego Llorente, Spanish international, was brought in. Helder Costa and Ilhan Meslier had loan deals made permanent. Robin Koch and Raphinha were also signed. Premier League quality. Only Meslier, a 20 year old goalkeeper who was already at the club, established himself as a key player (and Jack Harrison, who was on loan for the third season). Harrison is expected to join Leeds on a permanent basis this summer.
The key men for Leeds United were those Bielsa trusted, those that Leeds trusted. The key men for Leeds in the Premier League were the key men for Leeds in the Championship. Dallas, Ayling, Bamford, Meslier, Harrison, Alioski, Phillips, and Klich led for Premier League minutes on the pitch. Eight players don't make a spine, that's a body.
Raphinha played a lot, and he played really really well. Rodrigo filled in – but no more than 22 year old Tyler Roberts who had been a regular for Leeds since 2018 – and he also did well. Diego Llorente established his place in the first team later in the season and was immovable by the end of it.
These were successful signings, but they weren't vital ones. Leeds United didn't need or depend on that kind of injection of quality in the first team. The quality that was needed, the quality they depended on was in the first team already and had been for years.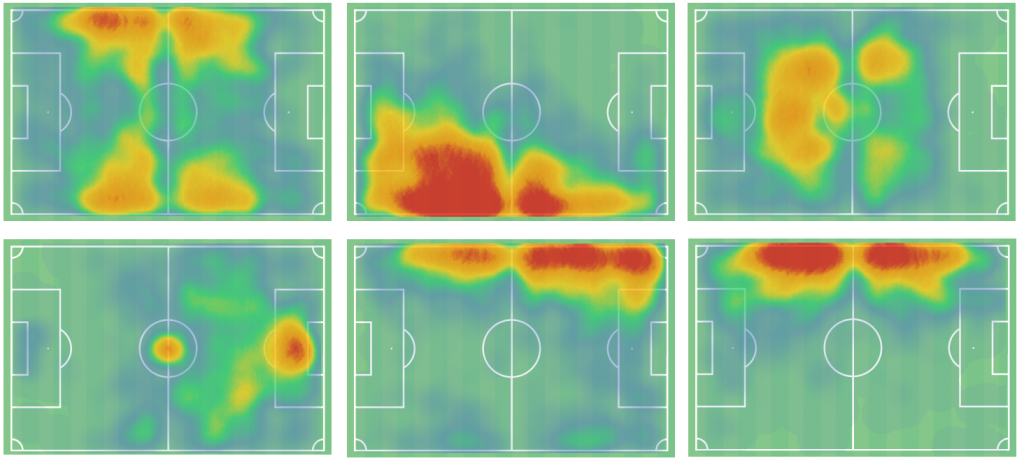 Stuart Dallas, Luke Ayling, Kalvin Phillips, Patrick Bamford, Jack Harrison, Ezgjan Alioski – only six of the eight – embody the principle of Leeds United: when you combined tireless energy with total enthusiasm, players that will totally buy into the project and give everything for it, and couple both of those with tactical courage and fluidity, you get a really effective football team. The kind of football team that takes players from lower league obscurity to the world stage.
While on the topic of elite coaching taking players from obscurity to the world stage, here is Patrick Bamford, a player whom many said was a poor finisher, scoring an extremely satisfying 20-minute Premier League hat trick:
Three of his 17 goals in the Premier League. Six fewer than Harry Kane. I didn't need to bring this up, and I didn't need to embed that video, it doesn't really serve any narrative purpose, but here we are. You enjoyed it as much as I did. And that's why we're here.
The Tactical Times Team of the Year
Leeds didn't win any titles; in fact, they were eliminated from both cup competitions at the first hurdle in quite embarrassing circumstances by teams far inferior, but that doesn't matter. The Premier League was the priority – really the only target – and Leeds smashed it in the Premier League.
The lungs and legs are strong and tireless; the head has a brain able to adapt and react and think for itself. And that heart. The heart is strongest of all. If Leeds aren't careful, they will use up all their underdog points and just become another really good, really successful, really capable Premier League team. They might just find themselves right back at the top. Which is, let's be totally honest, where they belong. Up The Whites.
Followers on Twitter will know that I recently decided to work on my website full-time, it was a big step for me that represents a personal dream. The response to this was great and I hugely appreciate all the support and love I've felt since taking that step.
If you enjoyed this article on a wonderful Leeds United team, consider subscribing to the TT Patreon HERE for a few pounds to access more in-depth player analysis like this, this, this and, this. Plus plenty more on the website now and in the future.  Help me reach my goal of making this my job! Thank you so much for your continued support.
Unless otherwise credited, the video and audio footage used in this analysis belongs to the Premier League the tactical times do not claim to own any of the visual or audio media presented here. This analysis was created under Fair Use (17 U.S.C. § 107) and may not be copied, redistributed, edited or altered without the express permission of the copyright holder.