Discussion: After another Diego Simeone Champions League disappointment; Is there a place at the top for the Pragmatic?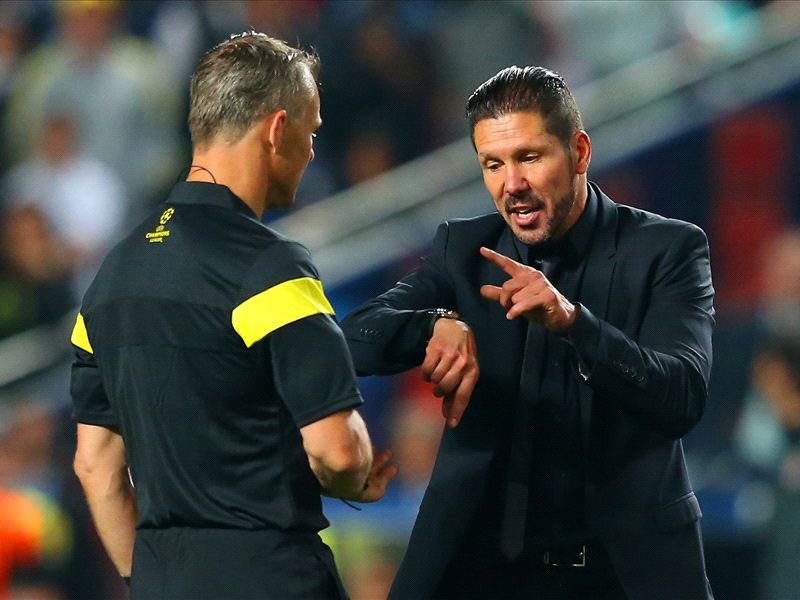 Diego Simeone's Atletico Madrid are the epitome of disappointment when it comes to the European Cup. Last season's defeat to RB Leipzig raised questions about how far Simeone could take them, and the recent loss to Chelsea only inflamed those doubts. Simeone's philosophy is swiftly unraveling in Europe
Concepts of idealism and pragmatism are curious in football in that they're forever associated with binary understandings. To be an idealist is to be the romantic advocate of free-flowing football while the pragmatist accepts an ugly, gritty win. In this scenario, Pep Guardiola and Jurgen Klopp are seen as idealists whereas Jose Mourinho is the reactive realist. His football is grounded in an acceptance of the notion that results transcend all else and performances are merely the process.
Yet these are odd terms to describe how a viewer perceives attacking and defensive football. One is ascribed with a virtuous quality while the other is seen as an ugly necessity. These styles are neutral by nature and don't offer any real indication of whether a manager is an idealist or a pragmatist.
Pep Guardiola is seen as a romantic yet his recent failures in Europe have stemmed from apprehension in how he approaches an opponent. Against Liverpool in 2018, he opted for a conservative line-up that resulted in a 3-0 blitz at Anfield. Two years later, inexplicably, he tinkered with a 3-4-3 and paid the price against Lyon. His excessive caution belies the notion that he is an idealist.
Perhaps the most notable pragmatists of this decade and also the past are Carlo Ancelotti and Rafael Benitez because you simply cannot define clearly the identity of their teams. Sometimes external factors have imposed this tactical ambiguity as to what they represented, but certainly, there is no tactical thread connecting Benitez's Liverpool team with the ones that came later at Real Madrid and Newcastle.
His Liverpool side were seen as cautious and stifling yet during the 2008/09 season were an explosive counterattacking side built on an aggressive and organised compact shape. That Liverpool side was regarded as the nearest thing to Benitez's vision, yet it never sustained, and across different clubs he opted for very different approaches.
This brings us to Diego Simeone. He embodies Atletico Madrid more than anyone could. A club that rebels against the footballing orthodoxy, an identity forged from the required grit to cope with constant failures, tethered to working-class roots. His team echoes the collectivism of say Klopp's, but in a very different direction. And when it works, you have the miracle of La Liga 2014 but when it doesn't, the painful limitations of Simeone as a manager are revealed.
Atletico Madrid never came closer to winning the Champions League than under Simeone. Yet they may never actually win one because of him. Last year's campaign represented the greatest opportunity for Atletico and they failed miserably. They produced the shock in beating a Liverpool side arguably as strong as any faced under Simeon. There was no Real Madrid waiting for them. Bayern Munich or Manchester City would not be until possibly the final. PSG lurked in the semi-finals but in a temporarily single-legged tie, in front of an empty neutral stadium, Atletico would have fancied themselves.
Instead, they lost tamely to Leipzig. And this season Simeone never learned his lessons, falling the same way to Chelsea. Atletico possesses an abundance of attacking talent yet they never threatened in either of those ties. In their first leg against Chelsea, the La Liga leaders were notoriously timid, posing no real threat despite fielding Joao Felix and Luis Suarez.
Is it the work of a realist to be so defensive against a decent Chelsea side still finding its feet under a new manager? Is it brave to be so hopelessly defensive against Leipzig? Simeone often talks about guts, effort, and sacrifice yet his tactics show little of them, rather they reveal a man with little confidence in his players to take the game to opponents when it matters.
A common blueprint for winning in Europe is centered around an aggressive high press as followed by the three main teams now, City, Bayern and Liverpool. It's no surprise that the likes of Barcelona, Real Madrid and Juventus so frequently fail in Europe due to a lack of athleticism.
Yet for Atletico, being physical is not an issue. They are aggressive and intense, dogged in their defending. Their problem is sitting so deep that their counterattacks aren't nearly as dangerous as they should be. Going forward, they don't attack in numbers or with the intricacy and intensity that one expects of clubs with ambitions of winning in Europe.
Against Chelsea, Suarez and Felix were heavily isolated. Atletico were so fearful of conceding an away goal they didn't attempt to trouble Chelsea in their defensive third. But, as Guardiola and Klopp have shown, the high press can be an excellent defensive weapon if it leads to a turnover in offensive areas and reduces the pressure exerted on one's defence. Atletico played a lottery in which they have to hope their opponents are wasteful. This has been to their detriment on several occasions now.
Atletico could win their league but in Europe they are faced with opponents apparently superior to Real Madrid and Barcelona – and they are being found out.
Rabbil Sikdar is a Freelance Writer and a huge Liverpool fan who writes about his main interests: football and politics. You can find Rabbil on Twitter.