Who is David McGoldrick?
What began as a half-hearted, ill-thought remark on Twitter, culminated with me vowing to myself to take the time to understand more about this player, and perhaps a little more about the kind of player David McGoldrick represents.  I'm nothing if not willing to learn.
Some time ago I posted an ill-advised tweet about Sheffield United's Irish forward David McGoldrick. The kind of flippant, hyperbolic thing people say on the internet because it's easy. I don't recall the game that led to this assessment, but I do recall the reaction. People were not pleased.

Amid all of the rage and clown emojis, I did manage to have a nice, educational conversation with a supporter of Sheffield United who quite helpfully filled me in on why exactly David McGoldrick isn't just a good player for the Blades, he might be one of their best.
What began as a half-hearted, ill-thought remark on Twitter, culminated with me vowing to myself to take the time to understand more about this player, and perhaps a little more about the kind of player David McGoldrick represents.  I'm nothing if not willing to learn.
So, who is Dave McGoldrick?
Before I talk about the kind of football he plays, it's important to understand what it is exactly that draws Sheffield United fans (as well as apparently, as I learned, plenty of others) towards that level of praise for McGoldrick. While he isn't perhaps the "worst forward I've ever seen in the Premier League" (though that night he may have been), it isn't his ability on the ball that has him standing out.
He is a fine player, good in some areas, not great in others, he's decent; but where he is outstanding is in that almost intangible, know it when you see it, some have it, others don't part of the game.
He is an example to his teammates, a fighter and worker, he follows instructions and does absolutely everything he can to ensure that his part of that unit, the collective spirit which made Sheffield United so impressive during their return to the Premier League under Chris Wilder, the part he plays in it is as strong and as reliable as possible. After all, you can't appreciate an efficient, effective, impressive machine without first appreciating its component parts.
With this in mind, let's take a look at some football.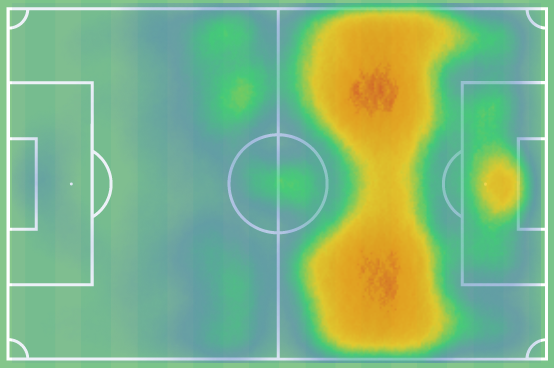 Defensive duels and workrate
When it comes to defensive work from attacking players, you can usually tie ground duels, recoveries, interceptions together with the concept of hard work.
When you commit to a defensive press or challenge, you sacrifice the opportunity to receive the ball in a dangerous area if or when it is turned over. The forward who initiates the press not only needs to run at full sprint, working to make the challenge, that forward also receives very little credit for it in the history books. It's a selfless task and a very important one. Often relying on a certain kind of forward, a selfless and important forward. A forward like David McGoldrick.
At 183 cm (6'0″) and 74 kg, McGoldrick is big but not huge. He can assert himself physically but he doesn't stand out as a particularly defined 'physical' player. What McGoldrick has is a great balance of willingness and determination to push himself into difficult tasks and the tenacity to apply himself bravely when he gets there.
I selected a few clips that demonstrate a number of different ball-winning moments, impressive challenges, and turnovers, but in practically any of McGoldrick's appearances for Sheffield United you will find these plus many more attempts that weren't statistically successfully but still displayed plenty of that precious work-rate.*
Some players have that gene – the desire to push themselves, sometimes almost sacrificially, to win the ball or block a shot or get themselves or their team over the line at any and all cost. More than good defensive technique, David McGoldrick has an excellent mentality.
*if you think I'm exaggerating about finding these in any of his games, here are just a handful of clips taken from Sheffield United's most recent match. Bear in mind this is Sheffield United, practically already relegated, managerless, their confidence could not be lower. If McGoldrick wanted to have a day off, and languidly loiter around the final third, hoping for the best rather than throwing himself into challenges, I think we would understand. He simply loves it.
Creativity and playmaking
McGoldrick is a utility in the best possible sense of the word. A player who pops up across all of the attacking areas seemingly regardless of which position he is supposed to actually be playing in. The heatmaps point towards an attacking midfielder/centre forward, but there seems to be no real fondness for any particular side or area. This is fitting with the system of positional fluidity and support employed by Chris Wilder at Sheffield United. McGoldrick tends to go where he is needed most. Like Batman.
From these creative areas, often tucking in deeper to support late runners, often in either the right or left half-space, where he is needed most, McGoldrick contributed 0.1 assists per 90, 0.6 shot assists, 3.3 passes to the final third (60% accuracy) and 1.9 passes to the opposition penalty area (46%) over the past five seasons. Solid numbers; fine, not outstanding. Again, he isn't defined as a creative, playmaking attacker. But he can do it.
In keeping with the theme of 'being solid at things you wouldn't necessarily associate with McGoldrick', he also shows good ability in his dribbling and take-ons. Both in tight spaces and 1v1 with empty space ahead. McGoldrick has averaged 3.8 dribble attempts per 90 since 2015 with a 49% success rate.
McGoldrick often takes a direct, no-frills approach to his dribbling. The path of least resistance. If there is a space there, if there is an avenue, he tries to find it with the ball and he powers into it. It's not Neymar but it doesn't need to be. It's effective.
Whether he is toe-poking the ball over a defender to power onto the ball and then drag it back deftly leaving the same defender on his backside, or if he's performing a 360 Maradona roulette on Ceballos, leaving the Arsenal and Real Madrid man with a sore groin as a souvenir, McGoldrick is getting the job done. It's pleasantly old-fashioned.
Finishing, movement, and the scoring of goals
McGoldrick has averaged 2.8 shots per 90 over the past five years with an average of 41% on target. This dropped from 2.9 in the Championship (41%) to 2.2 in the Premier League (44%). He isn't a profilic scorer (0.3 per 90 over that five year period), and 46 goals scored from an acculumated xG of 61.5 suggests he isn't a clinical finisher either.
While not a specialist scorer of goals, when he does find the net McGoldrick highlights an aptitude for one really useful skill – movement.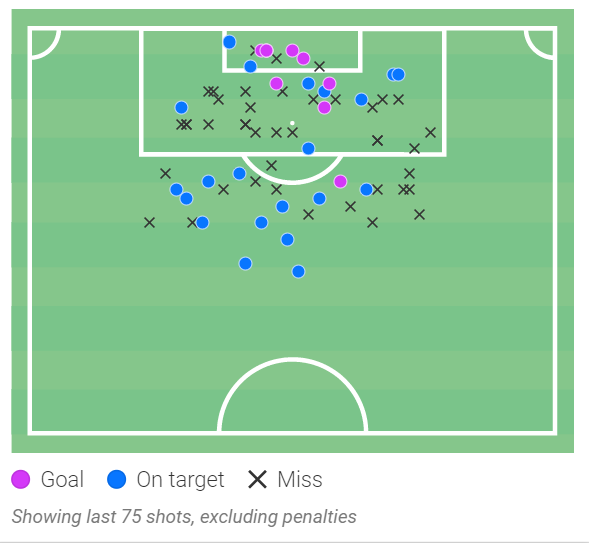 Note those purple marks, those goals scored either in or very close to the six yard area. Those 75 shots span from the current 2020/21 Premier League season to the end of the previous one. Here are the maps from the whole of 2019/20 plus the three seasons before that one.

Keep looking at those goal marks. Six yard box, near or far post in line with the penalty spot, a habit of finding the net from more central areas. In terms of those that actually went in, that is the shot map of a centre forward.
Once you match up some of those purple dots with some of the clips, you can see why so many of those goals are scored from the kinds of areas they are. McGoldrick is excellent in the air.
As mentioned before, he isn't a big, burly, definitive target man – he usually isn't in the position to be one let alone a player possessing those attributes – rather he shows excellent movement in those key areas vital to scoring headed goals.
He is brilliant at timing and glancing headers with power. A skill that plenty of top-quality forwards genuinely do lack. There's a real art to this. The timing of his strides leading to a jump, meeting the ball at the highest point of his jump, the correct movement of his neck and head to generate accuracy and power; there are times when he looks unbeatable in the air.
More than anything, his movement to create the space needed to meet these balls either in full stride or sometimes completely unmarked is at times remarkable.
This movement is not limited to aerial balls. The final clip, from an EFL cup game against Burnley, sees McGoldrick move from 3 yards behind the covering centre back to a yard in front to score within the blink of an eye.

That is the kind of movement seasoned number 9s have been lauded for. The kind of movement that makes the difference.
McGoldrick isn't a great goal scorer, and he isn't a scorer of great goals. Rather a player that shows great ability to score the kind of goals his team need when they need them. Not a showcase goalscorer, not one for the highlight reels, but those goals and especially the work needed to score those goals are, as is becoming a theme for this player, worth their weight in gold.
So, who is David McGoldrick?
I think a better question is: who does David McGoldrick represent? Or rather: what kind of player does he represent?
Football is not a game for the individuals, behind every great player are three, four, five, sometimes more, players who support that great player, who do the leg work, who make the space, drag markers, offer the areas which the great player can attack. Sheffield United under Chris Wilder embodied this ideal – this truth – better than most teams I can recall.
The collective is greater than its parts. Successful football teams at the elite level simply have to work as a collective. Within this collective are usually certain players who do just a little extra to make the team work well; the antithesis of the great individual.
These players, individuals, grease the cogs, cool the engine, do the leg work of two or three men so others can have a breather. These players tend to be appreciated first and foremost by their teammates, then their manager, then their fans. Those on the outside with a casual, passing, general disinterest often don't notice those individuals. You, the person reading this, will have a player springing to your mind who plays for your team and who does this. I'm sure of it.
David McGoldrick is one of those players. He has standout qualities, he is a good football player, but he isn't outstanding as a technician. He's good. Not outstanding. He stands out in arguably more important areas:
Psychologically – the drive, determination and willingness to push himself even when others won't.
Socially – The positional support he offers his team, the sacrifices he makes when leading a press, when forcing an error. Thankless work.
Intellectually – His understanding of movement in the short spaces. An understanding that is vital in scoring those 'ugly' goals. Close range headers from six yards. Forgettable goals but often crucial ones.
Yes, David McGoldrick can dribble and tackle and shoot and thread a through ball, but he is better at aspects that are so much more important than those. He is outstanding at those almost intangible, difficult to fully express and appreciate and give due credit for aspects of the game that turn a player into a cult hero.
The kind of player who fans will defend to the hilt when they read an ill-thought out, ignorant tweet based on a few minutes of a single fixure because they know the truth.
Unless otherwise credited, the video and audio footage used in this analysis belongs to the Premier League and EFL, the tactical times do not claim to own any of the visual or audio media presented here. This analysis was created under Fair Use (17 U.S.C. § 107) and may not be copied, redistributed, edited or altered without the express permission of the copyright holder.
If you want to show your support and to help the Tactical Times, consider becoming a Patron for a few pounds. Patrons can access more comprehensive, detailed and in-depth analysis, as well have their name, social media links, websites or businesses listed on a dedicated Supporters page on our website.
You can find our Patreon HERE