Ben Davies: Player Profile
How does Ben Davies play, what are his strengths, weaknesses and how can his style of play enable him to fit in at Liverpool, the current Premier League champions?
With Liverpool set to bolster their decimated defensive ranks with Preston North End centre back Ben Davies, it's time to have a good look at the player the English champions are bringing in.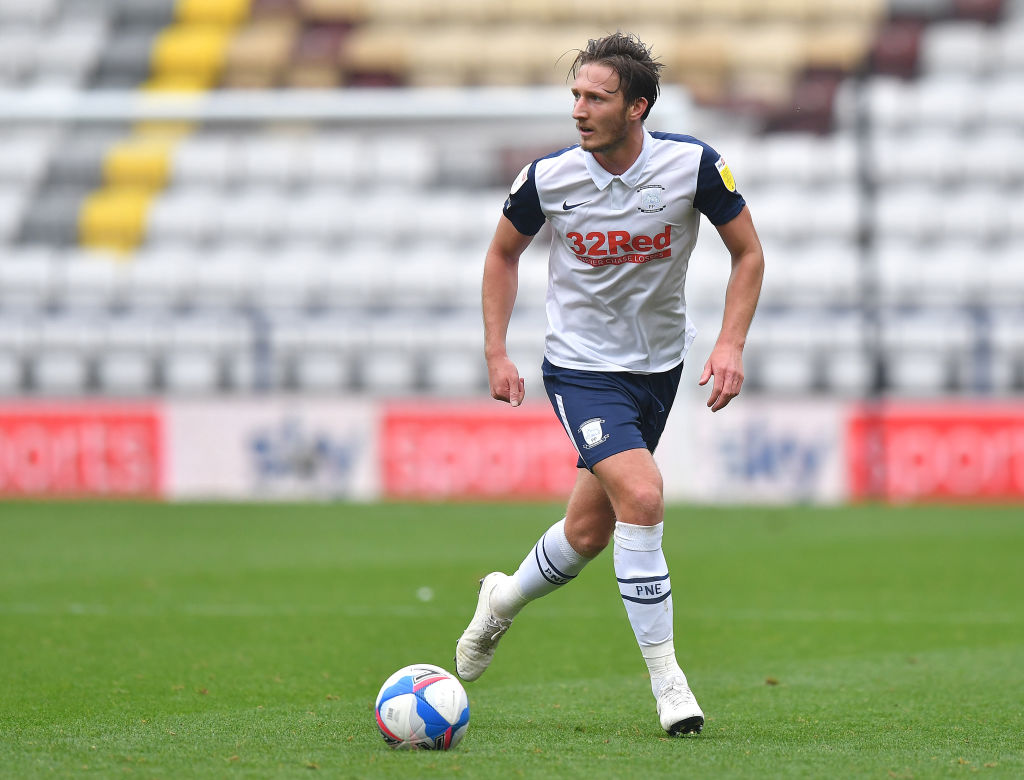 Ben Davies
Centre back left, full back left
Left footed
25 years old, August 1995
6'1″, 185 cm
Described as a "Rolls Royce at our level" by Preston North End advisor Peter Ridsdale, Davies has played over 200 games in the English Football League and established himself as a Championship regular at Preston after turning 21 in 2017. His most notable season pre 2017 was as a 17-year-old featuring at left-back in 44 of York City's 2013/14 League Two fixtures.
Aerial Duels
Championship 2020/21: 4.7 aerial duels per 90, 53% won.
Championship 6-year average: 6.4 aerial duels per 90, 56% won
Statistically, this would be perceived as the weakness. But it's important to provide much-needed context before drawing too many definite conclusions from match stats.
Davies does not stand out as an aerial-type defender, he is slender in relative terms, especially when viewed next to centre forwards who you would describe as an aerial-type. At 6'1″, he is tall but, again, in relative terms quite average. He isn't an aerial ball winner, but he is a good defender. Positioning, the timing of both run and jump, upper body strength, and the actual execution of a header varies from instance to instance and, especially, from game to game.
Rather than talking about the number in isolation – pointing out that Davies wins around half of his headers – and leaving it at that, I've put together a sample of recent Championship fixtures which better highlight more specifically where he struggles, where he's fine and why exactly the figure sits seemingly quite underwhelmingly close to 50%.
Against Sheffield Wednesday, Davies struggled in the air. He was beaten in five of his six duels, the most telling was a soft clearance that indirectly led to Wednesday's winning goal. In this game he wasn't caught out positionally, the timing wasn't off, but he was sometimes unable to match his opponent. He was simply beaten on the day in the air.
In the game previous, when Preston played against Reading, Davies was beaten in five of his eight contested aerial duels:
Here Davies was better. He was able to match his forward, able to stand up to his opponent and compete physically. Of those aerial duels he lost, most were not controlled headers by his forward, they were examples of effective defending without the duel being statistically won.
A few weeks earlier, when Preston were defeated by Watford, Davies won all six of his aerial duels:
In this game, Davies was not competing for aerial duels in the middle of the park, standing up to a forward after a long goal kick, rather he was mostly defending his penalty area. These were won as dangerous crosses were delivered by dangerous players. The positioning and timing in these cases were always excellent, they were not high balls where you must jostle and fight for positional dominance, rather they were swinging and curling crosses trying to find an attacker in order to score. He handled them all very well.
The final example comes from Preston's win over Coventry City in which Davies won five of his six aerial duels:
Here we see everything we missed in his game against Sheffield Wednesday. He is competing for position under a high ball from a goal kick, he is standing up to his forward, he is timing his jumps and executing his headers perfectly fine. Where he was beaten against Wednesday, he was winning against Coventry.
These are fine margins. Winning an aerial duel can depend on so many factors decided in an instant: who is the opponent, from where is the ball arriving, does the ball need to be won directly or can I jostle and allow it to clear my head, should I win the first ball or try and force my team to win the second? What we count as aerial duels won are occasions where two players compete in the air and one of them heads the ball. It's not always a victory, even if it's a win.
I decided to pick a sample of four recent games, rather than deciding on a number of impressive aerial wins or, on the other side, occasions where the player really struggled, because it's an aspect of the defensive game that sits nicely in a grey area. It isn't a case of simple black and white, winning headers: good, losing headers: bad. I think the clips illustrate that well.
There are players who win 65%-75% of their aerial duels over the same period of time, there are players who are better at winning them, there are players who really specialise in that. Ben Davies isn't one of those players, he has other strengths we will focus on, but a 53%-56% average for aerial duels does not necessarily point towards him being poor in the air. There's simply more to it than that. He can more than compete in that side of the game.
Passing
Championship 2020/2021: 35.6 total passes per 90, 86% accurate. 7.3 long passes per 90, 71% accurate. 5.3 passes to final third per 90, 73% accurate 
Championship six-year average: 38.6 total passes per 90, 84% accurate. 8.4 long passes per 90, 60% accurate. 6.5 passes to final third per 90, 64% accurate
It was for this side of his game that Liverpool decided on signing Ben Davies, you can be sure of it. He excels as a ball player and progressor from defensive areas.
I decided on a number of clips, mostly from matches within the last 12 months, with the hope of visually illustrating that aspect of his game, but there are countless more of these. Davies plays a lot of long passes and he plays them well.
He is often responsible for the first offensive phase, his goalkeeper or defensive partner often looks for him to initiate a progressive play. Time and time again it's a case of Davies receiving the ball in his own half, accelerating, getting his head up looking for a runner, and then execute the long ball. Sometimes seen as an association football equivalent of the American quarter-back; from van Dijk or Henderson or Fabinho, Liverpool employ this regularly as an important facet of their attacking game.
The key to pulling off these kinds of passes is as much rooted in belief and confidence as it is in technique. Davies seems to have them all in abundance. I expect this side of Davies' game is where Ridsdale got his "Rolls Royce" idea.
At Preston he doesn't always have a runner, he sometimes looks for a centre forward to win a header – this isn't as common at Liverpool – he sometimes rushes his pass under midfield pressure and instead of being a flatter, more direct, more accurate long pass it becomes a higher, looping, much less pinpoint long ball. It isn't perfect, but it is usually very good.
Davies never hesitates to play these passes, especially in his more recent seasons, and he finds his target more often than not. I expect if he finds himself playing and initiating attacks on the halfway line, as Liverpool centre backs so often do, with the likes of Firmino, Salah, Mané, Shaqiri, Jota or Thiago Alcantara making moves, pulling markers, running channels to receive the ball, then this brave, direct, confident style of play with the ability to match it can only be of greater benefit to the team.
Defensive duels
Championship 2020/2021: 4.8 defensive duels per 90, 74% won. 4.7 50/50 duels per 90, 66% won. 0.25 sliding tackles per 90, 60% won
Championship six-year average: 4.8 defensive duels per 90, 75% won. 3.6 50/50 duels per 90, 66% won. 0.35 sliding tackles per 90, 44% won
As with most centre backs, effective defensive work comes not through committing to challenges but through strong starting positions and good decision making. I provided examples of him winning challenges – last man tackles, recovery tackles, etc, – not because it is a style of defending often employed by Davies, but rather because many of these illustrate nicely the way he commits to them when he does.
Ben Davies is a calm defender.
He is keen to stay on his feet, keen to win the ball and then retain the ball. He isn't a burly, bruiser of a centre back. He uses long limbs to nick the ball when it arises and good positional sense to ensure he isn't beaten for pace. While he isn't necessarily a very fast defender, especially so when compared to Joe Gomez or Virgil van Dijk, he can conduct himself smartly enough to ensure that it doesn't mean he is caught out.
As we saw in his aerial duels, the defensive work is generally sound if not outstanding. He understands the fundamentals of centre back defending and that provides the foundation he needs. He is not a player likely to make a rash, poor decision; his starting position will likely be good and from that platform he is usually set to defend effectively.
While he does not excel in the rudimentary defensive work, he gives a good enough account of himself for us to know he's a perfectly fine defender. While there is no big strength technically, there is also no big weakness. He will fight to clear a ball, block a shot, intercept and tackle as willingly as any other.
This is the side of his game I am most interested to see develop at Liverpool. Playing alongside van Dijk or Gomez, Fabinho, Robertson, Henderson or Alisson,  provides a player with a very new and unique outlook on defending. What he is going to need to do with Liverpool will rarely compare to what he does and has done for Preston. The positions will be different, the quality of opposition will be different, the environment to learn from coaches, teammates and opponents will be very different.
If Davies is able to take that foundation, his natural willingness to defend calmly and not lose his head, and take that side of his game to another level, he could become a very good Premier League centre back. It is a strong foundation.
Unless otherwise credited, the video and audio footage used in this analysis belongs to the EFL, the tactical times do not claim to own any of the visual or audio media presented here. This analysis was created under Fair Use (17 U.S.C. § 107) and may not be copied, redistributed, edited or altered without the express permission of the copyright holder.
If you want to show your support and to help the Tactical Times, consider becoming a Patron for a few pounds. Patrons can access more comprehensive, detailed and in-depth analysis, as well have their name, social media links, websites or businesses listed on a dedicated Supporters page on our website.
You can find our Patreon HERE