Liverpool vs Barcelona: Goal Analysis – 3:0
We could spend hours writing, and days reading, the superlative words produced by Sports Writers in the attempt to describe the indescribable; but we won't. Instead, over the next few days, we will focus on the four goals.
Part 3: Georginio Wijnaldum 3:0 55th minute
GEORGINIO WIJNALDUM 3:0 55th MINUTE
We pick up the play from the Barcelona kick-off following Liverpool's second goal.
Barcelona are still ahead in the tie, another Liverpool goal would draw the teams level and a Barcelona goal would have still been a likely killer blow. But looking at the way the Spanish champions conduct themselves through the five simple passes it takes to lose possession, you wouldn't believe they were in any position of strength.
Note here the two Barcelona players either side of Busquets on the ball: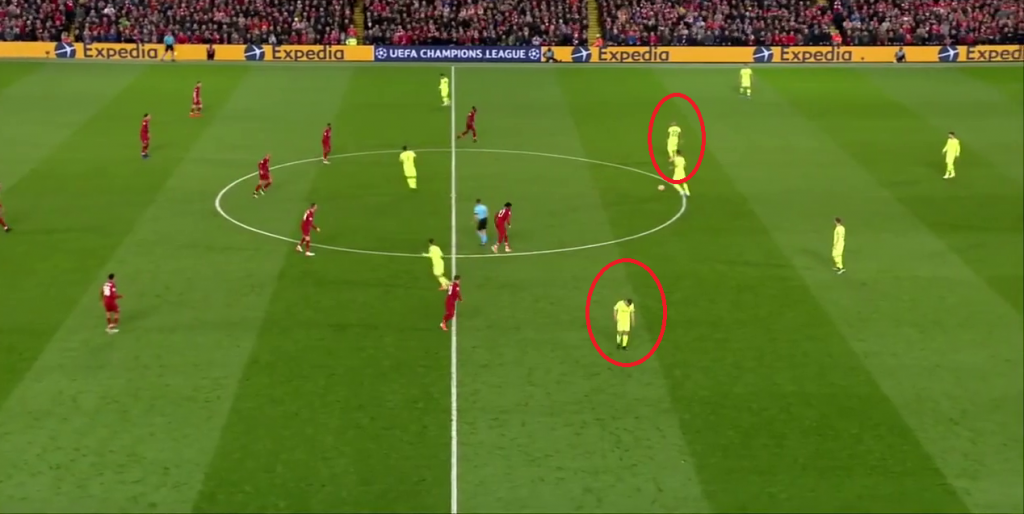 Jordi Alba on the left flank looks like a player with no belief at all in the possibility that his team might score a single, decisive goal. He is down-trodden, turned away from play, not offering himself as a receiving option. And Vidal – a player who is never short of hunger, willingness and desire – is also turned away, but in his case seemingly to try and occupy a better position, not so close to his teammate. It is generally very untidy and disorganised.
Contrast this to the body shape of the Liverpool midfield and front threes: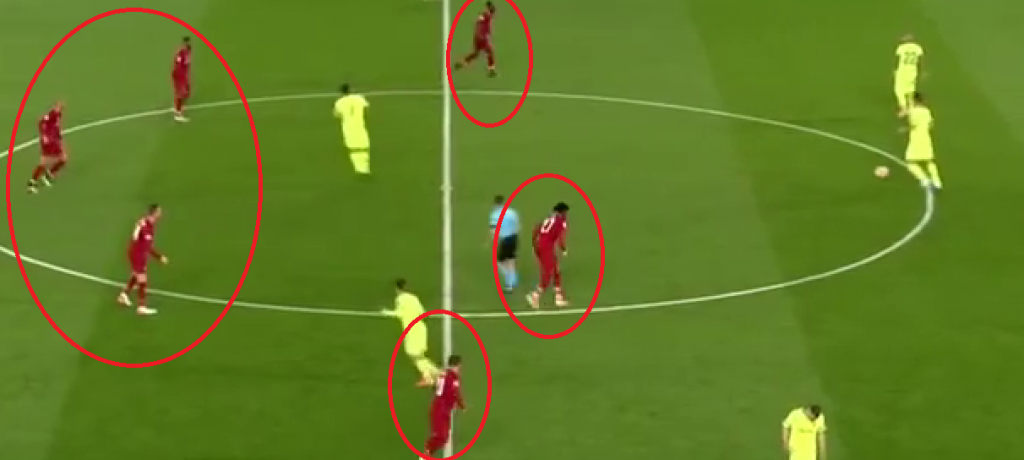 There is structure within the midfield. Wijnaldum, Fabinho and Henderson are all fully prepared to occupy optimum defensive positions should Barcelona offer any penetration. And, vitally, also optimum offensive positions should their team create a turn-over in possession.
The front three are primed to attack the opposition ball carriers. Like three lionesses stalking a small pack of injured, weakened gazelle; Sadio Mané, as he always does, is already well on his way, Origi is moving in support of him, and Shaqiri is ready to move into the wider space to cut off a passing lane to Alba (though he really need not have bothered, such was the lack of effort the Spanish wing-back seemed to exert).
This single still image tells us everything we need to know about the mindsets of these two teams. Barcelona, wounded but still ahead, and utterly shell-shocked. And Liverpool, still trailing but full to the brim with the belief that this wouldn't be the case for much longer.
It is a simple passing exchange; untidy, unlike Barcelona, but generally one that the Spanish team could perform without looking.
Busquets manages to beat the challenge of Fabinho with a deft pass to Messi. It is a manoeuvre that the two players have perfected to great effect over the years. It is testament to their class but there is also a definite air of complacency about it.
Note the space between Messi and van Dijk when the pass is played: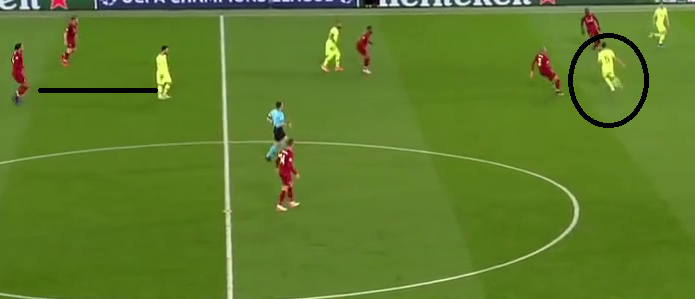 I would estimate that to be around 5-7 yards (4.5-6.5 metres). Most players could cover that distance in a manner of seconds, and Virgil van Dijk, with his long, strong strides, could do so easily. But this is against Lionel Messi – arguably the greatest player in world football with the ball at his feet, most defenders would allow him to control the ball to give himself half a chance at defending the space. But not van Dijk.
Can we all take a moment to appreciate van Dijk's challenge on Messi that led to our third goal. pic.twitter.com/FUP4yWHCsb

— M (@LFCowl) 8 May 2019
Liverpool's Dutch talisman closes the space in the blink of an eye. Perhaps it came as a surprise to Messi, or perhaps the mercurial forward simply wasn't provided the time or opportunity to control the ball with all the force of van Dijk upon him. What ever the case, Messi ceded possession and Liverpool won the turn-over in a vital area.
It was Henderson who was in position to make the recovery, and a simple lofted pass into space allowed Shaqiri to play an intelligent header to Fabinho in space in front of the Barcelona rearguard.
With these two passes, Liverpool penetrated the opposition midfield and have a player on the ball in space ahead of a back three, 20 yards further advanced.
You will notice Wijnaldum surging past Shaqiri, who dropped deeper to receive the pass, and join Origi and Mané in advanced forward positions. With Jordi Alba still apparently absent, Piqué, Lenglet and Roberto make up the 3 man defence.
Fabinho's pass is good. He has a lot of empty to space to aim at on his right side of the Barcelona box and Origi offers a fine run between centre-backs.
The Belgian's first touch is a slick, graceful Cruyff Turn and he creates enough space to take a shot at goal. But he opts for a cross to the far post.
The Catalans have a 7 vs. 4 number advantage in the box, but they are positionally very poor. In the 6-8 yard area – the danger area – there is a 2 on 2, and Shaqiri has occupied another dangerous area behind Mané free of his marker. In all, this points towards very poor defensive work by Barcelona, made even worse when you consider the impact and importance of another Liverpool goal at this stage of the match.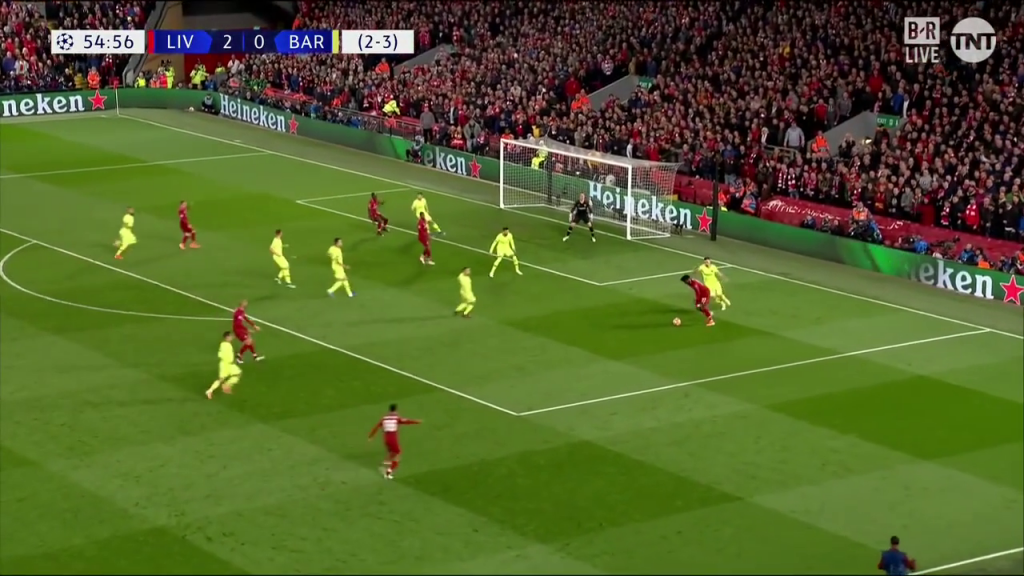 Origi's cross is a poor one but Shaqiri, in his already good position, is able to pick the ball up wide outside of the box. He is tracked by Vidal but without enough urgency to trouble him and the ball is simply recycled to James Milner.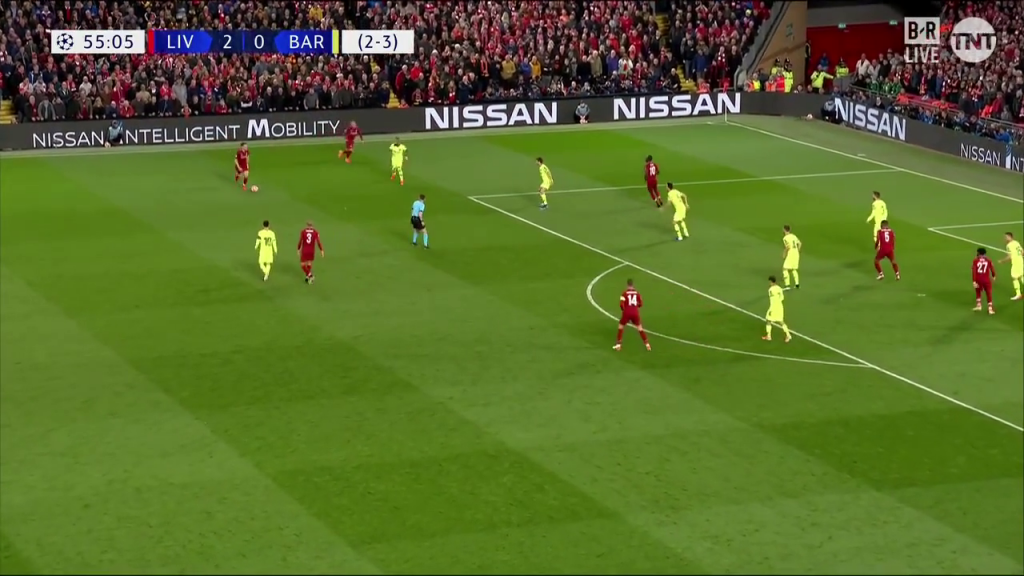 Arturo Vidal was the only player pressing any Liverpool player on the ball, and this allowed a very simple – far too easy from a Barcelona perspective – 2 on 1. Milner feints a cross and plays a short pass back to Shaqiri, still in space in the wide area.
Note the difference in position of both Wijnaldum and his closest defender Piqué between the moments Milner plays the pass to Shaqiri, and then Shaqiri's cross: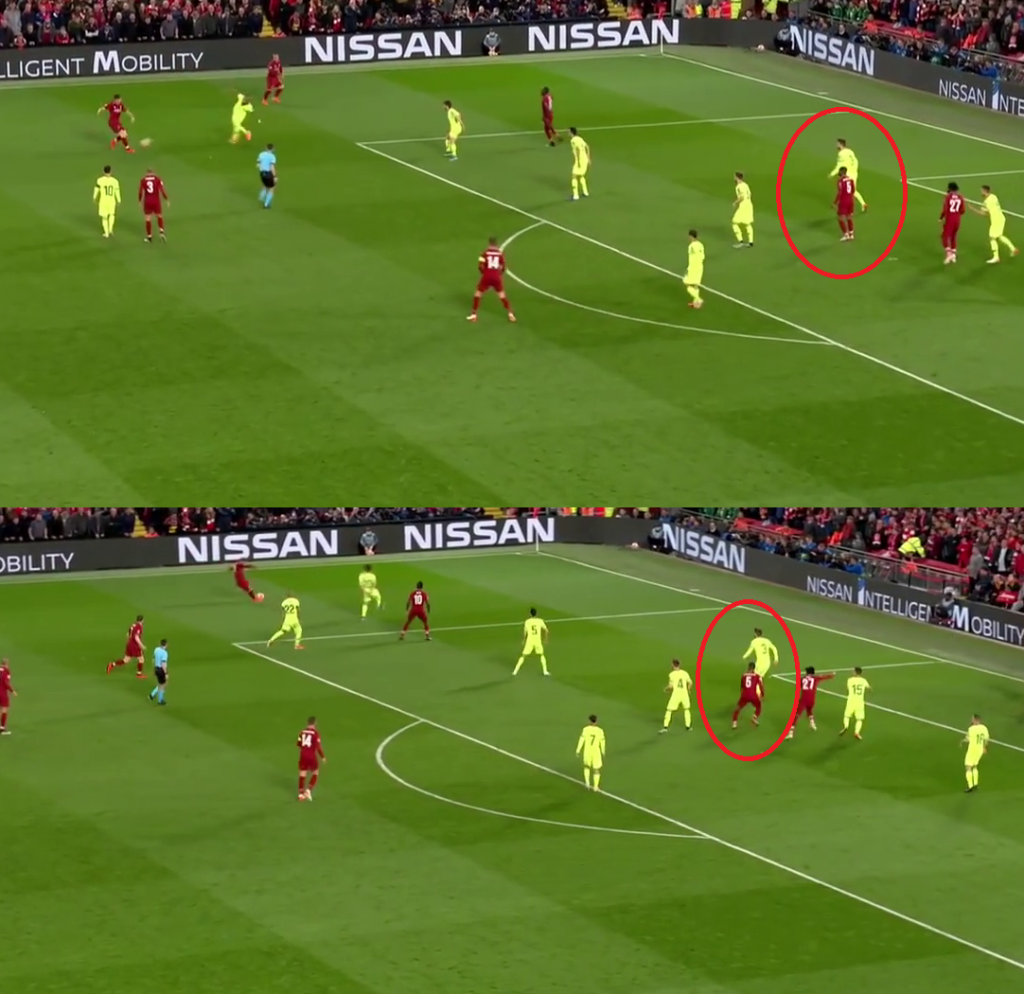 There really isn't any difference. Wijnaldum's position was a good one to begin with, Piqué's was poor. Shaqiri was given the time and space to make a pin-point cross and he duly delivered, but a player of Piqué's ability and experience must be able to recognise the danger here. He was entirely static and therefore entirely ineffective.
The cross was superb and deserved Wijnaldum's superb finish. The midfielder timed his jump well and put his full force behind the header. The power he generated – assisted by the cross – as well as the accuracy, left ter Stegen with no chance of making (or even attempting to make) a save.
It was a very well worked goal and testament to Liverpool's ability to play a ruthless and penetrative game, yet also a patient and thoughtful one. They were making good decisions at a time where Barcelona simply were not.
This goal – scored just 30 in-game seconds after Liverpool's second – brought Liverpool level at 3-3 and from this point the game was headed towards extra-time. That was until a stupendous fourth turned the tie on its head. We will be back soon with analysis of Liverpool's brilliant, yet baffling fourth goal.
You can find analysis of Origi's opening goal here, and Wijnaldum's first here.
The videos and images used in this analysis belong to Bleacher Report and UEFA Champions League, the tactical times do not claim to own any of the visual media presented here. This analysis was created under Fair Use (17 U.S.C. § 107) and may not be copied, redistributed, edited or altered without the express permission of the copyright holder.