Norwich City followed up a disappointing, yet promising Premier League opener at Anfield with a brilliant win at Carrow Road over Newcastle United.
Their striker, Teemu Pukki, took the headlines with his three-goal lesson in movement and clinical finishing, but my focus today will be on their attacking midfielder Todd Cantwell.
There were three aspects to Cantwell's game which impressed me, and these are what we will explore today.
Positional Awareness
During the opening exchanges, Norwich were feeling their way into the game and trying to string passing moves together. Their patient, possession based, passing and movement football was typical of their successful promotion campaign.
We see Cantwell receive the ball here: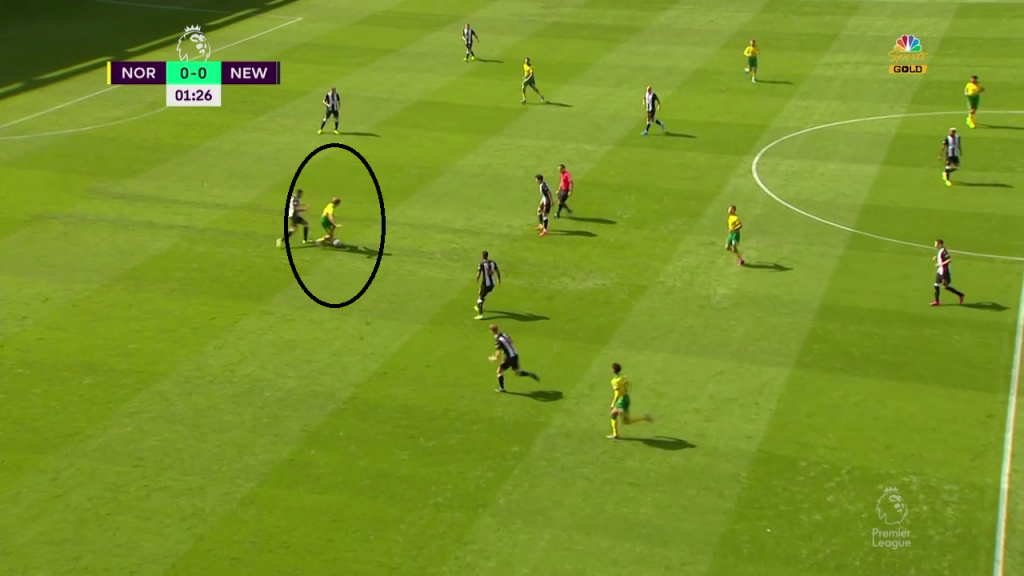 He shows strength and good control, and a simple pass to Leitner allows players to move up in support.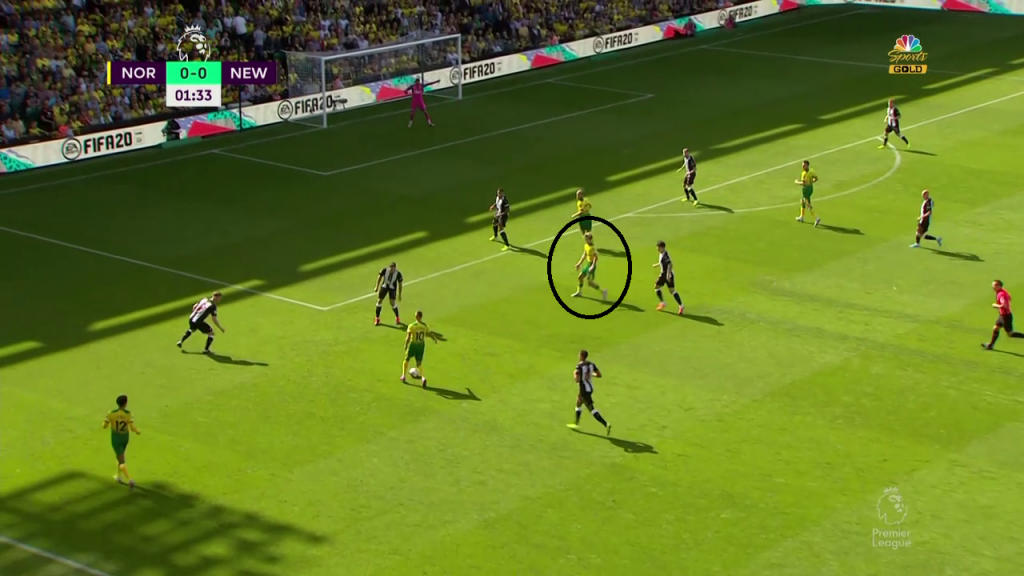 Leitner plays the ball to Cantwell in space, he moves for a typical 1-2 or 'give and go'. You will notice options to Cantwell's left and right.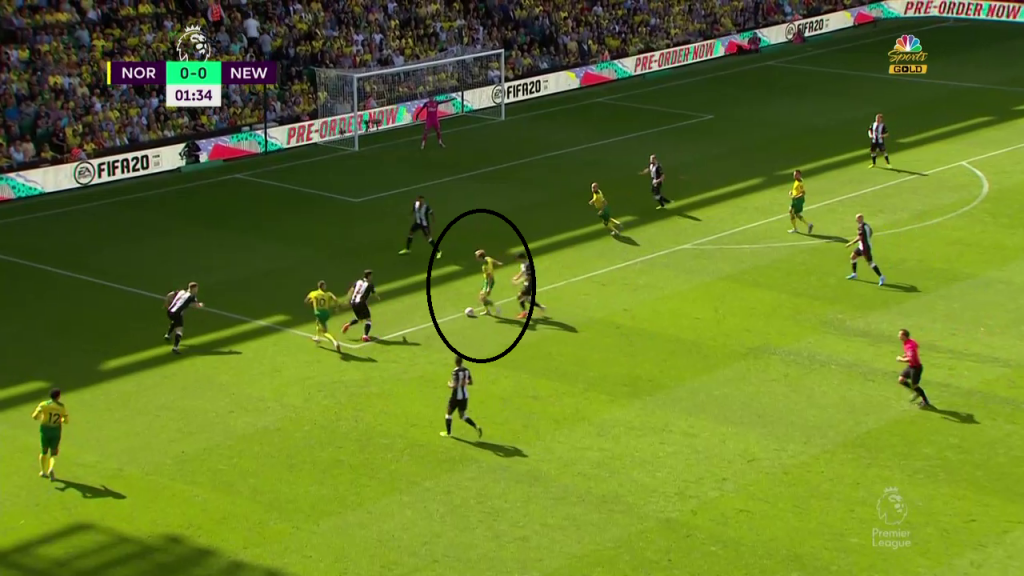 Nothing comes of this chance, but we can see after less than two minutes of football how this Norwich team, and Cantwell in particular, plans to attack.
This dropping into space, opening passing lanes, and short, sharp passing moves are repeated throughout the first half, and Todd Cantwell is often at the heart of them.
Cantwell here occupies an advanced forward position, more false 9 than attacking midfielder.
A brilliant first touch and dribble by Pukki opens the Newcastle defence and splits the centre backs. Cantwell moves to the near post.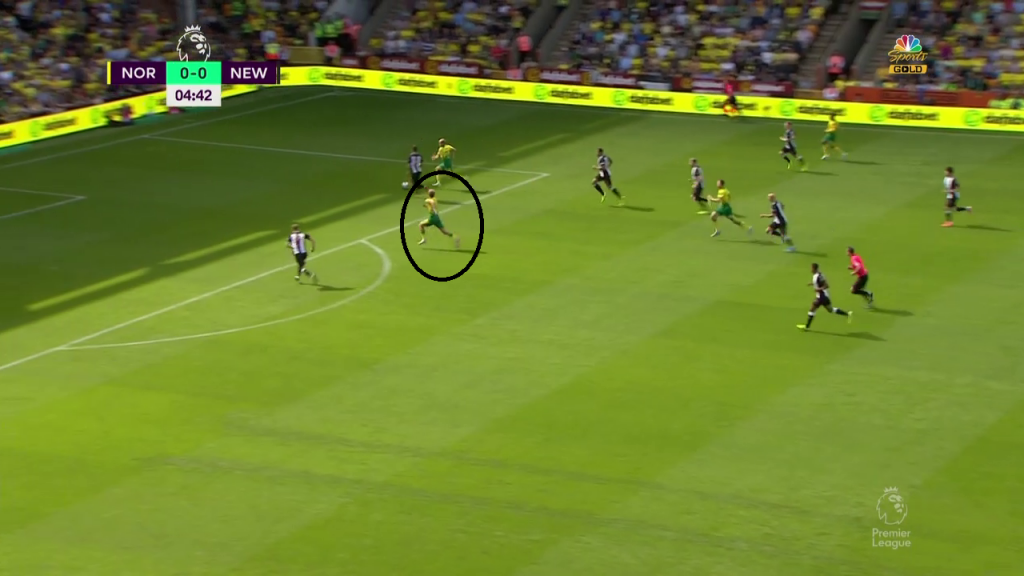 In one move, Cantwell turns, controls the ball, and rolls his defender, leading to the first big chance of the game. His close range shot is tame but well saved.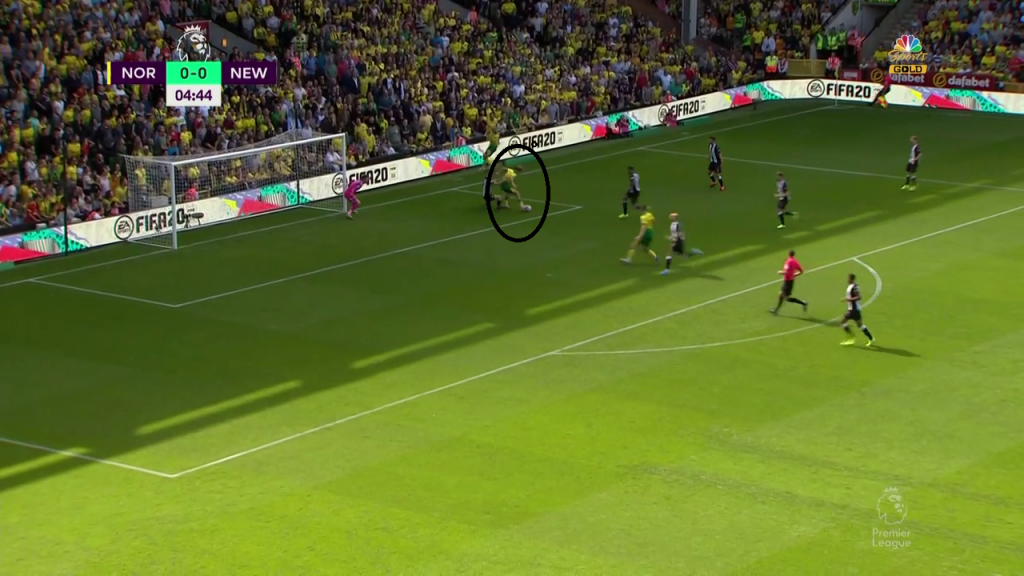 You will notice Marco Stiepermann (18) moving ahead of Shelvey around the penalty spot. If Cantwell had just a little more awareness in this area, a simple square ball would have surely led to the opening goal.
You can see the chance in real time here:
In both of these examples we can see the positional awareness. To be able to drop off into half spaces, or to push into isolated forward positions to receive the ball in space; knowing and recognising optimal positions is vital when attempting to play the kind of movement based, positional football instilled at Norwich under Daniel Farke.
Midfield Drive
Cantwell is officially regarded as an attacking midfielder, most adept on either right or left wing, but with the kind of fluidity employed by forward players at Norwich, he often finds himself in a number of different positions.
Here is his heat-map from the game: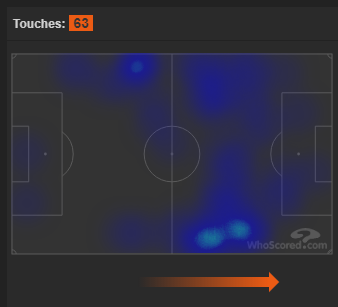 On the team sheet, he played in the AMR (attacking midfield right) position, and this is reflected in his heat map. But you will also notice areas of activity on both flanks, as well as through the middle within the Norwich attacking third.
His touch map further highlights this: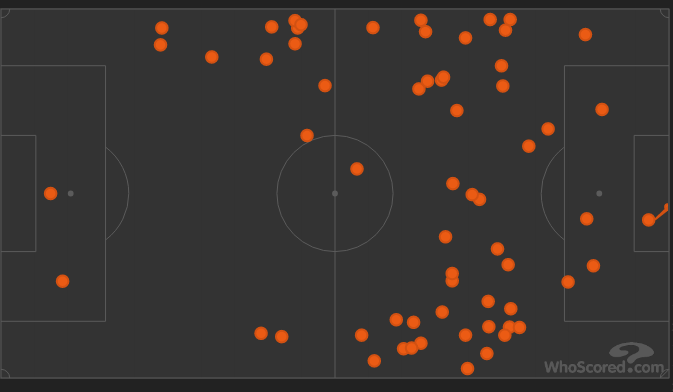 It is through one of these central positions where Cantwell provided the first of his two assists, and is a great example of the kind of effective penetration he offered.
Cantwell again occupies a position in a half space, dropping off his marker.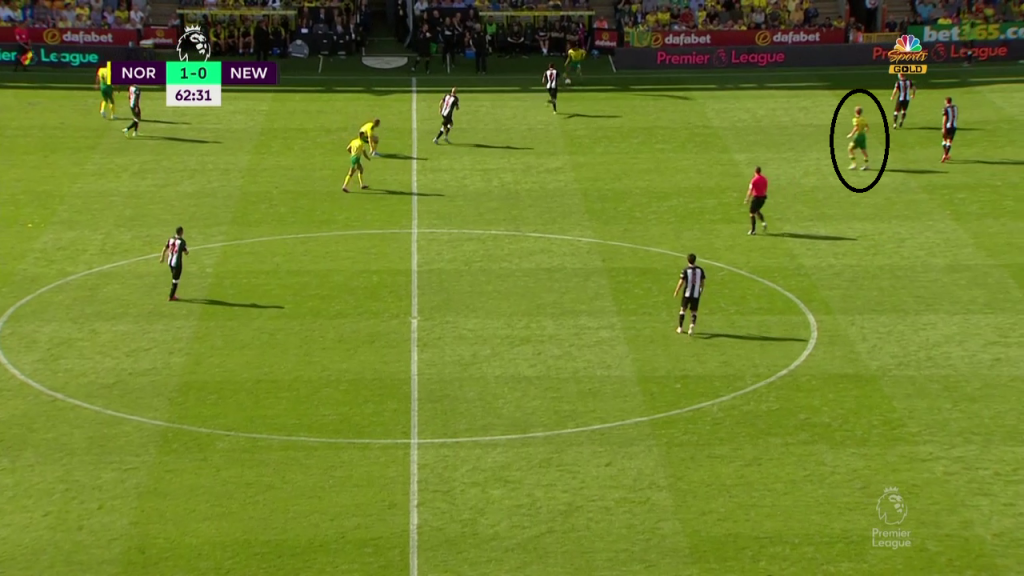 A combination of poor tight marking, a good pass into space, and a sharp turn sets Cantwell off between defensive markers and towards goal with options on either side.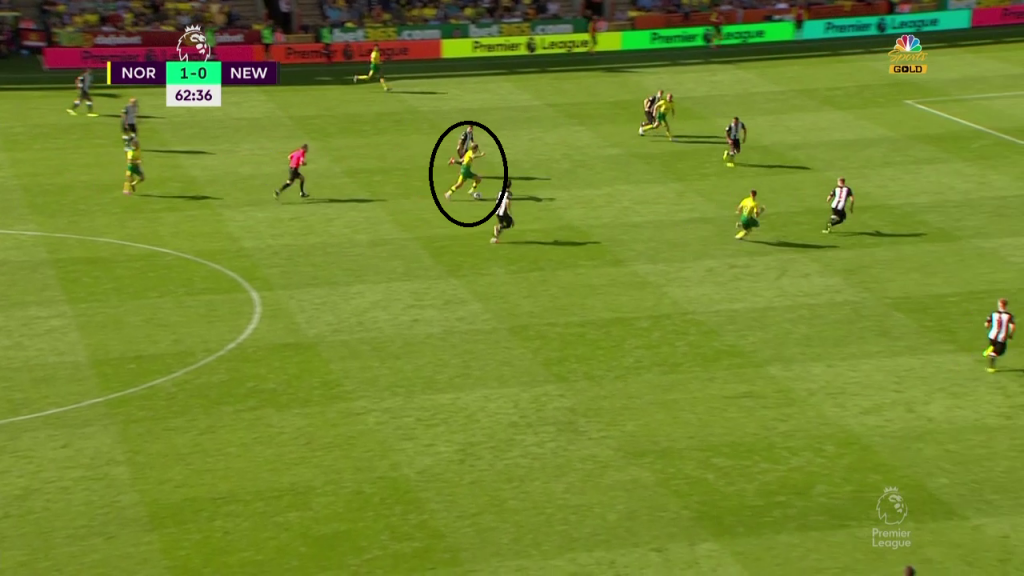 Cantwell uses his body brilliantly to free himself of defenders. A series of close touches sees him outside of the Newcastle penalty area with a clear lane ahead to Pukki.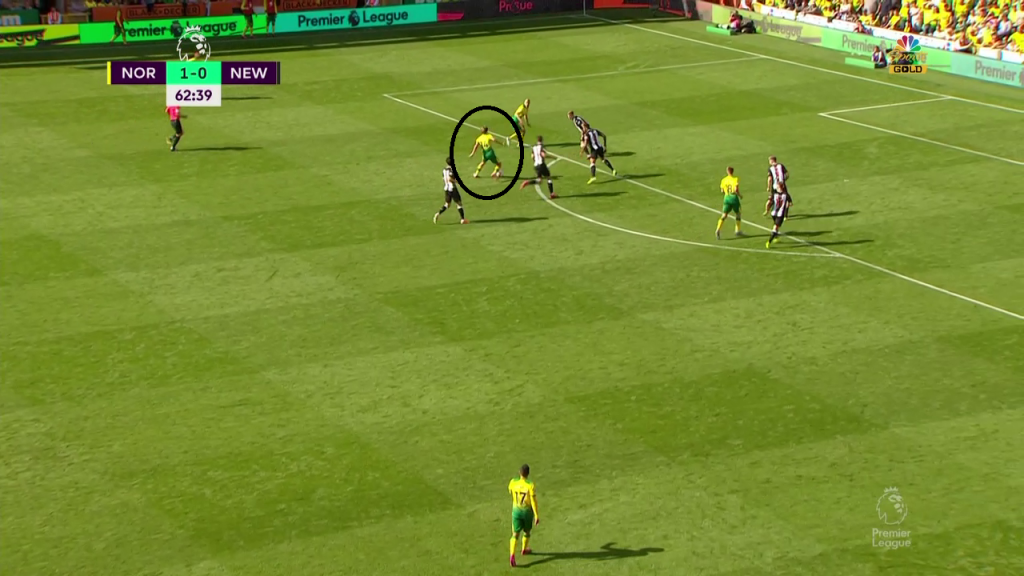 Pukki finishes the chance brilliantly at the near post, and the Finnish striker rightly received a lot of praise. But what we see here from Cantwell which is interesting, is his ability to manoeuvre and manipulate defenders.
He isn't slow by any means, but Cantwell also isn't an attacking midfielder who will use a low centre of gravity to twist and turn his way past tackles. He shows pace over short distances, using long legs and powerful strides to evade defenders. He gets his body between ball and player, working the space intelligently. There is one great, great player who immediately sprang to mind when I saw this short action – former Liverpool captain Steven Gerrard.
Here is the goal:
Movement and decision
The final aspect of Cantwell's game which was hugely impressive on Saturday is one which often sets apart the good attacking midfielders from the effective ones – the ability to make a late offensive run into space.
Trailing by two, and needing to get back into the game, gaps are appearing in the ineffective Newcastle back-line. We can see Cantwell here, again, taking up a position in space between markers.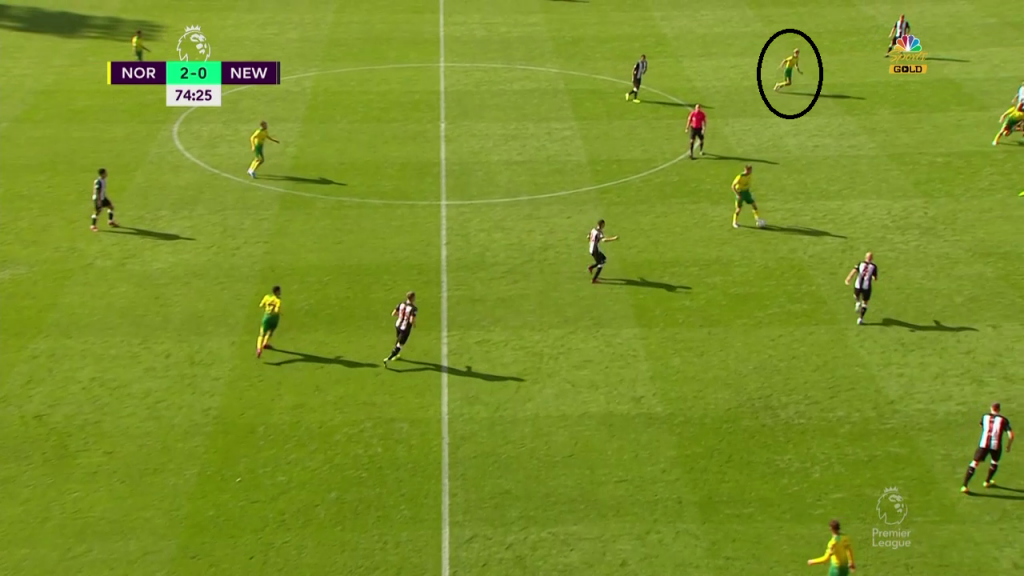 Stiepermann is afforded a lot of time, and he is able to pick the perfect through pass.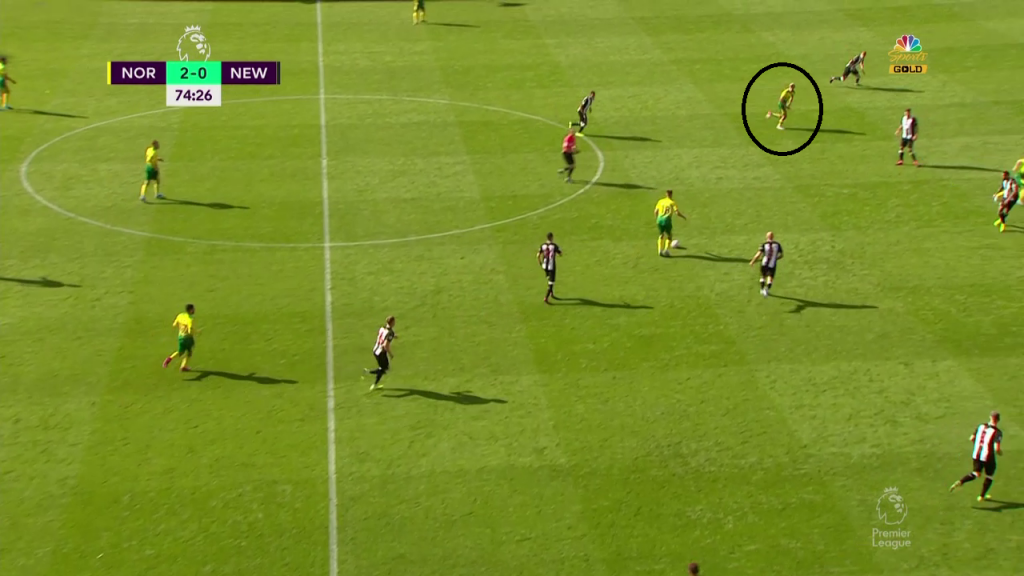 It's a simple move – far too simple from Steve Bruce's perspective, I'm sure – but it is executed to perfection. Cantwell takes a typically long-legged first touch well in his stride and the burst of pace takes him wide. Note Pukki's position just right of Cantwell.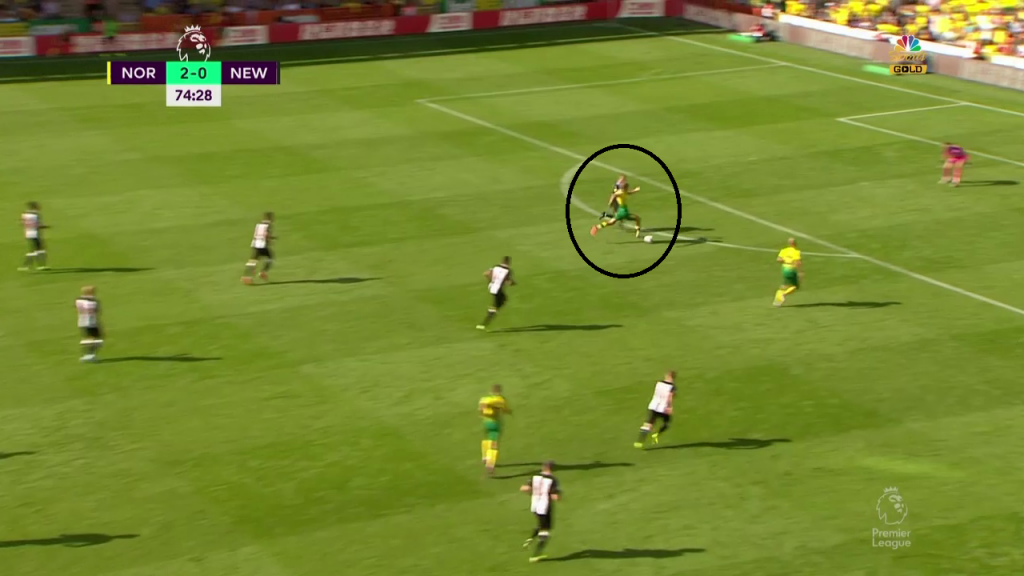 Cantwell turns back on himself, lays a simple ball to Pukki who finishes with customary composure and precision.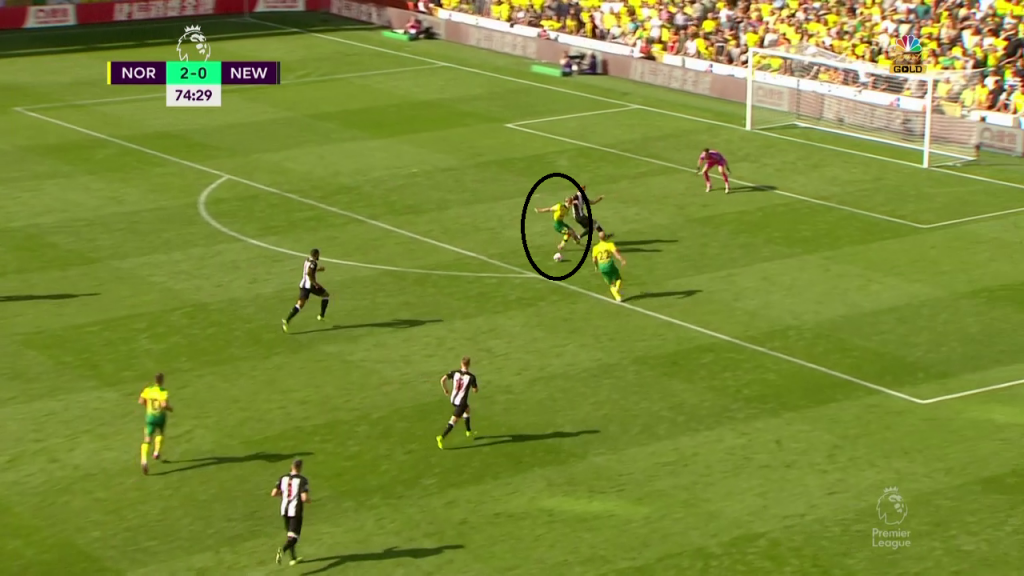 One word to sum up this move – decision. From the original position Cantwell occupies, to the timing of his run, to the direction he moves in, to the final touch before playing in Pukki; all of this shows us the level of football intelligence Cantwell possesses. Each decision led to the next, and eventually to Norwich's third goal.
Here it is in real-time:
In all, Cantwell wasn't influential in the way which we might typically expect from a midfielder in terms of match action. His 63 touches was around the average for his team, and his 48 passes don't point towards a key man. But what Cantwell did do well, he did very well. And this is key. He was instrumental in his team's vital offensive moments.
It is important to put this performance into some kind of context. Todd Cantwell is just 21 years old. He wasn't a 'hot prospect' signed with a big price tag, he has been with Norwich City since he was 10 years old. There is still a lot of development there, especially physically and technically; but what I saw from Cantwell on Saturday, and what was so impressive, was his ability to make the right decisions. I saw a player with the intelligence, and with the understanding of his role, of a player many more years his senior.
The videos and images used in this analysis belong to NBC Sports and The premier league, the tactical times do not claim to own any of the visual or audio media presented here. This analysis was created under Fair Use (17 U.S.C. § 107) and may not be copied, redistributed, edited or altered without the express permission of the copyright holder.
If you liked this, or any of the content we provide at The Tactical Times, please consider donating towards the upkeep and continued operation of the site.
[asp_product id="549″]