Liverpool vs Barcelona: Goal Analysis – 2:0
We could spend hours writing, and days reading, the superlative words produced by Sports Writers in the attempt to describe the indescribable; but we won't. Instead, over the next few days, we will focus on the four goals.
Part 2: Georginio Wijnaldum 2:0 53rd minute.
Between the first and second goals, the game had settled. Recovered from their early set-back, Barcelona spent the majority of the first half going through the motions, relatively secure in their 2 goal lead.
Probing and playing the kind of relaxed football associated with the Valverde brand of Barcelona's game, they were even carving out a number of chances of their own; directly and exclusively through their talisman Lionel Messi.
All of Barcelona's eight shots on goal against Liverpool were either taken by or directly created by Lionel Messi.

— The Tactical Times (@Tactical_Times) May 8, 2019
Through a combination of solid positioning, good defensive technique and plenty of determination, mixed with a number of very good saves from Alisson Becker, Liverpool were able to avoid the concession of an away goal that might have made a highly unlikely victory an impossible one.
As they had in the first half, Liverpool scored within 10 minutes of the second.
GEORGINIO WIJNALDUM 2-0 53rd MINUTE
Set before a backdrop of rapturous encouragement courtesy of the famous Anfield crowd, we pick up the play with Fabinho in the centre circle with a lot of time to weigh-up his options.
Note here Virgil van Dijk: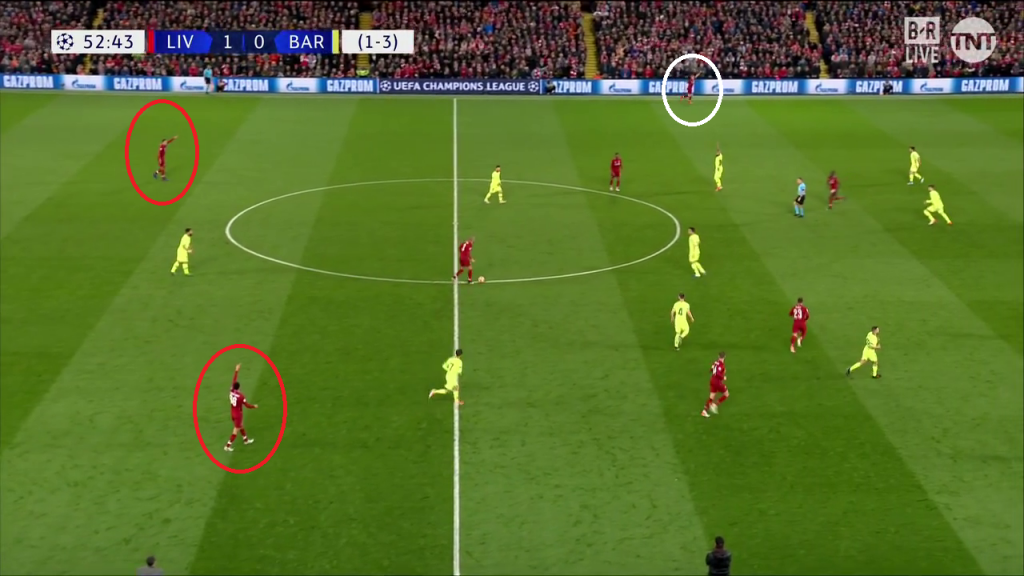 The Liverpool defender, among his many excellent attributes, is a great leader and organiser. He is directing the Brazilian to acknowledge the player on the wing. If we look too at Trent Alexander-Arnold on Liverpool's right flank, he is directing Fabinho to either play it to van Dijk, or also to the player on the left wing.
Either via van Dijk, or direct and over Wijnaldum, they both want that ball to reach James Milner, in space and unmarked.
The Brazilian indulges them and the pass is straight and true, yet generally unremarkable.
What follows is not a particularly beautiful or technically interesting passage of football, but it does indicate an aspect of Liverpool's game that has emerged to coincide with their recent successes.
In recent years, Liverpool have been renowned and – slightly unfairly – labelled as a team that can excel through fast transitions. Unpredictable and chaotic rather than substantial; reliant on pace and the desire to unsettle opponents and force errors. They were thought to struggle against an organised, defensive unit.
This short, 4 pass, otherwise unremarkable passage of play goes some way to disprove that idea.
When Milner receives the pass, Barcelona are far from disorganised. The Spanish side have at least 7 players in areas that can only be described as positionally sound. The passing lanes are closed.
Wijnaldum offers a run into the channel, he is tracked. There is no clear option for James Milner to advance his position; Barcelona are defending stoutly. But Milner, in all of his wisdom, has no desire to try and force the situation.
Mané, a left wing forward, stays true to the number 10 on his back and peels off his marker, Busquets, to offer a simple passing option. In receiving the ball, there is no quick turn or change of pace, no manoeuvre performed where he is forced to decide between risk and reward. He simply checks back, beating Messi with consummate ease, and plays a steady, almost boring 1-2 with Fabinho.
This is not the kind of simple passing move you would associate with a team that is constantly playing on the edge of sanity; constantly trying to break lines over the top or around the sides, hoping to unleash a fast break. This is the passing move of a team in total control of themselves and of their emotions.
This team still needed to score at least twice more, without conceding, in the next 40 minutes.
Now Mané has the time to play a nonchalant curling pass of medium range to Trent Alexander-Arnold, and this is where Liverpool spark into life and the move becomes interesting.
Arnold's header is the first and only inaccurate pass of the move. It's careless. The young full-back will be the first to admit, acknowledge and attest to that. But he doesn't allow it to stop him, much to the pride of his manager I am sure.
This player, only 20, knows how to counter-press with a level of expertise far senior than his years should allow.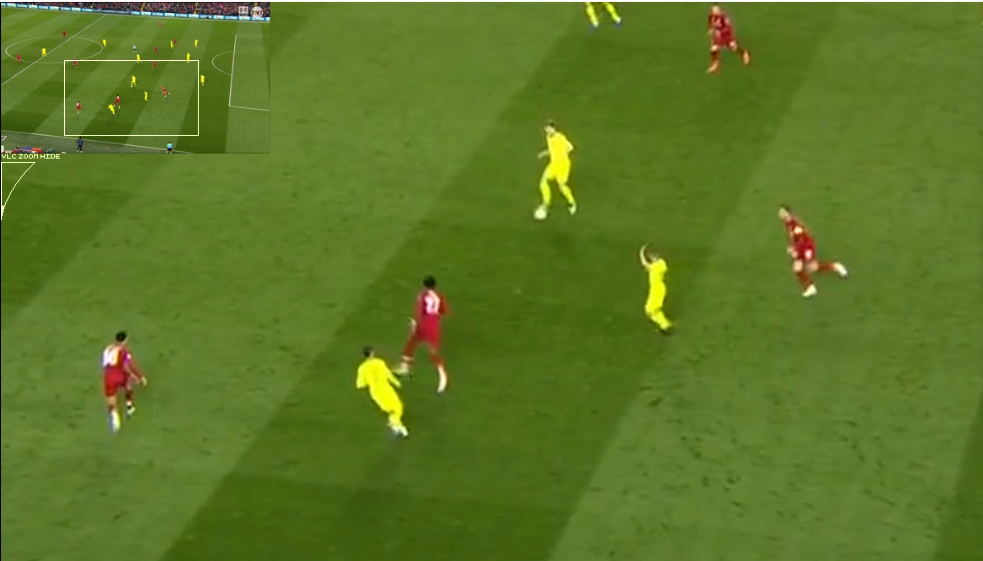 His instinct is to confront the player who gained possession from his poor header, his initial body shape shows us this.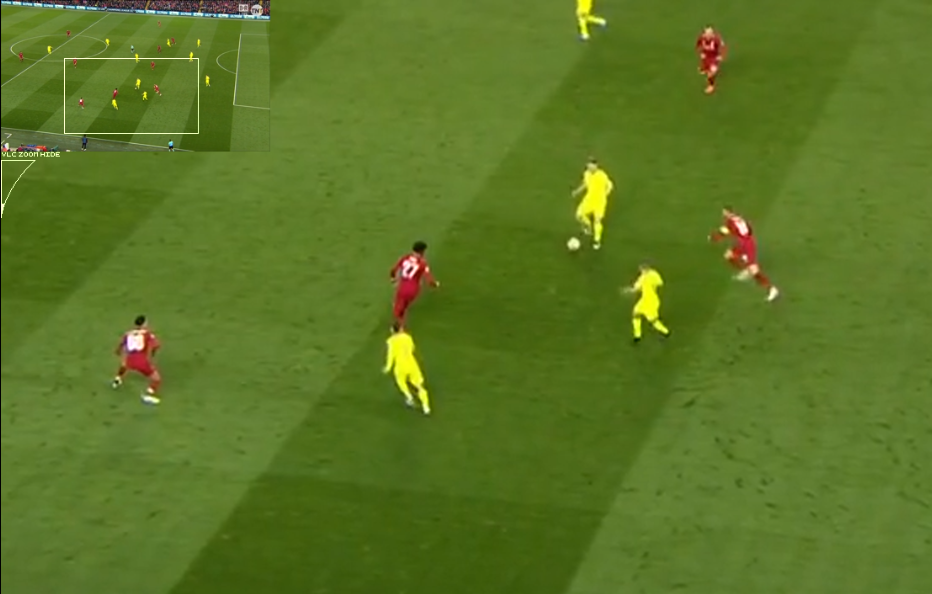 He sees the trigger, in this case the desire to make a short lateral pass. He immediately, and without hesitation or thought of leaving a man free, he sets off to close the space before the pass reaches it's intended destination.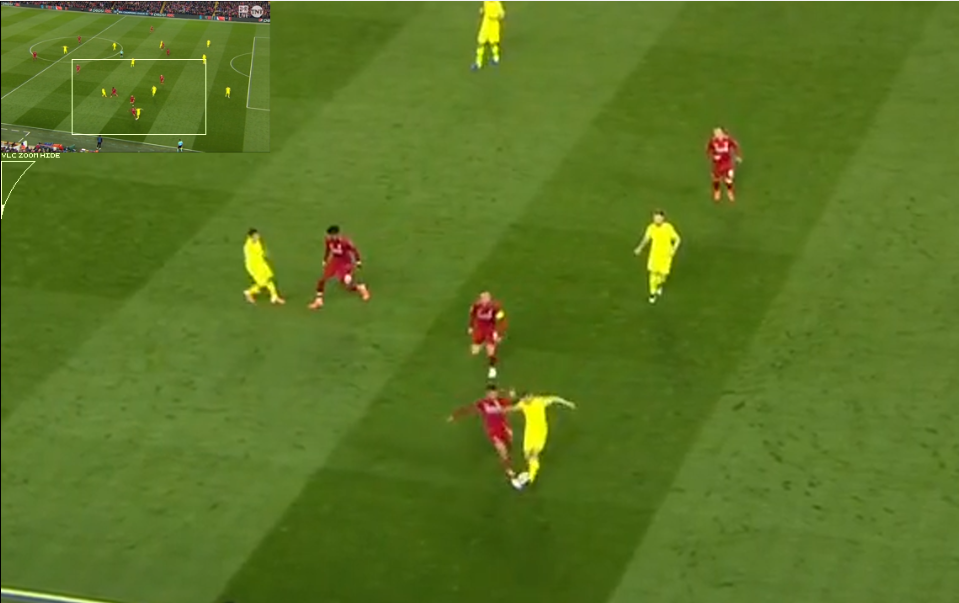 In less than 1 second, Alexander-Arnold is in position and successfully executes a clean challenge to regain possession in a dangerous wide area.
Here we can focus on Wijnaldum a few yards outside of the box as Alexander-Arnold prepares to make the cross: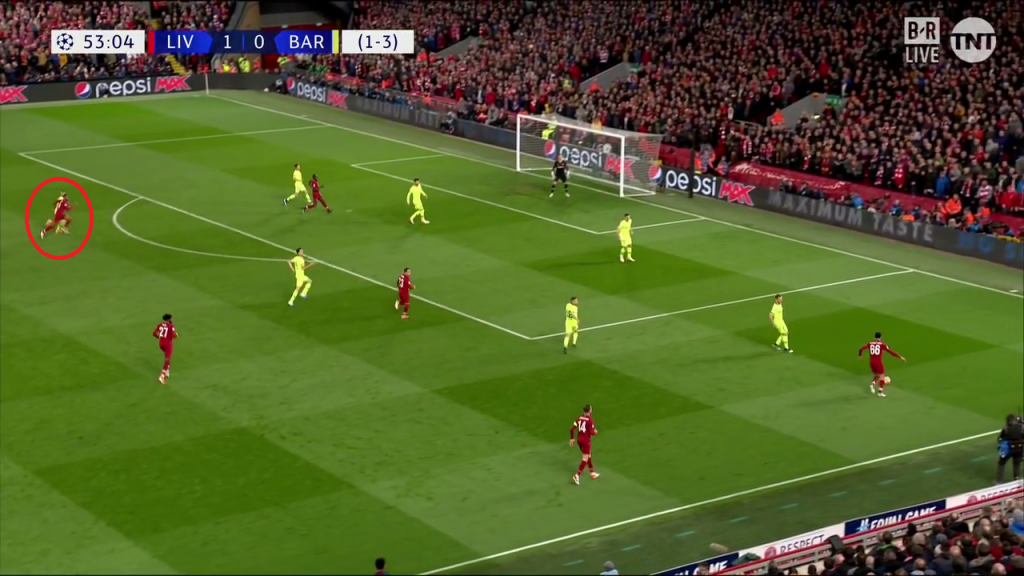 He is marked and tracked by Arturo Vidal. The Chilean midfielder was one of the few standout performers for Barcelona and had a relatively good game.
Arturo Vidal vs. Liverpool

78% Pass accuracy
7/9 Tackles won
1/1 Aerial duel won
2 Interceptions
5 Recoveries
1 Loss of possession

The Chilean was one of the few Barça players who seemed to understand what was needed at Anfield; tenacity, hunger & grit. It wasn't enough. pic.twitter.com/IcSMXTydtA

— The Tactical Times (@Tactical_Times) May 8, 2019
But on this occasion, he was caught out.
Vidal is initially doing a competent job in staying close to Wijnaldum, and by the time the cross is on its way into the box, the Barcelona man even has a half-yard head-start on his marked attacking player.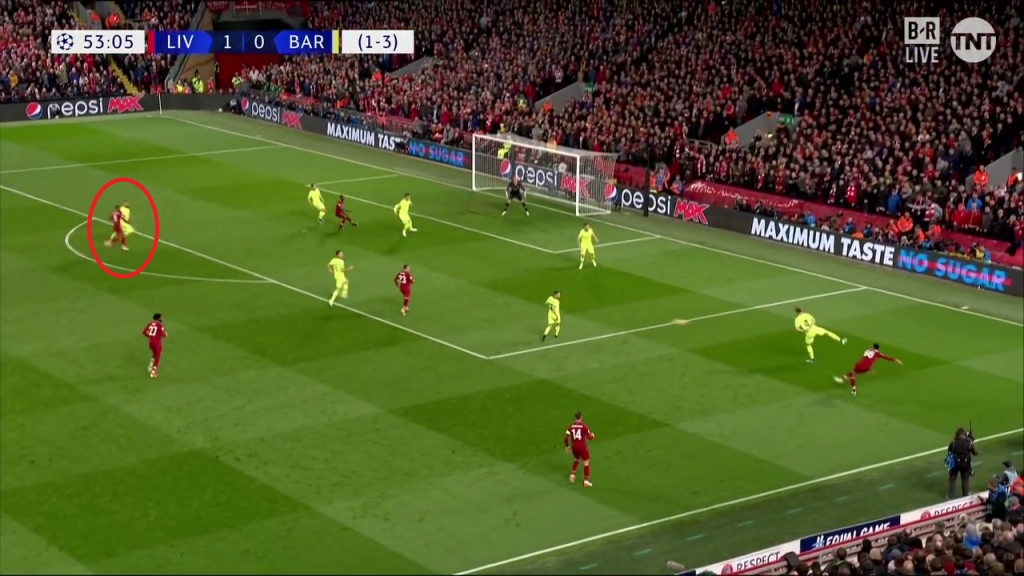 But what happens next could be a small part of a much larger reason which may explain Barcelona's huge capitulation during the entirety of this second leg.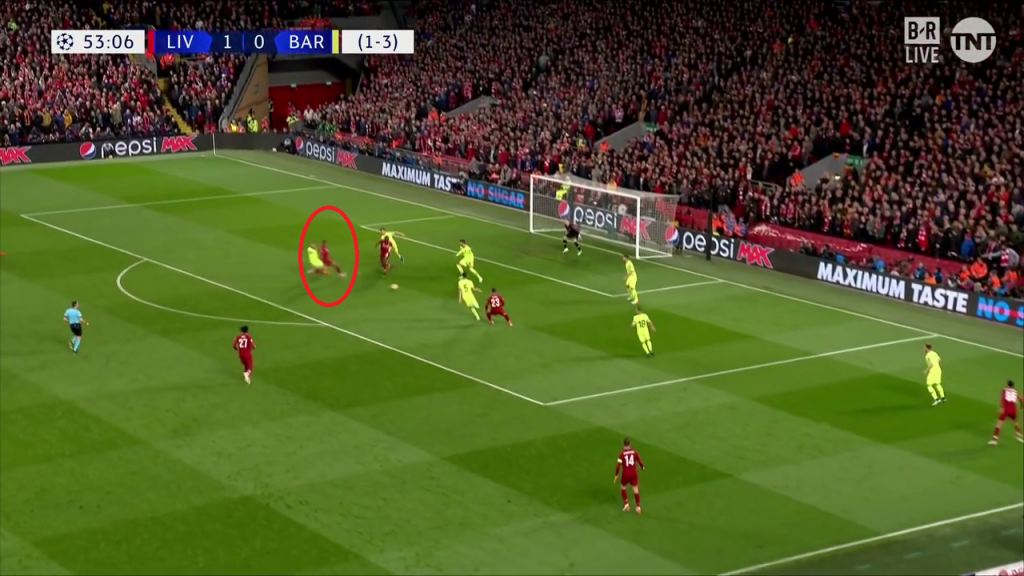 In the split second it takes for the ball to travel the 10 or so yards to the penalty spot, Wijnaldum has accelerated in front of his marker and seemingly in perfect sync with his strides, makes a strong connection in front of the diving, desperate attempted challenge from Vidal.
It was that late burst which made the difference.
Vidal had defended the situation reasonably well. He was tracking the run and was seemingly in control. He even read the deflection on the cross and moved to make an interception, but at the last moment he was beaten by a sudden burst of pace from his marker.
We can take a closer look at Wijnaldum's finish here:
This is the kind of penetrative deep run that Liverpool have needed during the past two seasons, it was the same penetrative deep midfield run from Henderson that led to Origi's first goal.
Wijnaldum's connection is firm and the shot is controlled. It is struck with power from 12 yards on the in-step of the right boot. It is curling towards ter Stegen.
We were critical of the Barcelona 'keeper for his part in the Liverpool opening goal. His save then was almost too good. It was strong and firm, and this enabled the ball to remain in a dangerous area for Origi to score.
On this occasion, his hand wasn't strong enough.
The shot was very powerful and the curl brought it close to the 'keeper's body. It was not, by any means, an easy save to make. The ball found itself between his body and his outstretched arm, and hitting the underside of his hand, it was taken underneath him. It then ricochets off of his back and into the goal.
Perhaps this save called for the use of his legs, rather than a hand; a technique we have seen David De Gea perform a number of times very effectively. But goalkeeping is a very difficult job to do without being micro-analysed with the use of slow-motion replays.
From the patient build up, to Alexander-Arnold's intelligent counter-press and recovery; to the opportunistic and powerful deep run, followed by a strong, well timed finish from Wijnaldum – this was a very important goal for Liverpool.
As well as bringing them to within 1 goal of levelling the tie, it marked a very significant moment within the psychology of this game, and specifically the clear doubt and fear within the minds of the Barcelona players.
And just two minutes later, this was to present itself in breath-taking, dramatic fashion.
Join us at The Tactical Times soon for analysis of Liverpool's third goal. You can find our analysis of Origi's opening goal here.
The videos and images used in this analysis belong to Bleacher Report and UEFA Champions League, the tactical times do not claim to own any of the visual media presented here. This analysis was created under Fair Use (17 U.S.C. § 107) and may not be copied, redistributed, edited or altered without the express permission of the copyright holder.