Jordan Henderson: What is the Liverpool captain's best position?
The best position of Jordan Henderson has been a topic of debate recently. We've taken an in-depth tactical look at what he offers as both a no. 8 and a no.6
Jordan Henderson's position has been the subject of much discussion
Henderson played a crucial box to box role under Brendan Rodgers in Liverpool's last push for the much anticipated Premier League title during the 2013/14 season.
After Rodgers was replaced by Jürgen Klopp in 2015, Henderson's role changed completely.
He was tasked to play as a defensive midfielder, just in front of the back-line, as injuries had plagued the club's natural defensive midfielders, and other players were eventually offloaded.
His role in this position became the norm under the German manager, and questions were asked about Henderson's future at the club when Liverpool signed Fabinho, another defensive midfielder, from Monaco during the summer.
Over the course of much of the season, Henderson alternated with the Brazilian or played alongside him in a double pivot. Recently though, Klopp has moved Henderson back into that box to box role.
This will be a tactical analysis of how Henderson fares in both positions, and how Klopp can utilise him in the future.
As a 6
To be a defensive midfielder in a team as physically demanding as Liverpool's, there are a number of things to be aware of during a game. The first is the importance of seamlessly slotting into a defensive position when required.
It is known that Liverpool's attacking threat comes primarily from the forward players and the fullbacks. As of May 4th, only Mohamed Salah has created more big chances for Liverpool than Andrew Robertson and Trent Alexander-Arnold.

Both fullbacks are also third and fourth respectively in key passes per 90, behind only Xherdan Shaqiri and Salah.

Furthermore, the heat maps of both fullbacks really emphasise how many touches they take in the oppositions' half.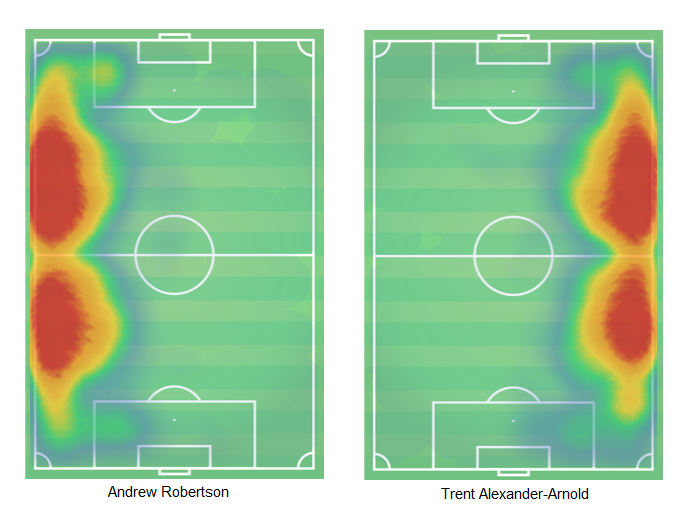 Because of how high up the fullbacks tend to be, it is the responsibility of the defensive midfielder to be aware of this and slot into the defensive line as required.
It is crucial that whoever is playing the number 6 role drops off and covers the gaps left by the fullbacks to ensure that if the opposition starts a counter attack, the flanks are covered.
Henderson can be inconsistent in this regard, seemingly at times slotting into defence, and other times either not being able to track back quick enough or not being fully aware of his surroundings.
An example of this play would be during the Premier League match against Tottenham at Anfield.
Liverpool are in possession, which automatically means that both Robertson and Alexander-Arnold are in the opposition's half. However, when Virgil van Dijk makes an uncharacteristic error, laying off a lazy pass, Tottenham are allowed to counter attack. In this instance, Henderson is caught out of position, and Milner is forced to cover for him.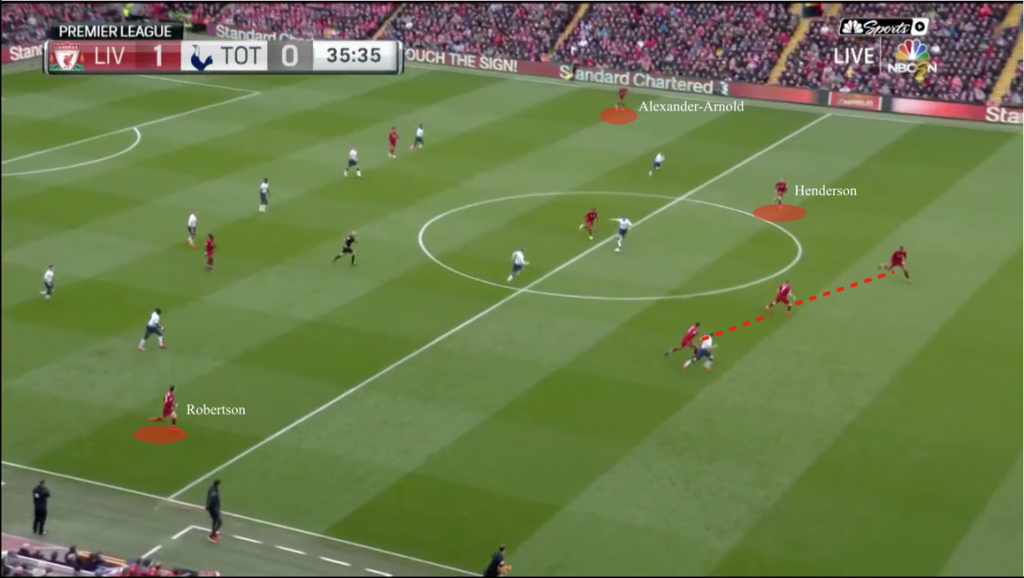 Henderson, as a player whose main position is a box to box midfielder, often drifts forward, instinctively and possibly, on occasion, accidentally.
Fabinho, who has played at right back throughout his career for both club and country, is much more defensively minded in these situations and more aware of the gaps left by his teammates.
However, Henderson's off the ball movement is usually excellent. Defensive midfielders must be willing to run and press when the ball is in dangerous areas. Henderson, who is often praised for his energy and willingness to work for the team, made nine key off the ball movements during the match against Tottenham, including putting pressure on a shot from just outside the 18-yard box.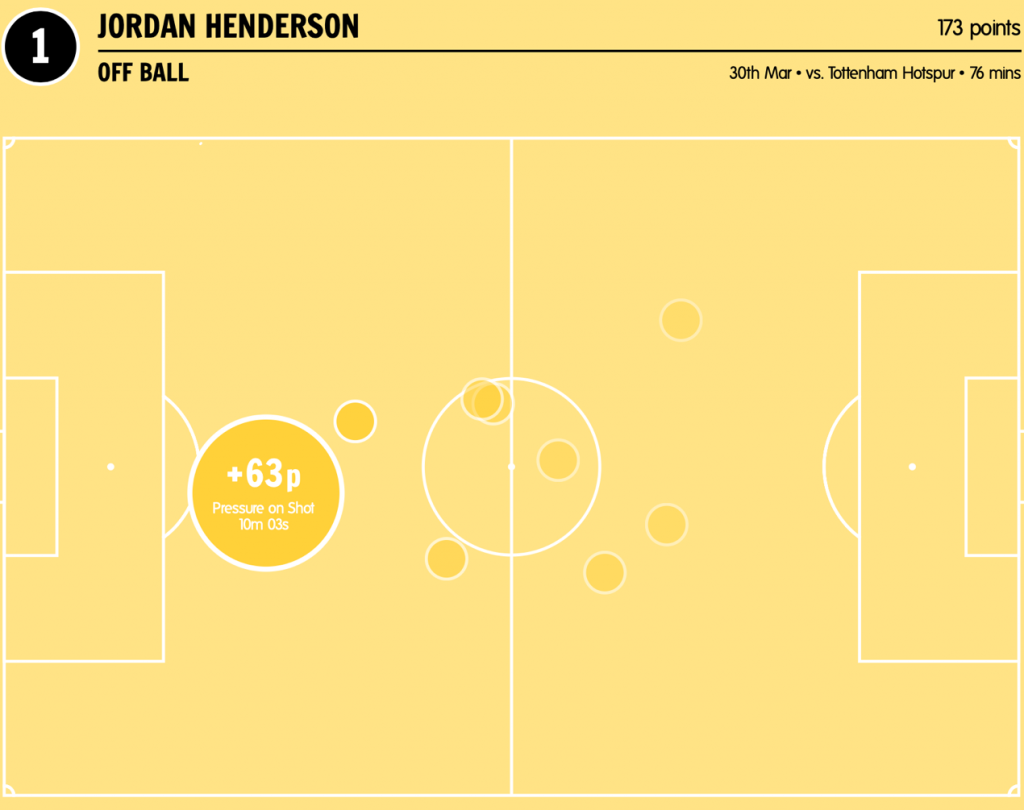 For someone whose natural position is not a defensive midfielder, Henderson, with the help of Klopp, has been able to slot into the number six role when needed. There is always room for improvements, but his qualities do often shine through.
As an 8
Ever since the Southampton game in early April, Klopp has moved Henderson to play further forward, in the box to box role he thrived in under Brendan Rodgers.
Immediately, Liverpool reaped the benefits of allowing him a free role. Henderson came on as a substitute during the Southampton match at the 59th minute.
In those first 59 minutes, Liverpool's xG was 1.04. After Henderson's substitution, Liverpool's xG in the remaining 30 minutes was 1.22.
Liverpool's xG in the last 30 minutes of the match was greater than the previous 60.
Henderson being substituted on with Fabinho already on the pitch allowed him more freedom going forward, knowing he had an anchor behind him to offer protection.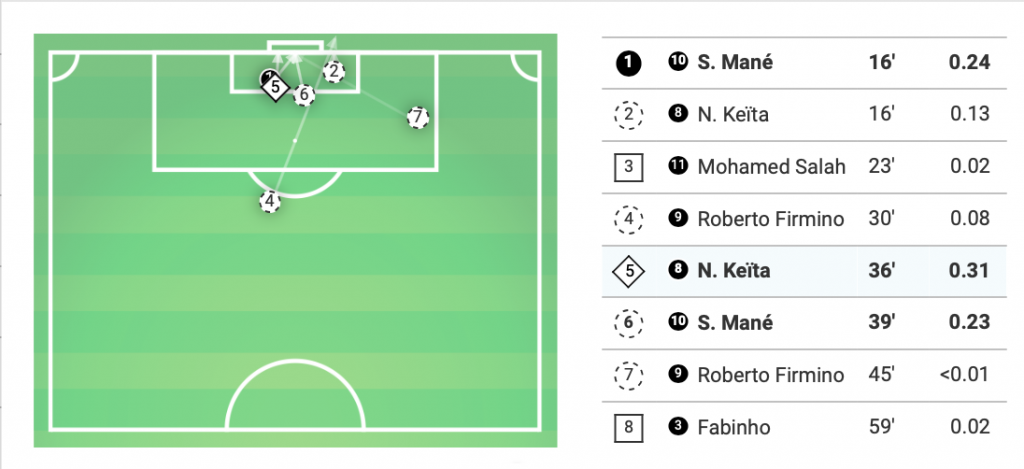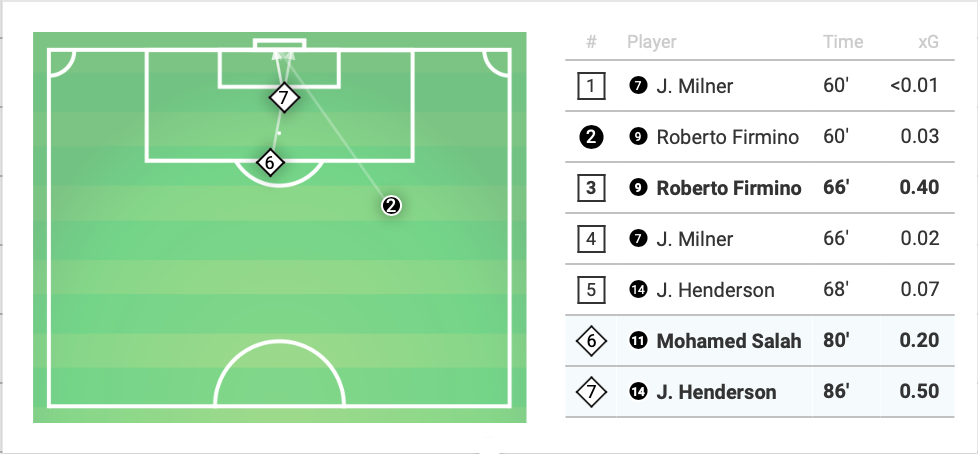 Liverpool's Champions League quarter-final match against Porto at Anfield saw Henderson win Man of the Match for another strong performance in his new role under Klopp.
He created the first goal by laying off a through ball to Alexander-Arnold, who simply crossed it to Roberto Firmino.
Another positive that comes with Henderson playing further forward is the increase in key passes.
There will always be a risk when passing forwards, especially against a team that presses. However, with another midfielder behind him protecting the back four, Henderson feels more comfortable and confident creating chances for forward players.
During the Porto game, Henderson made three key passes, more than any other player on the pitch.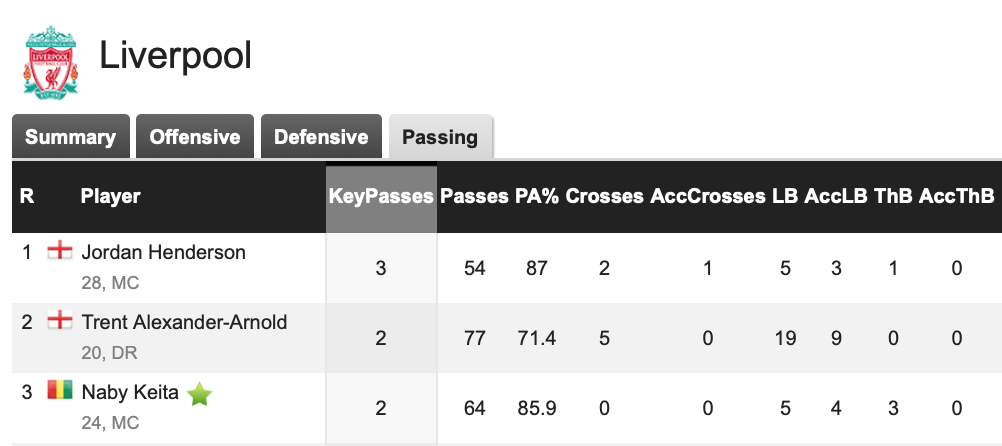 Henderson has shown capabilities of playing as both the 6 and the 8.
Fabinho has proved to be crucial as a specialised defensive midfielder in Liverpool's run in, and both of them occupying the role would hinder Liverpool's attacking play.
Having Henderson playing in his preferred box to box role offers attributes of greater importance for the club moving forward.
Yara El-Shaboury is a huge football fan and an aspiring journalist. You can follow her on Twitter