The History and Evolution of Jürgen Klopp
Exploring Jürgen Klopp's history and how his mentor and predecessor at FSV Mainz, Wolfgang Frank influenced the exciting, at times breathtaking football philosophies of Klopp and the gegenpress.
Jürgen Klopp didn't invent the counterpress
That genesis belongs to Arrigo Sacchi, whose Milan team of the eighties harnessed the intense press together with zonal marking, and also Klopp's manager at Mainz, Wolfgang Frank who discarded the defensive sweeper in favour of a flat four and encouraged the pressing of space rather than of individuals.
But Jürgen Klopp, with his frantic heavy metal football, arguably perfected the concept of 'organised chaos'.
The gegenpress was described by the German as the "best playmaker in the world", and with good reason. Klopp was able to compete with Bayern Munich for a number of years at Borussia Dortmund by creating a vibrant, energetic and combative unit that hunted the ball feverishly in coordinated packs and worked to disorient opponents. Examples of this can be found in their 5-2 dismantling of FC Bayern in 2012 DFB-Pokal win, and the way in which BVB dispatched Real Madrid in the Champions League semi-final a year later.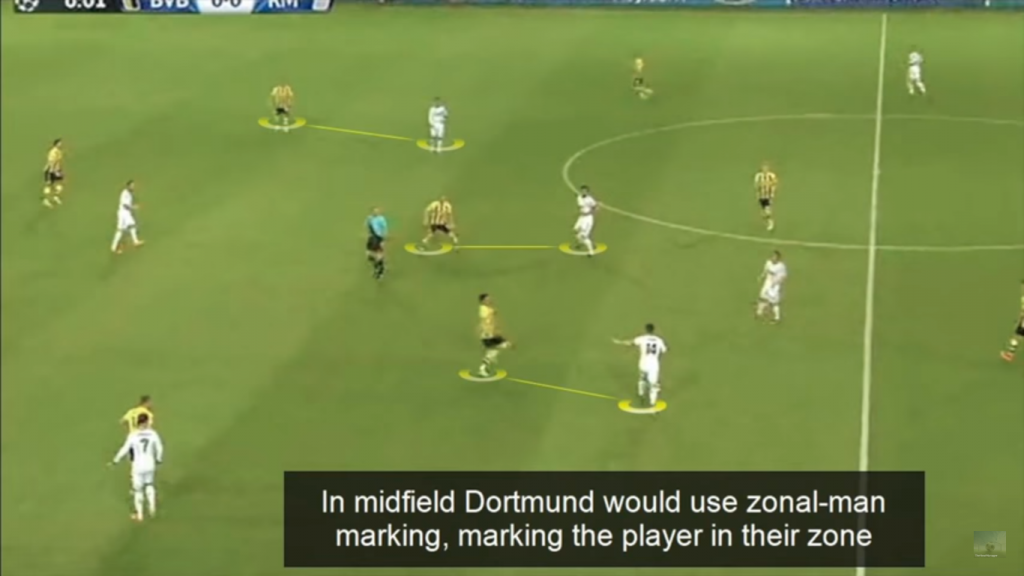 Likewise at Liverpool, Klopp has been able to exploit their pressing game to battle teams with more technical ability than their own. Against Manchester City, for example, the Reds' pressing game in combination with strong work-rate meant they were never overwhelmed, certainly not centrally, and the close-knit structure of the team allowed each player to support in the press.
During the 3-0 first leg defeat of Manchester City in the quarter finals of the 2017/2018 Champions League, Liverpool's wingers defended narrowly to deal with City's additional midfielder in İlkay Gündoğan, while Firmino also tracked their midfield. This was a perfect demonstration of counter-pressing and counterattacking under Klopp and ranks among Liverpool's greatest European performances in modern times.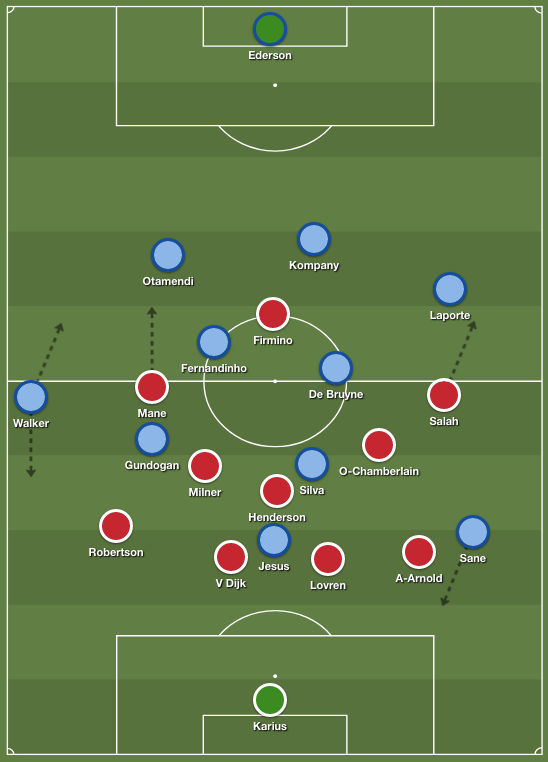 It was an example of Klopp's keen tactical prowess, an aspect of his management which is often understated. His personality doesn't just transmit itself into lifting the team, but it also complements his tactical philosophy and his understanding of how the game should be played:
"rainy day, heavy pitch, everybody is dirty in the face and they go home and can't play football for the next four weeks."
His style is aided further by the fact that the three clubs he has managed – Mainz, Dortmund and Liverpool, all have the obsessive, passionate levels of home support necessary to whip up the raucous noise and atmosphere needed to fuel a style which orbits around electricity in attack and steel in defence.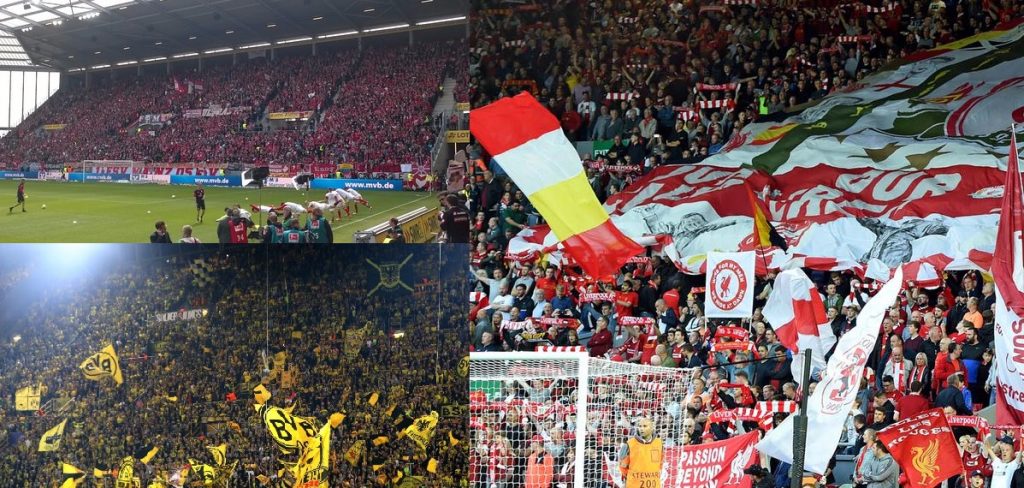 A collectivist style of play cannot accommodate selfishness or laziness, rather it requires solidarity, sacrifice, energy and heart. Around these facets, Jürgen Klopp has been able to build his teams.
Narrow, compact, fluid; flowing and defending as a single organism
He has excelled in creating teams capable of taking the game to a place where aggression, desire and speed can overwhelm superior technique.
The seeds of this ideology were planted by Wolfgang Frank, who described football of attacking transitions as "like a fist opening up".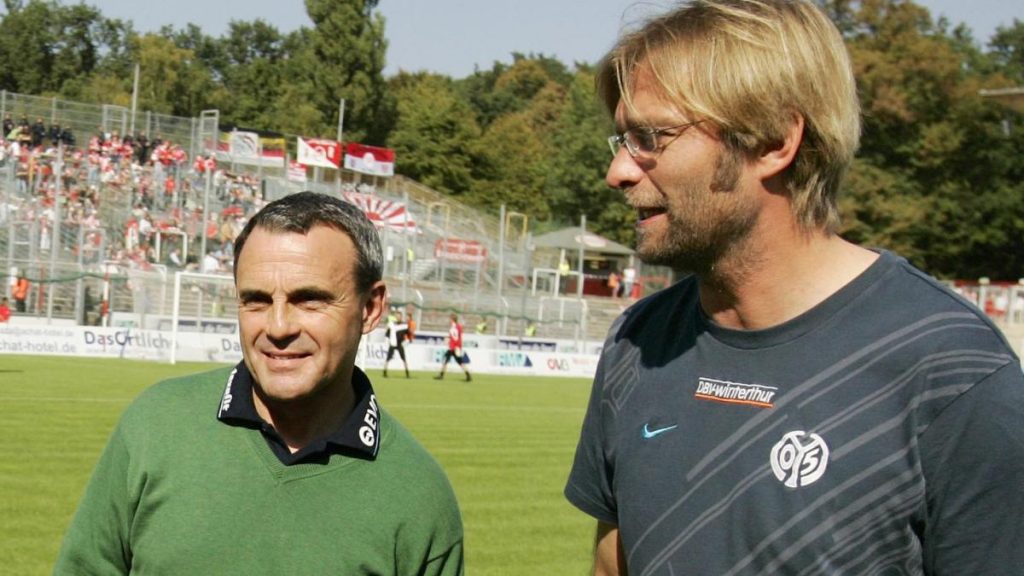 His Mainz team were an unfashionable side, the perennial underdogs of German football. But they fought and competed like a pack of angry wolves.
Peter Krawietz, Klopp's assistant manager at Liverpool, described that "Wolfgang Frank had an idea of football which was something like a revolution in Germany based on the Arrigo Sacchi style of pressing and defending."
It was at Mainz that the football of heavy metal collectivism, which would later guide Klopp to stardom at Dortmund, began.
Prior to Frank's arrival, they were playing with a sweeper, and defending in a system of man-marking without any real structure. Mainz were a poor team, often inferior in talent and on an individual level could rarely compete.
When Frank took over, his tactics were unorthodox and often deemed wild. By switching to an aggressive zonal defence that encouraged a collective press off the ball, there were complaints that Frank's overly compact team were leaving one side of the flank unguarded when defending the other. This was a deliberate ploy from Wolfgang Frank.
The ball cannot move from one side to the other at the speed of light. His defenders would have time to reorganise and protect the other flank, but it required patience and understanding of his methods, as well as incredible fitness levels in his players, to generate positive results.
Mainz did not achieve promotion under Frank but his philosophies laid the foundation for what would later become the basis of a very good Mainz team under Jürgen Klopp.

Wolfgang Frank designed the blueprints for what Klopp would instil at Mainz
Klopp benefited from Frank managing the club at a time when it was drifting through mediocre results.
It was under Frank that Jürgen Klopp began to appreciate how the combination of tactical awareness, fitness, desire and intelligence could compensate for teams with inferior levels of technical skill. Tactics, in Klopp's eyes, would become a friend of the underdog.
Klopp has generally favoured the 4-2-3-1 formation at Dortmund. His midfield had to mobile, athletic and compact, able to press but also to maintain a solid defensive shape and break into attacking transitions. The full-backs were generally positioned high, ready to pin back their opponents, to move forward on the counterattacks.
This differs from Barcelona, who also pressed high under Pep Guardiola, often to prevent a counterattack and resume their periods of ball-domination.
Klopp's Dortmund recognised that in the moment of transition, a counterattacking team could momentarily lose its defensive shape and become vulnerable. The space that would briefly unfurl had to be exploited quickly.
This required midfielders capable of recycling the ball swiftly between the lines and players quick enough to complete the transitions. This was, as Wolfgang Frank described, like a fist opening up.
The 4-2-3-1 in this regard augmented Klopp's 'gegenpress'. With one midfielder in a more advanced position than the two holding midfielders, there is the foundations for a quick transition.
When Dortmund were not on the ball, compactness was crucial to both the press and the closing of the space. A press had to be collectively-coordinated and synchronised, and must provide space between the lines, both vertically and laterally.
Klopp was not tactically static but sought variations to the gegenpress, and he employed the 4-3-3 in 2013.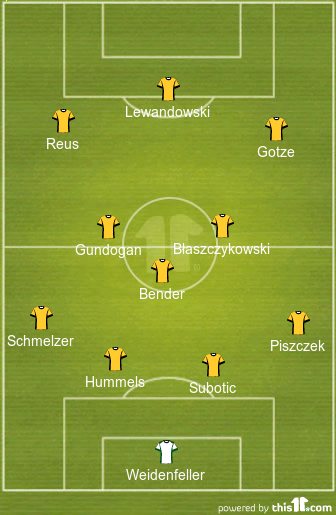 This was to incorporate a more possession-based system, recognising that the counter-press style suited them when they were still regarded as plucky underdogs.
Positioning is key to the press
In 2018, when Liverpool ended Manchester City's unbeaten run, a powerful expression of the effective press can be found in their third goal.
It was a moment of synchronised, collectively-planned pressing, with the wingers close to City's full-backs when John Stones had the ball and Fernandinho closely marked.
Stones hesitated and Salah charged. Like a ripple effect, Liverpool's players followed suit. In a flash, City were overwhelmed by a stampeding scarlet herd, and Sadio Mané thundered a precise and powerful shot in to the top corner to make it 3-1.
Although Klopp is often regarded as an attack-minded coach, defensive solidity is a vital component to his style. For a team to be effective at the counterattack, it must be able to survive pressure in order to launch attacks through the transition.
During his title-winning seasons of 2011 and 2012, Dortmund conceded only 22 and 25 goals respectively, keeping 14 clean sheets in 2011 and 15 the following year.
At Liverpool, during Klopp's first three seasons, they had conceded 50, 42 and 38. So far this season (2018/19) after 32 games they have conceded only 19.
This underlines how important a strong defensive shape is to Klopp, and also his ability to transform a weak defence into a formidable one.
The opta stats indicate that Liverpool are making fewer tackles, clearances and blocks compared to last season. For example, where their tackle success was 71% in 2017/18, so far this season it is 62%.
Such indications do not point towards worse defensive performances, but rather more control and assurance over the course of a match.
Liverpool are now not having to defend with such incoherence and frantic desperation.
Liverpool seeking control over chaos this season
Their passes per match has marginally increased, perhaps highlighting greater patience in their build-up. They are regaining possession in the final third 4.1 times every game, as opposed to 4.5 during the previous campaign.
This is a continuation of last years trend, where for all the focus on their Champions League run, in the Premier League Liverpool were more measured than in 2016/17.
Klopp showed recognition of a weakness his teams had against teams who sat deep and denied them the space their offensive runners needed to break into, as well as a need to fix a leaky defence.
In 2016/17, Liverpool dominated the big teams but came undone against the smaller opponents who negated their counter-press and exploited their poor defensive shape.
Defeat in the Europa League final against Sevilla confirmed to Klopp that his team could no longer just live in the moments, but needed to control them.
He now has the tactical variety to approach different games with either more caution or adventure depending on what is required.
The 4-2-3-1, with Firmino sitting behind Mané, Salah and Shaqiri, is the closest Liverpool can get to the penetration and creativity they enjoyed with Phillipe Coutinho.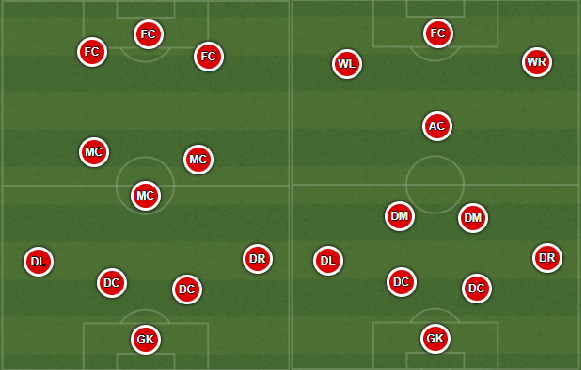 The 4-3-3 offers steel and solidity. With it, they tend to stay more compact and functional, closer to each other than they might in a 4-2-3-1, but can lack the creativity to open up defences.
The options that Liverpool have in midfield provides them with enough unpredictability that opponents do not always know what to anticipate. This strength in depth has been a key part of Liverpool's resurgence; in adding Fabinho, Keïta and Shaqiri, and with Oxlade-Chamberlain's set to make his return, this squad has never looked stronger.
Jürgen Klopp is not the one-dimensional coach he is sometimes regarded. His Dortmund team grew and evolved, from a functional title-winning side to an electric counterattacking team that could, and should, have been crowed Champions of Europe.
The hope for Liverpool fans is that they are currently witnessing something similar at Anfield.
Rabbil Sikdar is a Freelance Writer and a huge Liverpool fan who writes about his main interests, football and politics. You can find Rabbil on Twitter.