Liverpool FC – Mid-season Premier League analysis
There is a long way to go, but to say 'so far, so good' for Liverpool would be a massive understatement.
League titles tend to be won on winning mentalities, nervy six-pointers and late goals on rainy nights away at relegation strugglers; but a good start to the season certainly helps. Just ask Manchester City, who hold the record after 19 games with 55 points (just 2 less than maximum) in 2017/18 – when they ran away with the title after totalling a record 100 points.
Liverpool have enjoyed a sensational start to this campaign, sitting at the top, 6 points clear of second place. They are third in the 'best ever league starts' table, and while this isn't a trophy worthy of their bulging cabinet, it is hugely commendable when you look at the two teams above them.

Manchester City were unbelievable; possibly the best Premier League team since its inception. But Chelsea, one point better off than Liverpool at this stage on 52 points, also walked the league in 2005/06. José Mourinho's prime side won with 91 points, 8 clear of second place. This is currently title winning form; no, this is 'strolling to the title' winning form for Liverpool.
You might notice the goal against column being the stand-out aspect for Liverpool; and it is. Those 7 goals conceded after 19 games is the joint fewest (Chelsea again, this time in 2008/09 but with 10 fewer points).
Title challenges are usually built on a sturdy defence; and a stat that has been thrown around a lot recently is Liverpool being the only team in the last 10 years to be top at Christmas and not win the title. Much of this is down to defensive issues. Brendan Rodgers' ill-fated challenge in 2013/14 ended with the Reds having conceded 50 goals in the league, 13 more than eventual champions Manchester City and the most of anyone in the top-5.
Liverpool had conceded 23 times by game 19 that year, and had dropped 21 points. So far this year, they have dropped only 6. It was the second half of that season which took them within touching distance of the title; they lost only once more, dropping a further 9 points in total. They conceded 27 further goals in those 19 games.
At this stage in 2013, Liverpool were 6 points behind leaders Arsenal. And after a strong second half of the season, they were just 2 points behind the Champions (and a sensible pick to win it for a long time). Even then, they dropped more points than Liverpool have during the past half season. Nothing is won at this point, but Liverpool are, at the moment, on course to win the league…comfortably.
Issues were addressed, and both heavy and shrewd investments were made; Alisson Becker, Xherdan Shaqiri and Virgil van Dijk are clear examples. A good midfield has been improved (Coutinho and Can were replaced with Keïta and Fabinho), and promising youth has been moulded into very good, potentially world class, players (Gomez and Alexander-Arnold).
The whole squad has, as a unit, adopted Jürgen Klopp's demanding, complex and unforgiving tactics seamlessly. Their fitness levels are enormous and the squad has a tremendous balance of flair, power, pace, technical ability, intelligence, and raw hunger. The German has shaped this squad into something special. Much as he did at Borussia Dortmund before.
There is a long way to go, and it will feel twice as long for the suffering Liverpool supporters as we enter 'the business end' of the Premier League season; but to say 'so far, so good' for Liverpool would be a massive understatement.
They have been superb; with goals coming from all over the team, set-piece contributions, successful rotations, offensive fluidity and defensive solidity – Liverpool seemingly have it all. They have not seen defeat at Anfield in 30 league games, and haven't lost in the league at all in 21 games.
Liverpool remain the only team yet to concede more than one goal in a league match.
If you go back to between December 2017 and May 2018, and take those 19 league games (which saw Liverpool finish fourth), and add them to the 19 from this season (as Andrew Beasley has) – Liverpool are champions by two points.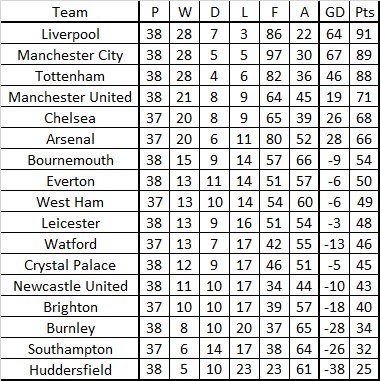 Perhaps we will visit this again in 5 months, after the customary twists and turns of a Premier League campaign, and see that the unexpected has happened. But on this occasion, and based on the evidence, if Liverpool are not crowned English champions for the 19th time in 2019, this will be the unexpected.
Mark Taylor, over at Infogol, has created a table highlighting the number of points an 'average' (i.e mid-table) team would expect to win based on their remaining fixtures. This is calculated upon the relative 'ease' of games (home/away, opponents league position, form etc.), and once more – it's pretty reading for the Liverpool faithful.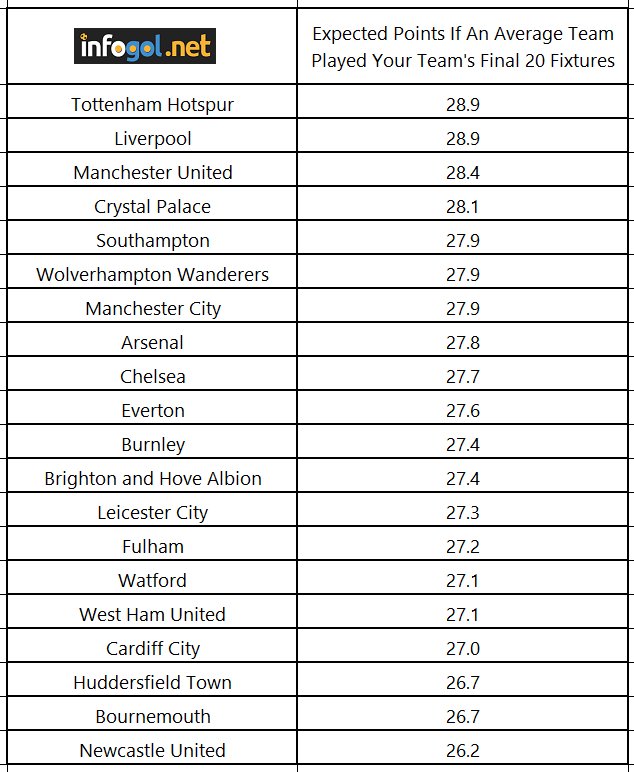 There are many impossible to predict factors involved here, as there always are in football, but if Liverpool can come even close to emulating their form so far this season during the remainder of it; then this current generation might just find themselves emulating some of the greats that have worn the famous Red with such success in the past.