FC Nordsjælland 003 – The good, the bad (and the excellent)
After a disappointing start to the season against promoted Viborg, FC Nordsjælland had the chance to make amends as Aarhus-based AGF traveled to Farum.
Two changes to the side that tasted defeat on the opening day – Oliver Antman and Simon Adingra made way for 22-year-old Dane Magnus Kofold Andersen (8) and 18-year-old Ghanian Lasso Coulibaly (28). The latter made his debut and is a new recruit from the Right To Dream Academy in Accra.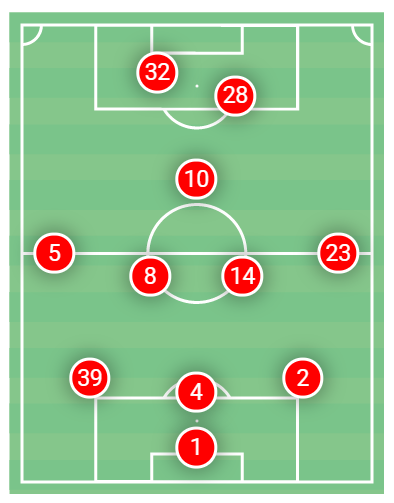 FCN manager Flemming Pedersen opted to narrow his 3-4-3 into a more compact 3-4-1-2 with Mohammed Diomande – impressive against Viborg – occupying a more advanced 10 position and Andreas Schjelderup – strong in possession during the first fixture but often isolated on the left flank – partnering Lasso Coulibaly up front in a pair.
The defensive 3, plus wing-backs Frese and Rose-Villadsen, remained as it was against Viborg, with young Adamo Nagalo retaining his place alongside captain Kian Hansen and Mads Tychosen.
Control through possession
This match was a one-sided affair. We touched last week on the Nordsjælland fondness for controlling tempo through a high press and possession in the opposition half. Against Viborg, this was attempted and not necessarily executed; against AGF, it was executed very effectively.

Aside from an opening 5-10 minute high tempo spell from the visitors, FCN held the initiative for almost the entirety of this fixture. They defended well, they controlled the midfield very well. Where they struggled was in their work within the offensive third.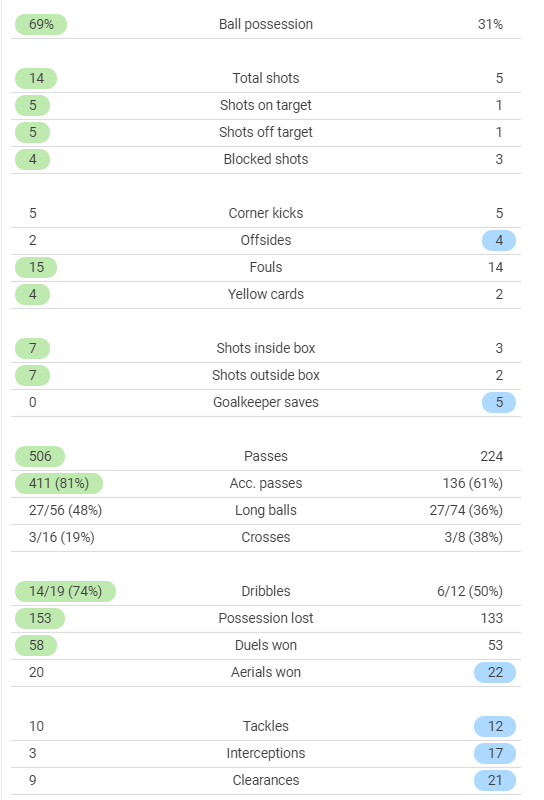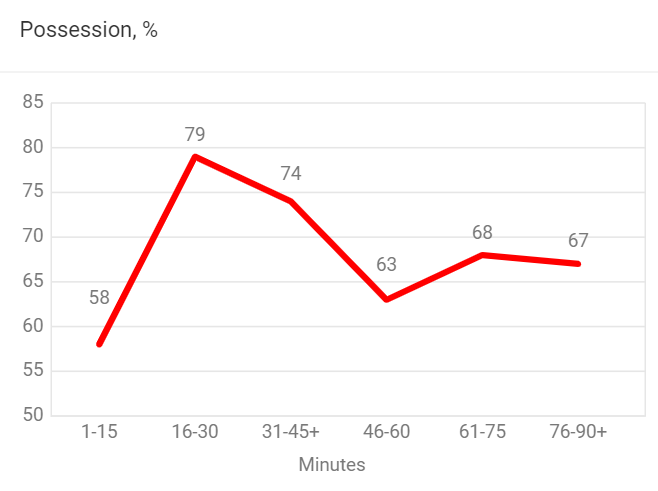 Talented square pegs in immature round holes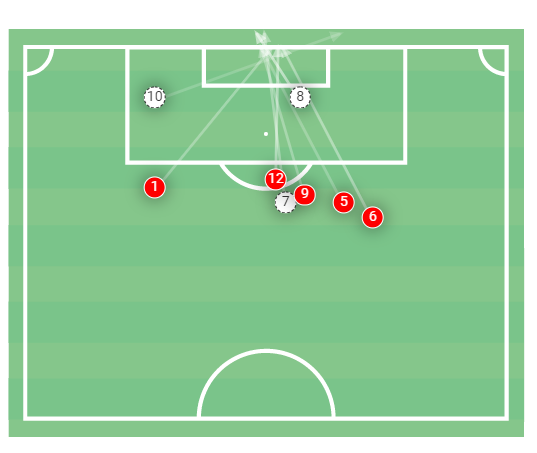 There were flash points for FC Nordsjælland in this game rather than any real high-quality chances created through their long periods of sustained offensive possession.
In fact, there were no big chances created at all. A number of half-chances for both sides, but nothing of the kind we saw in the game against Viborg. When we look at where most of the FCN shots came from, it becomes clearer why this was the case.
Rather than try and find his runner, Diomande lays a simpler short pass to tee-up a ranged shot. Rather than work a rehearsed set piece from a high quality crossing position, Frese shoots at goal. Rather than take his time to assess his options, or attempt to play through an attacking phase, Schjelderup decides to take an inopportune shot from 20 yards with very few viable other options.
There was not enough focus from the Nordsjælland attackers to create high-quality scoring opportunities. We saw fleeting moments of excellent attacking movement in the first game against Viborg; in this tie, there was very little.
The first real flash of quality and sight of goal came via one of these long shots, but, again, it was a low-probability effort at goal.
Andreas Schjelderup, the 17 year old Norwegian that so often lights up the pitch in possession, moved laterally with short sharp touches across his defender's line to find the space for a shot and hit the target from outside of the area. A simple enough save for Jesper Hansen in goal; an impressive enough effort from Schjelderup but one which was extremely unlikely to find the net. He had a central runner but no clear passing lane to find him.
All but two of the 14 FCN shots at goal were from outside of the 18 yard box. One of those, a header from the impressive centre-mid Abu Francis, was probably their best chance and a great example of the kind of football the team is capable of producing.
A patient attacking move, with players moving across the pitch as the ball is switched, culminates in the centre back and captain Kian Hansen found free of markers in zone 13 – an ideal crossing area. With multiple runners in the box, four men taking up prime attacking positions between and among a static defensive line, an excellent deep cross finds the head of Francis at the back post. This was a high-quality chance created with patient high-quality football. This is what we need to see more of from FCN.
Then a few minutes later, a similarly positive, promising, patient passage of attacking play, with the ball switched sides and players moving into prime offensive positions in and around the area in numbers, ends with another centre back, Mads Tychosen, deciding to take a speculative long shot.
When Tychosen finds himself free of his marker 25 yards from goal, the natural instinct is to shoot and that is far from ideal. There were a number of options, all of them better than the one he decided on. Infinitely frustrating for the manager,  but also promising from an analytical standpoint. The build up is neat and considered, the positive intent is there. A single player can be reminded to not shoot from that range easier than seven other players can be coached to make the right choices up to that point.
As the game came to a close, we saw another piece of this positive approach play through smart decision making.
This move was more about incision than it was about patience.
Maxwell Woledzi (3) – another Right To Dream graduate from Ghana, recently turned 20 – picks out a superb pass to break the midfield line and find Emeka Nnamani (21) – another really promising West African (Nigeria) teenage prospect – in the hole. He had the runners ahead of him, the play moved at pace, there were spaces to find and exploit. Another example of how smart decisions force better openings. Simon Adingra (17) is found on the edge of the area, better placed this time to fire a low curling effort free of any blockers. The shot is well saved by Hansen.
It wasn't the perfect attacking move, a better chance could have been forged under different circumstances, but it was better than what we saw for large periods of the first half. These were good decisions being made quickly.
When analysing and trying to break down the way in which this team attacks, and the failings especially, it is vital to remember how crucial the part experience plays in the decision making process, and then how crucial the part of decision making plays in the process of scoring goals.
Every pass, from first phase to end, every run and piece of movement, every decision that is made on and off the ball is often being made by a player with only a handful of senior appearances as a professional football. This is what potential often looks like. Mistakes are made and lessons are learned, the pitch is a lecture theatre for these young academics.
The Right To Redemption
If we accept that mistakes will happen with players this young – and we do have to accept that, and if we accept that these players are in the team much more for what they will become as they are in the team for the players they are currently, then we accept that good performances will often follow bad.
Adamo Nagalo had a difficult game against Viborg, he was often left isolated against the impressive Tobias Bech, and while he battled and fought and gave it everything, sometimes things don't go your way.
A week later, in the same position on the same pitch, Nagalo was immovable. He was excellent against AGF.
Adamo Nagalo vs. AGF

80% Pass accuracy
1/4 Accurate long passes
2/3 Dribbles completed
14/19 Ground duels won
1/3 Aerial duels won

You can't ask a teenage defender to not make mistakes, that's their education; you can expect them to recover. Adamo Nagalo recovered brilliantly. pic.twitter.com/JpxyjPZppN

— The Tactical Times (@Tactical_Times) July 27, 2021
For defenders, youthfulness is even more unforgiving. For centre backs, it can be a brutal learning curve. When the decisions you make or don't make play such a large part in how well you do, experience is inexplicably vital. You can't force experience. It's a process, you must learn from the bad and use it to fuel the good.
Same issues at the other end
While all three of the FC Nordsjælland centre backs had a commendable game, there were a few moments where the problems we saw last week repeated – as defensive issues so often do.
At the end of that deceptively promising start from AGF came one of their best chances of the game. It was, as we saw from them against Viborg, another example of an out of synch, disorganised back line being caught out by a relatively simple piece of play.
It is Kian Hansen who is initially caught out of position by the chipped through pass – a pass which was freely played under very little pressure. It is poor defending to begin with, but solid enough recovery work from Hansen.
Similar to the football that led to Younes Bakiz' opening goal for Viborg, and the kind of simple move that, if allowed to repeat, would lead to a number of high quality chances created. Fortunately, and to their credit, this was an isolated incident for the FCN defensive unit.
Then, in a case of quite satisfying symmetry, the final few minutes of the game saw another relatively high quality chance created for AGF, this time slightly mirroring the second goal scored by Viborg a week ago.
What we saw last week was a mix of zonal markers and man markers being out of tune with each other and not tracking the right runners. This time we saw man markers being totally incapable of competing physically with a big, strong centre back as he challenges for a high ball.
Thomas Kristensen, 6'6″ and just 19 years old, wrestled his way clear of markers excellently and directed a really smart header agonisingly wide of the far post. A let-off for a lax, quite poor Nordsjælland defensive unit at the set piece. A reminder of how easily goals can be conceded, even in games where you are barely troubled.
These were isolated events, and the FCN defensive effort was, on the whole, really effective and generally better than it was a week ago against Viborg. Though it is quite fitting that the two main flashpoints, either of which could quite easily have led to a goal, were similar to those they faced in the opening day defeat.
Thor Herdal, an analyst for FC Nordsjælland, put together a great short video piece on how the FCN midfield and back lines pressed to control and limit possession to within the AGF half. Clips that were sadly unavailable to me (*hint, hint FC Nordsjælland media team*), but is definitely worth the watch.
It's a good example of how a brave and aggressive defensive approach can put a team on the front foot. This is how possession is maintained through sustained periods of time.
FC Nordsjælland face their first away trip of the season next as they travel to Jutland to play SønderjyskE.
If you enjoyed this article and want access to more in-depth analytical pieces, player reviews and scouting reports, podcasts and more, consider signing up to Patreon for a few pounds. You can find more information on that HERE.
Unless otherwise credited, The videos used in this analysis belong to the Danish Superliga and other relevant license holders. the tactical times do not claim to own any of the visual or audio media presented here. This analysis was created under Fair Use (17 U.S.C. § 107) and may not be copied, redistributed, edited or altered without the express permission of the copyright holder.