Naby Keita: Total Player Report
Unless they are intrinsically offensive (like a 10) or defensive (like a 6), it can be difficult to categorise central midfielders. Those who fall either somewhere between the two or weighted more toward one than the other in a 65-35 split can be difficult to pigeonhole with positional titles and roles. Naby Keita is a difficult player to pigeonhole.
He is weighted towards the offensive game, so I will draw more focus naturally on those aspects of his game, but he is also an interesting player within a defensive scope. Inside that 35% is plenty of solid and notable and, at best, excellent defensive work.
Positioning and movement
A good place to start, as usual, ahead of the perhaps more aesthetically interesting but equally as important technical aspects, is a player's positional play, movement, and overall intention when out of possession.
Naby Keita plays most of his football on the left side of the areas between middle and offensive thirds. Since moving to Liverpool, where his team tends to enjoy extended periods of control and possession, and where his defensive work is often performed away from his own penalty area, his action maps resemble more an attacking midfielder than a more disciplined box to box one.

He is a ball progressor, whether passing or carrying it himself – something I will cover in much greater depth a little later – there is always positive, offensive intent in his actions. When receiving a pass or recovering the ball in a deeper, more typical centre mid position, Keita's second phase play – either another pass or dribble – is usually an attempt to break a line or find a teammate in a more advanced area. He doesn't often recycle possession to his centre backs, he is more about action than patience and safety.
This kind of positive focus on progression, trying to force attacking moments by penetrating lines ahead of ahead of him, is typical of Keita. I've put together clips from two recent appearances in order to illustrate this, but you will find similar examples in most – if not all – of his games for Liverpool. It is a natural style of his game.
In Liverpool's win over Crystal Palace in December 2020, Naby Keita attempted the second most progressive carries of any player and the third most progressive passes.
In Liverpool's defeat to Fulham in March 2021, no player attempted more progressive carries than Keita (almost twice the number of his nearest teammate), and he attempted the fourth most progressive passes.
In both examples, we can see a clear, defined and quite obvious intention in Keita to face goal and approach the offensive third. More destructive, less conservative. Progressive in his intentions. He wants to take the initiative and make things happen.
The progressive carries or passing covers actions taken on the ball. For off-the-ball movements, especially those made after Keita plays a pass himself, point further toward these destructive, offensively conscious intentions.
We can go back to the game against Crystal Palace to see a useful illustration of this.
Keita often follows the progressive pass, whether his own or from a teammate, with a direct forward run into space between lines.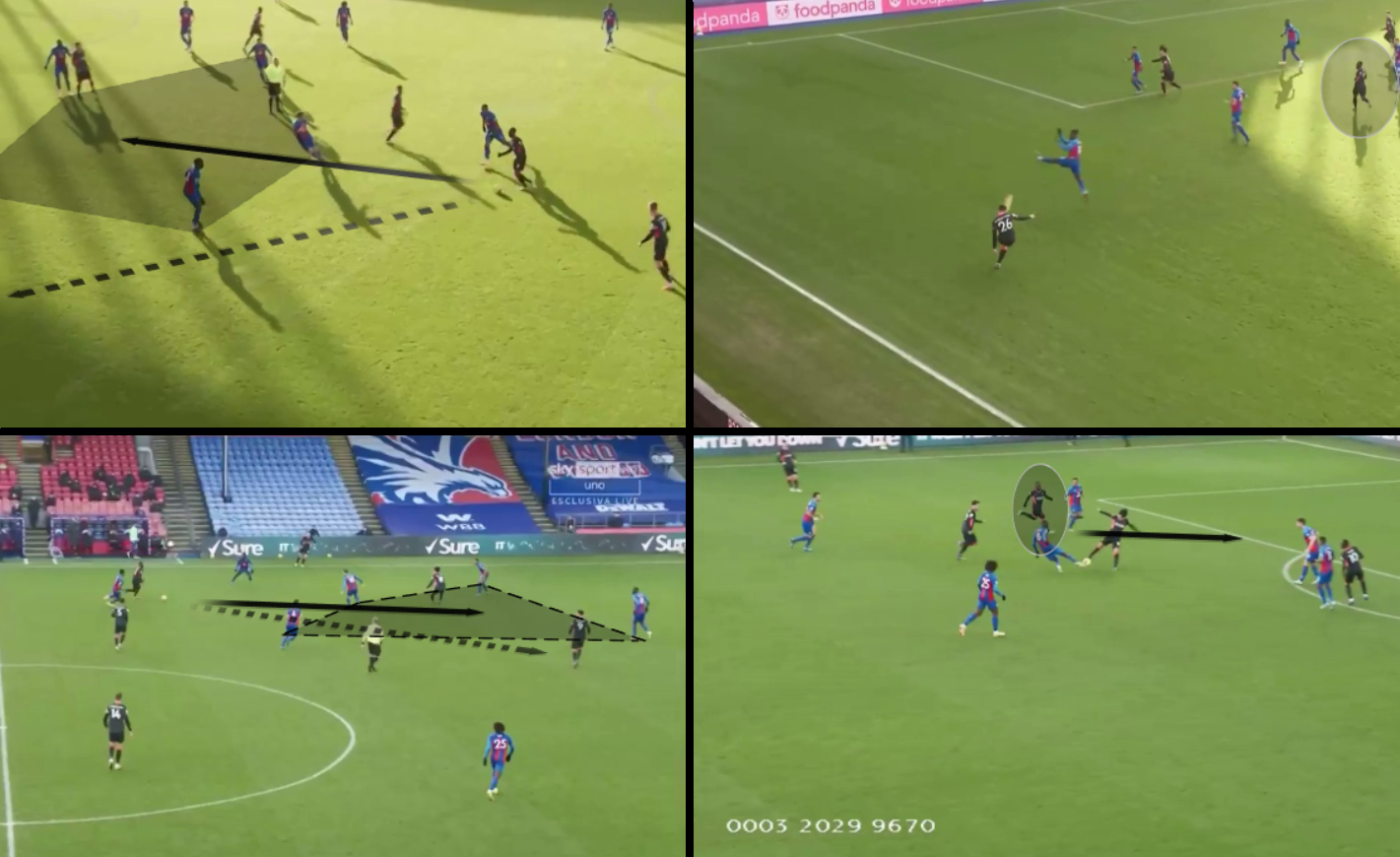 When Keita played in Liverpool's 3-0 win over Leicester City in November 2020, his movement was at times that of a supporting striker, following up forwards with direct, impactful running.
He was repeatedly moving into the opposition box, either to provide another option or to pull markers away. These are aggressive offensive movements.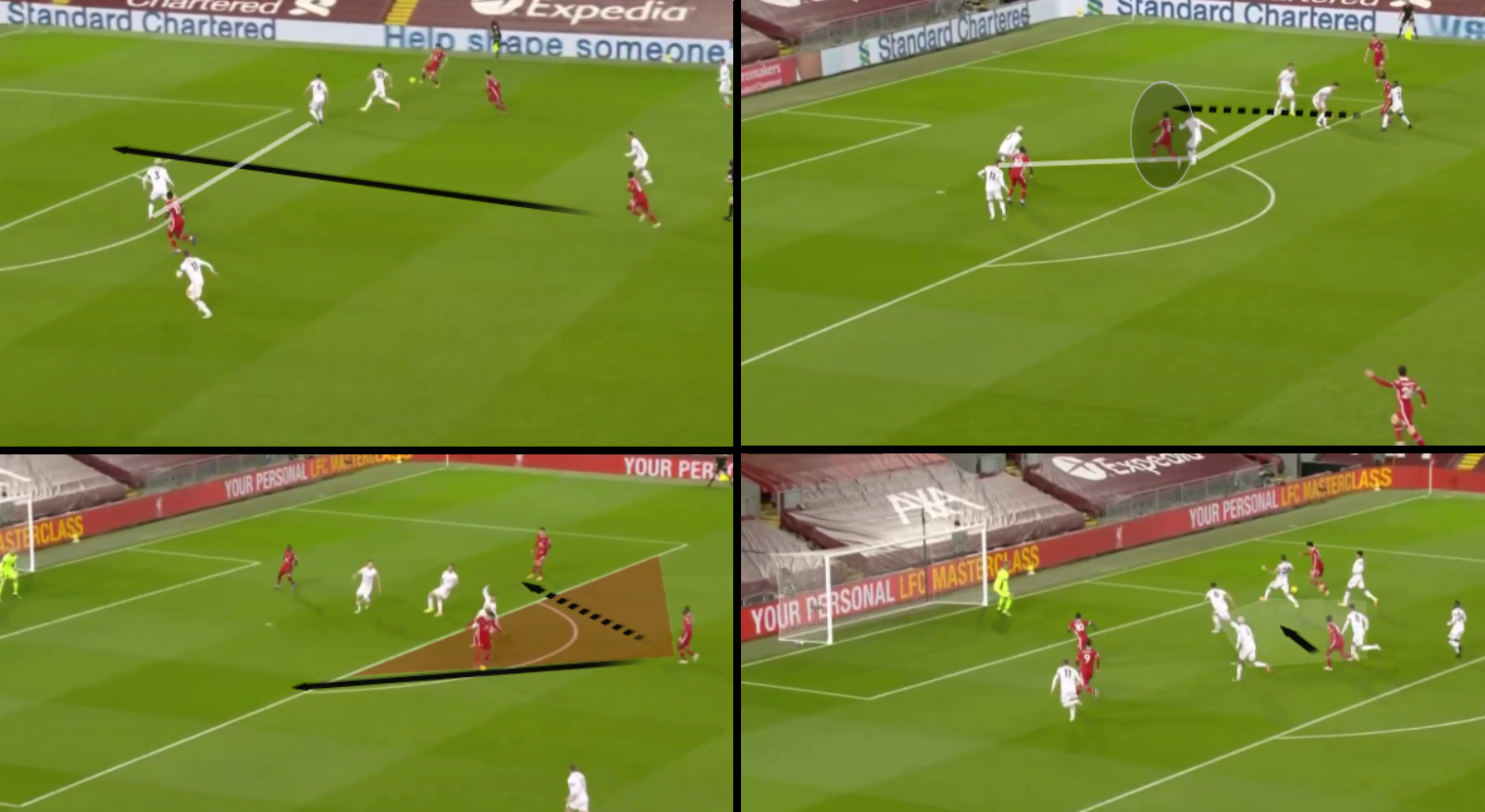 These movements – positive, progressive, destructive movements – are typical of the player Naby Keita is. There is a natural willingness in Keita to force offensive moments, to break defensive lines, to occupy spaces between the defensive lines, to try and force the play towards an opportune attacking move. Naby Keita is a high-risk, high-reward midfielder.
Dribbling, playmaking, breaking the lines
We know the intent and the target and the destination, but how does Naby Keita get there. These are the aspects of Keita's game that most stand out and explain the reason why he carries the reputation he does and why, ultimately, Liverpool FC decided to spend such a huge sum on his transfer fee.
The clip compilations in this section are long and comprehensive, reflective of the nature of Keita's technical game. It isn't imperative to watch them throughout, but doing so will give a deeper, more rounded impression of just what this player has done and is capable of, so I would naturally recommend you watch them in their entirety. Besides, they are extremely satisfying to watch. (For me, at least).
Naby Keita is a high-volume dribbler.
Keita takes on his opponent regularly and he does it well. While not slow over short or long distances, he isn't a particularly powerful runner, he is certainly not a sprinter, but he is agile and uses quick feet with unpredictable, sudden movements and changes in direction to evade limbs and beat his man.
His style is one ideally suited to close quarters, to areas where close control and short touches are better than long strides and raw pace. Keita isn't a counter-attacking dribbler.
Keita covers ground quickly while in possession, a quite rare and extremely useful skill, and he doesn't seem to lose any control over the ball while moving with speed.
His level of press resistance comes not through upper body strength or using his frame to gain leverage, rather Keita uses excellent balance and a low centre of gravity to outmanoeuvre his opponent. He couples that agility with a courageous, high-risk attitude towards handling the ball under pressure. Deftness and dexterity over power. Sleight of foot.
This aspect of his game is one part of Keita's biggest strength.
Naby Keita is a truly excellent playmaker, his offensive and creative passing is outstanding.
Again, high volume. And again, high accuracy. Naby Keita has a superb track record when attempting the kind of high risk, high reward passing that allows him to break a last line, or to find an advanced runner onside beyond the final defender.
Because of that close control, and his ability to maintain control over the ball while running at pace, Keita is able to control his strides and this gives him great control over the timing of his passes. Control is, understandably, a key theme.
If optimum timing of the pass is possible, as it so often is for Keita, then there is the opportunity to focus on direction and weight. Once those three parts come together, you get chances and key passes and assists. Naby Keita has mastered those aspects.
Keita is able to repeatedly find a runner in tight spaces, weighting his passes perfectly to the space between either defender and by line or defender and goalkeeper; he regularly plays his through passes on the inside of the defender in order to find a runner on the outside with less chance of a block or interception.
Naby Keita is a very thoughtful, considered, intelligent passer of the ball. In tight areas under pressure, he appears to make an extremely difficult skill, one very few even elite players possess with any consistency, seem quite simple.
Those clips I compiled illustrate perfectly Keita's great proficiency with through passes and in particularly his fondness for measured, controlled short passing in tight areas.
There were so many examples of other, different kinds of line breaking, sensationally executed passes, that it was necessary to separate them in order to maintain some focus in the analysis. I put together a small collection of these as a showcase but note that there are many many more.
When you take that control over his body and movement that I've mentioned, and the ability to see the pass – as he displays so often, and the technique to execute it with perfect accuracy, you get a truly superb playmaker. This is Naby Keita's biggest strength: his ability to create.
I've put together a number of his key passes and assists over his past couple of seasons with Liverpool.
Some are big chances, others a little more speculative; some crosses, some short passes, some longer; all give well-rounded insight into the kinds of opportunities Naby Keita is capable of creating and does create for his teammates with relative regularity.
Goal scoring and decision making
Naby Keita was once quite prolific in front of goal. At his best, he scored a goal every other game while playing for RB Salzburg at 20 years old. It has been a steady slowing down in terms of the raw numbers since then, but he is capable of finding the net.
We know he can often take up excellent offensive positions, and always wants to take up excellent offensive positions; and we know he is excellent as a creator and provider from within those positions; but he has, mostly in the past, possessed an accurate and venomous shot, and he has, again, mostly in the past, shown real composure in front of goal.
His goal compilation, going back as far as his time at RB Leipzig, is, again, worth watching to the end for the best insight into how the goals Keita scored point towards his capability in front of goal.
His shot accuracy is nothing special over a large sample of games, and he is usually happy to shoot from outside of the area from inopportune positions, but most of the goals were scored from within the box. When he gets into these high percentage areas, Keita is a perfectly competent finisher.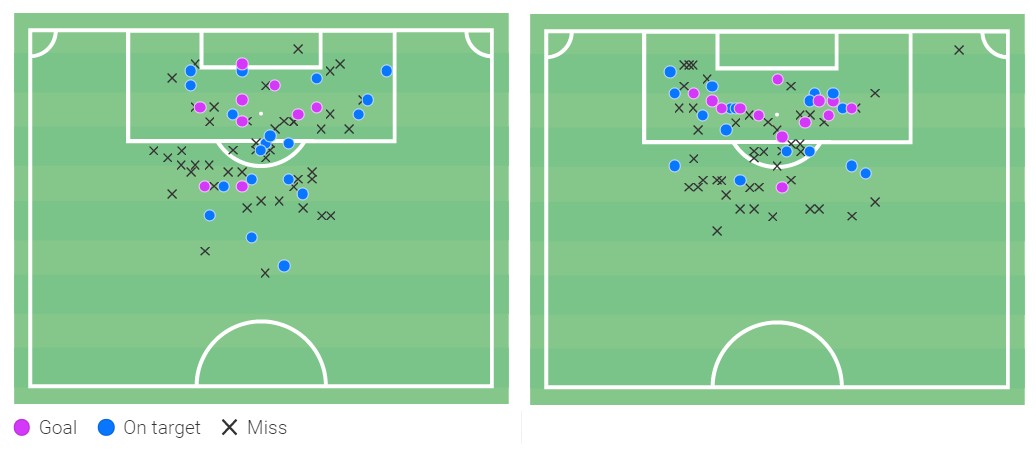 What Keita lacks in front of goal isn't the accuracy of his shooting or his composure, it is the instinct to make the right decision at the right time.
I've compiled a number of more recent examples of him taking on shots – sometimes at a bad time, sometimes not – and these give a good account of how Keita can sometimes get his decisions wrong when it comes to scoring goals instead of trying to assist in their creation.
The positional play is usually excellent – whether he is in a strong starting position to receive the ball or moving into attacking areas following the ball as we already explored, and his dribbling and control are good; he is doing what we know he can do so well; but then it comes time to shoot and he attempts a long-range shot off-balance or perhaps he shoots at a block without any ingenuity or attempt to find a way past it.
Sometimes he gets it right, he has excellent technique when striking the ball afterall, we've already seen that. And he can hit the target or even score, but there is no regularity with this. In contrast to the measure and consideration that goes into his creative passing, his shooting is far less thoughtful. This is a side of his game that needs refining.
Because it isn't about his technique or his ability to find primary position, the problem lies mainly in his decisions. Namely the decision making process involved in deciding when and how to shoot at goal. It's a different kind of skill to that of his through passing or chance creation, it's a skill specific to players who tend to score a lot of goals.
It's about timing and optimisation. To score a goal a player must make sure there is an avenue to goal, he must ensure there is a pathway beyond the goalkeeper, there is a conscious process involved when a good finisher is deciding to take his shot.
When that pathway is given to him, when a player creates for Keita the kind of space and opportunity Keita so often creates for others, his finishing can be excellent.
He applies the same kind of deftness to his shooting as he does to his passing when there is a pathway to goal. When there isn't, as there often isn't for the attacking midfielder on the edge of the area, Keita often reverts to rely upon the law of averages and simply looks to hit the target as early and as hard as possible.
There is enough about his technical, positional and physical game to suggest Keita can be a far more prolific goalscorer, but the importance that experience and repetition play in that means it is difficult to force if a player doesn't possess the natural instinct.
Another issue with decision-making away from a playmaker's quite narrow scope of focus, especially for a central midfielder, is how it can affect a team's defensive work.
I've mentioned already how Keita has a deft, high risk way of dealing with the ball under pressure, and while this often leads to him beating his marker and progressing the ball, it can also lead to losses of possession in dangerous areas.
A conservative midfielder wants to protect the ball at all cost, a destructive and creative midfielder wants to progress the ball and make something happen; certainly there are benefits to both approaches.
Here are a small number of examples of how this can go if a player is playing high-risk football in high-risk defensive areas.
While not always particularly damaging, and in Keita's case not very common, these kinds of incidents do highlight the pitfall with high-risk concepts: they can go wrong, and when they do, you tend to pay a price for it.
Keita is excellent at using the ball in intricate and highly skilled ways, but he is not focused very much at all on protecting it.
His style does usually lead to possession being maintained and the ball being moved on in a positive way, but that is a by-product of his confidence and level of skill rather than through any focus on keeping the ball.
This, again, comes down to his decision making.
Whether he is unable to decide the right course of action when in front of goal with no long pass to make or through ball to thread, or he's unable to assess whether beating that pressing forward with a tight touch around the corner inside his own half is a good idea or not, Naby Keita isn't always as sensible in his course of action as he should be.
This is, perhaps, the price you pay for a player that is so naturally comfortable and adept at playing more a more intricate and difficult game. If he was more sensible in moments of pressure, perhaps he wouldn't be so inventive. There's a balance to be found.
Defending
I mentioned at the beginning a 65-35 split between offensive and defensive focus for a player like Naby Keita, and so far we've spoken only really about that majority piece of the pie.
Every member of a Jurgen Klopp team, including the goalkeeper, does their bit in terms of covering ground in order to defend as part of an effective unit. If a player isn't doing this, he isn't in a Jurgen Klopp team for very long. Naby Keita is no exception.
Keita is dynamic and he is quick to cover the ground, and he is, usually, determined to not be left behind in terms of effort and enthusiasm to work for the good of the group.
We know he has excellent control over his body – he is very agile and in control of his limbs to great effect on the ball in offensive areas – and this extends to his ability to time and execute defensive actions too.
Keita has excellent timing – something tied almost directly to control over one's limbs – and getting his toe to the ball ahead of an opponent or swinging his boot around a leg to make clean contact is a bit of a Keita staple.
He does concede fouls attempting these, a style of aggressive and tenacious ball-winning he shares with teammate Thiago Alcantara, and he certainly isn't a specialist in that side of his game, but it is effective and it does aid in his team's defensive work.
He covers the ground, he makes up lost position, and he commits to his challenges.
Because of this aggression and tenacity, tying in very nicely with his high-risk general style of play, Naby Keita is one of Liverpool's most effective pressers in the attacking third.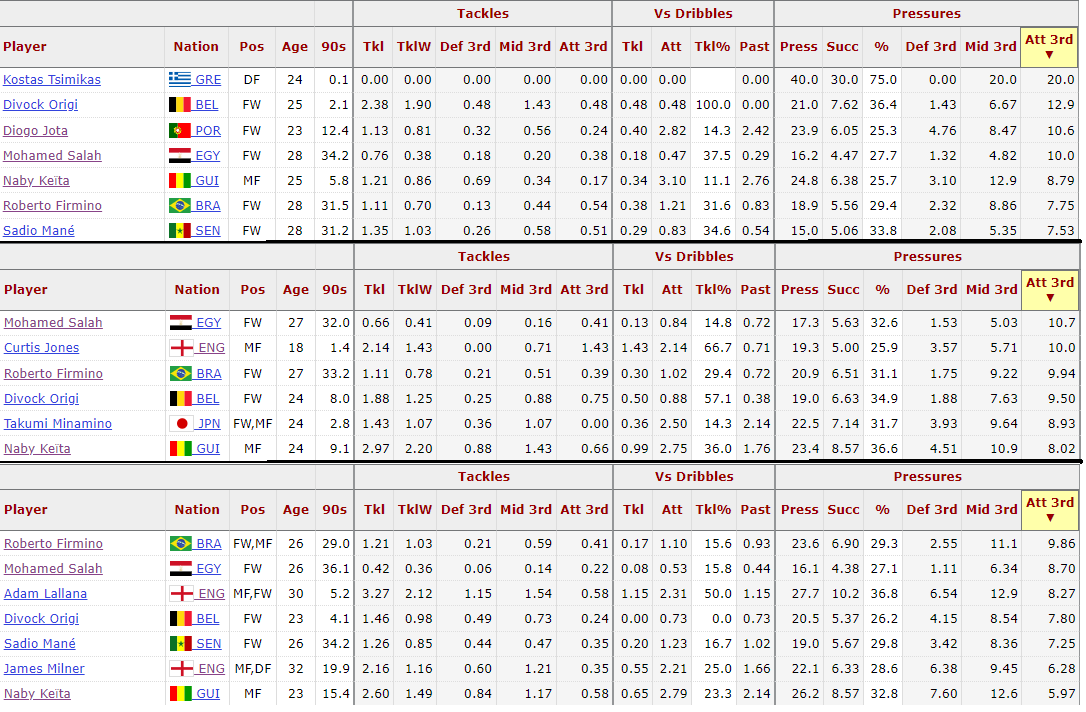 While his defensive work isn't a strength of Naby Keita, it certainly isn't a weakness either. He takes his all-action, high-octane approach to the game and applies it directly to his method of defending. It's not careful or conservative and it doesn't need to be.
Naby Keita
Naby Keita is a sensational player. From the energy and intelligence in his movement, to the technique and execution he consistently displays as quite peerless, to his agility and ingenuity and super aesthetically pleasing style, Keita is fantastic.
He has an arsenal of real quality, he is a potential leader in his position and style of play. The tools are all there and all apparent. We know the issue, we've gone through that, and it has the potential to provide not only continued frustration but, in the end, ultimate failure. If you can't play, there is nothing you can do. But he can play, and he does play, and when he does play, he is usually outstanding.
I can't predict the future, but if I could, I would like to predict that Keita shakes off those misfortunes, finds himself capable of avoiding injury, and elevates himself to the very top like he was born to do. The world of football deserves it.
Unless otherwise credited, The videos used in this analysis belong to the relevant license holders. the tactical times do not claim to own any of the visual or audio media presented here. This analysis was created under Fair Use (17 U.S.C. § 107) and may not be copied, redistributed, edited or altered without the express permission of the copyright holder.