FC Nordsjælland 002 – A new season, a fresh start
A bittersweet start to the season as Ghanian prodigy Kamaldeen Sulemana said his goodbyes to the Nordsjælland faithful at Right To Dream Park. Their 2020/2021 top scorer completed a €15m move to Stade Rennais. There is more than an air of inevitability about the Ghana Right To Dream Academy  graduate's pathway to competing at the top.
På gensyn, Kamaldeen ❤️💪 pic.twitter.com/3v5K8oK2lg

— FC Nordsjælland 🐯 (@FCNordsjaelland) July 18, 2021

FCN's first opponents for the 2021/2022 season were promoted Viborg FF. The Jutland oufit were crowned champions of Denmark's second tier after four years away from the top flight.
FC Nordsjælland were unbeaten in their previous 14 games against Viborg and headed into this one with expectations of another win.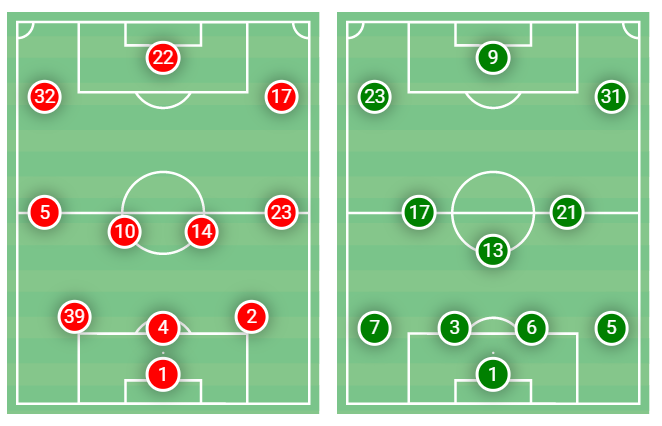 FCN set up in an attacking 3-4-3 formation, putting 18 year old Ivorian and Right To Dream graduate, Adamo Nagalo (39), alongside veteran Dane and captain Kian Hansen (4), and 24 year old, veteran by FCN standards, Mads Tychosen (2) at centre back.
Two more Right To Dream Academy players made up the midfield two, Mohammed Diomande (10) and Francis Abu (14) were flanked by wing-back/wide midfielders Oliver Villadsen (23) and Martin Frese (5). Both are Danish, both are very young (19 and 23 respectively).
Andreas Schjelderup, just 17 and very exciting, joined 19-year-old Finlander Oliver Antman and 19-year-old Ghanian Simon Adingra to make up the front three.
The average age of the FCN starting XI was just 21.7 years old. Even this ludicrously young average is pushed up by 32-year-old captain Hansen.
It was a proactive, attacking lineup from Nordsjælland
This is a team that plays on the front foot and attacks as a default.
They defend high, they press high, and they attempt to play the game in the opposition half and control it through possession and repeated attacking phases.
For the early period, FCN played with intensity and utilised short passing through the midfield, often using Abu Francis' close control and press resistance to turn and get wide runners involved.
His partner in the middle, Mohammed Diomande, looked sharp and tenacious, and quickly stood out with the connection he formed with Frese and Schjelderup on his left flank.
It was a link-up between these three players that led to the game's first real chance after some neat build-up and approach play from these players.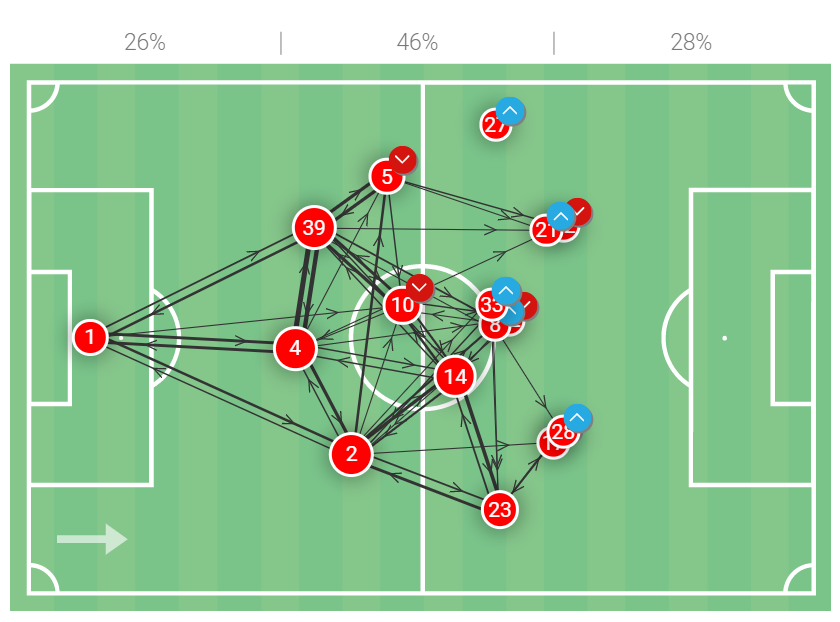 It was a good early example of the brave, aggressive running from Martin Frese we will see again later, but mostly this was a nice showcase of the quality the very young, very impressive Norwegian Andreas Schjelderup possesses.
Having broken clear on the left flank, Frese finds Schjelderup with a finely weighted short pass. The 17 year old measures his distances and takes a really clever proactive touch to beat his covering defender. Timed to perfection.
At the byline, Schjelderup takes another touch, cuts inside – leaving another defender on his backside – again timed to perfection, and steadies himself before laying the perfect cut back to the penalty spot where Francis Abu is arriving and plants a powerful effort against the crossbar.
An impressive move; they are unfortunate to not score.
Mads Tychosen, playing as the right centre back, showed himself to be an adept long passer of the ball throughout the game. His technique and range, especially in diagonal cross-field balls from right to left, was excellent.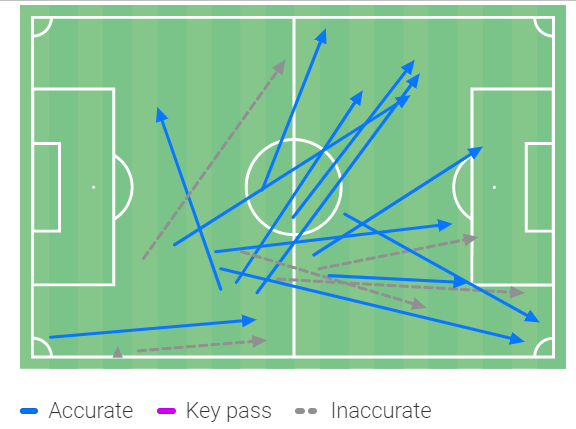 It was from one of these long diagonal passes resulted the game's first goal.
Taking a strong touch into the opposition half, the Danish centre back pumped a superb pass between Viborg centre backs as he attempted to match the run of Andreas Schjelderup.
The pass was pinpoint. Finding not only the gap between centre backs, Tychosen also managed to hit the area Schjelderup was moving into ahead of the oncoming goalkeeper.
The Norwegian teenager commits to a really brave header on the edge of the penalty area. Aware that the Viborg 'keeper is closing the distance, Schjelderup maintains his position, stays strong and focuses on getting clean contact on the ball. Having fully committed to the ball himself, Lucas Pedersen, in goal for Viborg, has to attempt a clean punch.
Having been beaten by the pass and by the run, the goalkeeper is too late and the contact cleans out the attacker after the ball has been played. A clear penalty well won.
Oliver Antman, the centre forward, steps up and dispatches the penalty, narrowly beating an unfortunate Pedersen who gets a strong hand to it. 1-0 to Nordsjælland.
The opening 20 minutes saw relentless pressure applied by the home team. FCN looked comfortable and motivated and, most of all, dangerous against the newly-promoted opposition.
It wasn't until the goal was scored that Viborg, perhaps spurred on by a now more cautious Nordsjælland, began to organise themselves in attacking areas and find spaces beyond an advanced, often out of position FCN back three.

When Viborg captain Jeppe Grønning, in the centre of the midfield three, settled on the ball and began winning duels, Viborg were able to trouble an FCN defensive line that looked far more comfortable in possession than out of it.

It was Grønning who found the first incisive pass that indirectly led to a really neat Viborg equaliser just before half time.
It is an incisive, surgical piece of counter-attacking play. Each pass is measured and perfectly executed; the running matches the passing. It is a well versed, aesthetically pleasing piece of football.
A few defensive pointers.
Hansen is drawn out of position to challenge the first receiver (Sebastian Grønning 9) with no chance of intercepting. This leads to the  creation of space between Hansen in the centre and Nagalo on the right side.
Tobias Bech (31), to the left of Nagalo, does a superb job in maintaining position to receive the pass while onside – really excellent play from him, but Nagalo doesn't attempt to move forward before that pass is played. A more experienced centre back might have recognised the intent and pushed out to attempt to force the offside. That is an ideal though, something for him to learn from. It isn't a criticism.
The goalkeeping is strong, Peter Jensen makes an excellent save from the initial shot. And the general blocking positions within the box are fine. Both Nagalo and Hansen recover well and take up perfectly fine blocking positions inside the box.
When Bakiz (23) picks up the rebound, it is Tychosen who is tasked with dealing with him. The defender is slow to turn, sluggish in getting across to attempt a block, and by the time the shot is taken he has left an opening to the near post.
There is plenty left to do for Younes Bakiz, and the 23-year-old fires a brilliantly accurate effort through that gap, beating Pedersen with a shot in off the inside of the near post. There wasn't a lot to aim for, and Bakiz made the most in superb fashion. It is a great finish.
The second angle better illustrates the extent to which Adamo Nagalo was left stranded by his senior partner, as well as the quality of goalkeeping from Jensen and that super finish from Bakiz.
1-1; halftime
As you can see from that nice attacking pressure chart the official Superliga website provided, FCN were under the cosh for the opening 15-20 minutes of the second half. They emerged without the energy they showed at the beginning of the game, the late equaliser in the first half seemed to make them cautious and apprehensive to push up and maintain a foothold of possession as they had done previously.
As is often the case, this manner of approach culminated in another goal being conceded.
Before we get to that, there was a fleeting moment during this spell of pressure, not long before the goal, where FCN showed again a flash of the offensive quality they have when settled in possession. A glimpse into the kind of capability there.
As we saw when the penalty was won, the play begins with centre back Mads Tychosen in possession, this time well inside the Viborg half.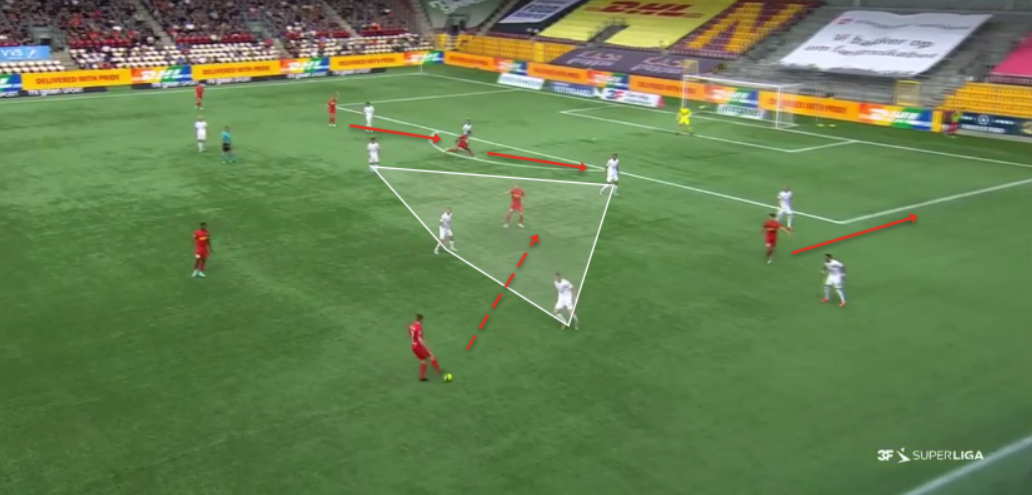 Tychosen has the lane to find Antman in the halfspace hole between midfield and defensive lines.  Ahead of him are two runs, one from Diomande in the centre and one from Frese on the left side of the penalty area. Tychosen levers the angle and plays a smart pass through to the forward.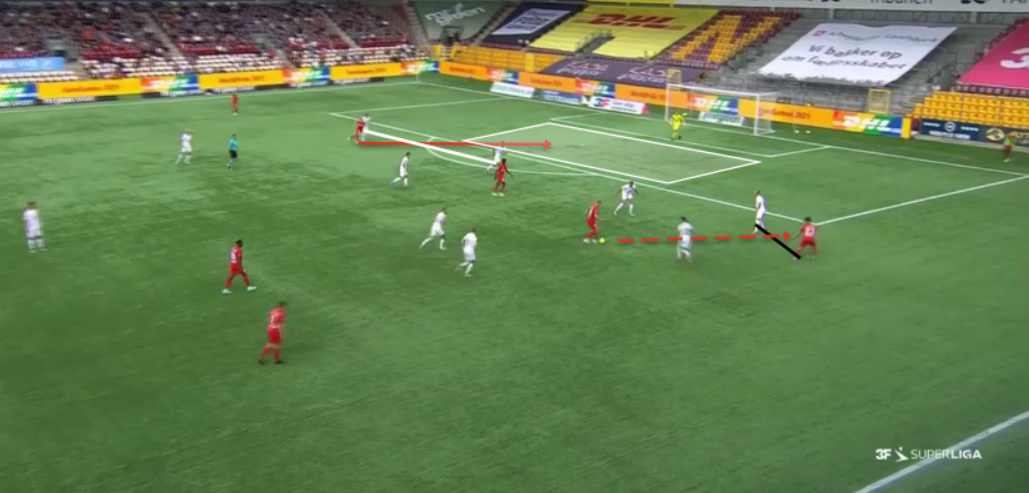 Diomande's run pulls the centre backs apart, Frese – showing excellent attacking instincts in his aggressive movement – runs ahead of his marker to enter the vacant space. The right flank runner  (Villadsen 23) pulls wide of his marker to create a passing lane on his inside.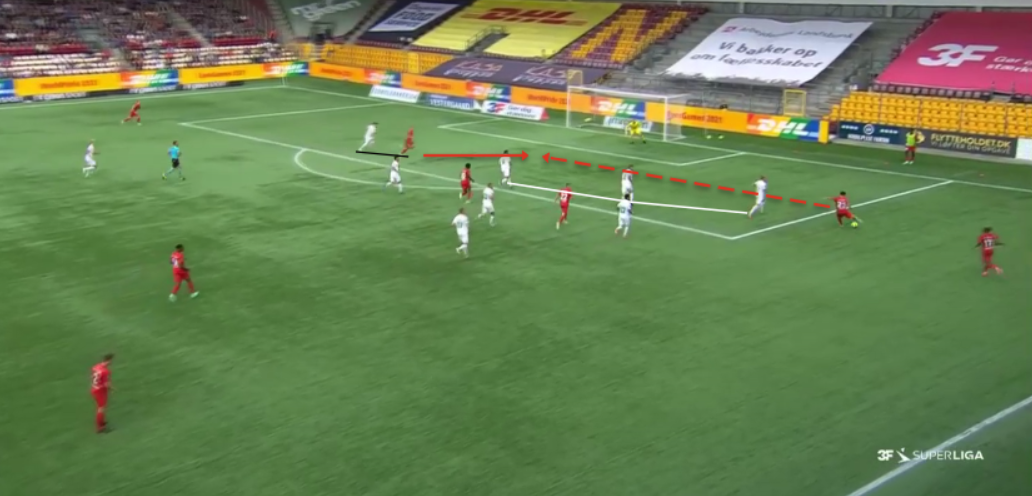 The pass is weighted and controlled so Villadsen is beyond the back line and Frese is ahead of his marker at the far post. A simple low cross finds the left wing back in the centre of the box and he has a really high quality chance from a high percentage goal scoring area.
This second angle better shows how these simple but well-planned movements can be extremely effective in breaking lines and creating a high quality chance.
It was well saved, and the follow up led to a foul on the goalkeeper, but it was a good example of what this team is capable of in the final third. This kind of incisive move wasn't repeated enough to force another goal, but with more fluency and competitive match practise, you would expect more of these kinds of chances to appear. It was very slick and very effective football from Nordsjælland.
A few minutes later, Viborg took the lead from a well-worked set-piece.
FCN line their players up at the edge of the area with a one-man wall and two man-to-man blockers. The rest of the defenders took up zonal positions. The two central offensive runners for Viborg were centre backs Mads Lauritsen and Lars Kramer.
With the goalkeeper inside his six-yard box and the defensive line at the edge of the penalty area, there was a 10-yard area that Christian Sørensen, taking the free-kick, can aim for.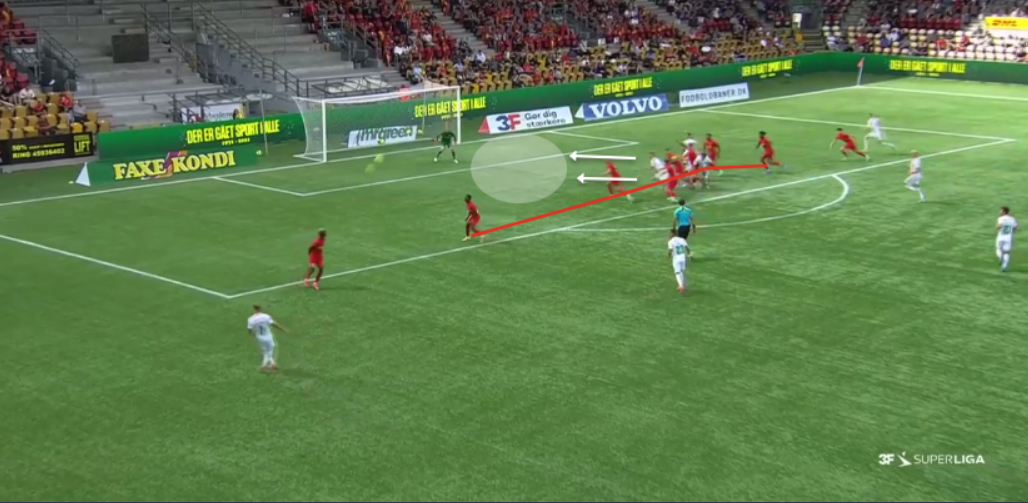 As the outswinging free kick is taken towards that area, the runners are beyond the line – flatfooted from a standing start – and clear of blockers. They are now heading towards a smaller, more focused area of delivery as the ball is played towards them with good accuracy.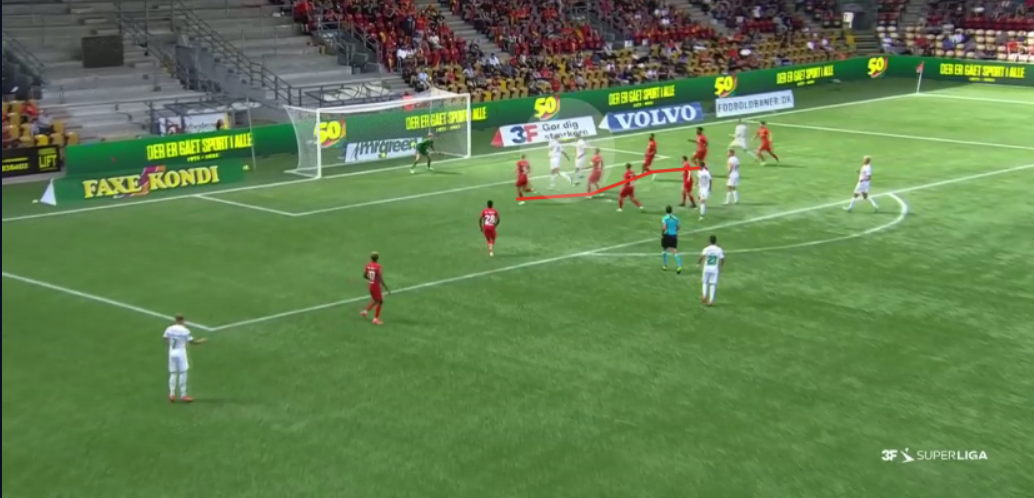 Slightly too high for the first runner, the second is behind him and on hand to guide an accurate and deft header to the near corner in off the post. You can see how clear both Viborg attackers are beyond the FCN defensive line.
It was an excellent free-kick, and a very well-worked set piece, that was quite poorly handled by a static FCN defence. A second look better highlights just how good the finish was. Not an easy skill to execute, even from close range. A real textbook attacking glancing header from Kramer. 2-1.
The last 30-35 minutes of the game played out as a frustration for Nordsjælland. There was plenty of strong possession, a number of pot-shots taken at Pedersen Lund's goal, but nothing to really trouble Viborg's young goalkeeper.
FCN's goalkeeper began coming up for set pieces toward the end, there was a minor flashpoint as he was fouled outside of the box, but Nordsjælland were unable to gain any real foothold against a strong defensive effort.
Viborg, for the first time in 15 games, had beaten FCN and their return to the top flight was off to a really strong start. A result that really clearly meant a lot to the players.
A few key takeaways for Nordsjælland
As mentioned, there were moments of real progressive and impressive offensive quality in FCN. The potential is definitely there and the intention to play fast, sharp, attacking football is obvious and admirable.
I was impressed especially with the bravery shown by many of the young players to attempt risky moves and not be dishearted when they failed – most notably Nagalo, Schjelderup, Diomande, Tychosen. There is a clear insistence on championing young players to express themselves and not be put off from repeating difficult actions and trying again.
Goals will likely be difficult to come across without Sulemana, especially in the near future. There didn't appear to be any real cutting edge or finishing instincts in the forward line; they were all strong creators and willing to get involved on the ball in deeper areas, none seemed too willing to find opportune spaces inside the box or play off the shoulders of the backline. I believe work will be needed to instill more ruthless goalscoring instincts in one or more of the forwards.'
It was an enjoyable opening game to the season for Nordsjælland, who, while disappointed with the result, can take plenty of heart from their performance. For such a young group of players with so much to learn, it was very brave, very progressive, and very promising.
Join me next week as FCN take on another Jutland club, Aarhus, who enjoyed an admirable draw against reigning champions Brøndby in the opening weekend.
If you enjoyed this article and want access to more in-depth analytical pieces, player reviews and scouting reports, podcasts and more, consider signing up to Patreon for a few pounds. You can find more information on that HERE.
Unless otherwise credited, The videos used in this analysis belong to the Danish Superliga and other relevant license holders. the tactical times do not claim to own any of the visual or audio media presented here. This analysis was created under Fair Use (17 U.S.C. § 107) and may not be copied, redistributed, edited or altered without the express permission of the copyright holder.