Diego Simeone and Atletico Madrid; how do they do it?
In the era of high-pressing, adventurous teams blessed with money, Atletico were something of a throwback. Rugged, unpleasing on the eye, but breathless in a different manner. If they weren't a team you would like playing against, they were surely a team you would give everything for.
How did they do it?
Football in the last decade has been defined by the ability to dominate a midfield with the ball and close down the spaces quickly. Though definitively world-class, the likes of Fabio Capello, Rafael Benitez and Jose Mourinho have seen the game and how it's perceived pass them by, and they were increasingly regarded as relics of an era of physicality and a huge emphasis on tactics.
Football now belongs to Pep Guardiola of Spain and Jurgen Klopp of Germany. They were seen as the pioneers in thrilling brands of football that were then exported around Europe as teams sought to imitate their respective styles. In Spain, the blueprints for Guardiola's football was still ingrained in Barcelona's culture and the club continued to dominate, seeing a challenger only in Real Madrid.
Little did they or anyone else know that at the end of 2011, just a few miles south of Bernabéu, a club was beginning an era that would seriously unsettle Barcelona and damage them heavily in Europe.
Atletico Madrid had been Spain's biggest underachievers but that was about to change with the appointment of Diego Simeone, their former star player. The reign began with a 0-0 draw away at Malaga and finished with a 3-0 win against Athletic Bilbao in the Europa League final. That was the beginning of a team that would punch far above its weight relying on tactical discipline, strong defensive solidarity and an unbelievable intensity.
In the era of high-pressing, adventurous teams blessed with money, Atletico were something of a throwback. Rugged, unpleasing on the eye, but breathless in a different manner. If they weren't a team you would like playing against, they were surely a team you would give everything for.
How did they do it?
Refusing to make drastic changes
Atletico Madrid's reputation prior to Simeone was very different. This was the club known for its world-class strikers and little else. The likes of Fernando Torres, Sergio Aguero, Diego Forlan as well as other sublime attackers had featured for Atletico since their return to La Liga in 2002. But defensively they were chaotic. Under Gregorio Manzano they played 28, won 13 and lost 10. They conceded 35 goals and these included heavy defeats away to Barcelona and Real Madrid. Prior to this the highest they had finished was 4th. Simeone taking over around Christmas time saw Atletico eventually finish 5th while winning the Europa League.
The team that Simeone inherited included the nucleus of the side that would eventually win La Liga in 2014. The only differences were that Koke gradually replaced Mario Suarez. Simeone understood that though Atletico were a respectable club they weren't a giant and thus had to be prepared to lose star players. It was important, more so than ever, that his Atletico side shed individualism and played as a collective unit, so that even the loss of a star player could be mitigated.
Though they would sign Diego Costa, the main attacker for the 2012/13 season would remain Falcao. His power and energy was a perfect complement to how Simeone wanted his team to approach the game, and the presence of Costa combined perfectly. Atletico were a deeply unpleasant team for opponents, and briefly challenged Barcelona for the league before the Catalans pulled away.
That summer, Falcao departed for Manchester United but this did not ignite any panic. Simeone simply replaced him with David Villa, who could offer a different style of class to help Atletico and readjusted the tactics to maximise the most out of Diego Costa's height. Koke would come into prominence while defensive reinforcements were made in signing Toby Alderweireld. The Dutchman's limited number of appearances and eventually departure was arguably poor judgement on Simeone's part given his defensive excellence.
It was that tight-knit solidity and familiarity with the style that allowed Simeone's Atletico to avoid the struggles of a transition year and win the Europa League in 2012, Spanish Cup in 2013 and the league in 2014. Coaching a team to defensive perfection requires monumental planning and effort and chopping and changing the team so frequently would have disrupted the rhythm.
Gradual reforms over drastic changes served Atletico to perfection by ensuring enough players were there to become increasingly acclimated to Simeone's tactical demands and prevent seasons of transitions undermining his work.
Eschewing Spanish adoration of possession for defensive solidity
Spanish football has dominated the world since 2008. Even in their lowest moments, they have witnessed other teams mimic how they play. The Euro 2008 victory was followed by the glory of a first-ever World Cup in 2010. And it was Pep Guardiola's style of play that was driving Spain to these glories. In Europe, Barcelona were indisputably the best team by a clear distance and laid the blueprints for others to follow. Teams such as Villarreal and Sevilla were lauded for their ambitious football even if they didn't win. Elsewhere, Barcelona had inspired Arsenal to shift from fluid, direct attacking play to ball-domination. Teams all became determined to practice the Barcelona-Ajax model of three in midfield with an emphasis on patient passing.
Simeone summed up what he thought of that after a game where his team drew to Levante and they had 69% of the ball but failed to carve out clear chances. "We played the way the Spanish like. But I want to have the ball less and create more chances." Therein lay the fundamental difference between Simeone's philosophy and that of Guardiola. One was obsessed with maximizing space with the ball, the other intent on reducing space without it.
In the season before Simeone's arrival, Atletico had conceded 53 goals by the end of the season. Putting aside the season in which he arrived at Christmas, their amount of goals conceded for the following seasons finished as: 31, 26, 29, 18, 27, 22, 29 and 27. They conceded the fewest amount of goals in all of the seasons barring two.
So how do Atletico do it?
Atletico's wide players have a tendency to tuck in, encouraging aggressive action from their full-backs when it attack so a 4-2-2 becomes a 4-2-2-2 instead. Without the ball, Atletico defend in a low block that they protect with an aggressive press (aggressive press should not be conflated with a high press). This was particularly evident in big games where Atletico crowded the penalty area with players and forced opponents to seek a cross that they could defend.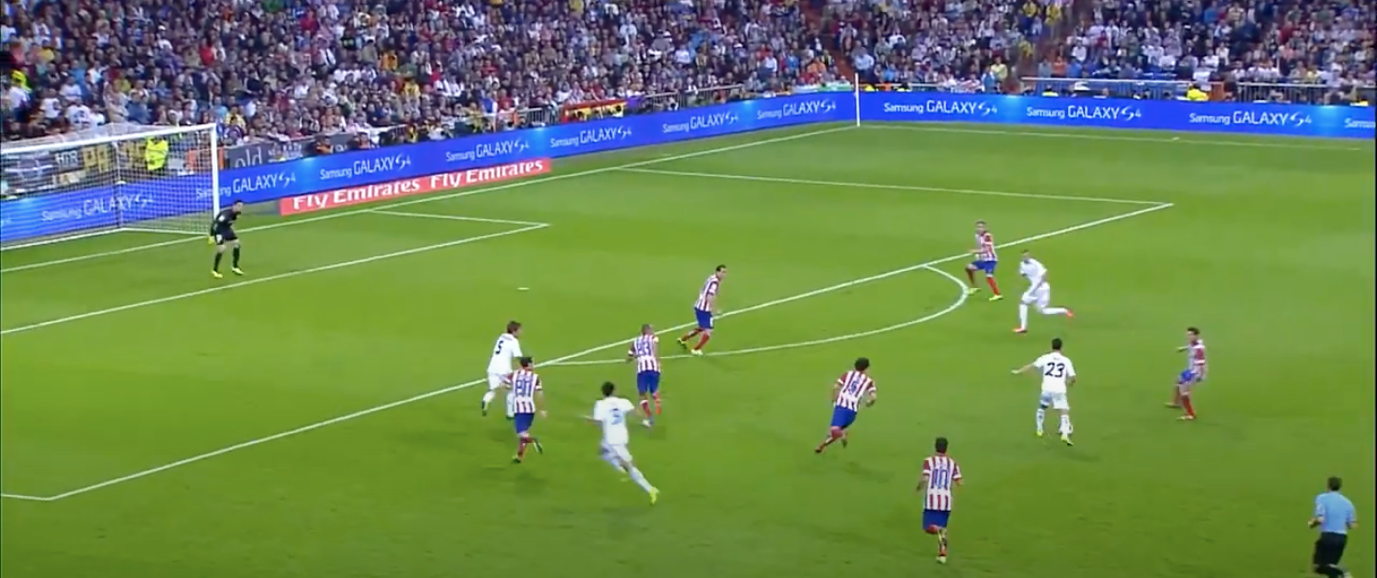 Without the ball the two strikers usually drop deep into midfield allowing Atletico's own midfield to set up a bank of four in front of the defence. This requires there to be very little space in between the lines to penetrate and an aggressive application of pressure should an opponent manage to find space. Michael Cox of Zonal Marking noted this when reporting on their victories over Real Madrid and Bayern Munich. Atletico defend in an astonishingly compact shape where it is near impossible to play through them centrally. The only option is usually to search for crosses using the wings but Simeone's defence is usually powerful enough to deal with most players.

An example of this was their astonishing recovery against Liverpool last season. The Reds had been the most feared team in Europe at that point but against Atletico were confronted with a team who epitomised intensity and collectivism even more than they did. Simeone's men defended in a narrow shape and didn't allow the likes of Firmino or Salah to wander into space. And by defending with a low block, they all packed the box and reduced the threat of Trent Alexander-Arnold's crossing. This became harder in the second leg where Liverpool applied relentless pressure and did manage to score through two crosses and Atletico, according to UEFA, had to make 54 clearances. But what was notable was were that Liverpool made 62 crosses during that game and 94 long balls. There was a very clear reason for this: Liverpool needed to be extremely quick to not allow Atletico time to defensively reset, hence seeking to bypass Atletico's industrious midfield with a direct play, but were stopped in midfield by Thomas Partey and Koke. Though Atletico were dependent on Jan Oblak for performing heroics, they frustrated Liverpool in a way that was beyond anyone else in Europe.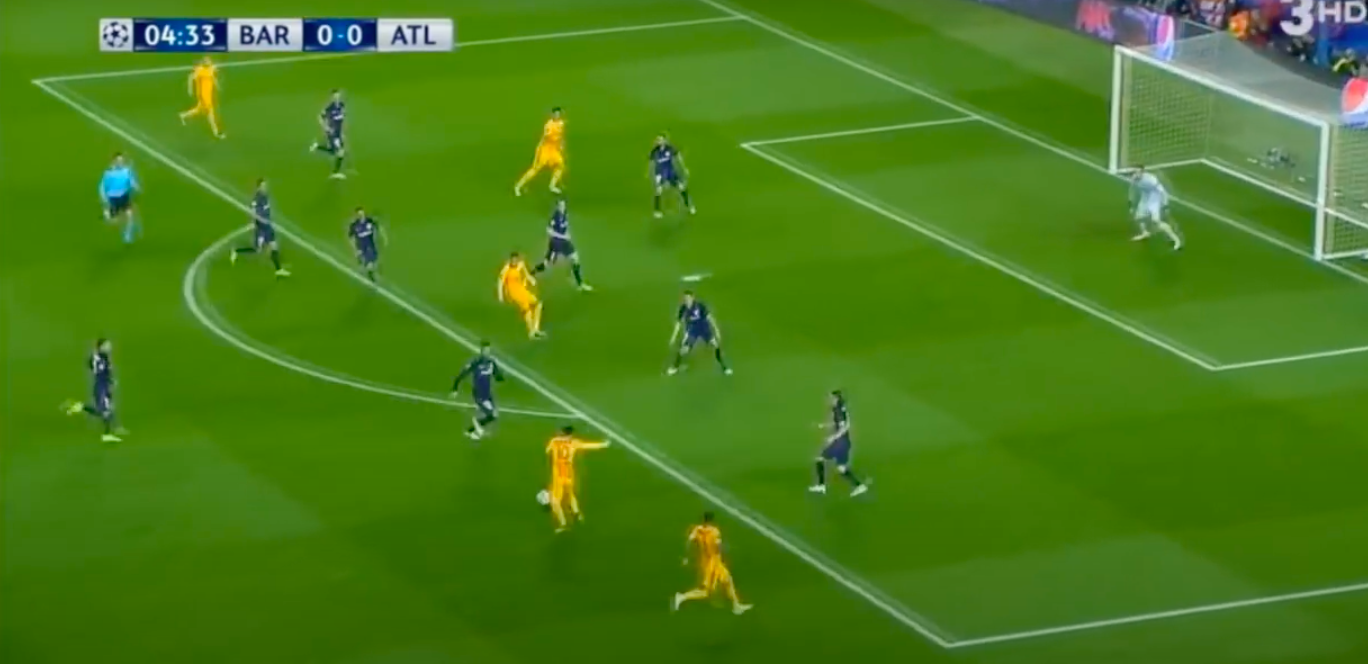 There is more to Atletico than an organised defence. In attack, they have always had quality players able to conjure goals. Their wide players (it doesn't seem right to call them wingers) drifting in invites runs from the full-back. Over the years Atletico have always had strong aerial presence be it Manzukic or Costa. Their midfielders are known for being extremely hard-working, but Simeone has always replaced them well too. The iconic captain Gabi was replaced well in Thomas Partey while Thiago and Mario Suarez were moved on as Atletico trusted Saul to command the midfield.
Simeone's team defending deep does not mean they don't press with intensity. Nor is it a given that this is how they approach every big game. Against Barcelona in both the return legs at the Vicente Calderon, Simeone sensed Barcelona's vulnerability and his team attacked Barcelona with intensity. In the 2014 encounter, they overwhelmed Barcelona with brutal aggression, not allowing the visitors time and space and forcing mistakes up front. In 2016 against Bayern Munich, Atletico applied the early pressure, hunting Bayern out and earning a goal. And just as with Barcelona, they combined a high press with then retreating and sitting deep when they needed to. It was actually a tactic that Bayern themselves had used to devastating effect against Barcelona in 2013.
But compactness is essential for Atletico. The forwards will not press high if the team is retaining a low block as that will simply expose the rest of the team. A team that doesn't press or mark with cohesion will be picked apart very easily. Atletico is not a team that can afford passengers on its team. But they also enjoy this, with many of their players over the years speaking of being prepared to suffer without the ball. They have come to relish it.
A snapshot of their style is robbing the opponent of the ball and then launching a quick counterattack. This requires a striker with presence to hold up the play and midfielders with the stamina to be able to make the counterattack having just defended. Attacking players with speed can provide this but it would require counterattacks fed into the channels instead of being directly sent long to them.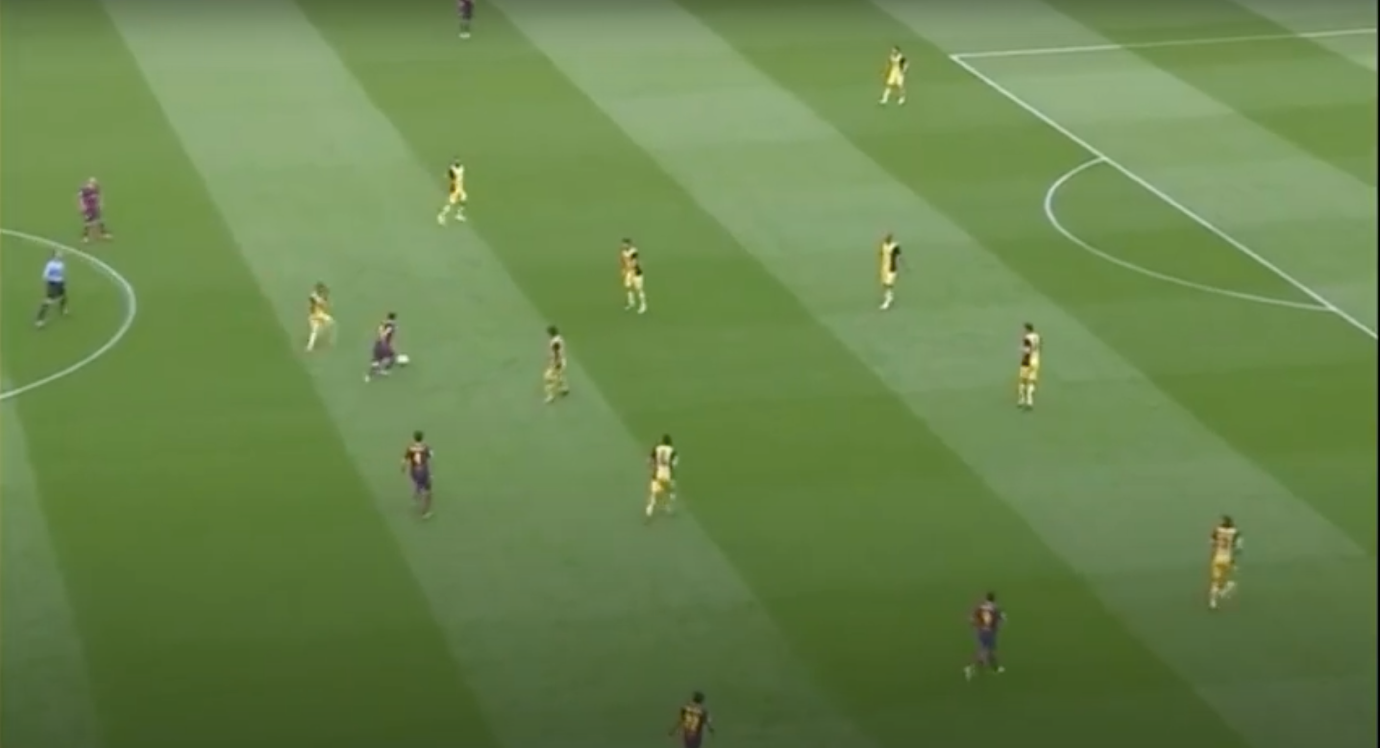 But it's also fair to say that since 2016, Atletico have simply not been the dangerous force they were in Europe. The impenetrable defensive shell that guarded their goal has been easier to crack and over time it's become apparent that the team are finding it harder to replicate the magics of 2013 and 2014.
Why has this happened?
Loss of familiarity began to cost Atletico
After winning the league, Atletico underwent drastic changes that involved several star players leaving. This included losing Courtois, Filipe Luis and David Villa while Griezmann, Oblak, Manzukic and others arrived. Since then Atletico's transfer policy hasn't always been successful and their only really standout signing had been Partey. Others such as Carrasco, Morata, Lemar and such have struggled to make their mark. Simeone signed the Portuguese talent Felix but struggled to unlock his talent in a team that plays so cautiously. Losing so many players in such a short space of time, including the likes of Gabi, Godin and Juanfran removed from Atletico the spine of players who had been accustomed to how Simeone wanted his team to play.
This is in part a reality of being Atletico Madrid. There are bigger clubs who will come in and sign your players. Simeone has had to contend with this, losing Partey to Europa League regulars Arsenal as the latest sign that Atletico don't have that pulling power. It is hard to build a project that can deliver sustained success if key components of that project are continuously prised away.
Simeone can be excessively cautious
Every footballing style has its limitations and risks and none carry that more so than with Atletico. They play what Klopp referred to as winning the lottery ticket in that sitting deep requires reliance on opponent being wasteful. Of course a defensive structure encourages a high frequency of mistakes by the opposition, but it still carries a risk. Atletico are so wedded to this style of play that the lack of a genuine alternative has seen them suffer in Europe where they could have gotten more.
In the quarter final clash with Real Madrid in 2015, Atletico went out after a late goal in the second leg. During that match they only managed two shots on target. When they were knocked out by Juventus having led after the first leg, they hadn't registered a single shot on target. In an era of away goals being punishing for teams with porous defences, Atletico had the mindset of old that failed to show enough ambition. It's one thing being cautious in a home leg, to avoid the away goal, but then what is the point of it if a team plays so meekly in the away fixture?
The risk of sitting deep and soaking pressure rather than seeking an opponent out is what happens when the opponent is good and turns up on the day. Atletico paid the price and their Champions League campaigns have often been a mix of brave and guts performances, and tactical timidity from Diego Simeone. The worst of this was encapsulated last season when they were knocked out by Leipzig in which they were favourites to win. Had Atletico progressed, they could have been reasonably entitled to believe they would beat PSG and give Bayern a game. But Simeone played with tactics that couldn't allow Atletico to dominate the game.
One suspects that if his team are to ever win the Champions League or La Liga again, it will require a level of ambition that his team so far simply haven't shown in a few years.
What Simeone has performed at Atletico has been miraculous
He transformed a club that was drunk on its sense of fatalism and turned it into a club that genuinely challenges for major honours. Over the years, Atletico have blooded Barcelona, Bayern Munich, Juventus, AC Milan, Liverpool, Chelsea, Arsenal and others in Europe. They won the league during an era when finances dictated them only going to Barcelona or Real Madrid. Most impressively, their cursed run against Real has ended with an emphatic turnaround. Though Atletico have certainly suffered in Europe at the hands of their neighbours, domestically they have come to conquer their old foes regularly. It would be sad to see this marriage break apart, as whether Atletico and Simeone can survive without each other remains to be seen. There is a symbiotic relationship whereby both their strengths complement each other. If Simeone gets it right, Atletico can win another league title and maybe, just maybe, finally lift the European Cup.
You can support The Tactical Times by becoming a Patron on Patreon. Our Patrons will have access to exclusive content and the chance to have their name, web site, business and social media links posted on a dedicated page on Tactical-Times.com Click HERE for our Patreon page.
Rabbil Sikdar is a Freelance Writer and a huge Liverpool fan who writes about his main interests: football and politics. You can find Rabbil on Twitter.