Fabinho vs. Arsenal: Player Performance Review
A detailed look at why Fabinho is currently up there with the best in the world in his position. How do the actions define the player? Is there more to him than a defensive midfielder in the typical mould? For the second time, Fabinho played a blinder for Liverpool against Arsenal at Anfield.
Premier League gameweek three, Liverpool host Arsenal at Anfield in a comfortable, emphatic 3-1 victory; the midfield is dominated by a long-limbed Brazilian by the name of Fabinho Tavares; sound familiar? We've been here before.
A year ago I wrote about Fabinho in the corresponding fixture. I focused a lot on Fabinho's positional game in both defensive and offensive areas, here I will focus more on the actions; the tackles, the interceptions, the disruptive influence he has when he's on the ball, as well as how he fits so well within that fluid, versatile, all-action midfield.
An enforcer
The Liverpool midfield is often worked to the bone. The trio, interchangeable and usually infallible, are responsible for much more than ball progression and bridging the gap between defense and offense; they are creators, enablers, supporters, and protectors. An embodiment of this vital, physically imposing system, is the man in the middle. The enforcer: Fabinho Tavares.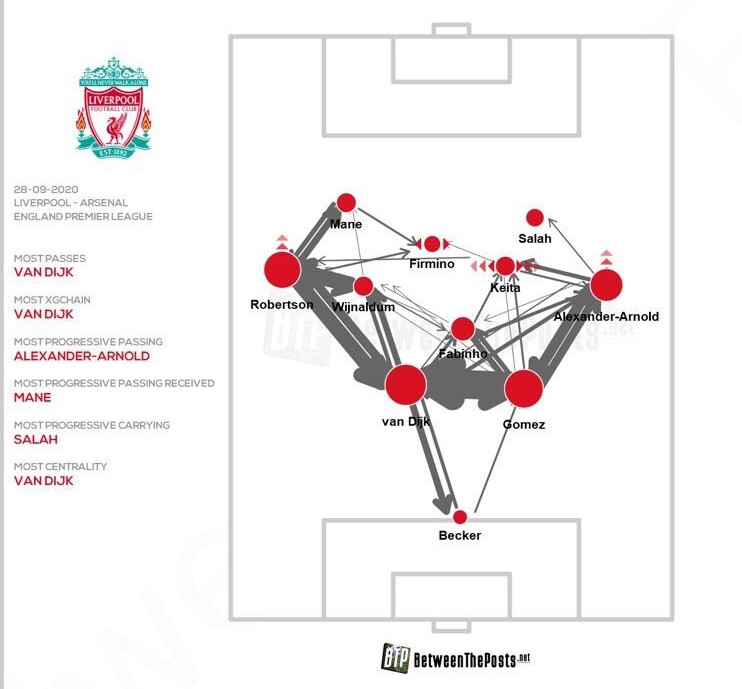 Sitting in his base of operations between and ahead of the centre backs, between and behind his midfield partners, when not playing the usual long pass upfield or the short ball to those favoured wingbacks Fabinho was often the first port of call for the defenders. It was up to Fabinho to receive the ball in space and play the ball into space. A pivot in the most literal sense of the term. The central zone and the middle third was his own.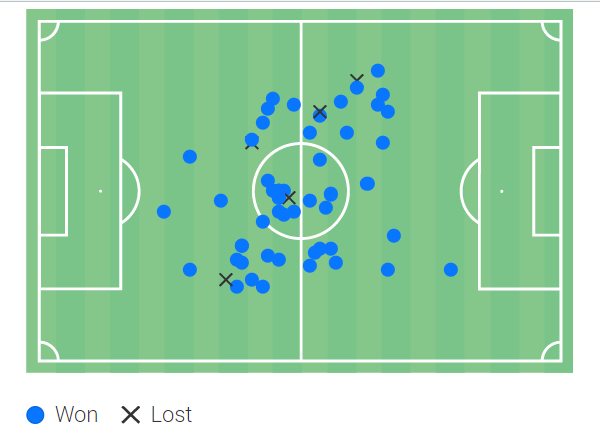 I won't focus too deeply on his positional game, but knowing his setting is important when understanding the events. Fabinho is happy to move left, right, to drop between centre backs, to move up between more offensive midfielders, to support either wing, to carry the ball himself into advanced areas, and to play line breaking progressive passes.
Fabinho isn't a defender, he isn't an attacker, he is no more a defensive midfielder than he is a box-to-box number 8; we can't limit Fabinho to a position, especially in a game like the one against Arsenal.
Duels
Fabinho learned his trade at right-back, his time with Real Madrid Castilla as well as with AS Monaco saw him regularly play in the position, and it shows in the manner with which he engages opposition attackers on the ball.
Lateral defenders, usually full-backs, routinely top the charts for the sheer number of duels contested, sliding tackles, interceptions, most aspects of the defensive game which involves contesting the ball. Where a centre back will jockey an attacker, hassle, contest for position, the full-back (or wing-back) will often commit to winning the ball through a challenge. Fabinho does this a lot.
It is about anticipation, technique, and a lot of good timing.
Committing to dispossessing your opponent this way is not always encouraged; it can result in being left embarrassed and out of position if the attacker beats the tackle and moves past the defender, it can lead to ugly fouls, bookings, and sometimes red cards; but when they work, when they are timed as well as this, they are an emphatic, impressive, efficient way to win possession.
Fabinho performs and executes these challenges so well. Here's another one, equally as satisfying, as he dispossesses compatriot Willian Borges before the winger knows what has hit him.
Winning a defensive duel isn't always about bone-crunching tackles, it can also be about instinctive movements to intercept a ball before it reaches your opponent or holding off an approach to wait for the most opportune moment to move in and steal the ball.
Here Fabinho uses every inch of his long wiry right leg to recover position following a throw-in. He is able to cover the ground quickly enough and shows enough situational awareness to make up the yard head-start his opponent has, as well as making up for the simple natural disadvantage of being on the defensive side of a throw-in.
Here he waits for the attacker to come to him. Fabinho isn't challenging the ball, rather he is encouraging his opponent to attempt to challenge him. In winning the ball, he also plays a composed and accurate pass to Roberto Firmino to ensure possession and a turnover in the final third.
He then drops off to occupy his favourite area behind the play in order to give himself the best chance at recovering the second ball. He does, of course, recover the second ball.
There are few more examples of this. The ability to pick up second balls or loose balls or misplaced passes is as much about picking a smart starting position as it is about good fortune.
On this occasion, Fabinho sits between two potential attackers, making himself the point of that particular triangle. It's no guarantee that the rushed pass will find its way to the half-space, but he makes sure to put himself ahead of the man who it would most likely find. It's about playing the probability.
This kind of work – the positional, utilitarian, unsung hero work – is not as glamorous, remarkable, or noteworthy as the big challenges and the full stride tackles, but it is, arguably, as important for a player like Fabinho. Recovering possession, whether through physical exertion, smart positioning, or simple luck, is one of the game's fundamentals, and a successful team is always adept at it.
(Still) more than a defender
I mentioned before that Fabinho Tavares is no more a defensive midfielder than he is a box-to-box number 8; he is neither Claude Makélélé nor Steven Gerrard. This might raise an odd eyebrow, but it's an idea I stand by.
This is a longer clip, and you will need to keep an eye on Fabinho as he moves in and out of shot.
When Liverpool first lose possession in their offensive third, Fabinho is tucked behind Keita and is parallel to Wijnaldum – a typical 'one up two back' midfield three for Liverpool. When Robertson picks up the ball Keita drops into the Fabinho area, signaling Fabinho to take Keita's place as the 'one up'. As ever, the midfield is interchangeable.
Fabinho accelerates on the ball, progressing play by 10-15 yards, and he settles with his back to goal alongside the Liverpool forwards. He suddenly became a 10.
The move doesn't progress past that point, and Fabinho drops back in again to play his part in ensuring and securing possession for the centre backs, and the phases can begin again.
It's not particularly remarkable because there is no chance at the end of this passage of play, but it is full of positive intentions. There is a great amount of fluidity in the Liverpool midfield.
While each of the individuals possesses their individual strengths, none are typecast and restricted to one static, definite role within those positions. All can defend, all can attack, all can pass, all have the intelligence to make the right decision. All of them, vitally, are very versatile in their skill sets.
The first half saw a similar example:
When Fabinho takes hold of possession, he advances himself. There isn't an order to release the ball to a more offensively minded teammate, there isn't an instinct to pass it short, safe, and simple. He is capable of being the carrier, and when his partners recognise the intention they respond accordingly by sitting back and covering.
When Fabinho does find the wide runner, he doesn't retreat back to a position of security, he instead continues to advance. He puts himself between markers in the offensive third of the field.
Again, as before, the move comes to nil in terms of attacking input. The ball is recycled and Fabinho eventually settles back into his deeper central, more defensive area ahead of his centre backs. But, as before, he showed the intention, the willingness and he showed the option as an attacker for Liverpool.
You are what you do
How do we separate the best players from the good ones? What makes a player go from high potential to greatness? The difference between the failures, the good, and the great is simply what those players do, and continue to do, on the pitch. Fabinho does a lot.
Liverpool are typified by that idea. Sadio Mané, Mohamed Salah, Andrew Robertson, Virgil van Dijk, Trent Alexander-Arnold, none were at the top of their games until they played within this system for this team under Jurgen Klopp. Fabinho too falls within this bracket.
Good players, plenty of promise and potential, but they were not stars. Thiago Alcantara is arguably the most accomplished 'star' caliber player Liverpool ever bought, and that purchase was made possible partly through the recent successes of those already mentioned.
It is what those players do which sets them apart. It is what they do which makes them the best.
Fabinho shows the foundation of a fantastic midfield player.
He brings the physicality; those wiry legs, so strong, so long, matched by an upper body strength not easily maintained by someone so agile.
He has the determination, along with so many others, he does not crumble under pressure, he so often makes the right choice.
He has the technical ability, the passing range, the shooting accuracy and technique, the timing, and understanding of proper defensive technique and application.
Most of all, he has the brain. He knows optimal positioning, he understands the importance of predictive play, he is able to set himself to give himself an advantage.
Fabinho is the whole package.
Liverpool are the best team around currently; and for that, we can thank the players. World-beaters and key players in every area of the pitch, Fabinho is the man right in the middle of it, both figuratively and literally.
If you want to show your support and to help the Tactical Times, consider becoming a Patron for a few pounds. Patrons can access more comprehensive, detailed and in-depth analysis, as well have their name, social media links, websites or businesses listed on a dedicated Supporters page on our website.
You can find the Patreon HERE
Patrons can access this detailed look at Mohamed Salah to see why he is such a special player HERE; there is another on new Chelsea man Kai Havertz and why the football world seem to lose themselves talking about him HERE; and also a look at Liverpool's Greek left-back Kostas Tsimkas and how he handled Serge Gnabry and Joshua Kimmich HERE.
Unless otherwise credited, The videos used in this analysis belong to BSkyB and the Premier League. the tactical times do not claim to own any of the visual or audio media presented here. This analysis was created under Fair Use (17 U.S.C. § 107) and may not be copied, redistributed, edited or altered without the express permission of the copyright holder.