Sadio Mané: 2019/2020 Season Report
What does Sadio Mané do? Here's the answer.
Perpetually beaming, infinitely likable, deadly accurate, indomitable, undroppable; Sadio Mané is among the very best. A key man, in every sense of the term, among a group of World Champions.

Shooting
Sadio Mané hit eighteen goals in the 2019/20 Premier League season, a tally second only to the 22 he managed the season previous. His 35 appearances saw him hit 73 shots, with 37 hitting the target giving him a shot accuracy percentage of 50.7%.  In the Premier League, Mané amassed an xG total of 12.92 with a differential of -5.08.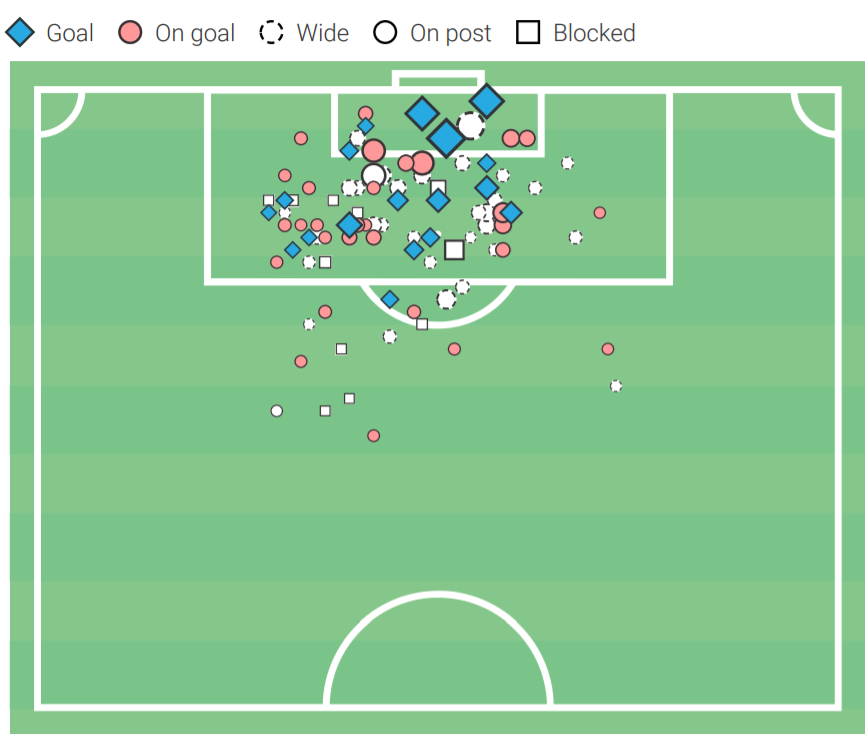 Mané displayed a close to even split for goals scored on the left, centre and right side of the goalkeeper.
Creation
Sadio Mané averaged 1.5 shot assists per 90-minute appearance in the Premier League and a total of 107 shot-creating actions. He registered seven assists for the season, which is a six more than he managed in the 2018/19 Premier League season.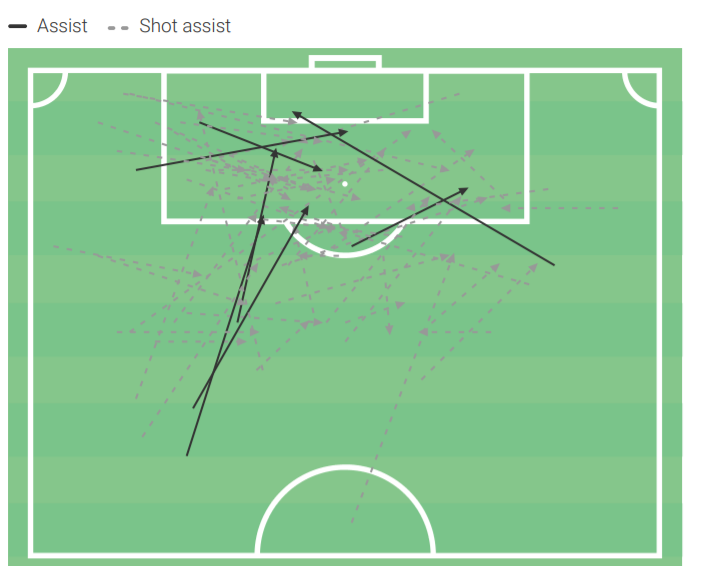 The shot assists came mainly from his left flank. Just two of his actual assists came from wide left areas; three were long passes played deep in the left half space, one was a deep wide delivery from the right flank.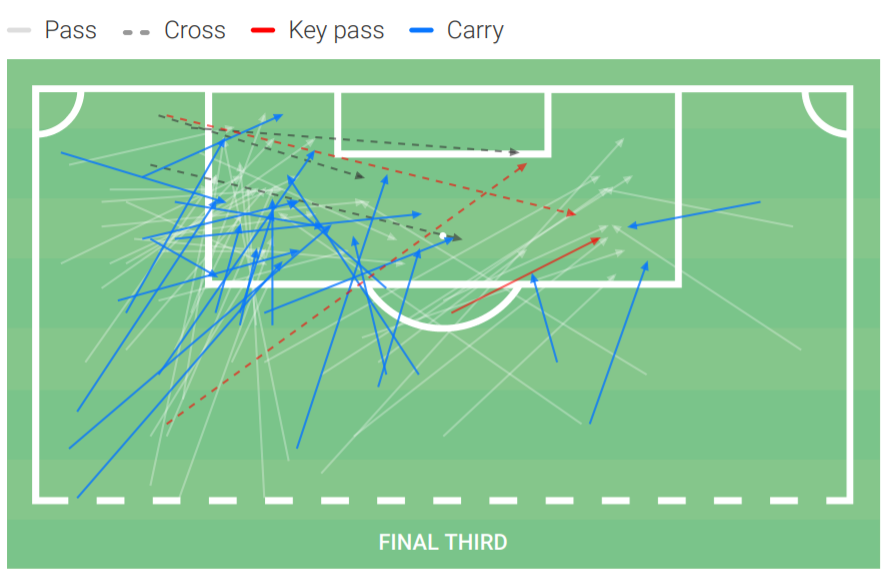 Mané plays into the opposition penalty area saw a large number of short passes into zone 16,  the very left edge of the area. The chance creation passes were played longer, usually to the far post. His ball carries were varied, but generally followed suit with the short passes – fast, direct, from the left flank into the outside edge area of the box.
Passing and progression
Mané finished the 2019/20 season with an 81.4% successful pass average, 74% accurate long passes, and 32% cross accuracy. His passes into the opposition penalty area averaged at 64%, and his passes into the final third at 76.8%. He found a teammate with 27.8% of his through-balls.
The progressive passes show activity throughout the attacking third; there are passes into all six final third zones with the most focus again on zones 16 and 17. There are however a number of passes played from the right flank, the right half-space in zones 14 and 15, as well as from zones 7, 8, and 9 in Mané's own defensive half of the pitch.
The progressive carries originated mainly from his native left half-space, but also from wider areas closer to the touchline. Most moved from outside areas to inside, with a number of attempts to switch play via either a run or a long progressive pass. A majority of his progressive carries took Mané from zone 13 to zones 16 or 17.
Mané's successful dribbles showed a similar trend: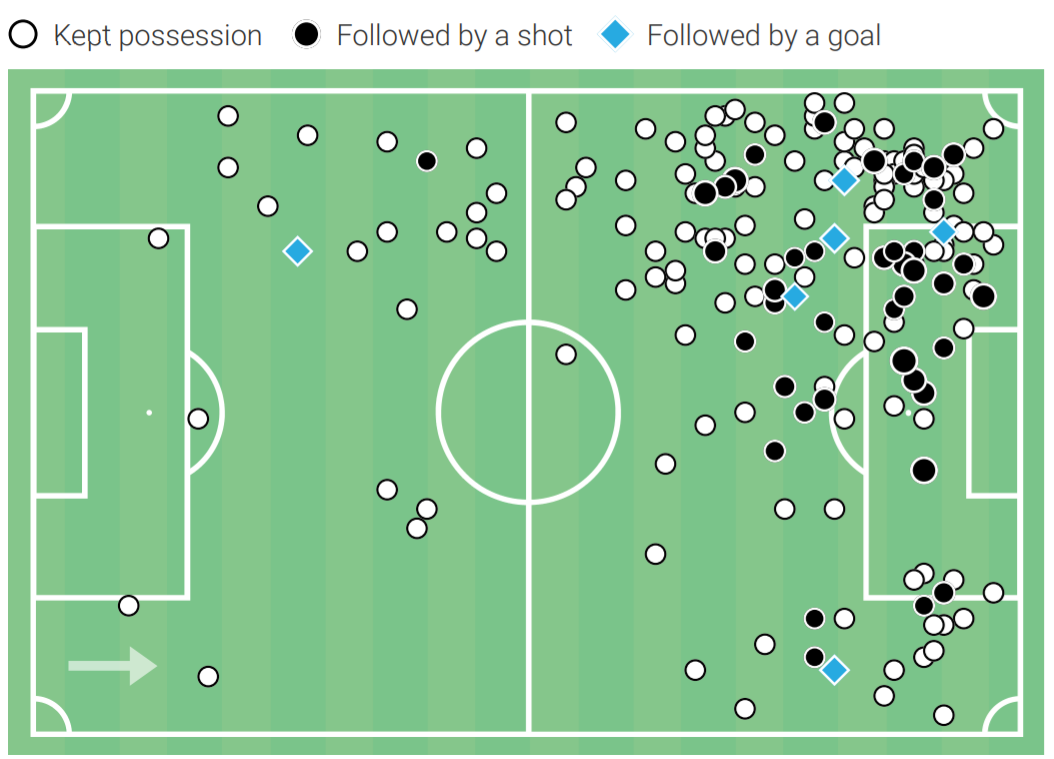 A notable favouring of zones 13 and 16 again, and a number of successfully attempted dribbles in the tight confines of zone 17. A majority of Mané's goal assisting dribbles occurred in the left half-space between zones 13 and 16.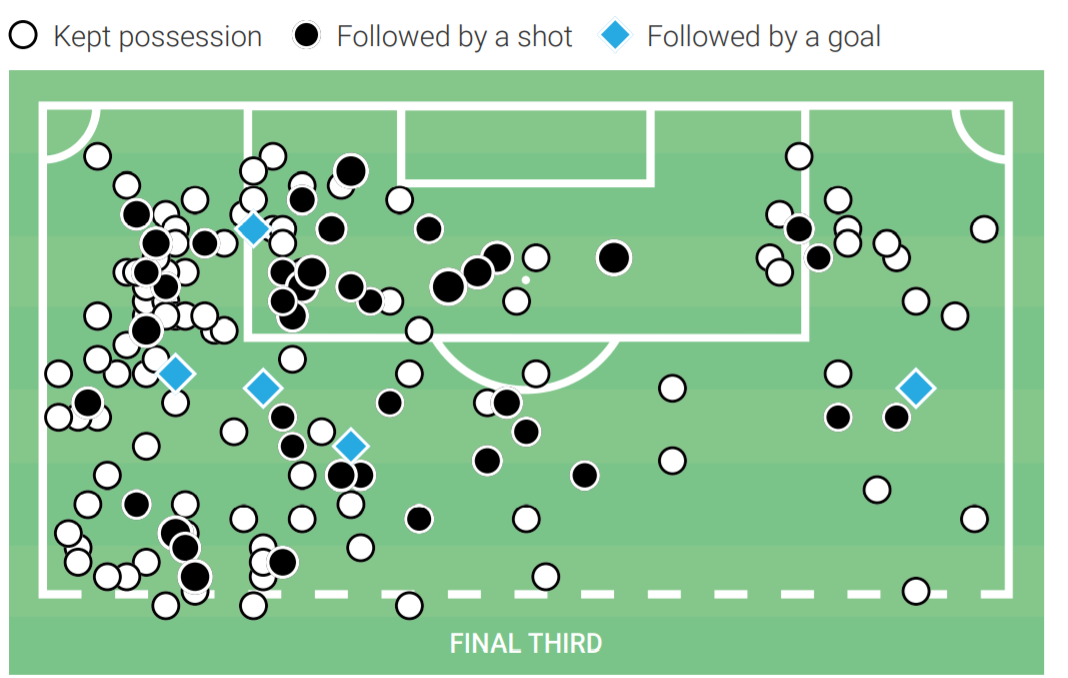 Transitions
Sadio Mané continues to show a big strength in his ability to recover the ball. He made interceptions in key areas throughout his left side and counter pressed to excellent effect in the middle and final thirds.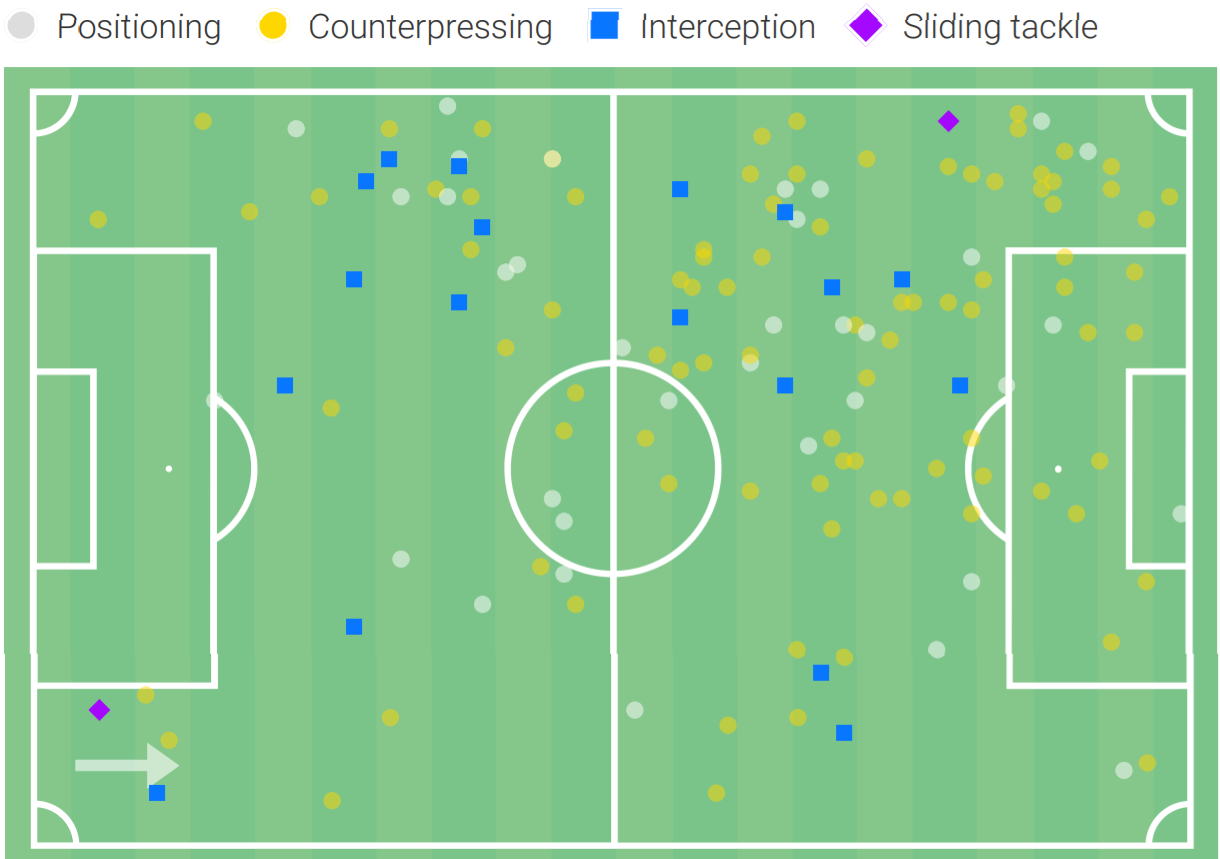 His final third pressing again resulted in the majority of recoveries and turnovers on his native left side, but also throughout the attacking third – showcasing his expressive positional fluidity in defensive phases.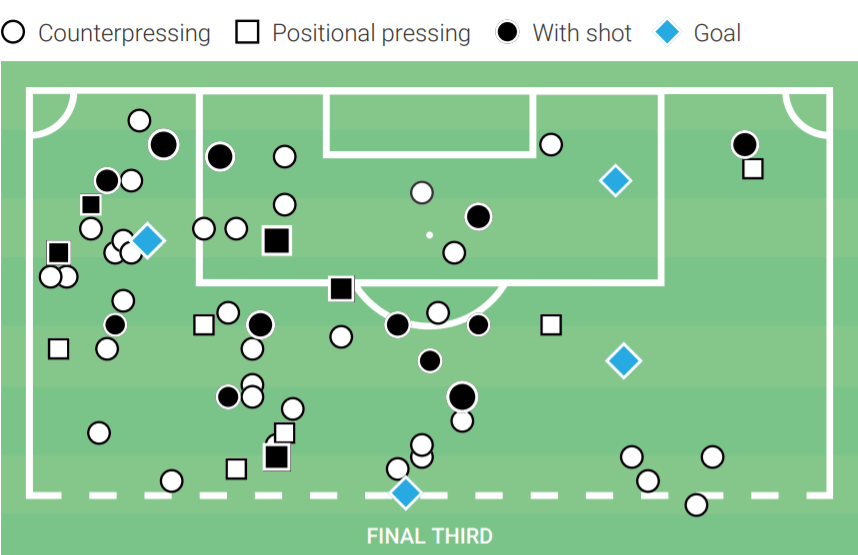 His movement during counter-attacking phases again shows this preference of moving from wider areas to the inside, especially through his running. His passes during counter-attacks were often lateral and often long, fitting with the manner in which Liverpool look for fast runners and long switches of play to stretch defensive lines.
His sporadic, unpredictable counter-attacking positions show a reaction to the ball rather than a positional discipline. This is common for a player who will move into and exploit the spaces when and where they are available during a chaotic counter-attacking phase.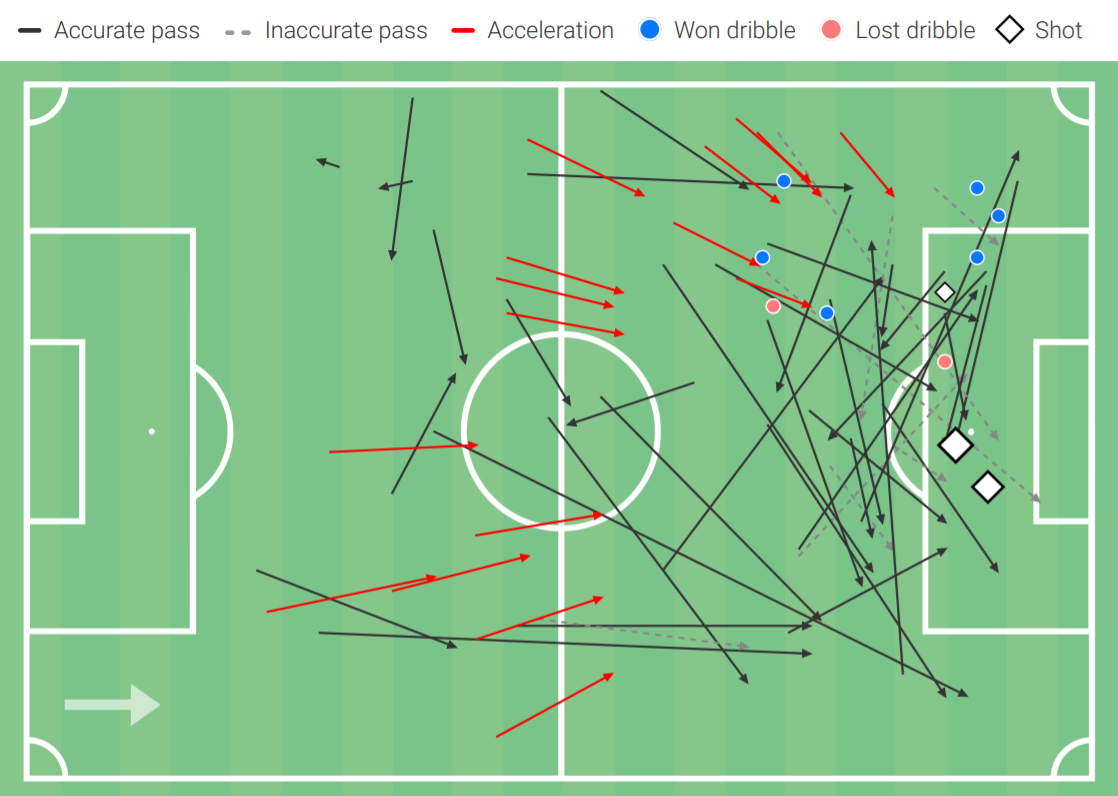 What to expect for 2020/21
Liverpool are reigning and defending champions, and that's not without good reason. They swept aside so many in their path and won hard-fought victories against the rest. Sadio Mané, along with plenty of others, has shown the kind of form, ability, willingness to push, and the never-say-die attitude that has elevated Liverpool to those giddy heights at the very top of world football.
Sadio Mané is among one of the best players on the planet; and from one of those, I would expect much of the same again.
You can support The Tactical Times by becoming a Patron on Patreon. Our Patrons will have access to more in-depth exclusive content and the chance to have their name, web site, business and social media links posted on a dedicated page on Tactical-Times.com Click HERE for Patreon