FC Barcelona: End of an Era or Death of a Titan?
FC Barcelona finds itself at a major crossroad. An era is ending, and they are fast fading into incompetence. Here is a comprehensive, detailed look at what is going wrong, where the priorities should lie, and how the club – the institution – can get back on track,
The story of Barcelona for the past seven years had been one of bewildering decadence in the face of intensity and aggression, a refusal to learn and adapt, and being cursed with having the greatest player of all time playing for them.
Their exit at the hands of Bayern Munich this season was a spectacular encapsulation of all of this: a meeting of historic heavyweights that quickly transitioned from a slugfest into a rainfall of goals upon Barcelona. They could not live with Bayern Munich, and that was brutally unsurprising.
There was a time during the golden days under Pep Guardiola when it seemed like Barcelona could never lose again. It wasn't just that they regularly won but that the gulf in technical class was enormous to their closest rivals. They decimated big teams in Europe and made them look small, a feeling undoubtedly related to their extreme possession-based game that always made them look dominant even when they weren't playing well.
At their highest moments were the 5-0 and 6-2 wins over Real Madrid in which they achieved technical perfection. The victories over Manchester United in both the 2009 and 2011 European Cup finals were notable for how strange it was seeing Man United accept inferiority and play without the counterattack. If ever there was a snapshot of what they were about, the best they've ever played, it was that opening forty five minutes against Arsenal in 2010 at the Emirates when they shredded the Gunners with relentless passing football.
And with their famous youth system churning out brilliance like a goldmine, it really did seem as though Barcelona could win for as long as they wanted. But it never happened; they didn't become the first club to defend the Champions League, and have only won one more European Cup after Guardiola left. In general, they've exited the Champions League in abject fashion, whether they were the tame defeats to Atletico Madrid, humiliation to Bayern Munich and Juventus, or the shock defeats to Roma and Liverpool. They have been easy to play against, at least in the sense of getting at them. The fear that they once injected in opponents has dissolved, replaced by the knowledge that Barcelona can be hurt and beaten and without much struggle.
But why has this happened? How can it be that a club who once seemed like the Eden of football, with their Unicef sponsorship, fantastic style of play and investment in youth, have fallen off so dramatically? How can it be that they have dominated Real Madrid in the league but watched their rivals win four European Cups since their dominance under Guardiola?
The loss of the pressing game
Barcelona killed themselves by giving the world the blueprints to success and then watching those opponents implement it to far higher levels. They didn't invent pressing as a concept, German and English football already had principles on it, but the art of counter-pressing rose in prominence after Barcelona's peak years. Now they were faced with teams who were often bigger and able to impose their muscle with intense pressing, punishing Barcelona for forgetting themselves how to recover the ball, how to defend.
Virtually all of Barcelona's CL exits have comprised of some heavy defeat. There was the heavy 4-0 defeat away at Bayern Munich in 2013 where they were punished by the relentless pressing game. They couldn't live with Atletico Madrid in both their ties in 2014 and 2016. In 2017, they were swept aside by PSG, and though they mounted a comeback, they were beaten comprehensively by Juventus. Then came the heavy defeats in the second legs of their semi-finals in 2018 and 2019 against Roma and Liverpool.
Barcelona have become an ordinary heavyweight, no longer defined by everything that made them more than a club, that made them Barcelona.
For this, I looked at two memorable Champions League games: the 4-0 defeat at PSG and 3-0 loss to Juventus, both in the same season. These were two big games between supremely talented sides, yet both times away from home Barcelona were blown away. Their impotent defending has diluted the essence of an away goal because there's often just too much work to do in the home leg. They got away with it against PSG but Juventus was a step too far.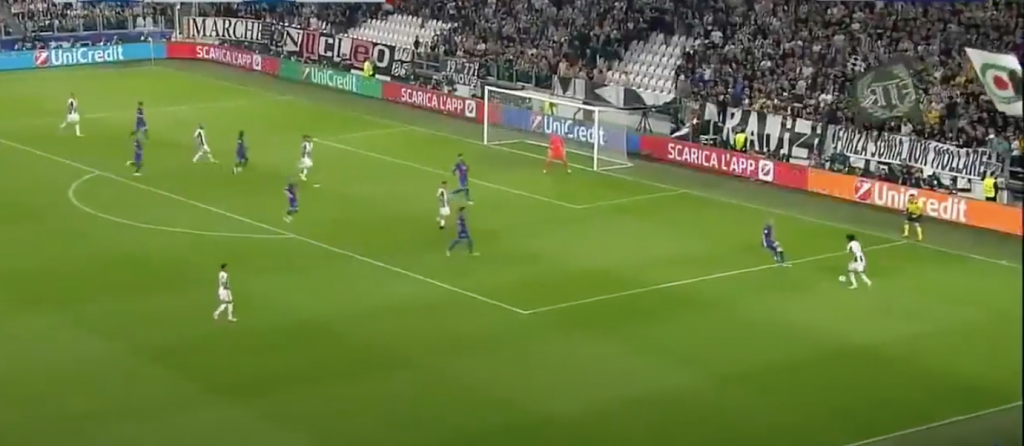 What was notable about these two games however was the distinct lack of pressing from the front. In both the away games, there were several occasions when PSG and Juventus rampaged forward and only eight Barcelona players could be seen in the camera shot. The trident of Neymar, Messi and Suarez were gifted but often lacked any desire to recover possession once the ball was lost. More than one of Barcelona's goals were conceded after turnovers when PSG and Juventus players poured forward and Barcelona's players were either slow to react or didn't press at all.

In the 8-2 defeat to Bayern Munich, this remained an issue where Suarez and Messi didn't track back defensively and this allowed Bayern to swarm them with overloads on the flanks. Semedo and Alba were regularly outnumbered when Bayern's full-backs offered support. For several of the goals, where Bayern attacked, they were only confronted with eight outfield players. While you could argue that these players should still be able to defend better, it is far easier for opponents to create spaces.
Compare this with the counter-pressing machine that is Liverpool, where the defensive compactness begins with the attacking trident who are the first line of defence. This doesn't exist anymore with Barcelona. Their two biggest players no longer run without the ball.
Effectively, Barcelona have come to resemble the Arsenal team under Wenger that featured the likes of Fabregas and Nasri in midfield and were excellent with the ball but astonishingly vulnerable without it due to their inability to press. For several years, we have seen Barcelona uncomfortable under pressure, unable to deal with long periods of defending. This is possibly a product of being the top team in league defined by an absurd inequality in resources and talent coupled with a style of play that forced other teams to defend. So, what would happen when Barcelona would go to big away games against European teams like Bayern Munich, Juventus and Liverpool, where they were greeted with ferocious intensity and quick counterattacking football?
Barcelona have simply been unable to cope, devoid of any sort of tactical structure as a defence. During the mentioned defeats to PSG and Juventus, there were frequent signs of the midfield pushing up leaving a huge space between them and the defence. PSG in particular exploited this by pushing their attacking players into those spaces and punishing Barcelona. Against Liverpool, whenever they lost the ball they suffered immediately; their midfield was no longer athletic and mobile enough to cope with Liverpool's pressing.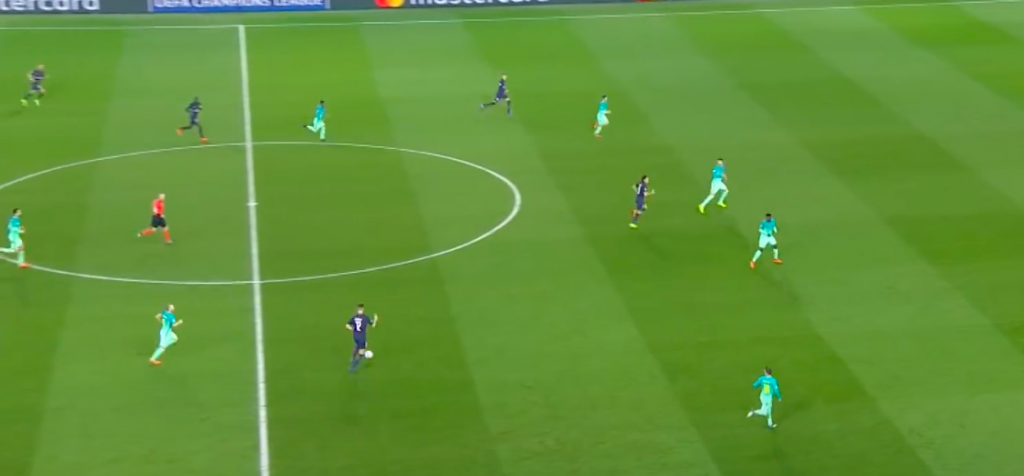 This is radically different from the years under Guardiola where the art of passing was combined with the high press. Of course, there is a legitimate argument that the pressing game used by Barcelona is not nearly as devastating as that of Klopp's teams in that the Catalans would simply regain the ball to continue passing it around. But at least it provided a powerful defence to a team that could otherwise be caught out through long balls or quick counterattacks. There was a symbolic shift in priorities when Barcelona swapped Pedro and David Villa for someone like Neymar.
In several of their big away game disasters, Barcelona were found wanting defensively. Their understanding of the game from a defensive viewpoint has been stagnant, surprisingly so for a club that felt so progressive ten years ago. Defending requires an all-round collaboration of players, not just a few. Pressing demands compactness from back to front and side to side. Barcelona have offered neither. Messi and Suarez do not press the defenders nor the full-backs, and since they switched to a diamond largely this season, this left opposition full-backs with even more license to go forward.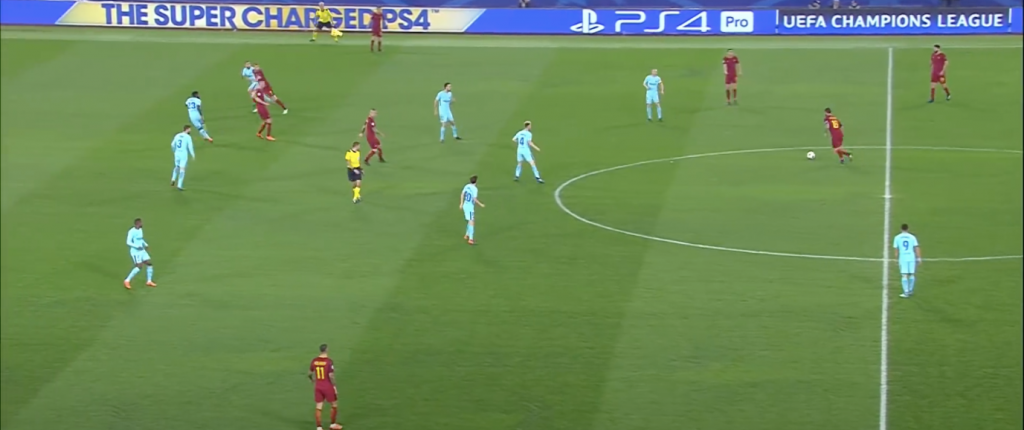 Lack of physicality and height
To sum up Barcelona's problem in defence, only Gerard Pique is over 6ft2. The rest of their centre-backs from Umtitti to Lenglet and Jeremy Mathieu, have often averaged between 6ft to 6ft2. Then in their full-back positions, the likes of Daniel Alves, Jordi Alba and others have all been under 6ft. Essentially, Barcelona's defence have never been tall enough to deal with set-pieces or long balls, able to be bullied. Even Pique, a genuinely brilliant defender, is a liability due to his lack of pace. It is far too easy for the opposition to bully Barcelona's defence in close quarters because they are just not physically imposing enough. Bayern Munich did this in 2013, Roma and Liverpool did it in 2018 and 2019. This season's defeat to Barcelona was even more of a glaring highlight of just how physically incompetent Barcelona were.
This was an issue partly even under Guardiola but in Carlos Puyol they had a defender who compensated for his lack of height through an exceptional defensive awareness and ferocious strength. His absence has been sorely felt since then. Against PSG, Juventus, Roma and Liverpool, the Catalans conceded goals either from set-pieces or simply being physically overwhelmed.

This lack of height isn't generally an issue for other sides, be it Real Madrid, Bayern Munich, Juventus or Liverpool. Their defenders are able to physically dominate through their stature. Barcelona have not had this bar Pique. And whilst he is a fine defender, he is surrounded by others who aren't. Alba remains a quality attacking asset but is defensively brittle. Nelson Semedo offers speed but his defensive vulnerability is obvious, there for teams to get up. Even going forward, there is a clear gap between him and some of the best right-backs in the world.
This lack of general athleticism extends itself to the rest of the team. There has been a startling lack of physical authority in midfield for years, contributing partially to their demise in games where they are simply overrun by other teams. Against Liverpool, Barcelona were left exhausted by the sheer brutal pressing and intensity. The likes of Arthur, Rakitic and De Jong are fine technicians but not always known for their grit. This was acceptable when Barcelona played the Cruyff-inspired way. But they have long since abandoned that style; their issue is that their transfer strategy hasn't kept up with that change.
Upfront there is a clear shortage of dynamism from the team. Neymar might contradict the purpose of a team game at times, but he was speed and electricity. Without him, and with Dembele only an occasional presence, Barcelona do not have the players who can move across the pitch in a blur like their rivals. Again, this makes a difference in how they play, be it in wing play or counterattacks. The lack of speed makes it far easier for teams to press them, as Bayern did in their quarter-final match this season when they defended high up the pitch, unafraid of getting caught out.
Look throughout Barcelona's team and where is the speed? Their full-backs are quite fast but that is it. The rest of the team is slow, able to move the ball quickly, but unable to retrieve it, unable to contest for it in the air and dangerously brittle without it. Bayern were too quick for Barcelona, just as Liverpool had been the season previously. The physical gap was what made the 8-2 scoreline possible.
Perhaps age has something to do with that. In some of their key positions, this team has been allowed to grow old. Busquets is a fine player, but in the era where power and energy are crucial, is he really the right holding midfielder, deprived of what little speed he had in the beginning? The likes of Rakitic, Suarez and Alba have all aged at the club and gone past their expiry date; scoring goals is a reflex action for Suarez, but in the big games he cannot impose himself as he did several years ago.
After the defeat to Bayern, Pique admitted that changes were needed. He said this in 2013 when they lost to Bayern in the semi-finals. How much since then has changed? 2015 was that rare year when everything clicked together seamlessly for half a season but was that who Barcelona really were, or was it the seasons that followed? The team have physically withered.
On the bench, there are the ingredients for a new style of play. The likes of Griezmann, Dembele, Fati, Vidal and others have an exciting blend of power and pace. But they haven't been utilised properly, and some of that is to do with everything orbiting the star who glows brightest in their team.
Dependency on Messi
History is a debate on events and great people. Interpretations of things that happened can evoke contrasting narratives that can completely define how you view the past. In decades to come, will Messi be seen as the greatest player of all time or the one who didn't win the World Cup and didn't win a European Cup when his peak years bled into the autumn stages of his career?
Messi has changed gigantic games with that wand-like left foot. There is magic bristling in his feet, and perhaps more so than ever under the strain of carrying his teammates. Barcelona's dependency on Messi has been well-documented for years, even going back to the Guardiola years. It's possible to pinpoint it to the moment he moved Messi to the middle as a false number nine, and thus created a game plan that channelled itself entirely through him.
This was something recognised by managers who came after him. Tata Martino said in the aftermath of the Champions League exit to Atletico Madrid in 2014, when Messi was a passenger during the second leg, that the idea had been for Messi to be less centrally involved but more decisive in the moments he received the ball. This drew sharp criticisms from many people, but one glance at the state of Barcelona today suggests a crippling lack of confidence amongst a group of players drowning in the weight of the club's pressure and playing alongside Messi.
It has been regularly pointed out that everything goes through Messi as teammates look to him to provide the spark. Messi dropping deep to play the pass someone in midfield should have is an example of that. The lack of assertiveness and authority in midfield is the post-Xavi legacy coming to haunt the club. A decisive midfielder who could dominate the midfield was never brought in. Coutinho should have been that, but even he played to Messi's tunes. Griezmann was signed and then cast onto the left flank. It was only when Barcelona had Neymar, that opponents' attention was split briefly. But even then it became increasingly clear that this team's pulsing heartbeat could be stopped if Messi was.
How much of that is a product of Messi's brilliance obliging teammates to play to him and how much is tactical timidity is unclear. But Barcelona's dysfunctional tactical approach cannot and should not be unlinked from the question of Messi's role in the team. There's been a lot of media speculation about him possibly leaving. Firstly, it is fair to say that he does deserve better. Messi has been stupendously good and has dragged Barcelona through games by the sheer imposition of his genius talents on opponents. He has left an imprint on the game like few have.
But can the team rebuild itself into what it needs to be if everything works in servitude to Messi, in coaxing the best out of him?
The athleticism of Bayern Munich, Liverpool and Man City is there for all to see. So is the fierce pressing that makes them difficult to live with. But at Barcelona this does not exist. As mentioned before, in big games, Barcelona have been defensively dreadful and tactically naïve to think they could defend without their front three dropping deep to cover overlapping full-backs. They paid the price in those games. Against Bayern in the 8-2 defeat, Messi was a spectator rather than an active presence. Messi's brilliance comes with the cost that when the going gets tough and the tide turns, he will not track back. Suarez no longer has the legs for it. Barcelona are handicapped by this alone and cannot address their issues defensively without accepting this.
Assuming they don't press, there are different methods to explore here to find a balance. The first is to put Messi in the middle with Griezmann and Dembele on either side of him and demand defensive coverage from them. Shaped by his years at Atletico Madrid, Griezmann is a willing runner for his team. The question is whether Dembele can do this. Messi's lack of pressing becomes less of an issue if the central midfielders remain tight and their wingers track the opponent's full-backs.

The other scenario, now actually looking like a real possibility, is a mutual separation where both accept that the marriage has become stale after many years of happiness and turbulence. Messi might retire in Argentina or follow a certain rival of his to Italy where a slower pace to the game may just suit him more. If that were to happen, it would not be the end of Barcelona just as it wasn't when Ronaldinho left. It also wouldn't be tactically as much a problem as when Xavi departed. Barcelona's problem is their reliance on Messi's greatness. Without that, others would have to make themselves heard, and they are good enough to do so. With young talent like Fati emerging, it would allow them to recalibrate the team into one that is physical, direct and dynamic. Should Messi also leave, then it would allow Griezmann to fill the central role. Putting him on the left for much of the season was an example of how big stars were dimmed in presence of Messi's own radiance. The midfield diamond that was used during the latter stages of the season never felt like a long-term strategy but a means of shoehorning a constellation of stars into one place and hoping they would work it out themselves. Often it worked, but when they ran into well-oiled sides, it fell apart chaotically.
In either scenario there is one immutable reality: the team must let go of Luis Suarez. Though he is a regular contributor in goals, he no longer has the legs or fitness to be who he was years ago. He was signed to give Barcelona that touch of dirtiness and directness that had been lacking. But time has blunted that and made him someone far easier to deal with. The idea of Suarez not pressing would have been unthinkable years ago. Yet here we are.
Lack of vision
All of these tactical problems point to a lack of vision currently at Barcelona where transfers are not driven by long-term planning but the attraction of names generating sales. Barcelona have bought recklessly and wastefully, recruiting players of different styles and struggling to incorporate them into a cohesive unit. The sense of identity that defined them under Guardiola has been missing since the ending days of Luis Enrique's reign. The team plays with a dependency on Messi, and without a clear understanding of its role in games. Through muscle memory, Barcelona keep the ball, but without the deadly incision or authority they once showed.
The issue with signing so many players whilst actually not replacing the spine is that it creates a muddled team who don't have the chemistry that others do. The perfect recruitment model right now is Liverpool who have signed players not on the basis of their names but how they complement a style. Barcelona are instead signing players and hoping they figure out how to play for Messi. What, after all, is a midfield of De Jong, Busquets and Vidal going to do? How does it approach games, what does it seek to do in a midfield? Against Bayern, they were overrun, stampeded by the herd of ruthless and relentless white-shirted athletes showing how far behind they had fallen.
This lack of long-term strategy has fuelled the chaos and put more strain on the shoulders of Messi. It begins with the board, for engineering a series of failures, namely gambling away the money they were paid for with Neymar's sale. With Koeman now in charge, there could be the semblance of a philosophy returning to the club once more. And through that, clarity can return when it comes to signing players.
What can Barcelona do?
The first thing that Barcelona need to fix is their defence. Height and power is of critical importance. A better right-back is needed than what they currently have. Is Jordi Alba still a world-class left-back? Why are Barcelona not in for Koulibaly? Though signing him would not fix their defensive crisis, it would offer a layer of solidity not seen since Puyol retired.
In midfield, harder questions remain. Barcelona need a dynamic box-to-box footballer, so they went and signed an ageing player in Miralem Pjianic from Juventus. This again reeks of short-sighted thinking. Rakitic must be moved on while a new coach must decide whether Coutinho should be kept or not. Part of that is also to do with what Messi does. A physical athletic holding midfielder to replace Busquets should also be looked at; Thomas Partey from Atletico Madrid would be a useful addition and he would certainly provide the muscle missing from the team. Barcelona have a habit of replacing players when they retire but this staleness is what cripples the team.
Upfront, they have potency in Griezmann, Dembele and Messi. The emerging Fati also offers a breathtaking speed that Barcelona sorely need at times. Suarez has to be moved on while a way to incorporate Messi into the team without compromising the defensive aspect has to be found. The idea of Messi no longer playing at Barcelona is chilling for their fans, but is a repeat of the last several years worth it? This is not saying that Barcelona should be happy to see him leave. They are better off with him in it, but it doesn't mean that he is not in some ways a contributing author to Barcelona's miserable story over the past few years.
Most of all they need to begin focusing on defending and stop looking at it as an ugly side to the game. Today football demands a balance to teams and an ability to soak up pressure and hit with speed. Barcelona's defence resembles a wall of cracked, fragile glass being hit with a pebble. Not much is required for it to shatter. This is a cultural problem at the club that has dated back years; under Guardiola they were so used to domination of the ball that defending deep seemed unpalatable. It became judged on grounds of morality, as if there was something unsavoury ethically to defending. An unwavering commitment to a style of play that no longer exists in the purified form it did in 2011 is only holding the team back. Luis Enrique was dogged with this criticism even when he won the Treble for the club in 2015. Barcelona played many different styles before they ever heard of Johan Cruyff and Rinus Michels. It is extraordinary arrogance to continue to sneer at other styles of play even as they emphatically beat Barcelona time and time again.
You can support The Tactical Times by becoming a Patron on Patreon. Our Patrons will have access to exclusive content and the chance to have their name, web site, business and social media links posted on a dedicated page on Tactical-Times.com Click HERE for Patreon
Rabbil Sikdar is a Freelance Writer and a huge Liverpool fan who writes about his main interests: football and politics. You can find Rabbil on Twitter.