Harvey Elliott: Total Player Report
Passing, shooting, movement, situational and positional awareness, pace and physical prowess, defensive capability.
This in-depth report will explore Harvey's many strengths and hopefully explain why he is already such a key figure 5 or 6 years ahead of his time.
Harvey Elliott, born April 2003, at 16 years and 30 days became the youngest player to appear in the Premier League. Now 17 years old, he has appeared for the Liverpool FC first team eight times and has represented the club at every level from u19 to u23.
Prior to the 2020/21 season, Harvey Elliott was sent on loan to Blackburn Rovers to learn from experienced head coach Tony Mowbray. He has since appeared in five Championship games for a total of 486 minutes.
This in-depth report will explore Harvey's many strengths and hopefully explain why he is already such a key figure 5 or 6 years ahead of his time.
"A special talent. He has got a naturalness about him, an ease" – Scott Parker

"From an early age Harvey's always managed to make good decisions at the right time. Whether that's rolling someone in with the perfectly weighted pass or scoring himself" – Colin Omogbehin

"It's easy to be convinced about him when you see him training. He is an exceptional talent, absolutely" – Jurgen Klopp
Positional play
In terms of basic match position, Harvey Elliott is a right winger in the mould of an inside forward or attacking midfielder. His career heatmap indicates a natural fondess for the right flank, wide of the half-space, but also elevated activity on the inside edge of zone 15. There is also an element of versality on display with a number of actions taking place inside his own half – mainly defensive duels and recoveries – as well as a smaller number on the opposite left flank. During his appearances for Liverpool he has played on both right and left wings, as well as through the middle as a centre forward. At Blackburn he is employed almost exclusively on the right side of an offensive three in a 4-3-3. On a number of occasions he has tucked into the centre to play as a more tradional 10.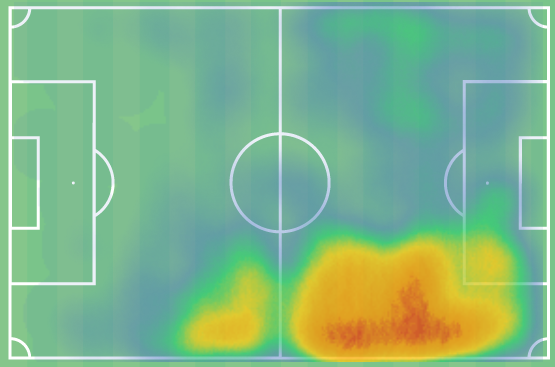 Examples of his off the ball movement include plenty of runs from and into the half space, often either wide of a tucked in left back or between centre-back and left back. There are a number of extra man and supporting forward runs during his appearances for the Blackburn and Liverpool first teams, which demonstrate quite well this preference for positioning even against senior opposition.
For ease of identification, Harvey Elliott is number 16 in the clips featuring Blackburn Rovers. We will see further examples of his work on the ball that show a desire to link play from deeper areas, but these examples demonstrate a willingness to attack as the front man. While he doesn't possess electric pace over long distances, he does have a quickness of thought which allows him to gain a positional edge over his markers. You might notice that the quickness of thought and movement is often too quick also for his teammates to spot and exploit.
Ball Control, Pace, Acceleration, Dribbling
In the modern elite game, especially in the Premier League, especially more so at Liverpool FC, the profile of attacking player is quite defined in terms of profile and the style of play they offer. In Mohamed Salah and Sadio Mané Liverpool have runners and dribblers of the highest calibre, as strong physically on the ball as they are skillful and intelligent. Harvey Elliott would fit closer the profile of Mohamed Salah in his style and approach to carrying the ball.
Unafraid to approach a marker head-on, Elliott leads with his favoured left foot with short, sharp touches, willing a committed challenge or a wayward boot from a defender to weave around. The dribbling is compact, performed at a jog and works really well in tight spaces.
Elliott is not a player to burst into space with a heavy touch trusting his raw speed, he is a technical dribbler. He watches the feet of his opponents and judges his movements accordingly. In nine appearances so far during the 2020/21 season he has completed 74% of his attempted dribbles. His career average for successful dribbles is 57%.
As mentioned, Elliott does not currently possess exceptional pace over longer distances, but that does not mean he is slow on the ball. He displays an ability for bursts of acceleration over shorter distances, usually to carry the ball into key areas before assessing the next move. He isn't a typical runner on the ball, he doesn't tend to initate sprints or foot races against defenders.
Like when attempting to take on or dribble against an opponent, Elliott employs short strides to cover the ground quickly without sacrificing control over the ball. He isn't going to win a race against many covering defenders running without the ball at their feet, but is able to move into the area he needs to while still being able to change direction, check back, pick out the pass or act as he sees most appropriate for the situation. It is intelligent running rather than electric running. A playmaker's method of running.
You will notice that whenever he is accelerating into a sprint in these clips the ball is never more than a stride from him and his head is constantly up assessing and looking for his next move.
There is currently a focus on ball control at pace rather than raw speed from Elliott, and against Premier League and Champions League level opposition it is sometimes necessary to possess both. He is able to improve his running power and agility; with the kind of medical staff and facilities available at Liverpool FC there will be plenty of opportunity to increase on that perceived weakness – if we can describe it as such – over the coming years.
Passing, Playmaking, Chance Creation
Harvey Elliott offers a number of different strengths, most of which stem from a high level of football intelligence. He is able to locate and exploit space both on the ball and off with what seems like relative ease. There's a definite instinct there. This idea of locating and using space manifests itself most clearly and obviously through his progressive passing, chance creation and goal assists.
His through passes and crosses tend to be hit relatively early, shortly after receiving the ball or bringing it under control. There is rarely hesitation or extra unnecessary touches. The passes can be high risk, he is often playing the balls into space or into tight key areas. He has seen 36% of his through passes and 39% of his crosses reach a team mate this season. He isn't always safe in possession, he isn't a player who will recycle the ball unless there is no way through. More often than not he has had his head up early, he has spotted the pass and he will attempt it.
This kind of high risk, high reward passing is reflected even more in what Wyscout call a 'smart pass'. This is a pass which seeks to break the line and create a dangerous goal scoring situation. Many of these can also be considered through passes but those which generally carry greater intention of creating or laying the foundation for a high quality chance.
For a player like Harvey Elliott, a natural playmaker, a player who wants to operate between defensive lines and find pockets of space from which to manipulate the offensive movement and feed runners, assists will likely be the big metric for consideration.
He is averaging 0.42 assists per game for the early stages of this season and 0.36 during his 2 and half year professional career. The technique he displays and the deftness of touch he has for some of these, as well as the awareness of those around him, is quite staggering for a number of the assists he has made so far.
Aside from those delicate, pinpoint, perfectly measured passes, he also displays plenty of that directness and short acceleration we've seen already, and also the ability to operate effectively under pressure either at pace or with markers around him. He has the gift of picking the smart option under pressure. It's further indication of that instinct. The ability to feel a situation and know what the best pass or run or option is.
Shooting and Finishing
With the ability Harvey Elliott displays in moving with the ball in close control, as well as his positive, intelligent positional play, a number of relatively high quality goal scoring chances are inevitable. He has hit 2.2 shots per game this season with 44% on target, this is in keeping with his overall average of 45% from 1.9 shots per game. Elliott isn't hitting large volumes of shots, he is a provider more than an attacker, but he does find himself in positions to score.
This is the first of what can be perceived at this early stage as a possible weakness.
Unlike the form, patience, control and execution he displays when he picks up the ball with a view to creating an opportunity, when Elliott is in position to shoot at goal himself he often rushes or tries to force the shot. Often trying to shoot from a suboptimal position or while he is unbalanced. Elliott doesn't always compose himself for or time correctly a shot the way he would for a shot assisting pass.
Some of the goals he has scored, however, paint a slightly different picture. It's worth noting and remembering the positions Harvey finds himself in to take these shots.
When he scores, Elliott is composed. He takes the necessary touches, he steadies himself in front of goal, he picks his corners with the kind of calmness we saw when he lays on a through pass or assist. He isn't scoring when powering the ball to an opposite corner with his first touch. He is able to find space, that comes naturally, and his control of the ball is just as naturally gifted, but it's what he does with the following touches that seem to decide whether or not he finds the net.
Harvey Elliott is not yet a clinical finisher, he is a good finisher when he steadies himself and has the time to play to those strengths, but he isn't as natural a goal scorer as he is a provider. This can come with experience. It's worth noting that his more instinctive goals have come since he joined Blackburn, and that experience playing against hardened, seasoned defenders can provide a platform to hone those instincts.
With the kind of spaces he finds peeling off the full backs or in the right half-space, I expect goalscoring chances and Harvey Elliott will be familiar to one another so it is an aspect of his game he would do well to work on and improve.
Defensive play and Aggression
Defending from the front is endemic at Liverpool FC and it appears also to be infectious. Elliott is a tenacious, hard working, willing defender, and he is able to press with the kind of enthusiasm he will need in order to get even close to Liverpool's first team.
When it works, it works well. Elliott is understanding of the need to press as well as the basic principles, but he still lacks maturity and experience in pressing as a collective. There is a lot of individual effort and that is a great place to start, and it provides an excellent point of reference for potential assessment, but it isn't always enough to mount a successful press.
For his five games with Blackburn Rovers in the Championship, Elliott has challenged for duels in all areas of the pitch. He makes concerted efforts to be involved off the ball, to hassle and challenge opponents, occupy prime areas for interceptions and generally shows a lot of desire to fight for his team; but he isn't yet knowledgable in the finer details of its application.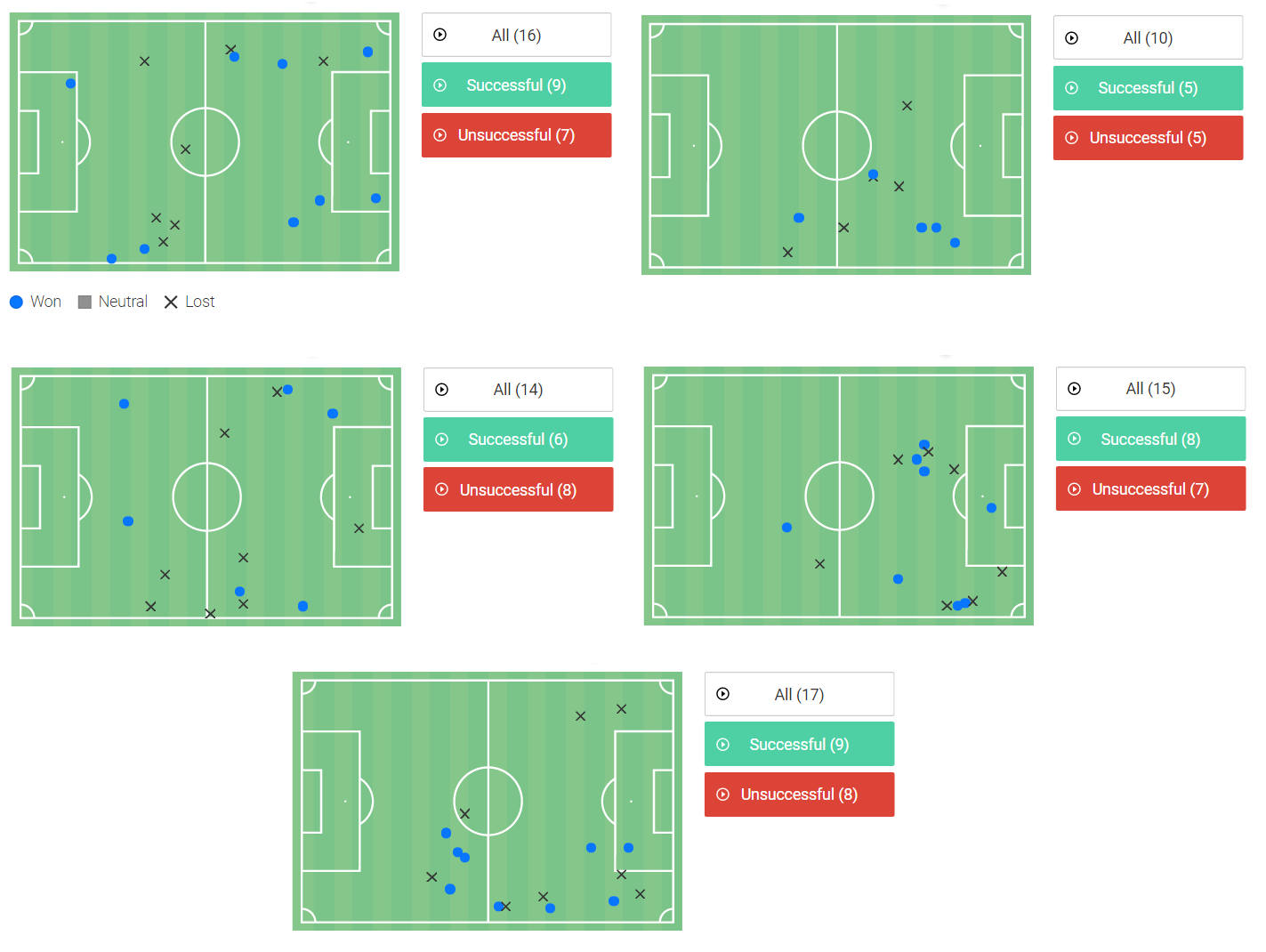 He engages in a lot of defensive duels and loose ball challenges. A selection of these are from games in the Championship, which, as they are against senior opposition, should provide a reasonable level of insight, and show us that Harvey Elliott does enjoy the defensive combative side of the game, he engages in it willingly and regularly executes his part well individually, but he isn't yet able to often enough have the efforts pay off as part of the collective.
To defend efficiently as a forward takes a lot of physical effort and conscious exertion, but more than that it requires knowledge, understanding, timing and a lot of subtly. Elliott does not yet possess those latter attributes, but he certainly has plenty of the former; and there are few better players in the world to show him the more esoteric aspects of that side of the game than Roberto Firmino. The Brazilian is a master of the art.
Elliott has the enthusiasm, and that is all we can realistically expect or hope for at this stage of his development. He knows what it takes to be a forward at Liverpool in terms of the physical and mental requirments and he is laying the foundations to make it a possibility when the time comes.
Does he have what it takes?
Harvey Elliot signed for Liverpool as a player who had already built a reputation in the Premier League as being a long way ahead of his time. He featured for Fulham and England academy teams which were 3-4 years older than he was. He coped at those levels and he can cope at the professionally experienced, hugely physical, hugely demanding first team level now just 2 years later.
The important thing to remember with Elliott when assessing his current ability and his potential ability, is that he is still just 17 years old. He hasn't matured physically yet – the speed, agility, upper body strength, and fitness will all improve considerably over the next few years, especially with the demanding standards at Liverpool; and mentally he also isn't close to the end product. Though he looks entirely assured and possesses a level of confidence unheard of in players his age, there is still a lot of wider situational awareness, game recognition, and tactical and technical understanding for him to work on and improve, and that can only come with experience.
It will be a long road, but where he is now, the player he is currently, says that he has an incredible chance at making it to the top. He dominates his game intellectually, and that is a remarkably rare thing among players of his age group.
One of the most impressive aspects of his time at Blackburn so far, though recent and brief, is how integral he is to the team's attacking game.



During Blackburn Rover's game against Middleborough when the team struggled for possession, Elliott dropped close to the centre in order to get involved and try to influence the tempo. Only centre back and goalkeeper played a greater number of partnership passes than Harvey Elliott and Lewis Holtby, Blackburn's experienced ex-Germany international playmaker.
In games against Swansea and Coventry, where Blackburn Rovers had much greater offensive input, Elliott was able to occupy the favoured right half space as a forward and was again one of the most involved attacking players. He isn't hiding, there is no immaturity in his bravery or willingness to standout.


This is further reflected in the progressive passes – passing which gain significant yards towards the opposition goal – in those games during which Blackburn Rovers weren't able to assert themselves or dominate the ball. Elliott stepped up, was a willing reciever, and tried to play his team into the game. A 17 year old loanee was attempting to move out of position to dictate and conduct a game in the Championship. He averaged an 88% pass accuracy, 88% long pass accuracy, 54% total duels won, and 80% dribble success over the course of the two games.
On top of Harvey Elliott's clear and obvious natural talent – which immediately sets him apart – he displays a fantastic mentality to stand up and be counted.
A lot can change for a young player, they can explode into a star or crash into a wreck; talented players have fallen by the wayside before and I am sure they will again. But in Harvey Elliott, Liverpool have something truly special; a marriage between a level of talent that is, while excellent and certainly not common, replicable, with a level of intelligence and understanding of the game that often isn't. Very few players are born with the ability to dictate a game of football from the right wing, fewer can do this at 16/17 years old against seasoned professionals in the second tier of English football.
I have every faith that Harvey Elliott can become not just a leading Premier League star, but a leading star in one of the best Premier League teams. He is well on his way already.
Unless otherwise credited, The videos used in this analysis belong to EFL, Premier League and other relevant license holders. the tactical times do not claim to own any of the visual or audio media presented here. This analysis was created under Fair Use (17 U.S.C. § 107) and may not be copied, redistributed, edited or altered without the express permission of the copyright holder.