No, Thiago does not slow Liverpool down
According to some pundits, Thiago Alcantara slows down Liverpool's game to its detriment, here's why those people are wrong.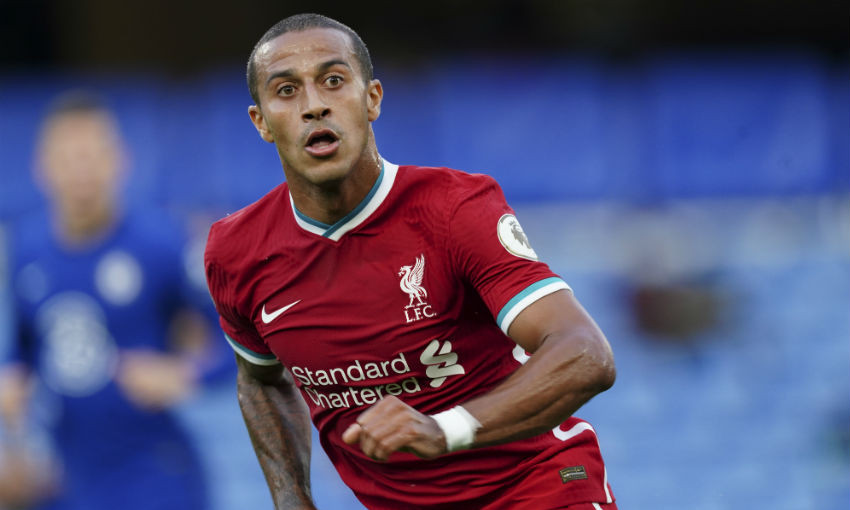 Thiago Alcantara dominates talk the way he dominates the ball. Unsurprising given the summertime frenzy around his arrival. This was arguably the most high-profile signing in Liverpool's Premier League history. So far, it's been underwhelming, and depending on who you listen to, that's because of him.
There have been critics of Thiago's time at Liverpool so far, among them former star Didi Hamman claiming he doesn't suit the Reds' style and sucks the energy out of the industrious heavy-metal midfield. Then, more recently in commentary during Liverpool's victory at West Ham, Gary Neville shared a similar opinion, believing there was less punch to this Liverpool side now as a result of them becoming silkier.
Liverpool's struggles this season have come into sharp focus. Teams have sat deep and been able to frustrate them. Liverpool seemed no longer swift, fluid or incisive on the ball and briefly ran out of ideas and energy after Christmas.
In their draws to West Brom and Newcastle, there were endless passages of passing that went nowhere. Easy then for pundits and journalists to believe this is the fault of Thiago, the man who embodies more than anyone else that endless passage of passes.
Yet it remains absurdly simplistic to attribute Liverpool's lack of speed to Thiago, or to say he doesn't suit them.
Such analysis comes from an era when the game was thought about differently. For Neville's intelligence, he remains a player molded by a time when teams were seen as made up of isolated units: the strikers not required to lead the high press and track back, full-backs who didn't need to become wingbacks, centre-backs who weren't obliged to somehow bring the ball out of defence and launch attacks. Injuries could happen in those departments and not necessarily affect the rest of the team so dramatically.
What did Gary Neville getting injured really do to disrupt Manchester United's attacking rhythm?
In today's game, teams are generally far more interconnected, a single organism linked in several ways, with mutually dependent players. And there are few teams that embody this more than Jurgen Klopp's Liverpool – masters of thrilling collectivism.
There is a synchronised chain of movements and reactions: the fullbacks are able to go forward because they're protected by a selfless midfield. This allows the wingers to cut inside and occupy the spaces created by their striker dropping deep. Every movement obliges the other. Every action is made possible by something else occurring.
Thiago's arrival would naturally induce some shifts in play, not least a greater emphasis on patience in possession and creativity in the central areas of the pitch. But every team requires evolution to avoid becoming stale. Liverpool went out of the Champions League to Atletico because they suffered from what is often referred as 'sterile domination' in which the ball belonged to them and they did little with it.
While Thiago's introduction affects the wing-backs the attacking license they're afforded, it could have one intriguing reverse effect: as Henderson and Wijnaldum sit to allow Robertson and Alexander-Arnold to go forward, Thiago operating in more advanced positions could mean the wing-backs advance less frequently, sacrificing some of the creativity for greater solidity.
The spaces left behind the offensive wing back is generally regarded as a notable weakness in the champions.
In this respect, those critical of Thiago's effect on this team are missing the point. Football cycles come and go because teams refuse to adapt. Klopp departed from the gegenpress approach in 2018 for a more measured and patient game. Thiago was the very kind of player people were calling for in the earlier years when the game of organised chaos wasn't leading to silverware.
It is currently entirely hypothetical because Liverpool are a weakened and ravaged side this year, and Thiago hasn't had the chance to play in their strongest XI. They've been without their main central defenders, and consequently, without Henderson and Fabinho in midfield. And this is what has made Liverpool more ponderous.
It isn't Thiago, rather it is the fact that the midfield has been decimated by injuries elsewhere. It's lazy and frankly uninformed to assume that Thiago has been a detriment rather than one of the victims of what Liverpool have been enduring.
Those who have watched Liverpool's games will argue that in the majority of the matches in which he's played, Thiago was an assured presence in the midfield. Tottenham couldn't get going against Liverpool in their 3-1 defeat even after they pulled a goal back, a leading reason was their inability to turn over the ball in midfield.
Contrary to Gary Neville's assertion of this team being without punch, Liverpool regularly post high possession stats across Europe's elite leagues, because that's how this team now plays and has done for a while.
Certainly, there is a diversity in the style and there are games when possession is an afterthought. But there are now options, and this is what Thiago provides.
Rabbil Sikdar is a Freelance Writer and a huge Liverpool fan who writes about his main interests: football and politics. You can find Rabbil on Twitter.