Joey Veerman: Player Report
Joey Veerman is a 22-year-old central midfielder from the village of Volendam, Netherlands. After playing his way through the academy and youth teams at local club FC Volendam, Joey was bought by Eredivise team Heerenveen for €550,000 in 2019. This report will explore his strengths and weaknesses to provide an all-round account on the player he is.
Joey Veerman is a 22-year-old central midfielder from the village of Volendam, Netherlands. After playing his way through the academy and youth teams at local club FC Volendam, Joey was bought by Eredivise team Heerenveen for €550,000 in 2019.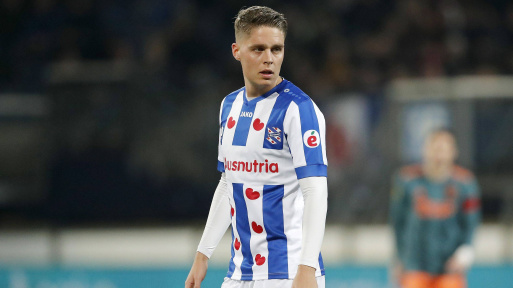 Name: J. Veerman
D.O.B: Nov 19, 1998 (22)
Position: DM/CM
Strengths: Long passing, vision, pass timing, offensive positional sense
Weaknesses: Aerial duels, acceleration, defensive timing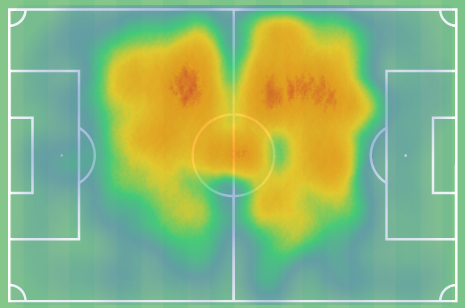 Joey Veerman falls within a bracket of midfielders who are positionally quite defensive but technically offensive. Progression is generally made through passing, not ball carrying. A quarter-back. His style is to recover the ball – be it through positional anticipation or actively challenging for it – and then pick a pass. He averages nine long passes per game in his time in the Eredivisie with 60% accuracy, just 1.3 progressive runs but 13 passes into the final third (70% accuracy).
We know Veerman's stylistic choice, it's quite an obvious one in his case, but how well do his attributes and capabilities support or enable this style. This report will look at key aspects of his game as well as a few bonus ones; in all we should get a well-rounded idea of the player Joey Veerman is.
Ball progression – dribbling and passing
Long passing: 
If you typified Joey Veerman with one aspect of the game, it would be his long passing, so we will begin with that.
Many of the clips on this side of his game are self-explanatory and the technique often repeats. Veerman receives the ball in deep areas, gives himself space to execute a pass without distraction, picks his target and strokes his right boot through the ball with minimal back lift. Simple enough.
The reason why this repetitive, seemingly simple action is so impressive lies somewhere between its match effectiveness (turning defense into attack in no time at all) and its sheer consistency. Liverpool, Man City, Real Madrid, Bayern Munich; some of the best teams in the game utilise a fast back to front long pass regularly.  The likes of Toni Kroos, Thiago Alcantara, Kevin De Bruyne and Bruno Fernandes play these passes all the time. It can be as measured, as accurate, and as much a line breaking through ball as a short pass if executed correctly. The ease with which Veerman plays these balls, and the ease with which he creates the opening necessary to prepare to play these balls, as well as their apparent success, suggests he knows what he's doing in terms of the execution.
One beauty of plays like this, and a reason why such natural ability in this particular aspect can be so effective, is how well it translates through different leagues. There is nothing to suggest Veerman wouldn't find that kind of space and pick out teammates with those passes in La Liga, Serie A, Bundesliga or the Premier League. There are some attributes that can make a player stand out in a top 10 league, but may see him struggle when transferred to the general improvement in standard within a top 5 league; I don't believe long passing of this quality falls within that bracket. Whether Joey Veerman is picking out a run from teammate and namesake Henk, Karim Benzema or Mohamed Salah, the quality of the pass itself remains constant.
The long passing is certainly a strength of Veerman's and it would be the main attribute to consider when thinking of how he could contribute to and improve another team.
Through balls, offensive passing, passes into penalty area:
Many of these would (and do) qualify as long passes but I've decided to separate and differentiate them from the initial long passes. This is due partly because no one wants to see a seven-minute video of passing, and partly because many of these highlight a different side of Veerman's range and vision. A weighted pass made from zone 13, 14 and 15 requires a different approach from one played from within a player's own half.
Some could be considered a cross, some might qualify within the earlier set of long pass clips, there will be some more coming up which are closer to through passes; the difference here, and ultimately why they should be differentiated, is that these passes are played within faster, less considered, more chaotic attacking phases. Here Joey Veerman is less quarter-back and more playmaker. Less Thiago and more De Bruyne. While the technique and timing might be the same, playing a pass as part of an attacking transition – sometimes a counter-attacking one – comes with different requirements than if you have 7 or 8 defenders ahead of you, you're in your own half, and you have to try and find a man in space. Either way, Veerman is adept.
I'll finish the segment on passing with through balls. These aren't always long – though often they are – but they are progressive, they are line breaking, and they contribute greatly to high quality attacking phases.
The through pass, for me, is majoritively about timing and vision. Execution is important with any high-risk pass, but when you're breaking a line you must act quickly to see the pass and get the timing right. Veerman has no issues turning his raking long passes into line breaking through passes. These are similar skills, but they are not the same. These passes must do everything they can to assist the runner in his movement towards goal; everything from the weight, direction, pace, swerve and spin must assist the attacking runner. This ability, the ability to apply the right pass as well as a good pass, is another strength of Joey Veerman.
Dribbling, control, the creation of space:
As we've said already, Veerman is a passer of the ball. His style caters for passing and he certainly does a lot of it. But what about the ability to enable the pass, to create the space necessary to play that pass, to evade the block or interception, to ensure he isn't put off (be it literally with balance or mentally with distraction) by an opposition marker. The touch and control before the pass can be as important as the pass itself.
A much shorter collection of examples. This is due mainly because I want to avoid repeating clips and many of the long passes contain examples of the kind of play I'm highlighting here.
Joey Veerman isn't a particularly agile mover, he is tall and long-limbed and does not possess the low centre of gravity needed to jink and bob and weave between challenges; he isn't that player. What Veerman does is allow himself to pass the ball as well as he can. He shows good control of the ball, he can turn and arrange his feet quickly; he is not at all a clumsy player with the ball, but he isn't a dribbler. He takes a measured touch to beat his defender in order to pass the ball, he stretches those long legs to open a two-yard space between him and his defender in order to pass the ball, he turns back on himself in the face of a dead-end in order to pass the ball; the common denominator is often that he wants to pass the ball. His dribbling and ball control act as an enabler for his main strength.
Defending. Aggression, marking, tackling, duels
Joey Veerman isn't infallible. There are weaknesses in his game. For a 22-year-old player in a position that demands so much nous and discipline and timing and general understanding of defensive duties, he does fine, but he doesn't stand out as a great defensive midfielder. He neither competes for or wins very many aerial duels (1.6 per 90, 46% won, Eredivisie), he isn't competing for many defensive duels generally for a player in his position (6.8, 58%), he is dispossessed more often than he would like (11), and has won less than half of his 50/50 challenges. He isn't a natural defender.
The clips I've compiled in the defensive aspects show a number of positives, though they are few, and they point towards the kind of defender Veerman is.
It's proactive, front foot defending. He isn't jockeying attackers, ushering them smartly into traps; he is committing to winning the ball through force and timing. This isn't optimal, but it does look good when it works. The defensive side of Veerman's game should improve, it will improve with time, especially if and when he plays against higher quality attackers. As I said, he is fine at the moment in these aspects, he plays to support his strengths – strengths which lie in an offensive capacity – but he isn't currently standing out as an all-rounder in a technical regard.
What he does possess is plenty of energy off the ball. He is keen to press, to sometimes lead a press (which from a defensive midfield position isn't exactly common), he shows aggression in his defending and plenty of determination to win the ball. These aspects of the game, the mental ones, can be harder to teach and nurture than the ability to correctly time a tackle or cleanly dispossess an opponent. The intention is there, even if the ability currently isn't.
A few extras – Shooting, Corners
Like most players with an eye for playmaking, a clean passing technique translates well into the realm of shooting. Joey Veerman is a very clean striker of the ball.
He has scored 8 goals in Eredivisie and 20 through his career, he's hardly a prolific goalscorer, but he can hit them. He averages just 2 shots per game with 30% accuracy. He doesn't shoot often, but when he does he usually shoots well. With four league goals this season Veerman is scoring close to once every three games.
At Heerenveen, Veerman has also emerged as a popular choice for taking corners. Two of his nine Eredivisie assists have come courtesy of the set-piece.
There isn't too much to analyze with these, a corner taker is often executing a plan devised on the training ground. They want to pick out pre determined runners and play the ball at optimum height into optimum areas. The technique is fine, as we saw with the shooting- no surprise for a player who is so well defined as an elite passer of the ball, and he is emerging as a player who can in time become a specialist with set pieces. This might later translate well to free-kicks also.
Joey Veerman
A player who fits the bill when looking at real technicians. A ballplayer, defined as much by his ability to see a pass as by his ability to effectively execute it. A very aesthetically satisfying player. Currently just 22 years old, he has a lot of opportunities to build upon that excellent and quite unique platform of technical aptitude. A player who currently suits SC Heerenveen, and will likely eventually suit a higher calibre league. Once he develops his physical attributes – upper body strength, agility – as well as his defensive attributes – timing, positioning, aerial duels – he can take his talent for playmaking and use that to become an excellent all-round centre midfielder. Veerman's development over the next 2-3 years will be crucial in determining the level he plays at during his prime years.
If you want to show your support and to help the Tactical Times, consider becoming a Patron for a few pounds. Patrons can access more comprehensive, detailed and in-depth analysis, as well have their name, social media links, websites or businesses listed on a dedicated Supporters page on our website.
You can find our Patreon HERE
Unless otherwise credited, the tactical times do not claim to own any of the visual or audio media presented here. This analysis was created under Fair Use (17 U.S.C. § 107) and may not be copied, redistributed, edited or altered without the express permission of the copyright holder.